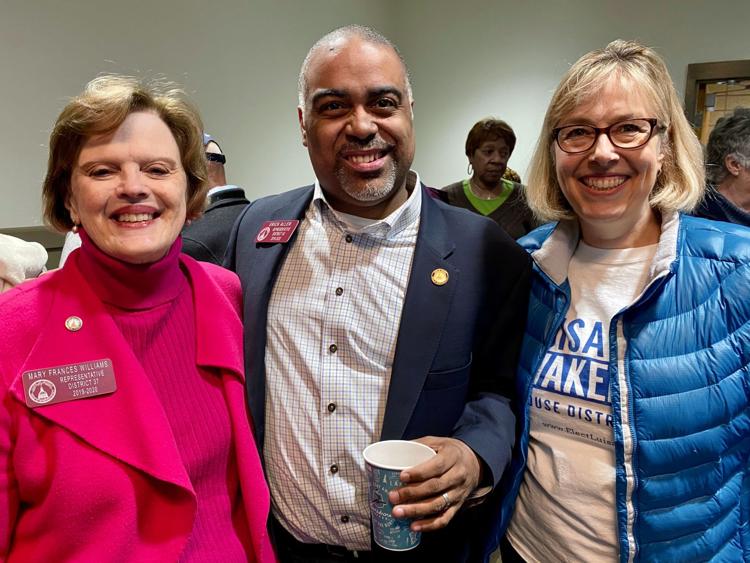 The only reason the Sterigenics plant near Smyrna is not up and running is the Cobb County government, state Rep. Erick Allen, D-Smyrna, said during Saturday's Cobb Donuts with Democrats meeting, which was packed to the rafters at the Smyrna Community Center.
"If you follow the issue in Illinois, the only thing that got that plant shut down was the permitting, was the county and codes. The only way this one is going to reopen — I'm going to say it one more time — is if the county allows it, so the pressure should not just be on state legislators. Hold us accountable. We're doing our part, but also be in touch with your county commissioners. Because they are the ones that will keep this closed, and also make sure you're supporting candidates who are committed to making sure this plant doesn't reopen."
Allen and state Rep. Mary Frances Williams, D-Marietta, were the keynote speakers at the lively meeting, giving the party faithful an update on what's going on under the Gold Dome. Williams gave a shoutout to Allen and Sen. Jen Jordan, D-Sandy Springs, for their work on the Sterigenics issue.
"They really had to push hard. Now it seems like everybody is kind of on board in some degree, but it wasn't that way at all from the beginning, but that also demonstrates that we're not going to get anywhere on issues like ethylene oxide and coal ash without strong public outcry, so please help us with coal ash as well."
Last year, Williams said she introduced a House resolution which urged Georgia Power to take the coal ash from its coal ponds that have been dewatered at Plant McDonough "which is on the banks of the Chattahoochee, 700 feet from the Chattahoochee, and move them to lined pits. Nothing has happened with that," she reported.
Meanwhile, she and Allen have sponsored a bill that requires all of the coal ash to be put in lined pits as she said is done with regular trash.
"So we're working really hard on this. It's a heavy lift. But I will say, we all want clean drinking water. That's the bottom line, right? We all want clean drinking water. Maybe our drinking water isn't threatened this moment, but with coal ash sitting in groundwater at McDonough and so close to the river, it is a long-term threat and in other areas of this state people have wells that are poisoned and have relatives and folks that are dying, so this is not anything not to take very seriously."
Added Allen: "This is not a hysteria issue. There have been catastrophic events that have happened in Tennessee and North Carolina. Just Google 'Duke Energy.' It actually cost the governor of North Carolina his job, and we'd be doing well to remind Brian Kemp of that as often as possible as this legislation moves forward."
On the subject of ethylene oxide, Allen said he's presented three bills that he hopes will get a hearing in the next two weeks. One creates a study committee to look at the issue for regulatory requirements. A second requires the accidental release of any ethylene oxide to be reported. A third he described as more robust, requiring 24/7 monitoring from the emission stack, with biannual reporting of the total of everything released, among other things.
---
BUDGET WOES: Turning to other topics, Allen and Williams were particularly critical of Gov. Kemp's proposed budget.
In 2018, Republicans lowered the income tax rate from 6% to 5.75% with the goal of revisiting it this year and lowering it again to 5.5%. That 5.5% vote has yet to occur, but Allen argues the first income tax cut is the reason Kemp is now having to cut the state budget, this year by 4% and next year by 6% despite a sunny economy.
"We're basically cutting the budget to fund the income tax cut that even Gov. (Nathan) Deal said was not a good idea back in 2018. That bad idea Republicans voted for in 2018 is now being asked to be paid for on the backs of our safety net, and I would say most constituents' programs," Allen said. "Just know that this is an extremely dangerous budget as it currently is constructed."
In other news, expect some type of gambling legislation to be dropped this session, Allen said, in addition to a strong push to adopt Religious Freedom Restoration Act legislation.
"They are looking for a vehicle for RFRA ... so we have to be extremely vigilant as well," he said, prompting a question from the audience.
"Can you speak about Ginny Ehrhart's hateful bill about mental care for (transgender) people?" one audience member asked.
"No, because it won't go anywhere," Allen replied.
"Won't go anywhere? Great to hear. Fantastic. Good work," the questioner said.
Ehrhart recently said statewide polling on her bill shows 80% support.
---
JUDICIAL JOCKEYING CONTINUES: With a State Court judge and two Superior Court judges announcing they won't seek another term, candidates are crawling out of the courtroom woodwork. The latest to contact Around Town is attorney Joe Atkins, who boasts a broad-based legal career for 33 years. He will seek the bench of State Court Post 6.
---
WILD BLUE YONDER: Around 150 military personnel and associates gathered in Marietta recently for the latest graduation ceremony of the Cobb County Veterans Court and, as is often the case, the rivalry between the services was on full display.
Shouts and cheers from generations of veterans, active duty personnel and their family members punctuated speeches during the graduation ceremony, which was attended by Gov. Brian Kemp and U.S. Rep. Barry Loudermilk, R-Cassville.
Loudermilk, who served in the Air Force for eight years, acknowledged the inter-service rivalry in his speech, saying it was something he loved about the military.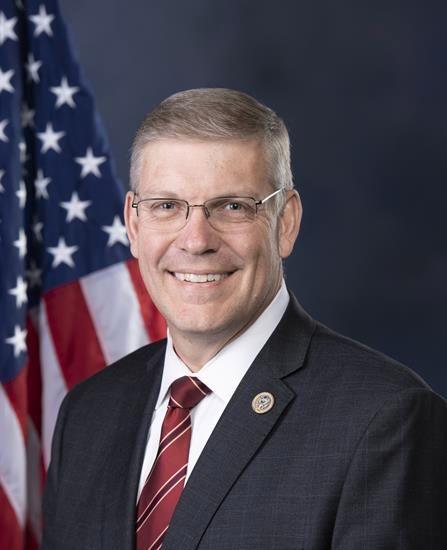 "It reminds me of something that happened a few years ago … ," Loudermilk said, launching into his own anecdote about the flak commonly doled out to Air Force personnel regarding their athleticism.
"The first year I was in Congress, I kind of let myself go, I was about 50 pounds heavier, I wasn't in the best shape ever," Loudermilk said.
A staff member introduced him to Shepherd's Men, who were raising money and awareness to treat PTSD and traumatic brain injuries for veterans.
"They were literally running across country from Boston to Atlanta, wearing 22 pounds of body armor representing the 22 veterans a day that commit suicide," Loudermilk said. "It was inspirational. I don't know about you, have you ever had anything, like, come out of your mouth and you're trying to stop it? Some people tweet that way, you know."
The reference to President Donald Trump elicited a loud response from the crowd, before Loudermilk continued.
"I speak that way sometimes," he said. "So I looked at Travis (Ellis), the guy who was leading it, and he said 'look we're running through Washington D.C.,' and the words came out of my mouth ... I couldn't stop ... 'good, let me know, I'll run with you.'"
"As soon as I said that I thought that was a big mistake ... they'll forget about it," Loudermilk said. "They didn't."
He said the part of the run through Washington he participated in was just a few miles, starting from the Iwo Jima memorial in Arlington. Loudermilk was at the back of the group of around 20 Shepherd's Men, alongside three who were keeping his slower pace.
"I was moved, I was motivated, a little bit nervous," he said.
Loudermilk said he started chatting with each of the men running at the back with him, and learned two were Army medics and the other was a corpsman in the Navy, also a medic.
"I was like 'Hey, that's cool, my dad was a medic in the Army during World War II,'" Loudermilk said. "I said, 'So the medics are running with me because I'm a 50-something-year-old congressman?' and they said, 'No sir, we knew you were Air Force, we figured this is the first time you've ever ran.'"
Judging from the laughter, it was the best joke of the veterans court graduation ceremony. Even Cobb Superior Court Chief Judge Reuben Green, who presides over the veterans court, took a dig at the Air Force, in kind, during his speech.
"It's good that the Air Force occasionally jogs," said Green, a retired Marine. "We want to encourage that."