It used to be that residents voted on Election Day and learned who won later that evening.
So much for how it used to be.
Janine Eveler, director of Cobb County Elections & Registration, doesn't expect her office to finish the counting until Monday.
"We'll have all in-person voting and most of the absentees complete on election night, but will have more absentee and provisional in the 2-3 days after that," she told the MDJ.
To learn how to read the tea leaves, and whether David Perdue and Kelly Loeffler will remain Georgia's senators or be replaced by Democrats Jon Ossoff and the Rev. Raphael Warnock, we turn to Dr. Kerwin Swint, director of the School of Government and International Affairs at Kennesaw State University. If it takes a number of days after Election Day to count the absentee and provisional ballots, the political science professor said the critical question becomes how far ahead a candidate is.
"What's the margin and is that enough to change the outcome?" Swint said.
And just as in the Nov. 3 election, Swint expects lawsuits and challenges to drag out the final verdict.
"I think there's bound to be some of that. I don't know to what extent or how long it's going to last. I'm sure there will be something similar. What I'm going to look at midday Wednesday is what the margin is. How far is Perdue or Ossoff ahead or behind and how many ballots are still outstanding, where they're from and how is that likely to affect the outcome."
Last fall, Swint predicted President Donald Trump would win Georgia. Swint said he's not making predictions in the runoff.
"Initially, like on Nov. 4, I was one of these people who said, 'Well, Republicans have won every runoff since there had been runoffs, so Perdue and Loeffler will probably win these also. But then that's when the fun began. That's when the Trump magic and all this controversy started, and then the Georgia Republicans started knifing into each other so, you know, all bets are off as far as that goes."
So he's out of the prediction business for the time being.
"It's just as different and peculiar a situation as I've ever seen. Ordinarily Perdue and Loeffler should win this, but the way things are with Georgia Republicans right now, I don't know what's going to happen."
Of course he didn't miscalculate by much.
As Trump now famously said to Georgia Secretary of State Brad Raffensberger over the weekend: "Fellas, I need 11,000 votes. Give me a break."
Swint said if he was off in his prediction, it was underestimating the growing Democratic strength in the suburbs and the ongoing continual Trump hatred a lot of those Atlanta suburbs have.
Speaking of that Trump phone call, does the professor see it having any kind of impact on the runoff?
"I don't think so. I think that would affect the decision of very few people at this point. If you were going to vote, I don't think that's going to stop you from voting or change your vote."
What of the movement led by presidential aspirant Sen. Ted Cruz, R-Texas, and signed on to by such lawmakers as Loeffler and U.S. Rep. Barry Loudermilk, R-Cassville, who are planning to challenge President-elect Joe Biden's Electoral College win on Wednesday? Does Swint believe that effort will prevent Biden from taking office?
"I don't think so. For one thing, I don't think they're going to have the votes to make that stick or anything. I don't think that's really going to change things very much. Although it looks great for any future campaigns these people want to run."
---
SCHOOL BOARD POLITICS: Cobb County school board member Randy Scamihorn may become the next board chair if he gets support from a majority of his fellow board members when they meet Thursday to elect the new chair.
Scamihorn told AT he wasn't necessarily looking for the job, but would be "happy to do it" if he is nominated and gets the votes. He didn't know if any of the other board members were considering putting their hat in the ring.
With the November election, Scamihorn and his fellow Republicans on the board — Chairman Brad Wheeler, David Banks and David Chastain — were reelected and continue to hold the majority, so whether it's Scamihorn or someone else, a Republican chair is assured.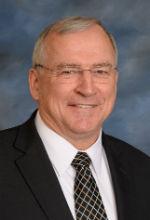 The school board chair runs the board's monthly meetings. Scamihorn, who has served as the chair twice before, sees the position as someone who also speaks for the board as a whole.
"Individual board members have very little or no power. So I often say the magic number is four. No matter what a board member wants to do, whether it's the chair or anybody else, you have to be able to gain the support of at least three others," he said. "Sometimes people ask me about the power of the chairmanship, and I really don't see the chairmanship as having more power than another board member."
If nominated and elected by his peers, Scamihorn promised to be fair.
"If I become chair, I certainly will be fair to any issue. We can have a discussion with the other board members," he said. "I have no agenda to block anybody. We all play by the same rules, or we're supposed to."
If elected, what are Scamihorn's priorities for the board?
"The No. 1 priority of any board should be the safety of our students, faculty and staff. That is paramount. If our students, faculty and staff don't feel safe, then it's going to be tough to teach and learn. So that's No. 1, always," he said. "The second one would be to continue to work to retain and get the best qualified teachers that we can get. And, I guess No. 3 would be in order to help attract the teachers and staff, (we) would ... continue to try to pay them as much as we can, to offer competitive salaries."
---
SPEAKER CIRCUIT: The surge in coronavirus cases has caused the board of the Kiwanis Club of Marietta to take a step back.
After resuming limited-seating meetings with strict adherence to COVID-19 protocols, the club has announced it will forgo the face-to-face meetings and return to a virtual-only format.
"As we head into this new year, we are still committed to taking the necessary precautions to keep our members as safe as possible. Unfortunately, the positive Covid numbers in Cobb and GA are increasing … Several members have notified us that they, or their family members, have been sick or are quarantined. As such, your Board has voted to have all meetings during the month of January via Zoom only," wrote club President Edith Boy in the club's recent newsletter.
Upcoming speakers at these virtual events are:
Jan. 14 – Evyenia Sidereas, office director of Arabian Peninsula Affairs
Jan. 21 – Alex Guthrie, artist and musician – previous contestant on The Voice
Jan. 28 – Dan Valentine, Cobb Veterans Memorial
For more information or to receive a Zoom invitation, contact executive director, Pat Huey, at pathuey@comcast.net.
---
BIG CHICKEN EYELASHES: On Sunday, Dave Weigel, a Washington Post reporter with almost 600,000 Twitter followers, shared a video of the Big Chicken doing its thing, prompting another national reporter, The Atlantic's Amanda Mull — a Georgia native — to lament: "uh oh the politics reporters have found the Big Chicken."
Dozens of comments followed. State Rep. Teri Anulewicz, D-Smyrna, said the Big Chicken is a "Key landmark at my house," sharing a framed black and white painting of the bird. "Prior to this latest iteration it featured the Pepsi logo. Those were the dark days."
One local who recalled hearing traffic reports warning of "traffic backed up to the Big Chicken" as a child said "finally seeing it was one of the biggest disappointments of my life."
Another asked Mull whether she remembered "in first grade when they rebuilt the chicken and we got to vote on whether it would be a girl or not (the girl would have had eyeshadow and eyelashes)." Mull said she didn't, in fact, remember "the big chicken eyelash discourse."