"History doesn't repeat itself, but it often rhymes," Mark Twain observed.
In the aftermath of the Nov. 3 election, which swept from office Republican County Chairman Mike Boyce, Republican Sheriff Neil Warren, Republican District Attorney Joyette Holmes and Republican Superior Court Clerk Rebecca Keaton, Twain's quote or something like it is bound to be in the thoughts of those who remember the last time Democrats controlled Cobb County in the early 1980s.
The first Republican to be elected to a countywide office in Cobb was Tom Charron, who unseated Democrat District Attorney Buddy Darden in 1976.
Charron said when he ran for office, the population and power concentration in Cobb was primarily around the city of Marietta. But with the explosion of the suburbs in east Cobb and later west Cobb, things began to change and that growth brought Republicans.
In 1984, Earl Smith, namesake of the Earl Smith Strand Theatre, was elected the first Republican chairman of the county commission. Accompanied by Commissioners Emmett Burton and Barbara Williams, "the GOP for the first time had a three-to-two majority on the county commission," according to Tom Scott's "Cobb County, Georgia and the Origins of the Suburban South."
By defeating Chairman Boyce, Commissioner Lisa Cupid will be the first Democrat elected county chair since the highly regarded Ernest Barrett gave up the seat in 1984. She's also the first woman and first African American to serve as chair. And joined by newly elected Democrats Jerica Richardson and Monique Sheffield, she will govern a board that is majority Democrat and majority African American. Not to mention with existing Republican Commissioners JoAnn Birrell and Keli Gambrill, the commission will also be entirely female.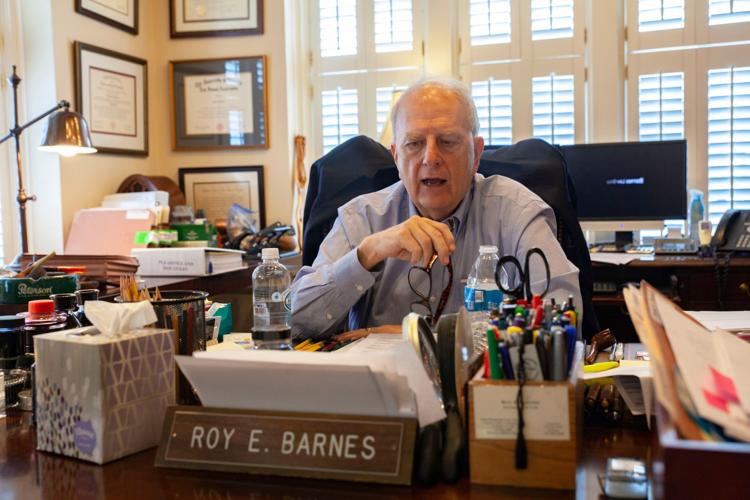 In a chat with Around Town, Georgia's last Democratic governor, Roy Barnes, who like Charron has been around long enough to see Cobb's changing political tides, offered a few words of advice for how best to move forward now that Democrats are back in charge of the county.
"One of the great things about Cobb County is even when the Democrats and Republicans were changing from Democrats to Republicans, there was one thing that we had in common," Barnes said. "If it affected Cobb County, and it was good for Cobb County, all of us were going to support it, whether it was Democratic or Republican."
Take for example how the first local option sales tax came to be, he said. When Smith was elected chairman, the county's elected leaders got together.
"Earl Smith came to us and he said, 'I got to have some money for some roads and bridges and all. Is there anything y'all can do?'"
The county had considerable muscle in the General Assembly with Democrat Joe Mack Wilson, who chaired the powerful House Ways and Means Committee, Democrat Al Burruss of Marietta, who was House majority leader; Republican Johnny Isakon, who was House minority leader; and Barnes, Senate floor leader for Gov. Joe Frank Harris.
One Sunday afternoon after church, Barnes said Burruss and Wilson came over to his office.
"I had a long table, and Al Burruss and I wrote that bill out — the first SPLOST — in long hand," Barnes said.
Barnes said he typed it up that very night.
"The next morning I took it to all of them, to Johnny and to Joe Mack and Al, and I said, 'I think this works.' And I said, 'We're going to have to have a constitutional amendment now,' but I said, 'I can deliver two thirds in the Senate.' I had a pretty good handle on that then."
Paul Coverdell was Senate minority leader at the time, and despite being in different political parties, one of Barnes' best friends. Barnes later did the eulogy at his funeral.
"Johnny and I went to see Paul together. I said, 'Paul, look at this. I think I can get enough Democrats, but I'm going to lose some Democrats and to get two-thirds vote, I have to have all of y'all (Republicans)."
Barnes said there were nine Republicans in the Senate at the time.
"But anyway, we did it and that is the way that got passed. And it was very close in the House. And that was for a Republican chairman of the Board of Commissioners of Cobb County. He's the one that came to us about it, and we all worked together and that's how we did it. That was the Cobb Way."
Barnes said Cobb voters were the first in Georgia to approve the local option sales tax in 1985.
"And that's how we built Barrett Parkway. That's how we built all of these other things, the East-West Connector. Imagine what we would be like without all of this? How we did all of the widening and all of the improvements that we did. And it was all of us working together," Barnes said. "Johnny and I and Joe Mack and Al would sit down and make up lists of projects that the county needed, and I never will forget this. Joe Mack told me one time, he said, 'Now you realize all this is doing is just going to bring in more Republicans?' And I said, 'Yes, that's probably true.' I said, 'But Joe, we've got to do it.' He said, 'I know.'"
So yes, Barnes said, history rhymes. And you have to get along with each other.
"If you don't say 'Listen, we're going to do what's best for Cobb County regardless,' then you're not going to grow, and you're not going to prosper, and that's the message that needs to be learned here," Barnes said. "There's always a little revenge — a feeling of revenge: 'Remember what they did to us and such and such.' Well, that may be so, but you have to put it aside and you have to say, 'Am I just going to be an empty seat in the General Assembly or on the school board or commission? Or am I going to actually do something during the time that I'm there? And I always said, 'What's the use of being elected if you can't do something?'"
---
TRANSITION IN GRACE: Making his first public comments since losing his reelection bid, County Chairman Mike Boyce congratulated Chairwoman-elect Lisa Cupid at the close of Tuesday's meeting of the Board of Commissioners.
He also noted that almost 400,000 Cobb residents voted in the election — a record — and called it a "great example of true democracy in action."
The outgoing Republican then turned his sights on his fellow elected officials. See if you can guess who he's talking about.
"But I think it's also important that as part of this process, that we have a transition in grace. That we acknowledge the voice of the people, we hear them and we move on.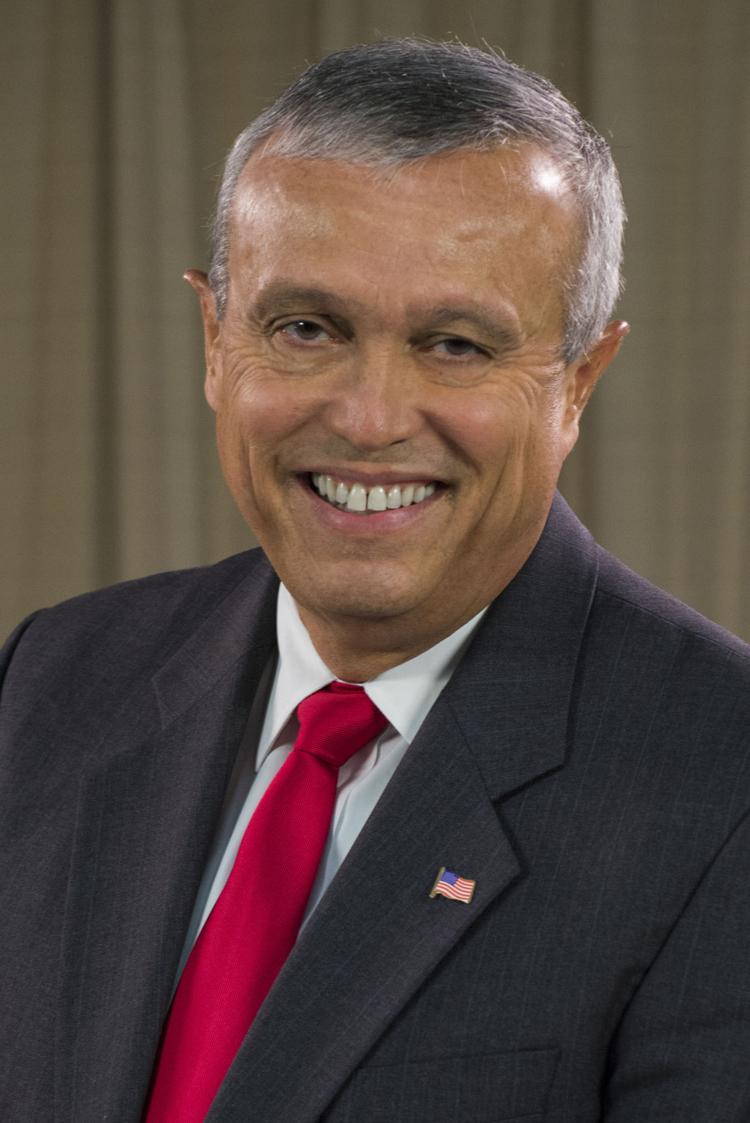 "I think Commissioner Cupid knows that I stand ready and able to assist her in this transition, in every aspect of this important role that she's about to assume … because it's for the best interest of the people of Cobb County that we have this transition in grace.
"And I hope that this message gets loud and clear to our national and our state leaders: That this transition in grace is part of the election process.
"I find it extraordinary that four years ago nobody complained about the results of the election, and yet four years later, we have people who question the integrity of the voting process because they lost.
"That doesn't reflect well of leadership. That doesn't happen in Cobb County. That's not going to happen in Cobb County as long as I'm the chairman. … We are different here in Cobb County because the people themselves are such decent, wonderful and caring people and they expect that of us as (leaders), that we do all we can to make this transition in grace, so that when (Cupid) assumes the leadership on Jan. 1, it will be without any kind of interruption.
"So tomorrow, we celebrate Veterans Day. As you know I'm a veteran, as is Commissioner (Bob) Ott. … Tomorrow I just think it's a great time to remember, if nothing else, what this country stands for: that although veterans fought for freedom, and still fight for freedom, we all fight for freedom in our own ways. And one of the ways to do that is to acknowledge the will and the voice of the people. And to continue, and to encourage, what I call this transition in grace."