Democrat Commissioner Lisa Cupid, who is running for chair of the Cobb Board of Commissioners in the May 19 primary, called for the various parts of the county to unify for the good of all during a fundraiser this week at Justin O'Dell's Marietta law firm, O'Dell & O'Neal.
"No one that ascends into leadership can do this on their own," Cupid said. "The host committee that was named, these are people that I look up to and that have served Cobb County diligently, and I am so happy to have served Cobb County diligently with them and with so many of you who are here from Leadership Cobb to community organizations that are in the district and so many different roles we've worked together to make sure Cobb County can be the best that it can be."
The host committee she referenced included such names as former Gov. Roy Barnes, former U.S. Rep. Buddy Darden, D-Marietta; former State Rep. Stacey Evans, D-Smyrna; state Sen. Jen Jordan, D-Sandy Springs; state Rep. Teri Anulewicz, D-Smyrna and Cobb school board member David Morgan.
Cupid critics were quick to point out that another name to appear on some invitations but not others was Jonathan Page, who ran a highly negative campaign against Commissioner Bob Ott in 2016, a tactic that backfired when Ott cleaned his clock with 67% of the vote. Asked why Page was listed as part of the host committee on some invites but not on others, Cupid said while Page was a friend, it was simply an error that his name was listed.
In her talk to supporters, Cupid said if there's anything that she's been committed to it's that the county is stronger when everyone comes together.
"We are such a stronger county when we come together and work together that regardless of whether we are on the south side, the north side, the east side or the west side, we all want a strong county, a thriving county that we can live and raise our families and do business in."
Cupid said she came out as a strong advocate for District 4, but learned that the desires of her district are not different from anyone else's in Cobb.
"We just have some catching up to do," she said. "I'm not here for myself but to be an advocate for everyone. To be an advocate for those that don't have. But be an advocate of those that do have. And to realize that we are not in conflict, and I think that's been part of the challenge I've seen in Cobb County is that sometimes we exploit our differences, and we don't realize the strengths of our commonality. That to be a member of our business community it also takes a strong residential community to have employees and to patronize your business. And as the residents here, nothing's wrong with having businesses that have a healthy bottom line that can contribute to our economy and invest. Another thing I realize is that sometimes we exploit transportation. Having a strong growth system is not an antithesis to a strong transit system. These things work together to move people to get them to where they need to be, and I think it's not what we're trying to do, but how we do it and seeing that we are best when we look not just at our differences, but looking at how we work together and bring things together for the betterment of everyone here in Cobb."
Others in attendance included state Sen. Michael Rhett, D-Marietta; Doug Stoner, chairman of the South Cobb Redevelopment Authority; Jacquelyn Bettadapur, chair of the Cobb Democratic Party; Cobb Board of Elections member Neera Bahl; and Jerica Richardson, Democratic candidate for Commission District 2. Bahl, an attorney who was appointed to the elections board by the Cobb GOP, is a noted Republican. She shared with Around Town why she attended the fundraiser of a Democrat.
"Lisa and I went to Leadership Cobb together. She's such a wonderful person at heart. And she's doing good for everybody, it's not always the Democrat or the Republican, and I've always have said to people I say I have conservative values. That doesn't mean (that I blindly vote). So I am a Republican. I confess I am admittedly Republican. But because Lisa is such a good friend, I know her heart, I know her from friendships, I'm here to support her and wish her all the best."
After all, as one wag observed, it's not as if the other option for chairman, Mike Boyce, is any kind of fiscal conservative evangelist. Boyce may run as a Republican, but his tax-and-spend policies have earned him the nickname "Tax Hike Mike." At least with Cupid, one knows where she stands, the wag said.
Qualifying for the race is March 2 to 6. The regular election is Nov. 3.
---
LEFT BEHIND: A case of marked ballots was left at a Kennesaw polling place on election night and not collected until the following day.
Cobb Elections Director Janine Eveler revealed the mistake at Tuesday's Board of Elections meeting where the results were certified.
She said poll workers mistakenly locked a case of 227 ballots inside Kennesaw First Baptist Church, but the case was properly padlocked and sealed. Officials made sure the seal was unbroken the following morning.
"The first precinct that was in, which was Kennesaw 4A, the instructions did say for them to bring the voter ballots back, but they didn't understand it and they left them there, again, sealed and locked, with the other equipment that was left there," she said. "We did try to access that facility again. The assistant manager had a key to the church, but he didn't (have) … the key to the padlock."
The votes were still counted on election night by using the memory card attached to the scanner.
"The memory card from the scanner was returned and uploaded election night," she said. "We don't do anything with the actual ballots coming from the polls except store them in evidence."
Eveler said the elections board lists items left at polling places in its report to promote transparency. In the past, there have been memory cards left at polls.
This year, Cobb test-piloted a new hand-marked ballot system that will be rolled out statewide if Georgia's new electronic voting machine system is not up and running by the March 24 presidential primaries.
There were 1,539 votes cast in Kennesaw, according to Cobb Elections, which means the missing ballots account for just under 15% of the votes cast in that city.
There was only one race on the ballot with more than one candidate, the race for Councilman James "Doc" Eaton's seat. Eaton won reelection by a margin of 383 votes over the second place candidate.
---
BIPARTISANSHIP: Cobb school board member Randy Scamihorn attracted a few stares as he sat down on the back row during the Cobb Democratic Party's monthly "Donuts with Democrats" meeting at the Smyrna Community Center last Saturday.
Sitting on the front row, Democrat Cobb school board member Charisse Davis and her husband, Sean, seemed nonplussed — Sean kept turning around to gawk.
Jacquelyn Bettadapur, chair of the Cobb Democratic Party, made sure the audience knew who was in the room when she pointed out the elected officials in attendance.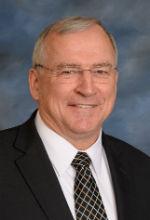 Scamihorn later told AT he was not gathering reconnaissance, saying instead he wanted to be available in case anyone wanted to ask him a question. No one did.
The school board member said he wasn't surprised or offended by what he heard at the meeting, calling it "just political rhetoric."
"(It was) negative toward (President Donald) Trump. But it wasn't too bad, really," he said. "Also, I just wanted to start letting people know that, as an elected official, I truly represent everybody."
And yes, Scamihorn, a Republican, did in fact pay his $5 and have his Democratic doughnut.
Suppose we'll see Davis and Dr. Jaha Howard at the next Cobb GOP breakfast? Don't hold your breath.