State Sen. Lindsey Tippins, R-west Cobb, is back on his feet after a brush with coronavirus. Tippins said he developed a cough the afternoon of Aug. 28, a Friday, but didn't give it much thought as he has sinus problems every fall. He had no fever. And as the cough wasn't a dry one, which is what he's been told a COVID cough tends to be, he chalked it up to his yearly sinus bout. 
"Monday and Tuesday I didn't feel real good but I didn't feel real bad. I was just tired. Over that weekend, I had been really busy trying to get signs out for the campaign, get everything lined up and get it off the ground."
When an employee at his contracting office told him her brother had tested positive for COVID and the only symptom was a cough, he decided to make an appointment to get tested. He went in for the test Wednesday with plans to enjoy a Labor Day holiday with his family that coming weekend.  
"Went in on Wednesday the 2nd, had the test, lo and behold she came back out and told me 'You're positive,'" he said.
He was ordered to quarantine through the following Monday or 10 days after his first symptoms began.
"I said OK. I went home and stayed quarantined. When I got home, Ann told me that she had felt a little bit bad that morning."
Mrs. Tippins also tested positive for the virus.
Tippins said he had no idea where he got it from. 
"I went to a home improvement store. I'm sure I touched the door when I opened the door or going out. You just don't know what surfaces you may have touched. So we stayed in the house, the kids brought us what we needed from the store. Our trip over Labor Day weekend was canceled."
At 71, with a couple stints put in his heart a few years ago, Tippins was already in a higher risk category. But the same week his symptoms began, he had just received the results of his physical, which found him to be in good health.
The sixth day after his initial symptoms, a Thursday, he noticed his breathing was impaired. Doctors prescribed him the steroid Dexamethasone, an antibiotic called Azithromycin and an inhaler. 
"When I got home I took the medication and I stayed up a little bit because I was a little bit concerned. I really didn't want to lay down and go to sleep because I didn't know how bad my breathing was going to be, and I have sleep apnea. I didn't want that to be combined because I felt like I had about a 15% reduction in my breathing capacity. ... I just didn't have the breathing capacity. And it concerned me. But I really didn't know which way I was going to go because I didn't want to go to the emergency room."
Fortunately after a fraught night, he was feeling somewhat better Friday morning. 
"And probably within 36 hours after that, I didn't have any breathing problems at all. By Sunday I felt great. We didn't go to church because I was still under quarantine and Ann was under quarantine, but I felt good on Sunday."
He's felt no ill effects since.
"I am convinced, and I've told the governor, I said 'Look, I know a whole lot more about digging ditches than I know about practicing medicine. But I can tell you from my personal experience, if you can keep this stuff from getting in your lungs or if it starts affecting your breathing, you need to take some pretty serious steps quickly.'"
Tippins credits the medication for helping him turn a corner.
"Because I know how quickly the lung discomfort came on, and I know how quickly I got over it when I started taking the drugs. Now to speculate where it would have gone had I not taken it, I don't know, but the last thing in the world I wanted to do was be in the hospital laying horizontal on a ventilator."
He said he and his wife were blessed to have a light case of COVID-19. He doesn't believe having the virus has changed the way he's looked at it.
"I've never denied the fact that it was contagious, but, you know, you've got to make a living, and we've got to have a safe balance between the stability of our economy and the actual health risks that are posed by this," he said. "I think the people who are in the high-risk categories, they definitely need to be more cautious, but the life I live, I can't stay inside locked behind doors for three or four months. There's too much going on that I have to be involved in personally. Oversight of a business, other interests that I got, just the way that I make my living, I can't stay holed up in the house."
AT asked him if he and his wife had a special celebration when they recovered.  
"We celebrate every day. If you wake up and you're vertical, it's a day for celebration. I don't have to get over COVID to have a day of celebration. Waking up with reasonably sound mind and reasonably sound body — reasonable is the controlling word — that's celebration when you get to be 70."
---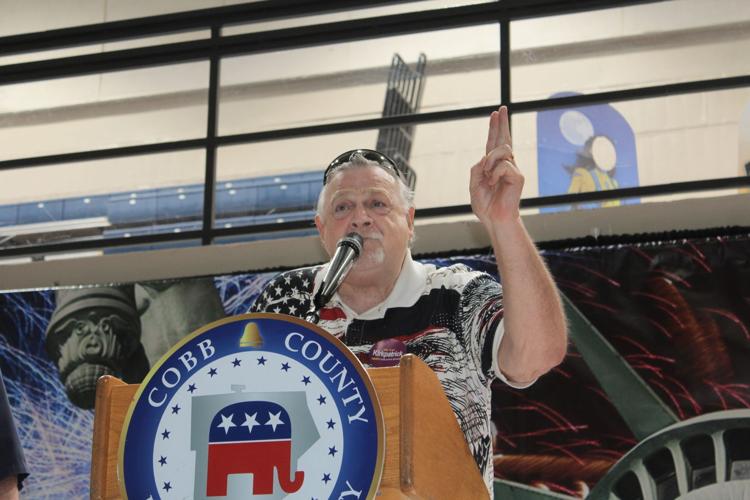 THE SHERIFF'S RACE: On Monday, Cobb County Democrats shared on Twitter a link to a story about Republican and former Cobb Chair Sam Olens' endorsement of Democrat Craig Owens, the Cobb County Police Department major running to oust longtime Republican Sheriff Neil Warren.
"We had unconfirmed reports that he was hospitalized in the ICU at Kennestone hospital," Cobb County Democrats wrote in that tweet. "Voters really should be informed if there are health issues that would prevent him from serving."
Opponents of the sheriff had already reached out to the MDJ on two separate occasions to say he was in Kennestone Hospital's intensive care unit. So last Friday, AT called the sheriff's lobbyist, Louie Hunter, to see whether there was any truth to the rumors.
Hunter unequivocally denied the sheriff was hospitalized, full stop.
"I can refer you to his Facebook page of yesterday," Hunter said. "He is out and campaigning."
Indeed, Warren shared pictures of himself putting up yard signs with his wife Thursday. He has since posted a dozen more showing him out and about — posing with supporters and deputies and working from the office.
 "It's just a vicious rumor because the campaign's getting close," Hunter said. 
---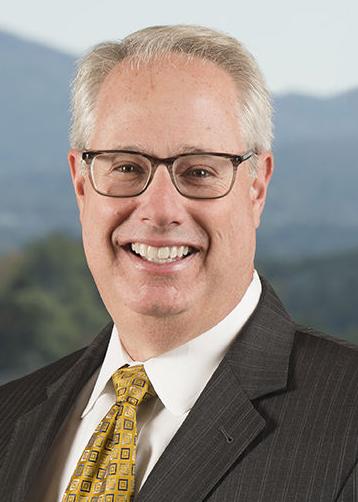 SPEAKING OF OLENS, we asked him why he, a longtime Republican, was making robocalls for a Democrat.
 "I have known Craig for 20 years. He is an outstanding law enforcement leader," Olens replied.
On Saturday, Owens marched with church members and other police officers in Mableton as a display of unity for Faith and Blue weekend. The group of 90 marchers walked about a mile together from Vision for Souls Family Worship Center to Family Life Restoration Center.
Owens was joined by several Cobb police officers, including Chief Tim Cox. After the event, Owens the candidate made an appearance and encouraged all the marchers to vote.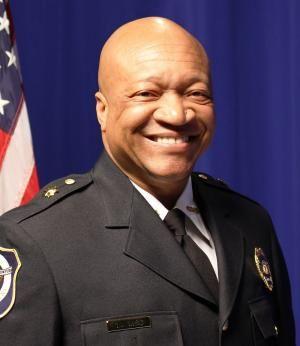 "Please get out and vote, either by absentee voting or in person," Owens said. "Your vote is important, not only at the federal level, but the local level is extremely important."
Owens also made his pitch to voters, calling on them to make a difference in the race for Cobb sheriff.
"Now you get the chance to choose who is going to represent you and who is going to take care of you and keep you safe on a daily basis," he said. "Please get out and make a difference. … It's time for a change in Cobb, and I appreciate all who are voting for me."
---
DEBATE: Tune in to the Atlanta Press Club on Wednesday to hear a debate between the two seeking to become the next chair of the Cobb Board of Commissioners. The Republican incumbent, Mike Boyce, is scheduled to debate Democrat Commissioner Lisa Cupid. The debate will be livestreamed on the press club's Facebook page and on WABE.org at noon and again at WABE 90.1 at 8:30 p.m. Wednesday.