Candidates for Powder Springs City Council went head to head Thursday night, taking on such issues as downtown and workforce development, infrastructure needs, trail construction and creation of a diverse tax base, to name a few.
The debate attracted scores of residents, along with some former and current elected officials, who cheered for some candidates' responses to submitted audience questions and scoffed at others.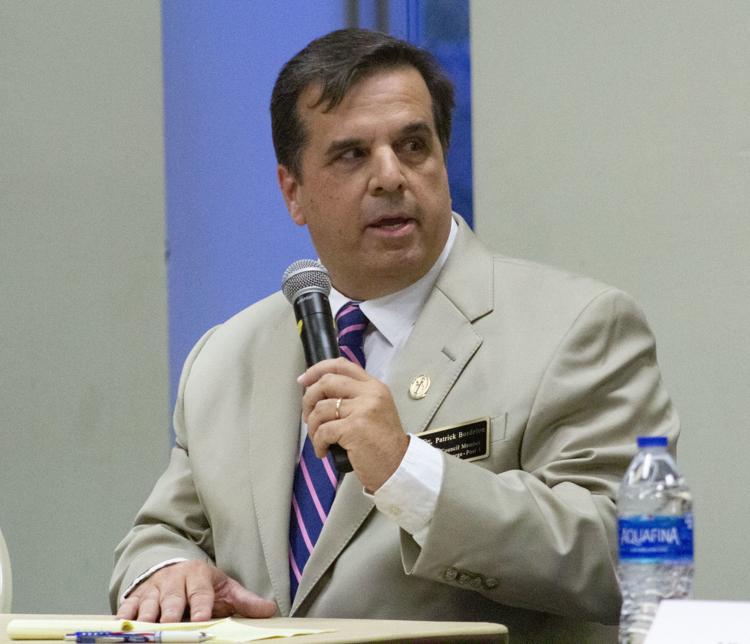 One of the less-than-enthusiastic responses came early. During Patrick Bordelon's opening statements, the Post 1 councilman and mayor pro tem running for reelection made a comparison that seemed to miss with the crowd:
"I'm serving as city councilman, at-large Post 1, finishing our first term. I'm also currently serving as the mayor pro tem for the city of Powder Springs, which makes me the Mike Pence of Powder Springs," Bordelon said, the crowd responding with sarcastic laughter and some groans.
When it was Mayor Al Thurman's turn to make his introduction, he capitalized on the opportunity to have a little fun with the comment:
"Don't get it twisted. I'm not Donald," Thurman said, referring to President Donald Trump. He was rewarded with laughter and applause.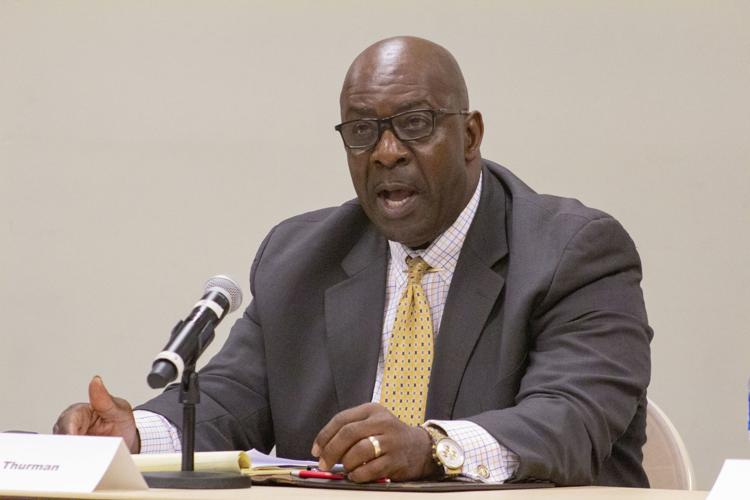 Another apparent miss with the audience came at the hands of Guenevere Reed, one of three candidates for the at-large Post 2 council seat, held by Councilwoman Patricia Wisdom. Reed, a retired, single mother of three moved to Powder Springs about 20 years ago from New York after her husband was murdered. In calls Thursday for more resident input in city goings-on, Reed said she supported the creation of a city of South Cobb, saying it would be good for Powder Springs.
"There have been rumors and efforts regarding forming a city of South Cobb, which would include Mableton, Austell and Powder Springs. I think that would be wonderful to have South Cobb cityhood," she said, prompting confused scanning of the room from some in the audience. "Cityhood means you could create your own entity, you can govern yourselves, you can apply for block grants and monetize what Cobb County's identity is. … The population is growing. We need to build infrastructure, to build more affordable housing, more community and economic development, as well as social activities."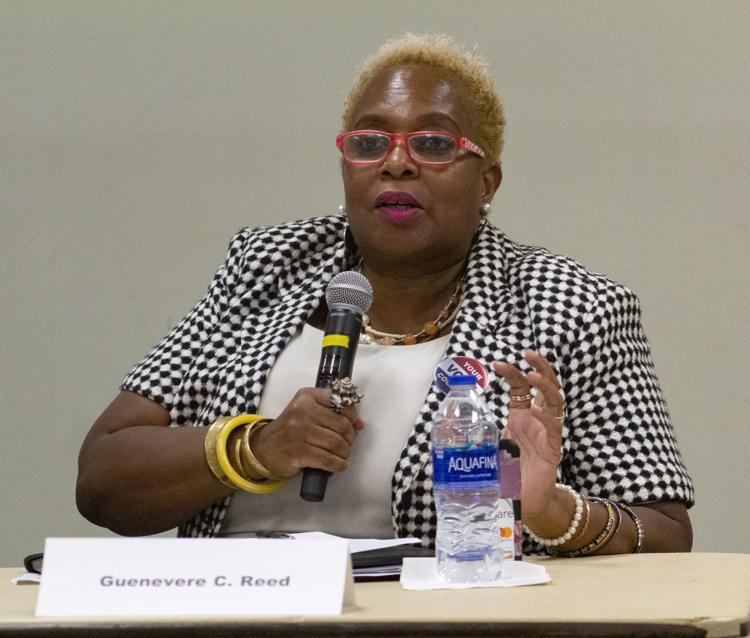 Reed also said cityhood would create long-lasting neighborhoods and get rid of "that gerrymandered map" that "doesn't include the rest of Powder Springs."
"They don't have a say," she said, without specifying what map she was referring to. "And like I said, (we should) create citizen (and) youth advisory councils to get input. I'm quite sure I'm not the only one that believes that we can do it, just like Marietta did. We can make a difference. We can have our own city."
Ms. Reed may need a reminder she is running for Powder Springs "City" Council.
On a lighter note, Larry Thomas, candidate for the at-large Post 1 council seat provided a little comic relief late in the debate. Thomas, who all night countered claims of sitting council members and the mayor, calling for more accountability and transparency, agreed with Thurman on what an imaginary $1 million grant would be used for in the city. The answer for both Thurman and Thomas was a second community center like the Ron Anderson Community Center where the debate was held on the opposite side of town.
"Get the paramedics ready, because I'm going to agree with the mayor," he said, cutting the night's tension with laughs from the crowd.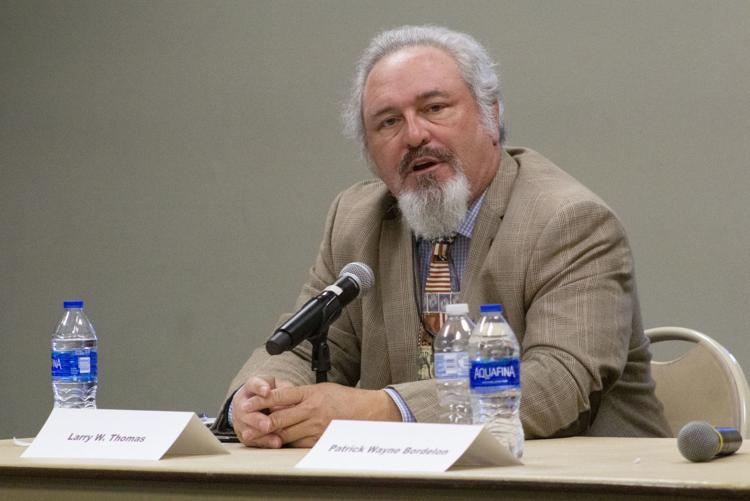 ---
DEVELOPMENT AUTHORITY: Seventeen long years of service to the Development Authority of Cobb County came to an end for stalwart Bob Morgan this week, when he received a certificate of thanks from Chairman Clark Hungerford.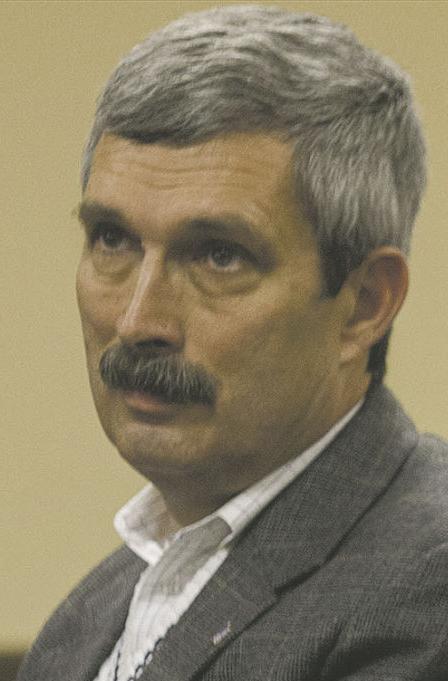 "He's had a long, distinguished career here on the authority and I just wanted to take a moment," Hungerford said.
Morgan, who has been the board's vice chairman for the last eight years, only stayed at the meeting long enough to receive his certificate and a few brief well-wishes from his peers, citing urgent "tax returns to finish."
His position on the board, an appointment by the Cobb County Board of Commissioners, has been filled by J.C. Bradbury, an economics professor at Kennesaw State University, whose first meeting was Morgan's last.
Bradbury was warmly welcomed by board members at their Tuesday meeting in Cumberland.
"We're glad to have you in here," Hungerford told Bradbury, but the professor didn't get a chance to contribute much to the board's first real items of business, having to declare a conflict of interest and leave the room.
A proposal seeking up to $30 million in the authority's revenue bonds was presented to the board on behalf of The University Financing Foundation, which would use the money to pay off almost $19 million of the bonds it was originally issued by the authority in 2010.
TUFF would also spend $3 million of the new bonds on security and access improvements at Georgia Tech's federal defense research campus beside Dobbins Air Reserve Base in Smyrna.
As an employee of the Board of Regents of the University System of Georgia, Bradbury recused himself from the board's consideration of this proposal and was not a part of the 5-0 vote in support of it.
"Can J.C. come back in so he can hear this? I know he can't vote on it, but it might be good exposure for him," board member and assistant secretary/treasurer Kevin Nicholas asked early on in the board's discussion of the proposal.
But the board's attorney, Dan McRae, explained that wouldn't be acceptable without prior public notice of Bradbury's conflict of interest, so the professor stayed in the corridor.
His introduction to the board did prompt several changes in its leadership, however.
With Morgan's exit, the role of vice chairman was vacated.
Hungerford suggested board member Donna Rowe for the position, as "she's been here the longest next to me."
Hungerford also suggested that Rowe's role as board secretary/treasurer then be taken by board member Jamala McFadden, citing McFadden's good work and experience on the board's grants committee.
In addition, Hungerford suggested Nicholas be appointed to the grants committee, and all his recommendations were unanimously agreed upon by board members, with the exception of McFadden who wasn't at the meeting.
"She's done a wonderful job in the grants committee, she's very in-depth and cares about what we're doing," Rowe said of McFadden.
---
O CHRISTMAS TREE: If you've got a 23- to 25-foot evergreen tree and nowhere to put it, the city of Marietta would like to hear from you.
The Marietta Parks and Recreation Department is on conifer watch as it seeks a Christmas tree to be the centerpiece in Marietta Square this winter, and city staff is putting the call out to residents who might want to donate.
Almost any type of evergreen tree is acceptable, but Leyland cypress trees need not apply. Community engagement supervisor Maggi Moss said it's nothing personal, but that species just doesn't make a good Christmas tree.
"Their limbs are not sturdy enough, so whenever we put lights on, it droops," she said. "It's just really droopy-looking, not like a Christmas tree, more like a shrub. We really need a tree with sturdy limbs."
Moss said the city used to get its yearly tree from a farm until prices spiked a few years ago.
"The good thing was the same year that happened, we had a retiree from Marietta who called us and said he had a tree he would love to donate," Moss said. "So we went out and had a look, and it was perfect."
Since then, the city has alternated between trees donated from residents and purchased from a landscaping company, but Moss said the city would love to start a tradition of showcasing a local tree's talents each yuletide.
If you've got a tree you think could make the cut, you can email mmoss@mariettaga.gov or call 770-794-5609. Moss will come to your place with an arborist and tree crew in tow for a tree audition. If your tree cuts the mustard, a Marietta Power crew will cut it down and dress it up for Christmas.
Moss said if a tree finalist does not appear in two weeks, the city will buy a tree from a landscaper.