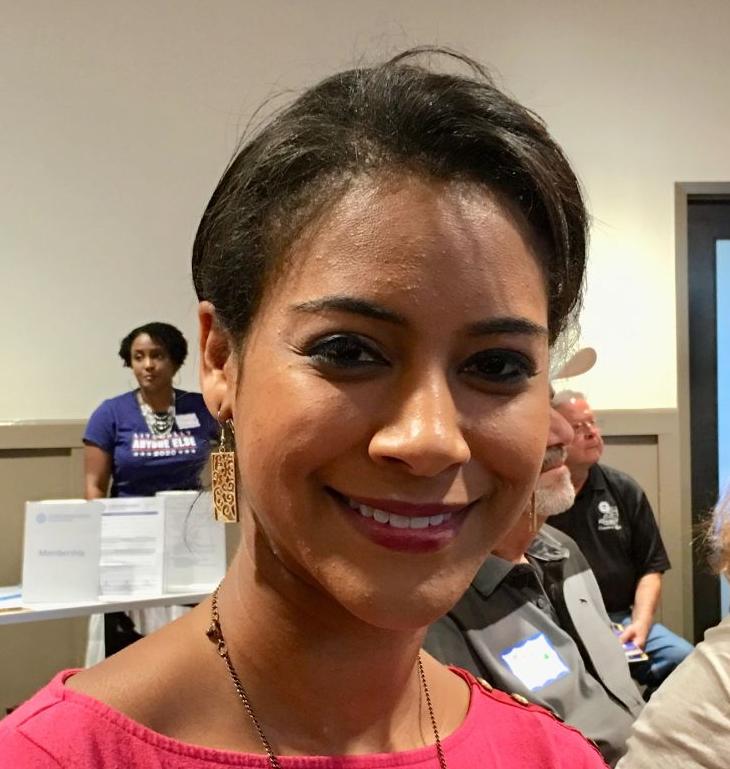 Republican Cobb County Commissioner Bob Ott has been famously mum on whether he will seek another term in next year's election. Check back with him after the New Year, he said.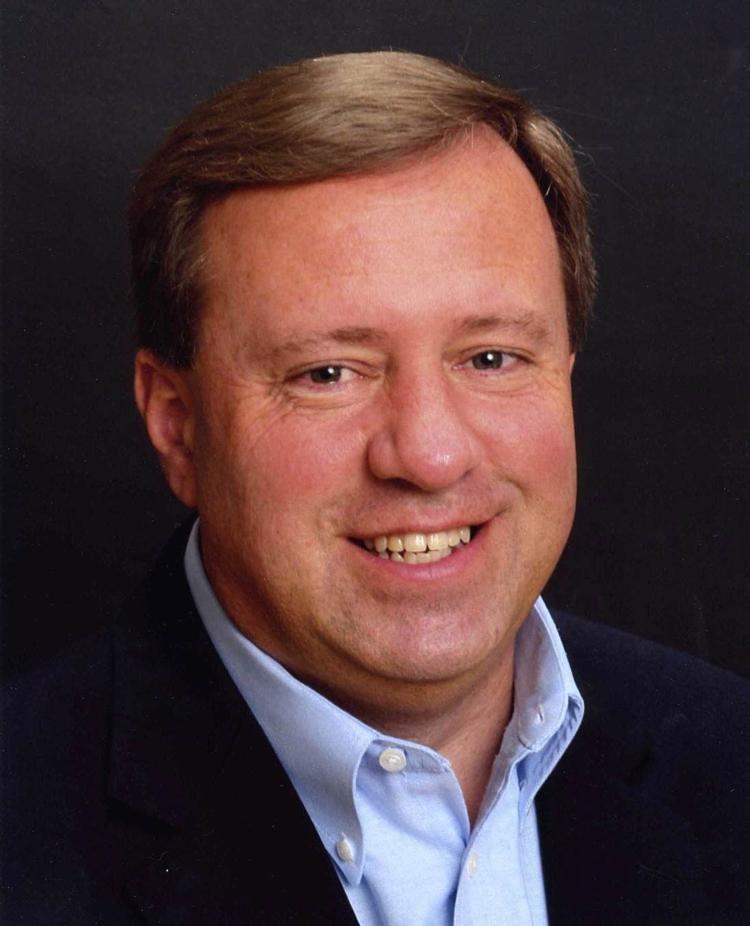 Regardless, New Orleans native Jerica Richardson, an Equifax employee who's managed several political campaigns, has thrown her hat in the ring to run as a Democrat for the District 2 commission seat.
Richardson said it was Hurricane Katrina that brought her family here from the Big Easy when she was 16.
"We came up two days before," she said. "We actually lived in hotels for a little bit."
Watching news of Hurricane Dorian ravage the Bahamas has brought back memories.
"I hope that everyone is OK," she said.
She earned a degree in biomedical engineering from Georgia Tech and said she canvassed for future Atlanta mayor Kasim Reed the first time he ran for mayor. She also worked with former Atlanta City Councilman Kwanza Hall. Hall advised her to attend a campaign seminar, which is where she met state Rep. Erick Allen, D-Smyrna, and Cobb school board member Jaha Howard before either were elected.
"I ran Erick Allen's campaign and Dr. Howard's when he ran for state Senate the first time," she said.
Those districts lean more to the left than Ott's does. District 2 traditionally has been a bastion of Republican conservatism.
Yet Richardson sees a path to victory.
"(The district) is Republican conservative, but the trends are not limited to just those areas," Richardson said, noting how the post held by Democrat Cobb school board member Charisse Davis overlaps with Ott's.
"I have a hunch that it's purple and I think purple areas are great for conversation and debate," she said.
Financially, she predicts she will need upward of $500,000 to win the race.
"This will probably be a somewhat expensive race considering it's a local race, but I'm looking at half a million, quarter of a million," she said.
In addition to deciding on what commissioner to represent them, east Cobbers are debating whether to incorporate as the city of East Cobb.
Richardson is not a fan of incorporation.
"I'm not in agreement of it at this point in time," she said. "At this point, what I've seen and read, I've heard a lot of … over-the-top promises: Taxes won't go up … and some are saying we want to preserve what we have here. If it sounds too good to be true, it usually is," she said. "Secondly, what are we trying to preserve? Is it that we are concerned about the changing demographics? Those are all questions that I have yet to get real answers to, but yeah, the other side is that is the city really going to account for all of its services? … When you add another layer, there's just a lot of responsibilities that you've got to take on."
Another hot topic that comes up in any commission race is what to do about the area's traffic congestion.
"When it comes to MARTA expansion, I've always been a fan," Richardson said, adding she hasn't yet had the chance to talk with area leaders about the issue.
"And so once I get some of that information under my belt, my statement will be a little bit more robust, but I tend toward expansion of MARTA. … There are a lot of things we can do around community development and making sure that we're not just connected to other counties, but we're also connected internally as a county."
Turning to the controversial Sterigenics plant near Smyrna, Richardson believes it's entirely reasonable for the plant to shut down for the short term.
"I know they mentioned about all their equipment and all the money they will lose and accounting for all of that and inventory that's lost to the hospital. But truth be told, any company that's operating over $1 million has ... enterprise risk management. You plan for the worst and so it's not much to ask for corporate responsibility from that standpoint. At a minimum, it's the testing and making sure it's closed down for that time period while it's fixing the problem. Then there's the other side to this, though, where there's opportunity for us to be innovative," she said, suggesting future plans for the plant could be an R&D facility that focuses on air quality among other examples.
---
RICHARDSON SAID IT'S LESS about challenging Ott than it is about what she brings to the table. Her tagline is Connected Cobb.
"And so the idea of that is connections on multiple levels," she said, noting how she sits on a Cobb School District committee that serves as a watchdog over the district's SPLOST program.
"One of the things I've noticed is this disconnect that lives between the schools and the county," she said. "When there's not coordination, and a school board member shows up to a commission meeting and the question is 'Why are you even here and why don't you just redistrict?' that's highly concerning for me. When our projections don't necessarily count people that live in apartments as going to have children — concerning to me. And so there's a disconnect between our governing bodies."
Richardson hopes to break that disconnect. Look for her to be rolling out policy positions in the coming months on her website.
Looking at the demographic picture as a whole, from Cobb County to metro Atlanta, Democrats are making headway in races where they weren't able to compete 10 years ago, said Kerwin Swint, director of Kennesaw State University's School of Government and International Affairs.
"So from that standpoint, I think a lot of races are becoming more competitive or potentially competitive, and I think there's a dictum out there that both parties — if they can — they want to challenge at all levels. They don't want to have any Republicans unopposed. Republicans did the same thing when they were the minority party."
There are multiple reasons for this, he said. One, it provides a training ground for candidates so the party has a bench to work with. Another is a party wants to extend its reach of grassroots workers for potential donors. Without a candidate on the ballot, that's harder to do.
"East Cobb is still a pretty Republican area, but things can change," Swint said.
Qualifying for all 2020 partisan races is March 2-6. The primary is May 19 and the general election is Nov. 3.
---
SPEAKER CIRCUIT: Coach Amir Abdur-Rahim, head basketball coach of Kennesaw State University, spoke to the Metro-Marietta Kiwanis last week. The coach spoke about the upcoming season and on developing the athletes into well-rounded young men.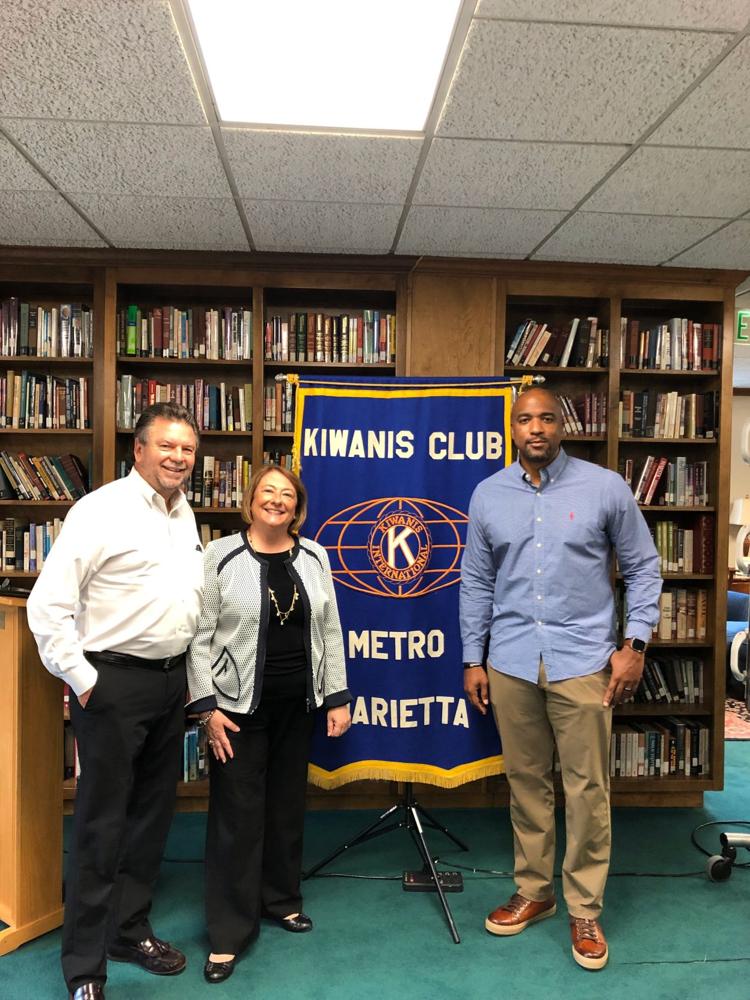 ---
Jeff Clemmons will give a lecture on "Rich's: a Southern Institution," at 7 p.m. Tuesday, Sept. 10 at the Roberts School, 4681 School Street, Acworth. The presentation, part of the Save Acworth History and Kennesaw HIstorical Society lecture series, is free and open to the public.
---
State Rep. Erick Allen, D-Smyrna, is hosting a town hall on addiction and recovery from 6:30 to 8 p.m. on Sept. 17 at WellStar Vinings Health Park.
---
STUDENT LEADERS: Georgia District Kiwanis is conducting a student leadership retreat at Marietta High School from 8:30 a.m. to 4:30 p.m. on Sept. 14.
The retreat is intended to help young people develop their leadership skills, team building skills and become better servant leaders. The Kiwanis Club of Metro Marietta, Division 15, will host the retreat. The cost is $20, which includes breakfast, lunch, snacks and materials.
For more information and online registration, please visit Georgia Kiwanis Student Leadership Retreat at tinyurl.com/y6do4dfq.