A long list of adjectives could be used to describe John Loud.
"Conventional" would not be among them.
So Cobb Chamber of Commerce members might want to fasten their seat belts in 2020 — the year Loud takes over as chairman. It won't be business as usual.
Loud, who describes himself as a part-time employee of his Loud Security firm and a full-time volunteer with the chamber, vows things will be different when his term begins next year.
"There'll be a little different energy that'll go on next year," Loud promised the Metro Marietta Kiwanis Club earlier this week. "A lot of fun changes and plans can be worked out when they give me a year and a half to focus and think about it."
He mentioned a new chamber logo will be revealed before year-end and, of course, already known is that the business organization is moving into new digs on Circle 75 Parkway in Cumberland, across from SunTrust Park and The Battery.
But for those who have gotten into the routine of setting an early alarm every first Monday of every month, Loud's next announcement was life-altering news.
"Next year there will be no such thing as a first Monday breakfast ... first Monday will go away."
The chamber's monthly breakfasts have become a staple — some would say a tradition — within Cobb's business community. He did not elaborate.
Loud, along with former chamber president David Connell, crashed the Kiwanis meeting to hear Cobb's new district attorney, Joyette Holmes who was the Kiwanians' featured speaker.
In June, Holmes was tapped by Gov. Brian Kemp to fill the D.A. post vacated by Vic Reynolds who now fills his day running the Georgia Bureau of Investigation.
Holmes is the first African American and the first woman to head the D.A.'s office. She also earned those "firsts" in her previous position as Chief Magistrate judge. Loud and Connell framed a clipping of an MDJ editorial lauding the historic appointment and presented it to D.A. Holmes to mark her creation of more "firsts" in Cobb County.
Here's an excerpt from the framed editorial presented to her:
"Holmes took the oath on a Bible held by her husband, Bridges, with their two daughters standing close by. Far from any hint of arrogance or self-adulation, she credited her family, court employees, numerous friends and advocates for their support. She spoke of the need for working together in ensuring public safety in Cobb. 'It doesn't happen without all of us,' she said. Nor without divine blessing, she said. 'I always talk about being specific in your prayers, but sometimes when you pray, you pray that God's will be done, and that if this is the place for me to continue to serve, let that be,' she said, 'and I thank God that that was his will, and that I'm able to stand before you today as Cobb County's next district attorney.'"
After being introduced by Senior Judge Jim Bodiford, Holmes told of an eye-opening experience that still impacts her today.
Holmes said after serving an internship with Cobb County Juvenile Court to complete her UGA degree, she had some time between graduating and law school and was asked to be a substitute teacher at Cobb County's alternative school.
"(Teaching) was the most rewarding experience ever. If I had not, since junior high, wanted to be a lawyer, I probably would have stayed there and got my teaching certification because I just learned so much, not just about myself, but a little bit more about the world."
The eye-opener came in a discussion with her class.
"You know, we grow up and we think we have experiences, but never really have experienced life in the way that some other people experience life. Sitting in class one day, one of the young students said to me, 'My mom bakes cookies and sells the cookies out of the house.'"
"I'm thinking, yay, let's get some peanut butter, oatmeal raisin and chocolate chips so we can have them in class the following week …"
Holmes said the room of mainly African American and Hispanic students was dumbfounded.
"They looked at me as if I had three heads. And they're like, 'Surely you don't believe she's talking about real chocolate chip cookies.' I'm like, why would I not think that?
"She was talking about crack cocaine. Her mother sold crack cocaine out of the kitchen at home. It's baked in cookie form and then crumbled in little baggies to be distributed.
"So of course my thought is they just are 15-, 16-, 17-year-old students. Why do they have that experience? Why is it a situation they can freely speak to me about as if it's just everybody's circumstance?"
She carries that story with her into the courtroom.
"So it was a new experience for me. And because I was an African American female, they expected that I had had that same experience. So the perspective I learned from being in that school for just six months has been everything in my role as a misdemeanor prosecutor, a felony prosecutor, a judge, and now the district attorney …"
---
RIP: The patriarch of the Bentley family, Fred "Bowtie" Bentley Sr., died early Friday morning in his home just outside Kennesaw on Pine Mountain.
He was 92, his son Randall Bentley reports.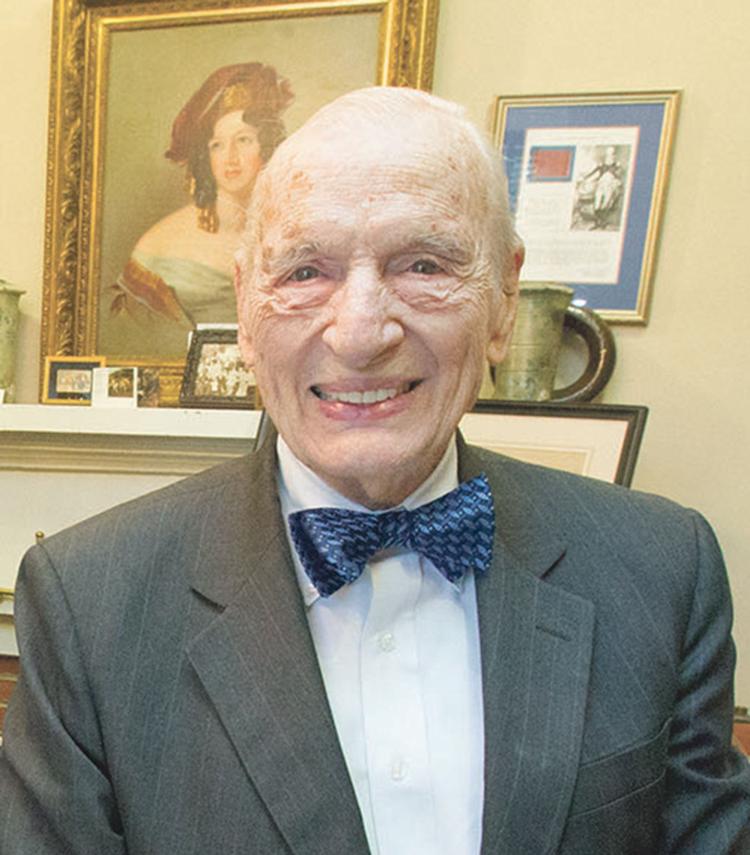 The family is working on funeral arrangements.
A great-grandfather of three, Bentley was a pillar of this community, serving three terms in the Georgia House from 1951 to 1957 and one term in the Georgia Senate in 1958.
If you ever had a chance to sit in his office, you were immediately absorbed with the countless historical artifacts that filled the room from a rare 1818 engraving of the Declaration of Independence made for Thomas Jefferson to moldings of Abraham Lincoln's face and hands. But your attention then turned to the master storyteller as he shared with you stories from his life. Like the time legislators were running out of time to pass an appropriations bill. The bill had to sit on a desk for one hour to give all the lawmakers a chance to read it, but there wasn't an hour left in the evening's session. So Bentley and his colleague Denmark Groover decided to add a little more time to the proceedings.
"He held my legs while I leaned over" the rail and turned back the clock, Bentley once told MDJ with a laugh.
There is not enough ink to list the number of projects and organizations he founded and nourished.
While in the Legislature, he worked to bring what is now Kennesaw State University to Cobb County. He chaired the Cobb Chamber of Commerce, authored the city of Kennesaw's famous gun law, and helped to found Charter Bank and Trust, the Center for Family Resources and the Marietta/Cobb Museum of Art.
He founded the Bentley firm in 1948 and was the last surviving member of the original Cobb County Bar Association.
Bentley was integral in bringing about the multimillion dollar Kennedy Interchange in Cumberland. The Legislature named the Akers Mill Road Bridge over Interstate 75 after him.
A renaissance man who donated books and artwork to Kennesaw State's "Bentley Rare Book Room," he will be sorely missed.
---
POLITICAL PLATTER: Jackie Gingrich Cushman, daughter of Newt Gingrich, is the speaker at the Cobb GOP's monthly breakfast from 8 to 10 a.m. Saturday. Her book "Our Broken America: Why Both Sides Need to Stop Ranting and Start Listening" will be available for sale and she will be signing copies after the breakfast.
---
HISTORY: The Marietta Gone with the Wind Museum will host author and historian Brad Quinlin from 1 to 3 p.m. Sunday, Oct. 13. Quinlin will discuss the rich history of Brumby Hall, as you walk among the grounds and gardens before returning to the solarium for light refreshments, a talk and book signing. RSVP to Csutherland@mariettaga.gov. ... The Kennesaw Cemetery Preservation, meanwhile, is hosting "Stories of our Past: From the City Cemeteries of Acworth and Kennesaw" by Abbie Parks and Andrew Bramlett at 7 p.m. Tuesday, Oct. 8 at the historic depot in downtown Kennesaw.