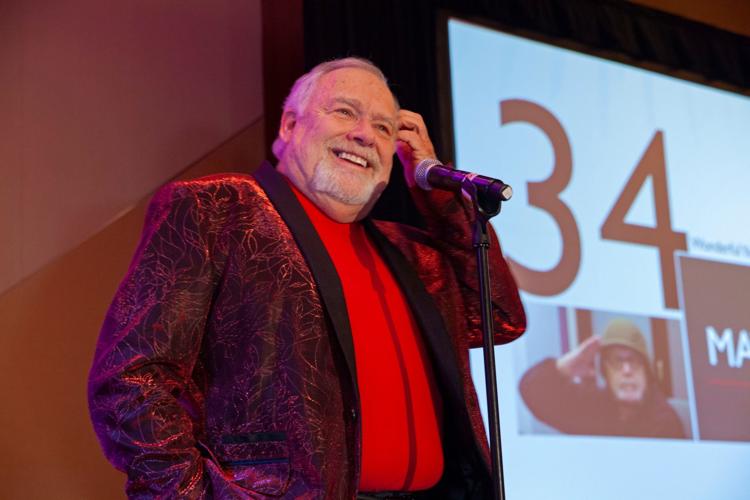 Thursday's retirement party for Smyrna Mayor Max Bacon was a night of laughter and tears as community movers and shakers paid homage to (and lampooned) a mayor who broke the mold.
Between performances from dueling pianos at the Cobb Energy Performing Arts Centre, Joel Powell, chairman of the city's Planning & Zoning Board, recalled sitting in a Smyrna bar and posing the question of who is the most famous person in Smyrna's history. Someone said Julia Roberts. True, many would agree that America's sweetheart is the Jonquil City's most famous daughter.
"And I said 'But who has had the largest impact on the city of Smyrna?' And nobody could answer anything different in this room, in our city, in that bar than Max Bacon," Powell said.
Mixed with the rose petals were some roasts of the man elected to the Smyrna City Council in 1979 and elected mayor in 1985, the same year his father, Smyrna Mayor Arthur Bacon, died.
"Max is the cross section of obsessive compulsive disorder, hyperactive ADHD and Cousin Eddie from Christmas Vacation, and it's amazing to me that he has been able to manage our city and not get arrested. Chief Lee is here tonight to attest to that," joked Powell.
Smyrna Police Chief David Lee remarked on Bacon's outfit: a red velvet smoking jacket à la Hugh Hefner with matching red alligator shoes.
"I have to say this: I've been in law enforcement a long time. The only thing he's missing is a big floppy hat, a Cadillac or Lincoln town car," Lee said.
The chief said he hadn't been on the job two months when he got a call from the mayor's assistant, Christy Ullman, saying Bacon wanted to see him.
"I said OK. I'll be over to city hall in a minute," Lee said.
Ullman said Bacon wasn't at city hall. He was at the bar in Zucca's restaurant.
Lee, who formerly worked for the city of Marietta, pondered this a minute.
"I walk in there and he's sitting at the bar. Got a drink with a little umbrella … wearing shorts and knee high socks. I'm like, what have I gotten myself into?"
Lee said he'd gotten him a Glock engraved with his name on it as a retirement gift. 
"We did take the firing pin out. And it's loaded with blanks. Max, thank you. I hate to see you go. It's been such an enjoyable time working with you. Helping you when you lock yourself out of your house, out of your car. There's some other things, but we won't get into it. Congratulations."
Retired Croy Engineering executive Don Hicks remarked on the three marriages he's seen Bacon go through in the 30 years he's known him.
With Bacon's first divorce, Hicks said he thought that the wife must be the one at fault. Then there was the second. And third.
"I said wait a minute. We've got a common denominator here. It's Max Bacon. I tell you the reason that could never work out is Max had a woman he's loved his whole life and that was the city of Smyrna."
Hicks pledged his devotion.
"Max, unlike a lot of things, I'll never leave you because I love you. You're a great man and I look forward to a long life of both of our retirements," Hicks said.
Developer Jack Halpern spoke of Bacon's efforts in transforming not just downtown Smyrna but the entire city.
"Most politicians today are hesitant to poke fun at themselves or admit vulnerability in any way," Halpern said. "Max has had a lifetime of material to work with, and he's not shy of doing that for himself. But we're all fortunate and have been blessed to have a connection to a community that's just blossomed under the leadership and guidance of one of the most extraordinary people I've ever had the pleasure to meet. Somebody who has always thought of what he could do for others and for the community that he grew up in and has loved and nurtured throughout his lifetime."
City attorney Scott Cochran listed three things he's learned about Bacon.       
He learned the first item as a young lawyer in this 20s when he was told he needed to meet the mayor at his house. Knocking on the door, he told Bacon's wife he was there to see the mayor on very important business. Bacon's wife rolled her eyes and said he was in the back of the house.
"So I went to the back of the room. There's Max in his underwear … I said 'Excuse me. You want to get dressed?' He said, 'No, no. I'm fine.' …. What I learned from that and you can see today evidently is he doesn't really care what people think."
A second thing about Bacon is he doesn't like to be told what to do. Cochran once got a voicemail from Bacon about being subpoenaed for a court case.
"He said 'Hey, somebody came by and gave me this thing called a subpoena saying I have to be at some courtroom next Tuesday. Well let me tell you this: That's my birthday, and I'll be damned if I'm going to court on my birthday, so what I want you to do is call that judge up who issued that subpoena and tell him he could stick that subpoena right up … you know what,'" Cochran recalled.
Bacon also doesn't stick to a script, Cochran said, a case in point being the annual state of the city address, which is meticulously prepared by city staff. That lesson was also learned in court once where Bacon was testifying for the city. When the opposing attorney began to question him, he then proceeded to say the exact opposite thing he'd said before. When the judge inquired about this, Bacon replied, "Well, I guess I feel strongly both ways," Cochran said.
Other tributes came from Bacon's sisters, Linda Keeney and Jenny Ruth Williams; his daughter, Ashley Mize; his best friend, former Howard's Restaurant owner Bobby Martin; and former professional wrestler Diamond Dallas Page, owner DDPYoga, who called the mayor the "The Baconator" and "Maxwell Bacon."
"When I was lucky enough to come into this town and got to meet that guy he took me under his wing like a big brother," Page said. "And you know the big brother I'm talking about. You know the one. The crazy big brother that every time he opens his mouth you are scared to death what's going to come out of it. Have you heard some of the things that come out of his mouth? I've only been here eight years and they blow my mind. But he's Max Bacon. And he can get away with saying anything because, the God's honest truth is Max Bacon is the most authentic human being I have ever met in my life."
Smyrna Mayor-elect Derek Norton said he didn't have a lot of stories like the other speakers.
"Mainly because I was four years old when Max was first elected," Norton said. However, "Nobody has loved this city more than Max Bacon …. He starts everything with 'Here's the deal.' And here's the deal Mr. Mayor, I love you. Everybody else in this room loves you and the city of Smyrna will always love you."
When Bacon rose to speak his eyes were damp. 
"I've just been in a lucky place to where I was fortunate just to sort of lead and head in the right direction. I never cared who got the credit. It was all about getting stuff done and making Smyrna a better place. I've had a great life. I'm 71. I don't have erectile dysfunction. I saw a commercial on it. I said 'I need to look this up.' I'm just kidding with you. Thank you all so much for coming out."
---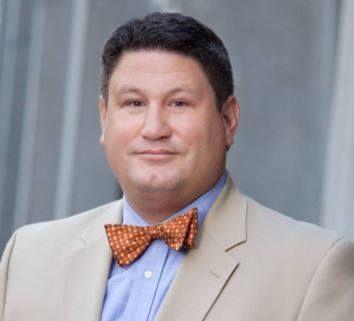 POLITICAL PLATTER: Robert Madayag, an east Cobb resident and attorney with Atlanta firm Lee & Hayes, has announced his intention to run for Cobb school board member David Banks' Post 5 seat in next year's elections.
Madayag is the second person to announce they would challenge Banks, who has served on the board since 2009. The first was IT project manager Matt Harper, who threw his hat in the ring at the Cobb GOP Breakfast last Saturday.
While he said he intends to run as a Republican, Madayag said he simply believed running on the ticket would give him the best chance to defeat the incumbent. He said though some may be surprised to hear he's running as a Republican on a Democrat-sounding platform, he swears no allegiance to any political party.
"At the end of the day, the only thing that matters to me are the kids. I am not seeking favor with any political party. If you vote for me, please know this. At no time in my thought process will the words, 'what would Reagan do' or 'what would Obama do' come into my head. It starts and ends with what is best for the kids," he wrote.
Madayag lays out what he says will be his priorities should he be elected to the school board on his campaign website and Facebook page. The Navy veteran and father of three Cobb students says he will call for improved equity, increased transparency and reform student discipline policy, including by exploring how bullying incidents are handled in the district.
One particular intention of note is Madayag's call for the district to hire a chief equity officer, a suggestion repeatedly presented to the board by Stronger Together, an advocacy group made up of Cobb parents and staff members.
"There is no doubt that the (Cobb County School District) has done a great job of helping those students at the top, but after hearing from countless parents about how their kids were bullied, suffered racially charged language, and were forced to fight the school district to have their kids provided basic needs," his campaign Facebook page states.
But most importantly, Madayag told Around Town, "whoever gets elected, Banks cannot be reelected."
Banks' newest challenger did not pull punches speaking to AT. He said the board member has ignored parents who have repeatedly expressed their concerns to him, including a mother of one of the students affected by the actions of Ron Gorman, a former Pope wrestling coach convicted of sexual assault.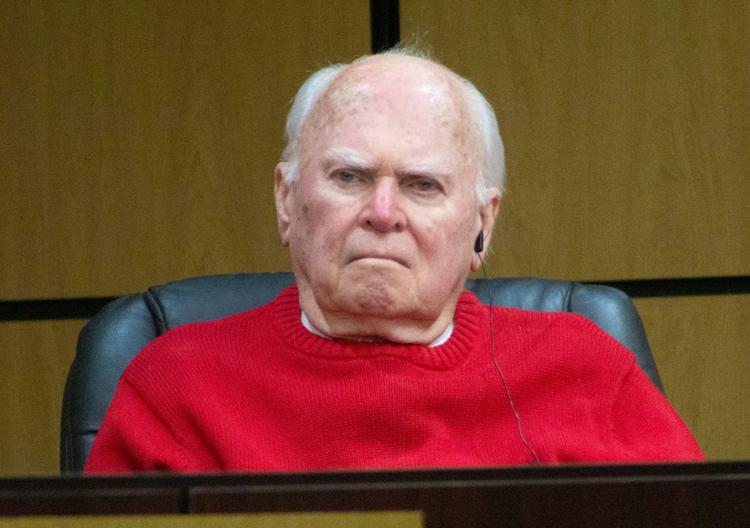 Madayag, who said he is Filipino and Mexican, also referenced emails forwarded by Banks in 2016, saying the board member has a history of offensive actions toward minorities and immigrants.
Banks allegedly forwarded an email on in November 2016 that contained phrases such as "illegal aliens from south of the border" and other offensive statements, according to Kevin Amaya, deputy director of The Pro-Immigrant Alliance of Cobb County, who spoke up about the incident at the time. Banks said at the time that the email in question was a personal message that he did not write.
He maintained that response when he spoke to AT.
For his part, Banks said Madayag's accusations have no merit.
"He's just wrong. Period," he said.
Banks said the school board doesn't tolerate racial or political rant(s) or discrimination of any kind. Plus, he said, "I have a Hispanic daughter-in-law. So am I racist?"
---
CHRISTMAS is not the most wonderful time of the year for Monica DeLancy, a community activist and affordable housing advocate, who says she has been evicted from her Lake Crossing apartment in south Austell two weeks before Santa's arrival.
DeLancy, who is running for the commissioner seat held by Lisa Cupid, says she has a 17-year-old son, who is disabled, and a 19-year-old daughter in college.
They were forced out of their apartment Thursday by apartment complex staff and sheriff's deputies, DeLancy told the AT.
"I'm upset about the process and the lack of communication, being put out two weeks before Christmas with my Christmas tree outside in the cold and the rain," she said. "I never got notified, the last notification I received was in July."
DeLancy said she filed bankruptcy in July, for the second time.
She explains this in a video posted Thursday to the Cobb County Courier public Facebook page, in which she appears to be outside, surrounded by household belongings.
The founder and executive director of We Thrive in Riverside Renters Association, DeLancy says she and her children will stay in a hotel until she finds her feet.
She's also determined to explore the ins and outs of the eviction process to determine whether she was wronged.
It's DeLancy's suspicion that she has been singled out by apartment management and punished for being a renter with a voice.
"The troublemakers," she said. "It's retaliation."
DeLancy has been one of the most vocal residents in recent years of a handful of low-rent apartment complexes along Riverside Parkway in Austell, orchestrating meetings with other community leaders in an attempt to iron out problems.
Management at the apartment complex told the MDJ they have no comment in regards to DeLancy's eviction.