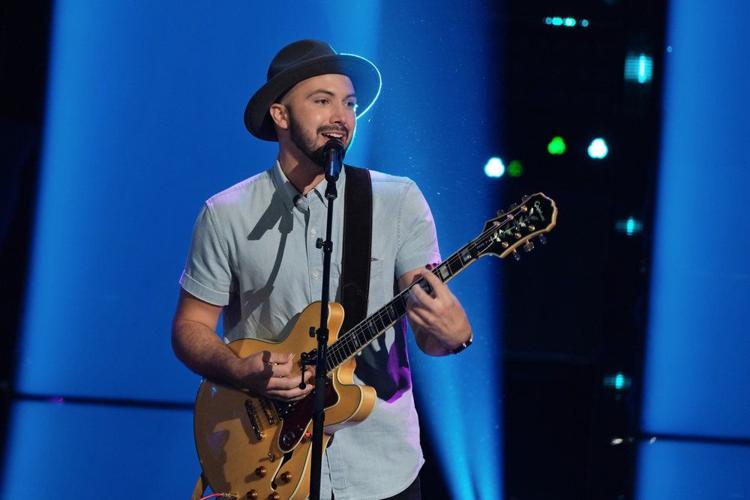 Marietta's Alex Guthrie must have been in music heaven as pop stars Gwen Stefani and Kelly Clarkson attempted to woo him to join their team in NBC's singing competition, "The Voice" Monday evening.
Guthrie already has a local following from his performances in area venues. He saw a national audience after being cast as a singer in a commercial for American Family Insurance. As part of the commercial twist, Jennifer Hudson surprised him and sang with him. Hudson, "The Voice" reports, encouraged Guthrie to try out for the show.
During his performance, Guthrie sang Al Green's "Love and Happiness" before the audience, as Stefani, Clarkson, John Legend and Blake Shelton sat with their backs to him for the blind audition. The idea is for the celebrity musician to pick a singer solely based on what they hear.
Clarkson was first to turn around in her chair, followed by Stefani.
"What's your name, man?" Shelton asked him after his performance.
"My name is Alex Guthrie, I'm 25 and I'm from Marietta, Georgia," Guthrie said.
Legend asked if he performed a lot, to which Guthrie said he did full time.
Clarkson then sought to convince him to join her team over Stefani's.
"You're all cool and rock and roll, and I know she looks real cool and rock and roll, but just look over here. Look this way," Clarkson said.
In response, Stefani told him while she and Clarkson have many similarities, "I know how to work with someone like you. Because you're taking the things that you love and trying to cross pollinate it, and I feel like I've done that my whole career, just steal from here, here, here, here … I feel like I can help you like organize it a little bit more."
"Alright, alright," he replied, not revealing which pop star he would ask to be his coach.
Clarkson made another appeal.
"The fact that it was kind of a jam session was my favorite part because what you want to do on a show like this is build. You don't want to blow it all on the first thing. You showed that you're super talented and you have such a soulful vibe that's so cool and chill. I would love to be your coach. Either way, you're leaving with a jacket," she said, holding up a jacket with the letters "Team Kelly."
Stefani held up her own team jacket.
"So, fun fact," Guthrie said.
"Oh wait, do we have a fun fact together?" Clarkson asked.
"Did she kick you in the head at a concert?" Shelton wondered.
"Better than that," Guthrie said.
"Did she break your heart?" Legend asked.
"She did break my heart," Guthrie said, provoking a gasp from Clarkson.
"A year and a half ago, I got to open up for you in Atlanta," he told her. "You and I did not get to meet. But unless the radio host was lying, you told him I had the voice of an angel. So … I got to go with you."
"You're going to go with me?! Yes!" Clarkson cheered, adding, "I hate going up against Gwen because I love her, but I'm so excited that Alex is on my team."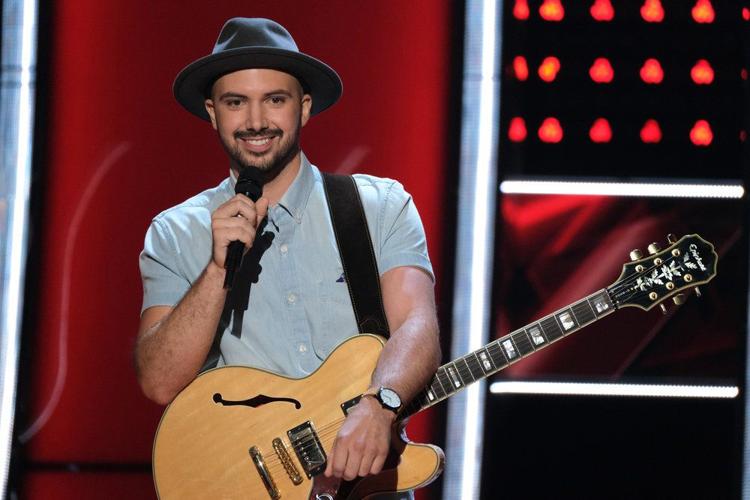 ---
ANOTHER 'VOICE:' Marietta Voice alum Zach Seabaugh placed fifth in the 2015 competition as a member of Team Blake. He was 17 then, but last week celebrated his 21st birthday with the release of a new single titled "Lonely Like That."
Seabaugh, a Cobb native and graduate of Kennesaw Mountain High School, just entered his junior year at Middle Tennessee State University in Murfreesboro, where he is a student in the college of Music and Entertainment. He still finds time to write, record and tour. "I've been going to school ... then spending three to four days a week in Nashville writing with a lot of great hit song writers."
Zach and his band are also on a college campus tour and will be playing at Fifth-Third Bank Stadium in Kennesaw Oct. 26.
---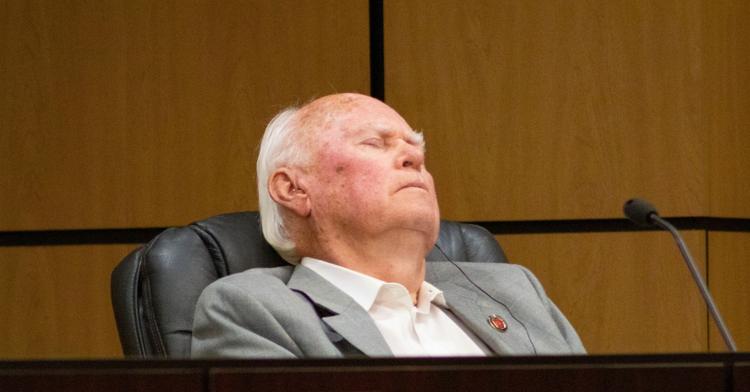 JUST RESTING MY EYES: During last week's school board work session, board member David Banks made the highly controversial recommendation to end board member comments at the end of each board meeting, a tradition the board has engaged in as long as Around Town can remember. The argument is that the new board members, Democrats Jaha Howard and Charisse Davis, have made the comment section too partisan. The recommendation was successful with four Republicans voting in favor and three Democrats voting against. Yet only a few minutes after making that recommendation, some school board watchers say Banks seemed to lose interest in the debate. Critics have taken to social media to accuse him of sleeping through parts of the meeting. For his part, Banks tells Around Town he would never sleep at a meeting.
"I'm disappointed that a comment was ever made not knowing the facts. When you have dry eyes, which I hope you never do, sometimes you just shut them so the burning sensation goes away," he said. "I may have my eyes closed, but there's a reason for that. I'm hearing everything that's going on."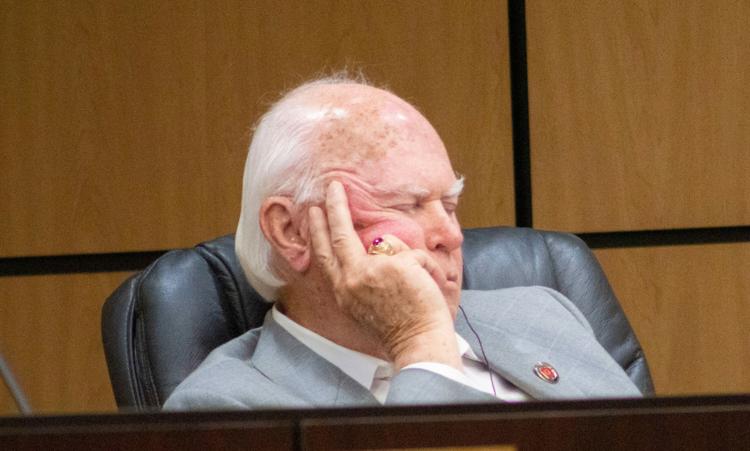 ---
SAFETY RANKINGS: Security-based review, comparison and news site Security Baron analyzed FBI rankings of crime rates to find out what the top 50 safest cities are in Georgia, and what their safety score is. The analysis ranked Johns Creek as Georgia's safest city and Cairo last on the list. Kennesaw came in at No. 7; Powder Springs at No. 22; Acworth at No. 23; Smyrna at No. 27 and Marietta No. 48 out of the safest 50.
---
SPEAKER CIRCUIT: Cobb District Attorney Joyette Holmes will speak to the Metro Marietta Kiwanis Club at its weekly luncheon Monday. The event starts at noon at First United Methodist Church. For more information, please contact, wingr@bellsouth.net.
---
POLITICAL PLATTER: Mableton attorney Terry Alexis Cummings announced she plans to challenge state Rep. Erica Thomas, D-Austell, in next year's election.
Cummings said she has worked in the criminal justice and law enforcement fields for over 30 years, including a 25-year career with the Federal Bureau of Prisons. She also has taught as an adjunct professor for an online university. The Teaneck, New Jersey, native earned a Bachelor of Arts from Rutgers University and law degree from Georgetown University Law School. She and her husband, John, have lived in Cobb County since 2015. She said she is active in the Cobb County Democratic Party, the Mableton Improvement Coalition and the Legacy at the River Line Homeowners Association. Cummings took aim at the incumbent in her news release, referencing the national stink Thomas caused when she took to Facebook to say a shopper at a Mableton Publix confronted her over abusing the store's express checkout line. Thomas claimed the shopper told her to "go back to where you came from" although it was eventually revealed that the shopper was a lifelong Democrat of Cuban descent. Many have since accused Thomas of crying wolf.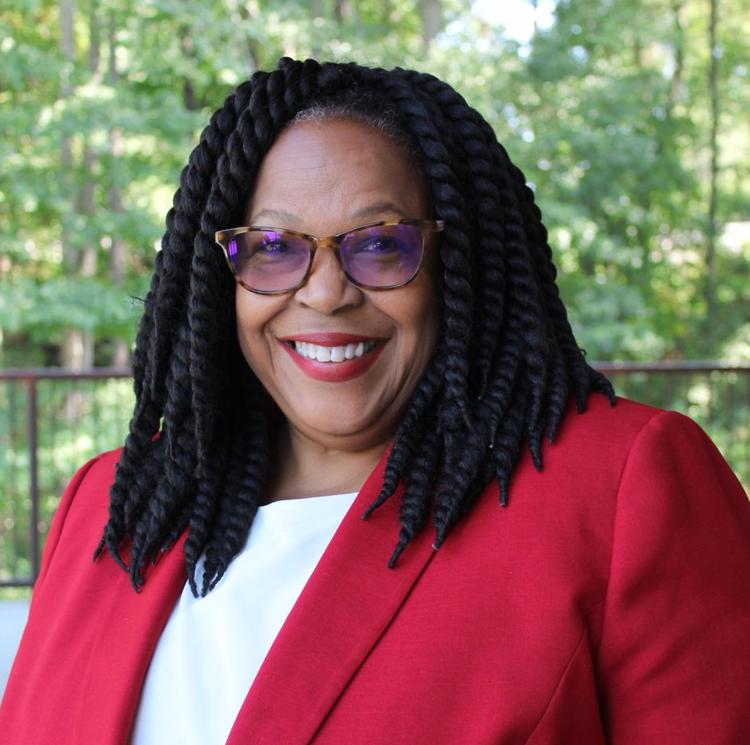 "I am running for the Georgia House of Representatives for District 39 because I want my community's voice to be heard at the Capitol," Cummings said in her statement.
"District 39 deserves a representative whose focus remains on the interests of the constituents we serve rather than unnecessary and divisive distractions. I am asking our community to join me in standing up for what is right, good, and decent about south Cobb. If given the opportunity, I will represent our community with the dignity and determination our families deserve. With the community's support, I will provide the leadership that we need."
---
TRIMMING THE FAT: A wail is sounding throughout the land ever since Gov. Brian Kemp's order to state agencies to cut their bloated budgets, ever so slightly.
Some lawmakers, it has been reported, are "baffled" by the request. Given the scarcity of fiscal conservatives from sea to shining sea, that sentiment is understandable. At the federal level, the national debt has climbed to a dangerous $22 trillion — that's trillion with a T — with no signs of slowing. Yet neither party is willing to do anything about it.
That Georgia has a governor practicing fiscal restraint untempted by the government pie brought to Atlanta by your pocketbook should be welcome news to conservatives.
"The real goal," said Thomas Sowell, "should be reduced government spending, rather than balanced budgets achieved by ever rising tax rates to cover ever rising spending."