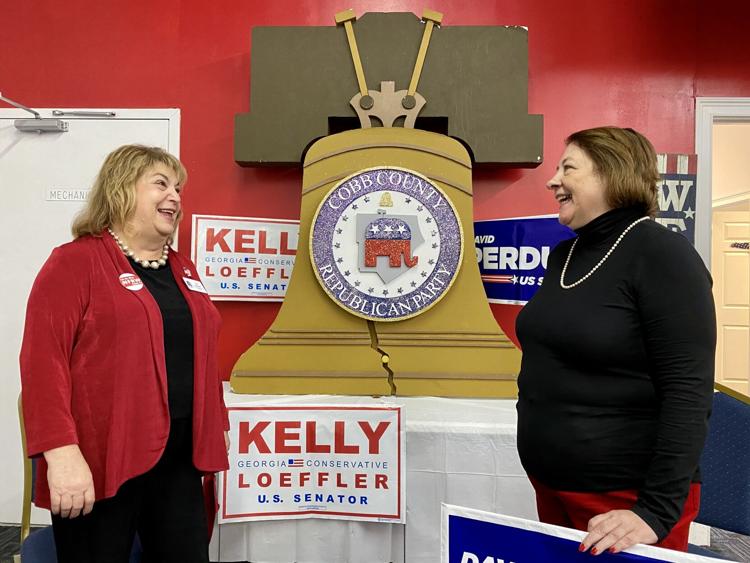 Call it a "heels on the ground effort," said former Cobb GOP chair Rose Wing. 
They'll be coming in waves by train, plane and automobile until Election Day, Jan. 5. What unites the members of the National Federation of Republican Women who are traveling to Georgia on their own dime is the importance of keeping the U.S. Senate from flipping blue.
NFRW President Ann Schockett, a grandmother of three who hails from New York, said her members are here to ensure U.S. Sens. David Perdue and Kelly Loeffler stay in office to maintain the balance of power so "that we keep this promise of the American dream and that we fight, have someone there, some way to fight against this anarchist, radical, leftist, socialist agenda that doesn't work." 
The women are staying at a local hotel while using the Cobb GOP headquarters as a base.
"This is the base of operations as they are moved from the hotel to here in the mornings and then they go out to designated areas for the day and then report back in the afternoon," Wing said. "About 145 women in total coming from all parts of the United States."
Schockett, whose organization numbers 60,000 members, said it's not just about heels on the ground. She has 1,000 members making calls and sending letters to Georgians, encouraging them to vote for Perdue and Loeffler. 
Following the Nov. 3 election, Schockett said she thought she would be taking a breather.
"Usually after Election Day it's, you know, a little bit of housekeeping and then we can all get ready for the holidays, but nope. This did not happen."
So she's been sending in "strike forces" to the Peach State. 
"We have people from as far away as Washington state coming here. There's nothing more important than preserving our country," she said. 
The women are given streets and addresses and material they can leave with homeowners detailing why they should vote for Perdue and Loeffler.
"We're not there to push but we do have talking points if they wish to engage and ask."
Feedback from the homes on the Marietta streets she's walked has been positive.
"Now I'm not taking that for granted. It may just be a question of Southern hospitality," she said.  
Wing said she was both overwhelmed and excited the women would give up their holidays to volunteer in an effort to "save Georgia and save America." 
---
GINNY EHRHART'S AUNT: On Thursday, the Cobb school board voted in favor of Superintendent Chris Ragsdale's recommendation to spend $12 million on installing sanitizing equipment in all the district's elementary schools. Voting against Ragsdale's proposal were Democrats Jaha Howard and Charisse Davis.
State Rep. Ginny Ehrhart, R-west Cobb, had a few things to say about their opposition in the following statement provided to the MDJ: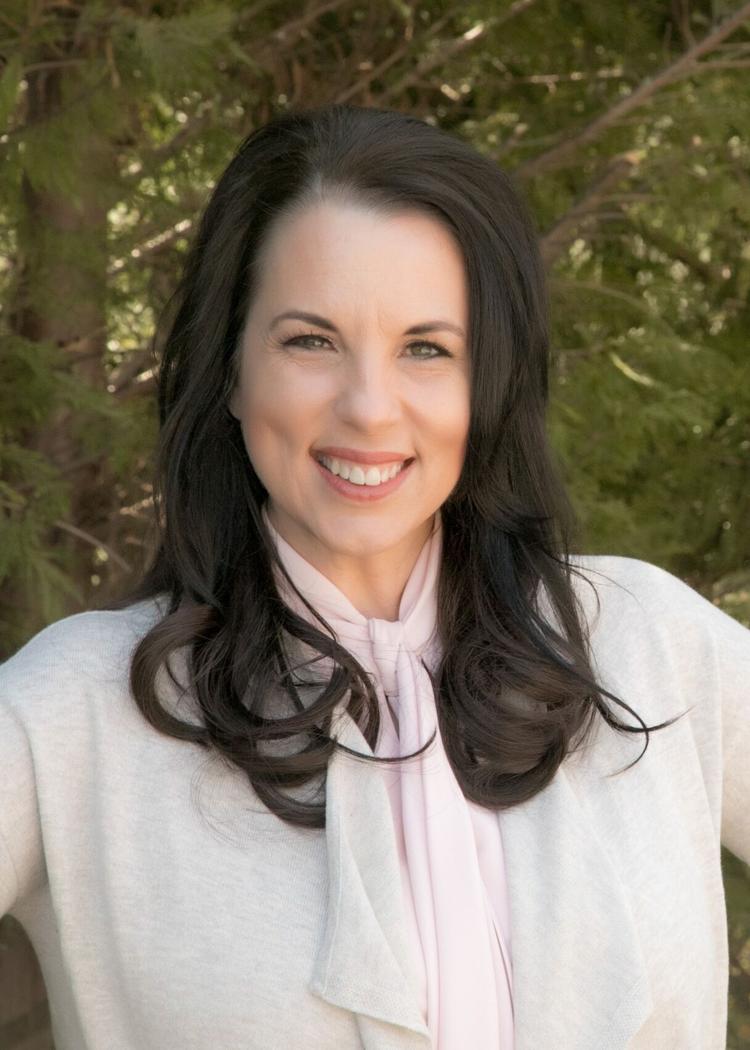 "I used to think that the worst thing Jaha Howard and Charisse Davis could do to Cobb was methodically dismantle one of our state's best school systems. I was wrong. Turns out they can also put the health of Cobb students and their families at risk by summarily rejecting measures that would protect them.
"This reminds me I of a dear aunt I once had who was afraid to have a microwave oven in her house. She was fearful of the 'modern technology' that so many of us cannot imagine living without. I thought of this as I contemplated Davis' and Howard's inexcusable votes at this week's school board meeting.
"While my aunt's aversion to microwaves was rather endearing and understandable given her age and the era in which she was raised, Howard and Davis have no such excuse. These young, self-described progressives should know better, and Cobb students most certainly deserve better from them.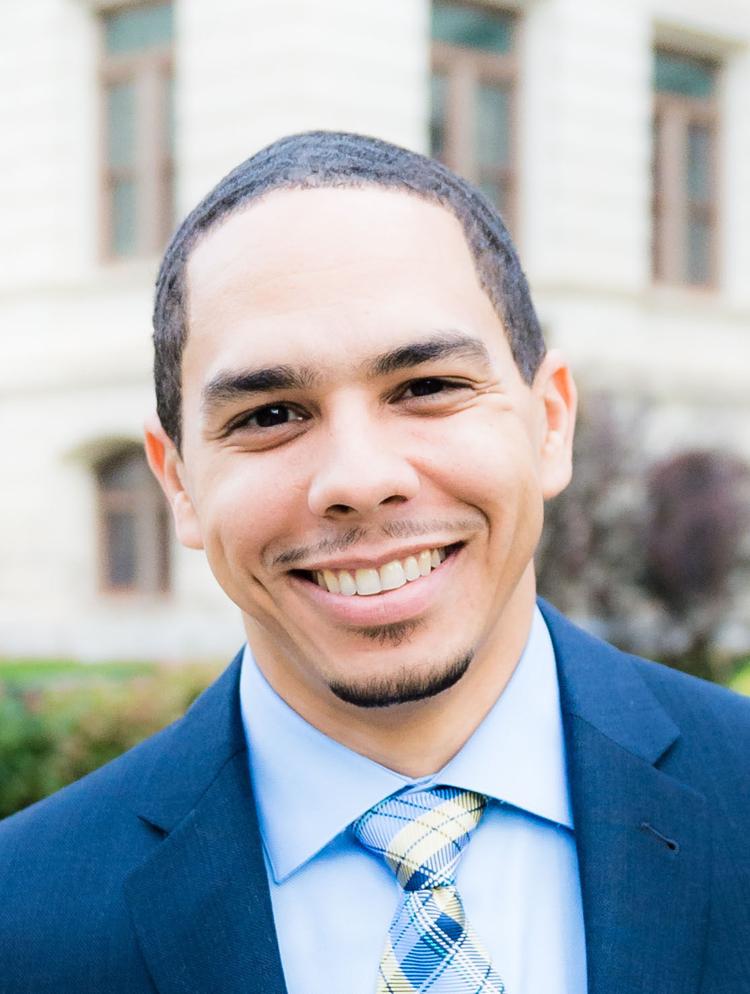 "Let's be clear about what they did. They voted against Superintendent Ragsdale's recommendation to install ultraviolet light devices and hand sanitizing machines in Cobb elementary schools. These are the same devices used by hospitals, the military, and are backed by science as being effective at killing pathogens. They've already been successfully tested in a handful of Cobb elementary schools. In an era of record high Covid cases, they provide an easy-to-use, additional layer of protection for our students, which protects families as well. It also improves the chances that our younger kids will attend school in person, where they learn best. That's a good thing. Furthermore, the machines will ultimately be paid for by Covid stimulus funds and can be installed over the Christmas break so they're in place when students return to school in January. It's a win-win. But wait. Howard and Davis voted no. Why? Here's the kicker. Howard equated these proven germ-killing machines to luxury items like "a flat screen TV or PlayStation 5." Let that sink in. Jaha Howard just "luxury-shamed" your kids for having access to devices that protect their health. He further bemoaned this technology as new and unproven, which it's not, further solidifying his ignorance on this issue. Unsurprisingly, Davis went along for the ride. Fortunately, the measure passed despite their misguided resistance.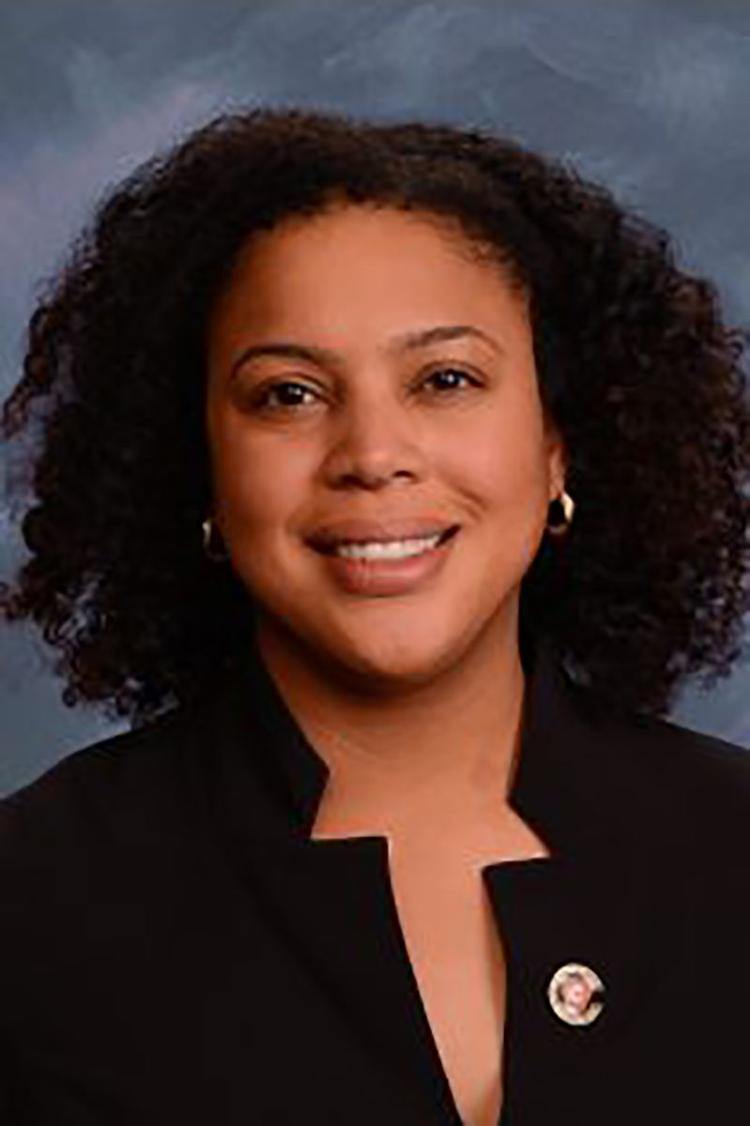 "I have two big take-aways as a result of their no votes.
"1. Cobb County students, parents, and teachers dodged a bullet by re-electing a conservative majority to the school board. Had any of the three progressive challengers to (David) Banks, (Randy) Scamihorn, or (Brad) Wheeler won those seats, you can bet this motion to put modern, Covid-fighting technology into our schools would have failed. Instead, they would've fallen in line behind Howard and his "plain soap and water" approach.
"2. The irony of Charisse Davis' previous bigoted comments about "old, white men" on the board is especially glaring in light of this vote. I find it delightful that it's precisely these same men who are so forward-thinking in their science-based decision to protect kids by putting modern technology into our schools. Conversely, it's the so-called science-loving, open-minded progressives who oppose it. Priceless.
"In the end, when it comes to Howard and Davis, this has little to do with spending money. Were the expenditure for something they love like sensitivity training, inherent bias correction or identity-based programs for your children, they would jump at the chance to spend your tax dollars. They'd write a check faster than I can warm up a Krispy Kreme in my new-fangled microwave oven," Ehrhart said. 
Howard told his side of the story on social media:
"Yesterday, our school board voted 4-2 (Mrs. Davis and I opposed) in favor of our superintendent's recommendation to spend up to $12 Million of your tax money on new and unproven products — from new and unproven companies. Yes, $12 MILLION.
"There is ZERO data on its EFFECTIVENESS in a school setting. There is ZERO data on its SAFETY in a school setting. When asked to provide research and more information before and during the meeting, none was given.
"Writing this post saddens me because I truly want our leadership to work more cohesively. However, I refuse to simply go along with the program when parents and staff should know the whole truth. I also have a hard time trusting questionable decisions when these same leaders actively silence minority voices and uphold the confederate names of some of our schools," Howard posted.
He continued by writing, "Please hold us accountable. Demand that we do business in the light of day. Demand that information be made available for parents and staff to make educated decisions Demand that the superintendent and board undergoes more governance training. Demand that we prioritize the wellbeing of our students and our staff." 
---