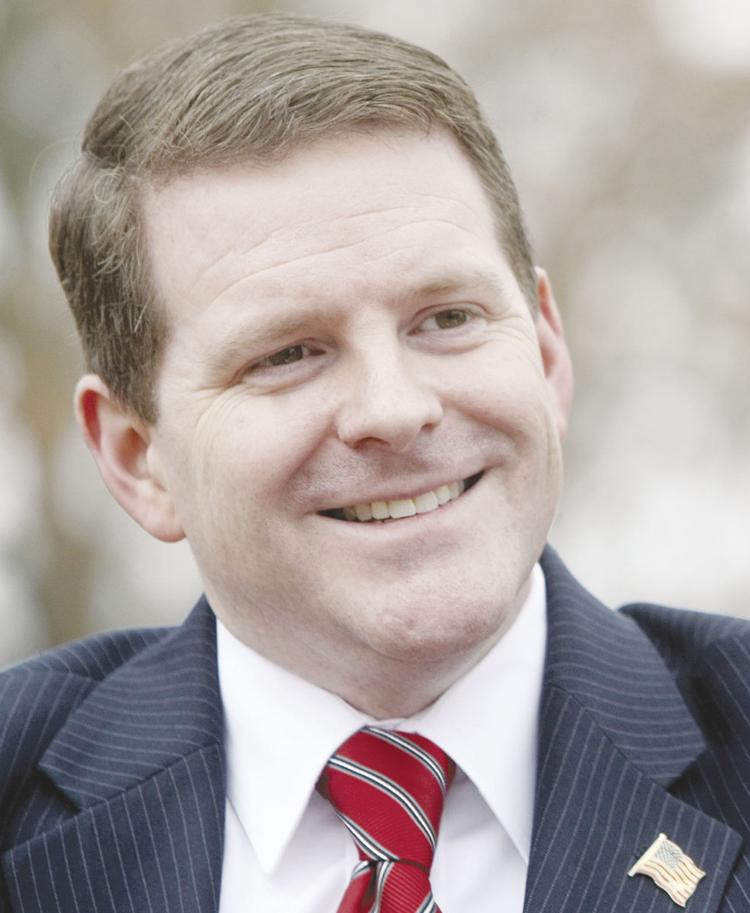 Cobb GOP Chairman Jason Shepherd closed out the GOP's monthly breakfast meeting with a warning that the Cobb commission, school board and legislative delegation was at risk of going blue on Nov. 3. 
"There's never been in the history of our nation such a wide divide between the Democrats and Republican party except maybe right before the Civil War. On one side they're saying 'defund law enforcement.' They're saying that it's OK to go out and burn and loot and steal and create lawlessness," he said.
If Chairman Mike Boyce and Republican Fitz Johnson are defeated, "then the Democrats control the Cobb County Board of Commissioners and they control the law enforcement in Cobb County. If they take the sheriff's (office), they have the whole thing."
Shepherd also warned that the Cobb Board of Education was one seat away from Democratic control.
"If they take one school board member out — we've got Randy Scamihorn, David Banks, Brad Wheeler running, if they take one of those out, (Democrat school board member) Charisse Davis is the new chair of the Cobb Board of Education, if not her resigning to become the Cobb County school superintendent," he said. 
Shepherd later said most people believe Superintendent Chris Ragsdale will be gone if Democrats take control of the board in November. The question then becomes who do Democrats replace him with?
"Could it even be Charisse Davis herself?" Shepherd said, noting that's what he was hearing. 
If that weren't bad enough, Democrats would eliminate school resource officers and do away with the senior tax exemption, causing property taxes to likely double, Shepherd told the party faithful.
But even if Republicans hold onto the commission and school board, Shepherd said it's all for naught if Democrats control the Cobb Legislative Delegation next year. That's because it's redistricting time.
"The Democrats will redraw the county commission and the school board districts, which means even if we win everything this year except those (legislative seats) they can gerrymander us out of existence," he said.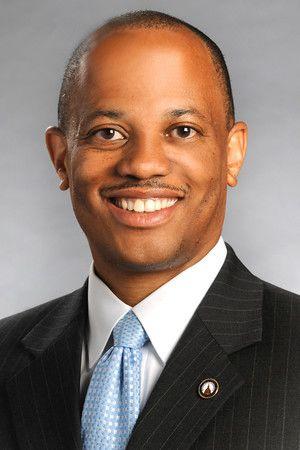 AT rang state Rep. David Wilkerson, D-Powder Springs, chair of the Cobb Legislative Delegation, to see what he thought of those arguments. Wilkerson called the notion of Davis replacing Ragsdale as superintendent "the dumbest thing I've ever heard of."
Were Democrats to gain the majority on the school board, make no mistake they will review Ragsdale's contract as it needs to be evaluated, Wilkerson said.
"The board's job is to do more than just hire a superintendent. They are to actually hold them accountable and make sure they're doing the job they need to do," Wilkerson said, noting "This board has been absent on asking any questions."
Wilkerson said the Republican-controlled school board does whatever Ragsdale wants in rubber-stamp fashion.
"You name one thing the school board representatives have done to actually be proactive on the Republican side. If their only job is to hire a superintendent and get out of the way, then what purpose are they serving? They do that once every couple of years and then they move on. So that's why Shepherd is nervous," Wilkerson said. 
Cobb's legislative delegation chairman also dismissed allegations that Democrats had any interest in doing away with school resource officers or the senior exemption.
"They can't forget, just a couple of months ago Jason Shepherd was doing the best he could to get rid of Mike Boyce because Mike Boyce was raising taxes. They raised taxes and continue to raise taxes," Wilkerson said.
Turning to Shepherd's redistricting argument, Wilkerson said, "I will guarantee you this. We will work with the school board unlike the Republicans did 10 years ago."
A decade ago, Wilkerson said the Republican-controlled delegation did not work with the school board when it came to redistricting. 
"They redrew the district and made it Republican to get rid of (then-Democratic board member) Alison Bartlett. Even though the school board was working in a bipartisan fashion they redrew the lines to get rid of her," he said. 
As for allegations that Democrats would penalize law enforcement, Wilkerson said that was also patently false.
"You will not hear anybody in our delegation talk about defunding the police. That is typical Trumpism where they're going to try to scare people into voting for them when they've done such a poor job. We have been nothing but supportive of law enforcement."
Wilkerson said Democrats have had an issue with how Sheriff Neil Warren runs the jail, but the Democrat challenging him, Craig Owens is a respected career law enforcement officer endorsed by the local Fraternal Order of Police lodge. 
"The last thing we need is for Republicans to try and pit any elected official against law enforcement," Wilkerson said. "If you look at the marches we've had in Cobb County, that was a joint effort between law enforcement and elected officials. They were very peaceful. You've never heard our elected officials criticize our law enforcement, and I want to keep it that way. We don't need him to try to buy votes by scaring people into pitting us against law enforcement."
With that said, whether you tap dance to the left or do-si-do to the right, it's going to be an interesting couple months as Election Day approaches.  
---
RECOGNITION: Amy Reeves, wife of state Rep. Bert Reeves, R-Marietta, was named the "Georgia 2020 Physician Assistant of the Year" by the Georgia Association of Physician Assistants. Mrs. Reeves is with Wellstar, at Brookstone Pediatrics in west Cobb. She has been the legislative director for GAPA for several years and this year, legislation she's worked on for years finally passed and became law.
Senate Bill 321 will increase PA ratios across the state, which will allow rural health care doctors to employ more PA's, and thus increase treatment options in areas of the state where there's not good access to health care.
Rep. Reeves said he didn't sponsor the bill, but did vote for it with enthusiasm. 
In addition to working at her pediatric clinic, Mrs. Reeves has worked night shifts at Kennestone during the pandemic to help out there.
"She is the kind of person who is not interested in the spotlight, but I am just so proud of her, and this is great and well deserved recognition, and awesome for Cobb and Wellstar. There are around approximately 5000 PA's in Georgia," Rep. Reeves said. 
---
RIP: The father of state Sen. Kay Kirkpatrick, David Kirkpatrick, died Friday at the grand age of 101. Kirkpatrick served in the Army during World War II. Writing on her Facebook page, Sen. Kirkpatrick said, "America lost a hero today. David Kirkpatrick represented all that's good about America: Hard work, honesty, optimism. Faith and family. What a great role model. 101 years of a life well-lived. We are broken-hearted but grateful for all the years we had with him and that he and Louise Kirkpatrick are together again."
---
SUDS: The Glover Park fountain seems to have been the target of a prank over Labor Day weekend. 
Visitors to the Marietta Square park Monday would have found it filled with soapy bubbles. It only takes a little bit of soap to make a fountain a frothy mess.
Rich Deckman, deputy director of Marietta's parks department, said the suds were indicative of a prank. This is the fifth time this year someone has placed soap in the fountain.
Marietta spokeswoman Lindsey Wiles said the fountain was being treated and should be bubble-free by the end of the day Tuesday.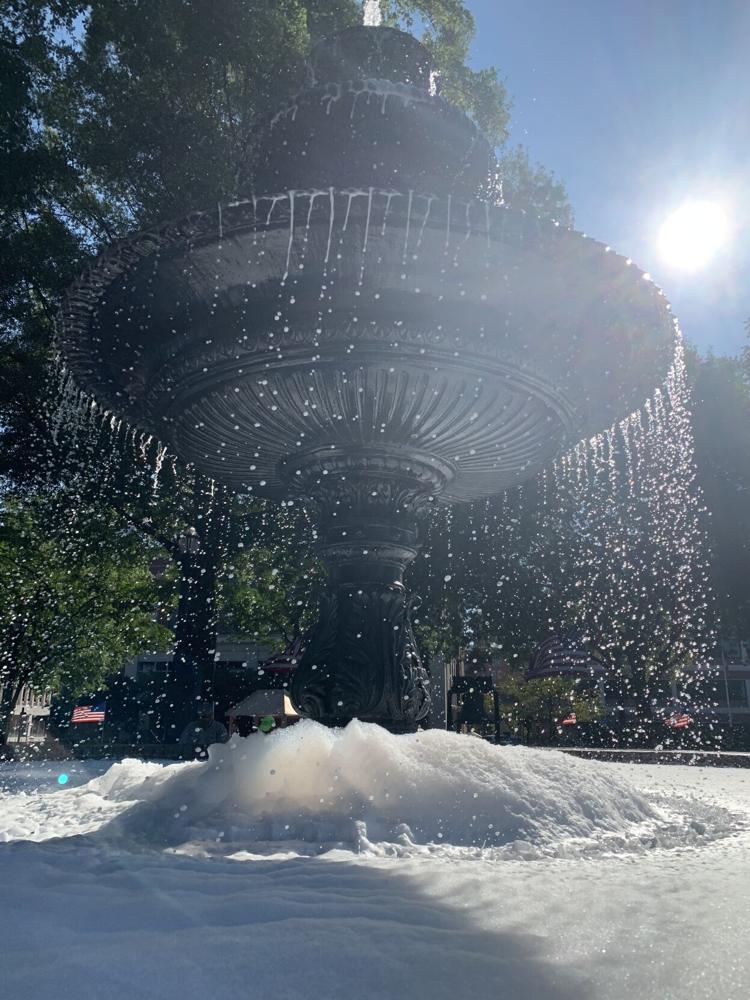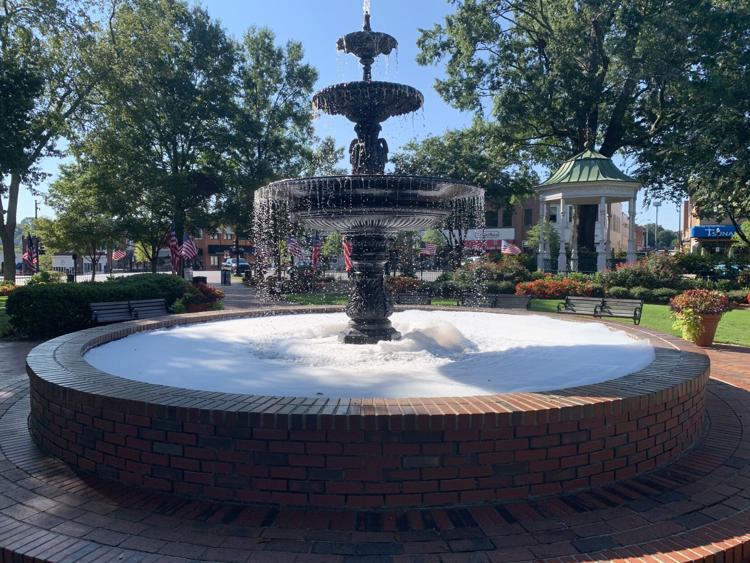 ---