You'll have to forgive Mariettans if they're puffing out their chests and beaming with pride.
The Gem City has recently been named to two lists that serve as evidence of the quality of life its citizens enjoy.
Let's start with the "Top 10 Affordable Suburbs with City Amenities" list, courtesy of Yelp and Zillow. Marietta came in at No. 8 on the list that used affordability and "cityness" as barometers.
Of Marietta, the survey said: "Marietta is about 20 miles northwest of Atlanta, and offers residents easy access to Interstate 75 to go out on the town and experience all Atlanta has to offer. This suburb's spot in the top 10 is due in large part to its affordability. Although typical home values in Marietta are slightly higher than the city of Atlanta, it's still relatively more affordable than other nearby suburbs, like Canton and Smyrna. Known for its abundance of nature and parks, the culinary scene rivals that of Atlanta, with favorites like The Marietta Local and Spring."
No other Georgia city made the Yelp/Zillow list. Ranking No. 1 was Waterbury, Connecticut, followed by Lowell, Massachusetts; Joliet, Illinois; Sunrise, Florida; Pasadena, Texas; Lancaster, California; Hampton, Virginia; Marietta; Norman, Oklahoma; and Tempe, Arizona.
Recognition No. 2 comes from Livability.com's "100 Best Places to Live," which placed Marietta at No. 76.
Here's Marietta's description included in the Livability study: "Just 30 minutes outside of downtown Atlanta is the warm, welcoming city of Marietta. Marietta is one of Atlanta's largest suburbs and is experiencing exponential growth because of its many opportunities, an assortment of amenities that give residents a high quality of life, and relatively low cost of living. The city is rich with arts and culture and provides easy access to the great outdoors. History buffs love it here, too, as the city has five National Register historic districts and a downtown square that dates back to the 1800s."
Topping the list of 100 Best Places were Fort Collins, Colorado; Ann Arbor, Michigan; and Madison, Wisconsin. While those locales certainly have a lot going for them, you can't include the weather among them.
Only two other Georgia cities were good enough to make the top 100: Athens came in at No. 32 and Alpharetta just made the cut, coming in at No. 98.
---
EDUCATION FUNDING: One of the talking points repeatedly mentioned by Democrats in the weekend MDJ Voters Guide is that Republicans cut some $1 billion in public education funding from the state budget earlier this year. Given the frequency of this comment, Around Town asked state Rep. Bert Reeves, R-Marietta, a floor leader for Gov. Brian Kemp, about it. Reeves called the Democrats' narrative "disingenuous and misleading."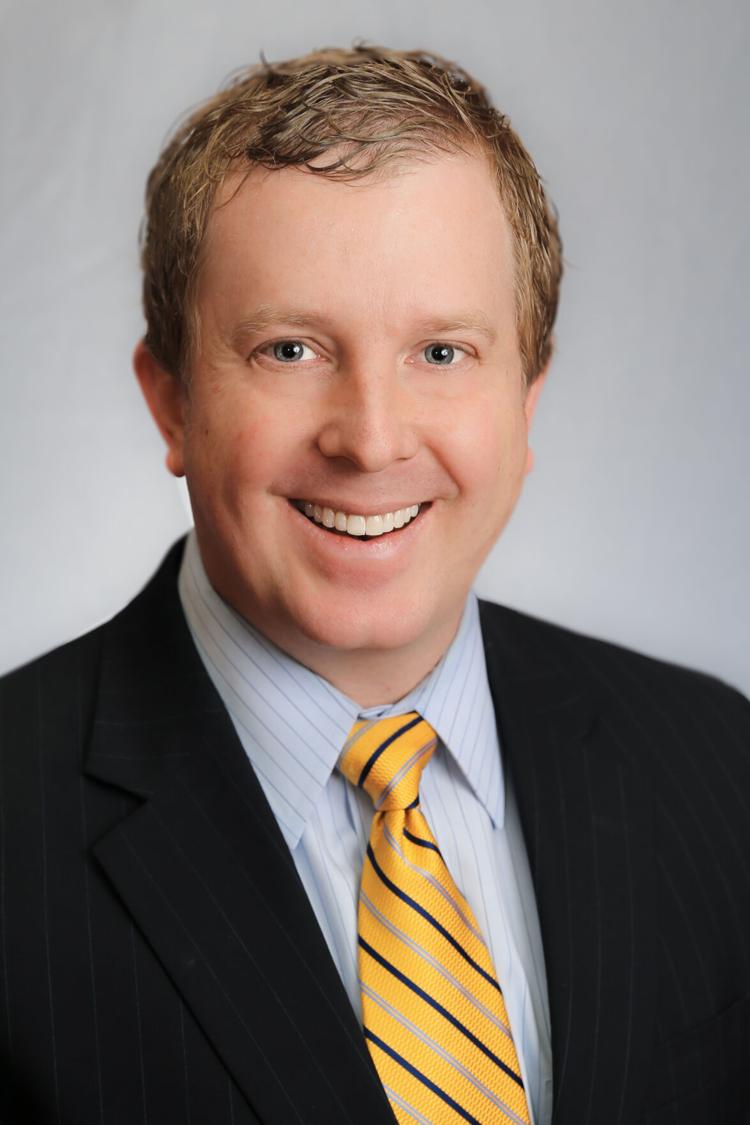 "As everyone knows, the COVID Pandemic caused record crashes in our economy, and forced the state budget to be cut across the board by approximately 11%. However — the education budget was not cut by that margin, it was less. Further, and it is shameful that this FACT is left out of this narrative, the Federal Government provided $411 Million Dollars of money that has gone directly to our schools. Even further — just as the State has a rainy day reserve fund that it dipped into to reduce the cuts, school systems ALSO have rainy day reserves, and most school systems have been able to bridge the gap in order to fund their budget with little to no interruption."
Remarkably, Reeves said Georgia's revenue collection numbers for the last two months are up almost 6.5% from the same months in 2019.
"If this trajectory holds, then in all likelihood, we will be able to do what we do every single January when we amend the budget — we will be able to put more money back into our schools if our revenue collections allow it. Right now it looks like it will. This ridiculous narrative is conveniently void of certain key facts that show the full story."
---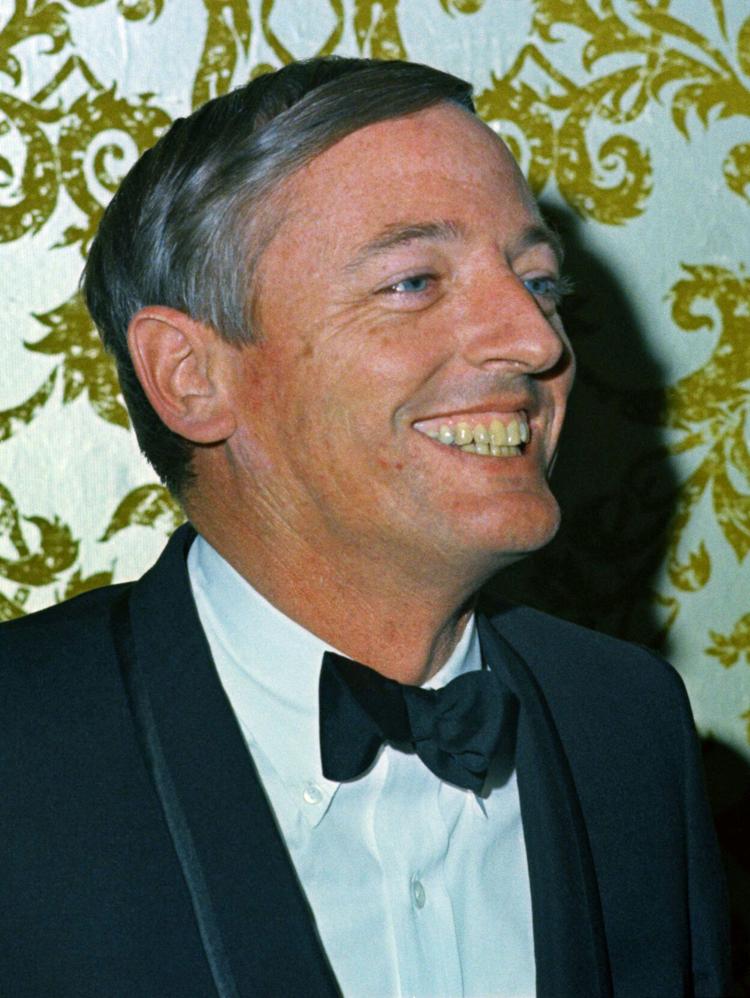 ON THE RIGHT: William F. Buckley Jr., patron saint of conservatives, used his political journal, National Review, as the gatekeeper for responsible conservatism, closing those gates to the likes of the John Birch Society, Ayn Rand, George Wallace and anti-Semites.
Buckley went to his great reward in 2008, but his magazine lives on. On Thursday, National Review's Isaac Schorr took to task U.S. Sen. Kelly Loeffler, R-Georgia, who held an event this week with Marjorie Taylor Greene, the controversial Republican nominee for Georgia's 14th congressional district.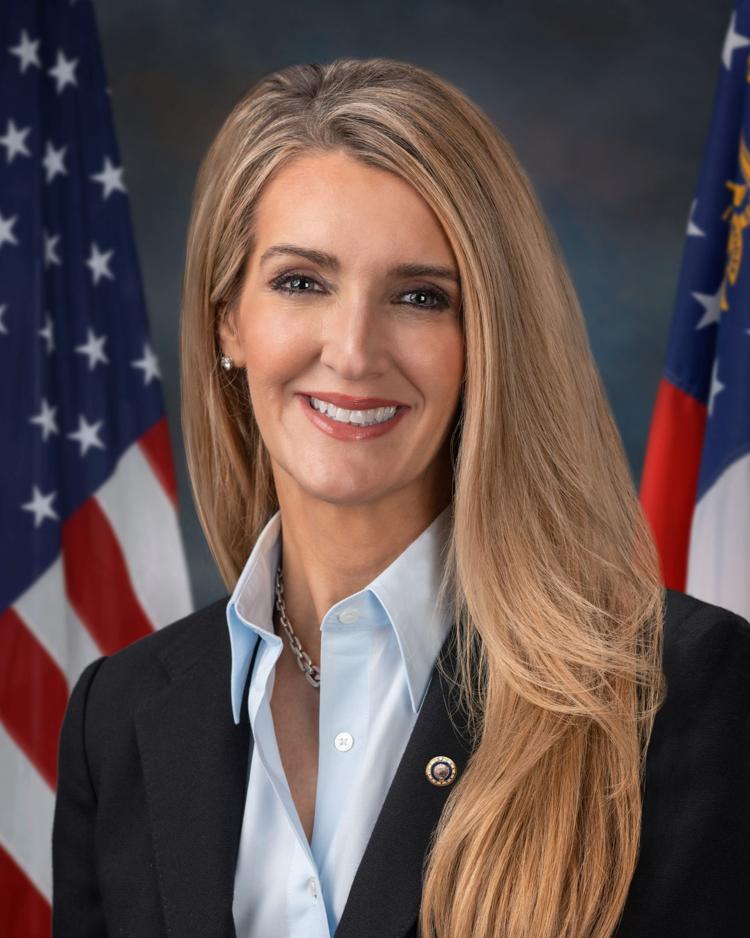 "By touting Greene — who has talked up the QAnon conspiracy theory, and calls the elections of Ilhan Omar and Rashida Tlaib 'an Islamic invasion' — as a 'strong conservative fighter,' Loeffler does great damage not only to whatever credibility she had, but to the conservative movement, the Republican Party, and the country," Schorr writes, arguing that Loeffler, who "spent her pre-Senate career in financial services and espousing moderate political views," knows better than to traffic in this kind of thing.
"Loeffler knows what she's doing is wrong, but she's craven and power hungry enough to do anything she believes could keep her in office. That's why she doesn't deserve to."
Not that Schorr is recommending her Republican rival in the race, U.S. Rep. Doug Collins, who he notes also congratulated Greene when she won her primary race this summer. Schorr closes out the article by writing: "I desperately want to see Republicans hold on to the Senate, but I must confess that if Loeffler loses, I won't be among those mourning her loss."
---
ON THE LEFT: The Rev. Raphael Warnock, the leading Democrat in a special election to complete the term of former U.S. Sen. Johnny Isakson, will have a meet and greet on Marietta Square from 1 to 2 p.m. Saturday. All are invited.
---
DOWN ON ONE KNEE: During the Cobb school board's formal meeting Thursday night, board member Jaha Howard stepped out from behind his desk and kneeled during the Pledge of Allegiance. In a livestreamed video of the board meeting, Howard appeared in front of his desk, faced Old Glory in the boardroom and participated in the pledge from one knee. After the pledge, he stood and returned to his seat.
The practice of kneeling as the national anthem is played was made famous by former NFL quarterback Colin Kaepernick, who did it in protest to police brutality.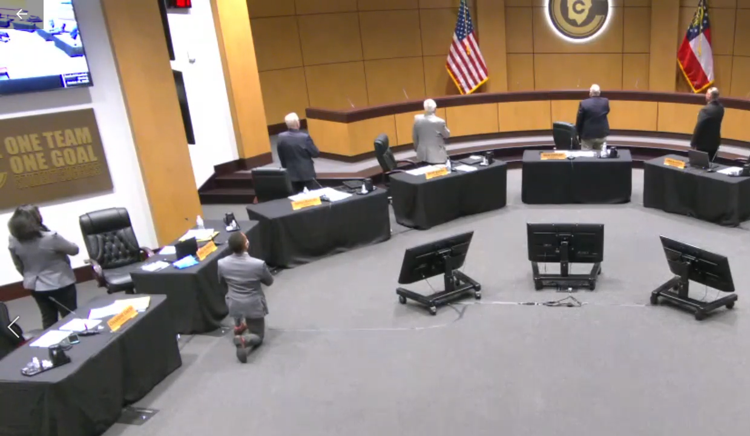 ---
MINISTRY OF TRUTH: A curious thing started happening a couple weeks ago. Emails to county spokesman Ross Cavitt were answered, but not by the man himself. Rather, answers started coming from the anonymous, faceless "on duty PIO" at govpio@cobbcommunications.org.
It's always a good journalistic practice to name the person being quoted in news stories so readers can discern their credibility and hold them accountable. And we missed that personal touch. Was our friend ill? On vacation? Alas, neither.
When asked whether he was the author of those anonymous emails, Cavitt responded coyly, "Sometimes it is and sometimes it isn't. That's the key."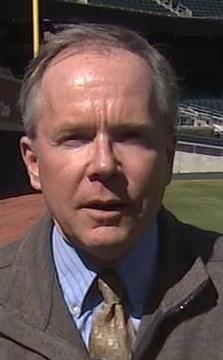 ---
Clang, clang, clang went the trolley: Sen. David Perdue's interview with Ivanka Trump on Tuesday was cut off by a familiar sight and sound to residents of Acworth and other parts of Cobb: a train barreling through downtown.
At about 4:45 p.m., five minutes after remarks were scheduled to end at the campaign event at the Cowan Historic Mill, Perdue was interrupted by the train's horn on the tracks right next to the mill.
Perdue acknowledged the cutoff and that the event was running over time.
"They told me my one job was to get done before the train came through. I said, 'What time does the train come through?' 'We don't know,'" he told the audience.
"Trump train!" someone shouted from the audience, referring to a popular campaign saying.
"Trump train, exactly," Ivanka Trump responded.
Perdue continued, "I think the question we're all asking is, what can we do to help Donald Trump have four more years? I think the future of our country, for our children, for our children's children, depends on whether we get four more years of this direction with this guy breaking eggs in Washington."