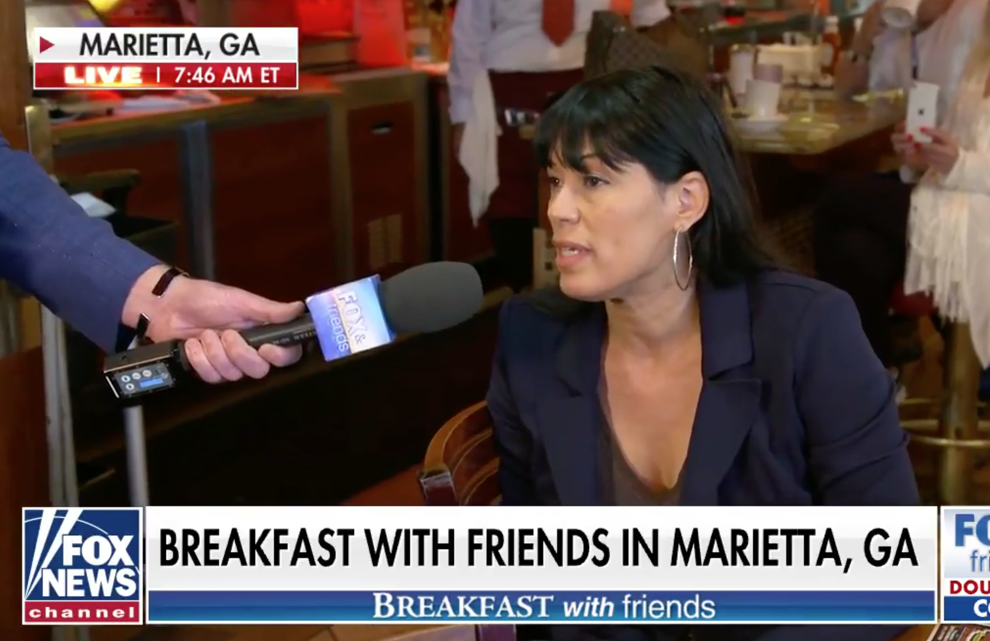 "Don't 'New York' my Georgia." That might just be a new catchphrase for residents of the Peach State after Fox & Friends morning news program broadcast live from the Marietta Diner this week.
Fox News personality Pete Hegseth was making the rounds, chatting with diner patrons. When Hegseth asked for reaction to Major League's Baseball move of the All-Star Game out of Truist Park in Cobb County, customer Pamela Alayon had this to say: "I was very upset about that. Why is New York (where MLB is headquartered) telling Cobb County what to do? It's affected our small business owners and minority business owners … So, don't New York my Georgia."
"Well said," Hegseth replied. "That might be the phrase of the morning: 'Don't New York my Georgia.'"
Alayon, who lives in east Cobb with her husband William, knows a thing or two about New York, having grown up there. A mother of five who owns a hospitality recruiting franchise, she serves as the Cobb GOP's vice chair of membership and is one of three candidates running to replace term-limited GOP Chairman Jason Shepherd at Saturday's county convention held at Roswell Street Baptist Church.
The other two candidates are Dr. Lisa Adkins of Kennesaw and Salleigh Grubbs of Marietta.
---
GOOD RELATIONSHIPS: Despite a contentious legislative session that left many an onlooker with the impression that the divide between state Republicans and Democrats has never been greater, a bipartisan trio of Cobb lawmakers sat shoulder-to-shoulder as they told members of the Kiwanis Club of Marietta Thursday that they really do like each other.
"The truth is, there are good relationships between Republicans and Democrats," said state Rep. Mary Frances Williams, D-Marietta.
State Rep. Erick Allen, D-Smyrna, agreed.
"It's still dysfunctional at times," he said of the Statehouse. But "it's not as bad as what you see on TV. … As long as you can live with their philosophy and not make everything personal, you can get a lot of work done."
State Sen. Lindsey Tippins, R-west Cobb, sandwiched between the two, pointed out that folks have a bad habit of watching what's happening in Washington, D.C., and assuming state lawmakers are marching in lockstep. Not so — he doesn't agree with everything in his national party's platform, and neither, likely, did his colleagues to his right and left, he said Thursday.
State Rep. Bert Reeves, R-Marietta, was scheduled to join them but had to cancel to attend a doctor's meeting for his son, whose COVID-induced heart condition was chronicled in the MDJ last month.
Speaking of national politics, the trio fielded a question regarding MLB's decision to pull its All-Star game from Truist Park after state Republicans overhauled Georgia's elections laws.
The Democrats, no fans of the changes, bemoaned MLB's decision, which Allen called a "mistake." Williams said "the wrong people were punished by moving the All-Star Game out of Cobb."
Tippins said he was more concerned with the reaction of Delta Air Lines, whose CEO slammed the law in a letter to employees after it had passed, prompting a last-minute effort by House Republicans to strip the airline of its jet fuel tax credit. According to some news reports, they were furious a company that had discussed aspects of the law with them behind the scenes waited until after its passage to voice such strong opposition.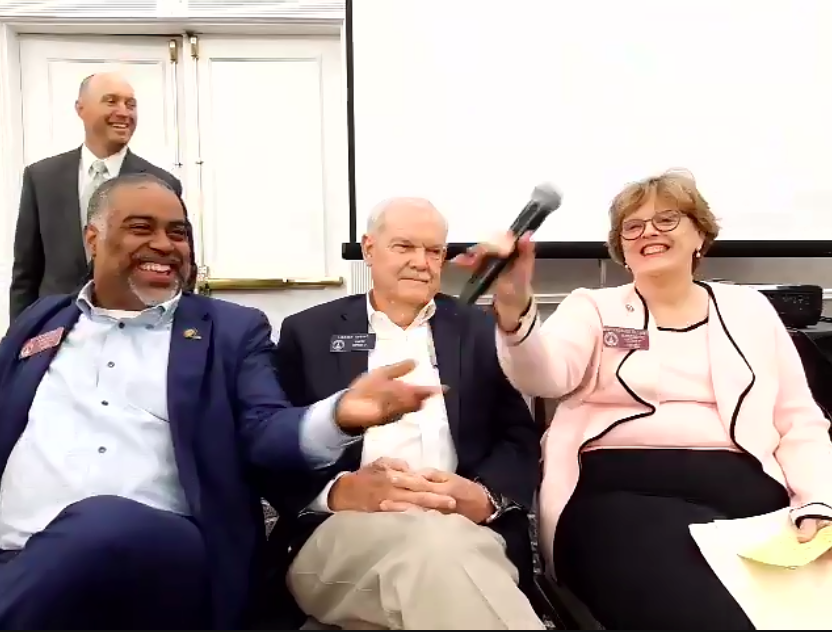 ---
DEFUND WHAT? The Cobb Board of Commissioners received a stern warning from a local couple during its Tuesday meeting.
"Let me say that if the Board of Commissioners, in any of your meetings, in any of your decisions, decide to defund police any amount, you're going to find the citizens of this county voting you out of office," boomed Leroy Emkin.
His remarks followed those of his wife, Christine Rozman, who expressed grave concern at the unrest unfolding in Minneapolis, and with Cobb Sheriff Craig Owens' ending his office's agreement with Immigration and Customs Enforcement.
Emkin continued, "We've also heard that you, the Board of Commissioners, have been considering the possibility of reducing funding of police. Unacceptable!"
Suffice to say the board was taken aback. Commissioners Jerica Richardson and JoAnn Birrell looked at one another in confusion. Commissioner Monique Sheffield's eyes rolled double-time.
As the meeting wound down, MDJ reporter Chart Riggall asked each commissioner whether they did have any such plans. The responses ranged from disbelief to indignation.
"We're trying to find money to increase the police budget," Sheffield said, as Richardson echoed the sentiment.
"Yes!" Birrell called out. "We've got to move step-and-grade forward, and I'm leading the charge on that."
Chairwoman Lisa Cupid said, "We have gone to the opposite end of defunding. We have vastly increased funding of police here. I don't know where that rumor was started."
Commissioner Keli Gambrill was also adamantly opposed.
"I have been hearing that circulate as well," she said. "I think it is out there, and the citizens are very aware of it. And hence, that's why we have the drive for cityhood."
Gambrill referred only to "talk on the street," conceding that it was just that: talk.
"There is nothing substantial from my role as commissioner that has been presented to me to have a basis for those comments," she said.
---
HAPPY BIRTHDAY: Among the many community amenities that Cobb banker Joe Daniell can take some credit for — the annual Cobb Prayer Breakfast, renovation of the beloved Strand Theatre on Marietta Square, the launch of the Aviation Wing of the Marietta Museum of History, to name a few — are the occasional lunches he organizes for his employer, Vinings Bank. Those events always offer notable speakers, good food and great conversation.
On Thursday, however, the folks at the bank turned the tables on Daniell, holding a surprise 80th birthday luncheon for the community legend.
Friends and family were on hand to fete the octogenarian, but as is the case with most people who prefer to get the work done not from center stage but from behind the scenes, Daniell, the MDJ Citizen of the Year back in 2004, was speechless as he walked into the Vinings Bank gathering room to a chorus of voices crying "surprise."
Bank CEO Dan Oliver shared with the audience Daniell's long list of accomplishments before introducing Cobb Chairwoman Lisa Cupid and Commissioner JoAnn Birrell who presented him with a county proclamation recognizing all he's done for the county. Not to be outdone, Marietta Mayor Steve "Thunder" Tumlin was up next with his own proclamation issued by the city.
MDJ columnist Dick Yarbrough and Managing Editor J.K. Murphy took a turn at the lectern as did son Alex Daniell.
Yarbrough said, "Joe knows about making this a better place to live. And he's done that with the prayer breakfast, he's done that with his support of Lockheed. He's done that in support of the city and county. Joe, you're a great man who's done great things."
Bank Chief Credit Officer Clark Hungerford presented Daniell with a gift from the employees. Each employee, Hungerford explained, was asked to describe Daniell in one word. Those words were then etched into wood in the form of a cross.
Wayne Dodd, representing the office of Congressman Barry Loudermilk, presented Daniell with a flag that flew over the U.S. Capitol in honor of his 80th birthday.
Pulling on Daniell's love of music and his 15 years as a choir director at Powder Springs First Baptist Church, Senior Vice President Caric Martin announced a special gift from the bank's board of directors. "Joe has a million ideas … and he leaves me in awe. About every time I think 'How did you think of that?' ... In recognition of (his love for music), the board has decided to fund a scholarship in your name at Kennesaw State University for a music major from Cobb County," Martin said.
Mr. Daniell, for all you have done and for what we know you will continue to do, Around Town expresses our gratitude and best of wishes on your 80th birthday.