Cobb Democratic Party Chair Jacquelyn Bettadapur gave a fiery speech to a full house during the party's monthly meeting, urging Democrats to turn out on Election Day not only to keep Cobb blue, but to turn it bluer.
"This democracy will not survive another four years with Putin's puppet in the White House," Bettadapur told the standing room only crowd at Austell's Riverside Epicenter on Saturday. "This is not about policy anymore, it's about the very existence of our democratic form of government. It's being chipped away, eroded bit by bit every day and to quote the late, great Elijah Cummings: 'What did we do to make sure we kept our democracy intact?'"
That is the peril, but the promise, Bettadapur continued, is Democrats have been building momentum in Cobb County with every election since 2016. She displayed a map and headline the MDJ ran in November 2018, reading: "Cobb Turns Blue, Again."
"Stacey Abrams won this county by 30,000 votes. We flipped seats. We gained the delegation majority by just 1, but we gained it and the 'again' comes from Hillary Clinton winning this county by 6,000 votes. What seemed impossible just a few short years ago has happened. Cobb is blue. And it's about to get bluer."
So what will the map look like this November? What will the MDJ headline read, Bettadapur asked, urging the audience to take nothing for granted and to vote by taking a bottom-up approach on the ballot.
"The 2020 Census count will determine changes in how district and representation is allocated. We have to get the majority in the Georgia House if we're to have a voice in that whole process. Democrats need to flip 16 seats in the Georgia House to achieve a majority position and that's going to start right here in Cobb County," she said. "You want to see change? Let's flip some seats in the Georgia House, let's flip some seats on the Cobb County school board, let's flip some seats on the Cobb County Board of Commissioners."
---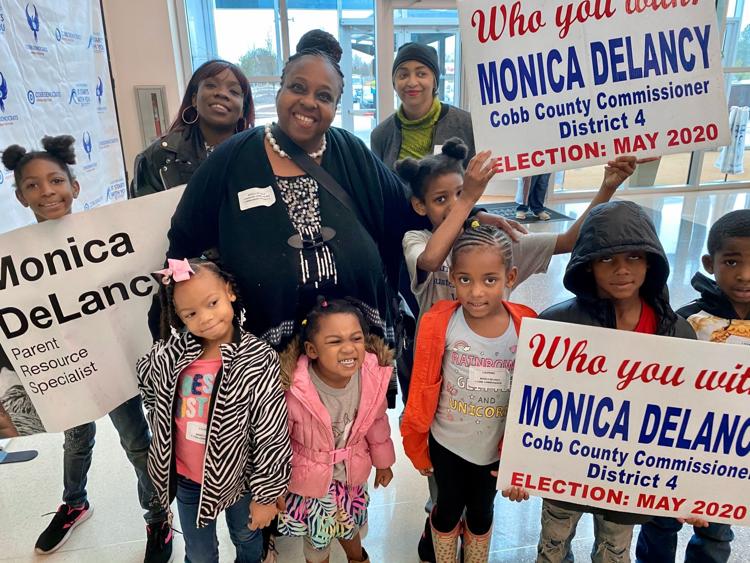 The Cobb Board of Commissioners is arguably more vulnerable to Democratic control with Mike Boyce as chairman and Bob Ott announcing he would step down when his term ends at the end of the year. Many conservatives have abandoned Boyce, who ran as a conservative, but raised taxes as soon as he was elected and has governed as a tax and spend liberal. And while conservative Larry Savage has announced his candidacy, Savage has also run for chairman multiple times in the past, always failing to draw the needed support. Politicos tell Around Town District 4 Commissioner Lisa Cupid is presently the clear front runner in the chairman's race.
Saturday's program centered around the race to fill Cupid's commission seat as she seeks the chairman's position. It's a packed race that includes Monica DeLancy, Sheila Edwards, Elliott Hennington, Jonathan Hunt, April McDonald, Edwin Mendez, Angelia Pressley and Monique Sheffield. All were in attendance but McDonald. Given how solidly Democrat south Cobb is, Bettadapur said the race would be decided in the primary. But with so many candidates, a runoff is likely.
During the meeting, state Rep. Erica Thomas, D-Austell, took the floor to announce she was seeking reelection.
"I ran on fighting. Making sure at the Capitol you have somebody that's not as scared, not scared to fight the Republicans," Thomas said. "It's about the fight. It's about who you see in the community. It's about seeing your representatives all the time, and it's not about what I think when I go into the House floor. It's about what you think."
Thomas' Democratic challenger, Mableton attorney Terry Alexis Cummings, followed her in speaking to the crowd.
"One of the things I do not like is when I call my representative to complain and I'm told it's a local issue. Well guess what? It's not a local issue, it's a quality of life issue," Cummings said to applause.
Bettadapur asked if state Sen. Horacena Tate, D-Atlanta, was in the audience.
"So now we have our candidates for Georgia Senate District 38. Horacena Tate is the incumbent. Is Horacena in the audience? No? OK."
Tate has a well-earned reputation for being missing in action, such that a previous opponent gave her the nickname "Horacena, have you seen her?"
While Tate was absent, her challenger, Tania K. Robinson of Mableton, was not.
"I'm the only one still here which speaks volumes," Robinson said. "I'm here, I'm in the community, and I'm here to stay. As we noticed we have an incumbent here that when we say that name, they're not here. But I am here. You see me. I'm involved," Robinson said, describing herself as a mother of a 12-year-old daughter who believes in public education.
"We have a lot of work to do there. I am the widow of an Army veteran who passed away last year from pancreatic cancer living in the Sterigenics area. I'm passionate about our environmental rights, our health care reform, and I'm also a financial planner by trade who works with people each and every day finding out what their problems are and finding solutions," she said.
---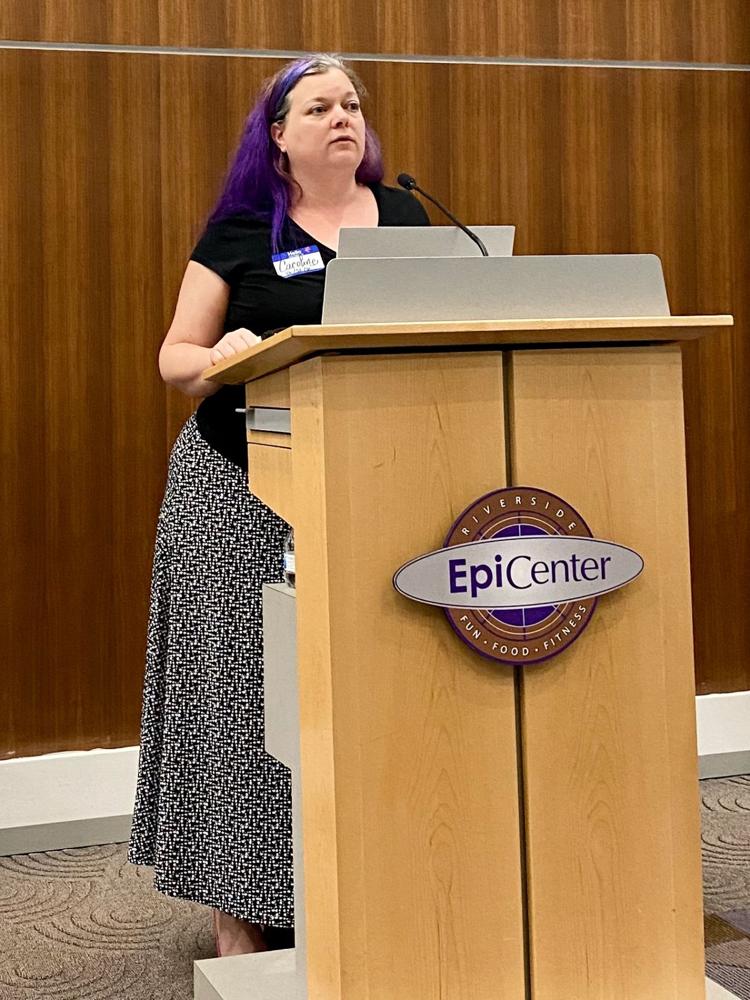 Caroline Holko announced that she's challenging state Rep. John Carson, R-northeast Cobb, this time around. Holko challenged Republican Commissioner JoAnn Birrell in the 2018 election where Birrell took 51.5 percent of the vote. Now she's decided to challenge Carson in a more conservative district. In the 2018 election, Carson beat the Democrat by 60.2 percent of the vote.
---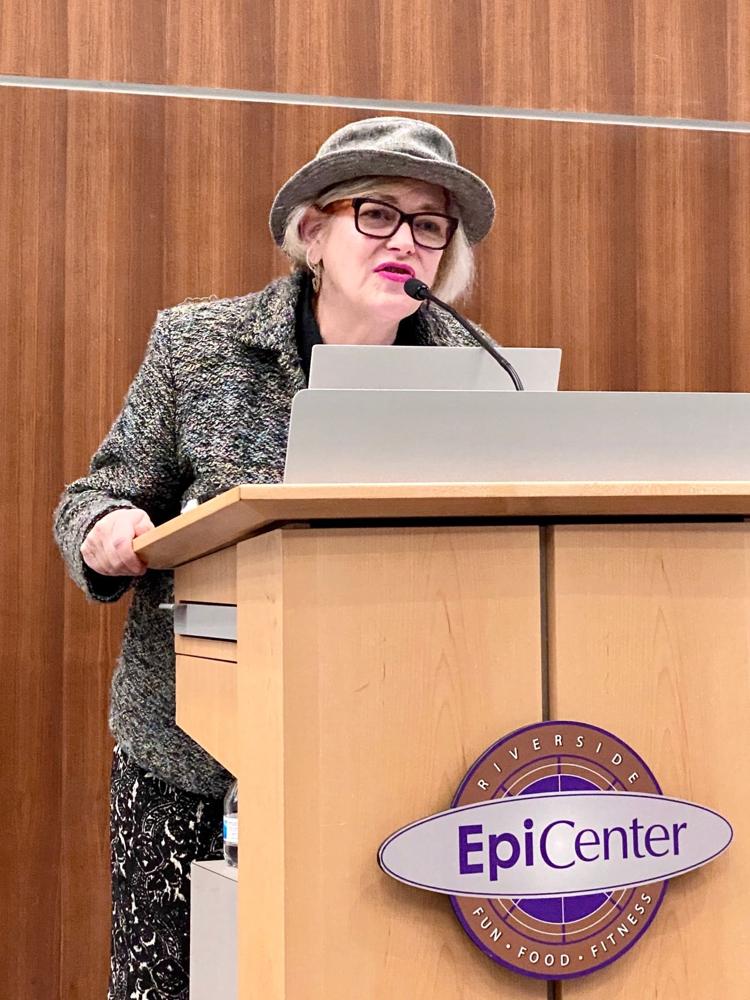 One Priscilla G. Smith announced she was challenging state Rep. Bert Reeves, R-Marietta. 
"I'm running for House District 34 because I'm going to really work for House District 34 and not be a beautiful face just up there for the sake of the governor," Smith told the crowd.
Asked about this later, Reeves said: "I look forward to a hard-fought campaign this year."
Turning to education affairs, Tre Hutchins, who has announced he's challenging Cobb school board member David Morgan, was also in the house. Morgan is another incumbent who's often missing in action on the school board.
"Equity is an issue and we know that as it relates to South Cobb not just what we see as far as zoning and the area in which we live in and our quality of life but also in our education system," Hutchins said. "And so I'm here to fight to make sure that our schools, particularly those that feed into Pebblebrook High School and South Cobb High School have a fighting chance and that we have some strong academic success coming out of our schools to bring programs to our schools."
Hutchins called Morgan a good friend of his even though he was challenging him for office.
"I do not know his intentions. He's not here to say. However I am here to let you know I am running to make sure we continue to move forward and we represent the Pebblebrook High School and South Cobb High School area," he said.
Hutchins may claim not to know Morgan's intentions, but word on the grapevine is Morgan will not seek another term.
Among the other candidates to introduce themselves were the two Democrats vying to challenge Sheriff Neil Warren. They are retiring Cobb Police Department Maj. Craig Owens and Jimmy Herndon, a former sergeant with the sheriff's office.