THIS WEEK, U.S. Sen. Johnny Isakson led a bipartisan Senate delegation to Normandy for the 75th anniversary of the D-Day invasion by Allied forces during World War II.
As chairman of the Senate Committee on Veterans' Affairs, Isakson said he could think of no better way to honor our World War II veterans than to be with them for the milestone occasion at the spot where many of them, their friends and fellow comrades landed 75 years ago.
"It is an especially important time to reflect on the sacrifices made by the greatest generation during World War II. The defeat of fascism in Europe and imperialism in the Pacific liberated millions of people across the globe from oppression. Those brave service members fought in the face of great adversity to defend the principles of democracy, and because of their valor and sacrifice, they set a high standard for future generations to follow," he said.
During the event, Isakson met with American World War II veterans who made the trip for the special occasion. The delegation also met with Gen. Tod Wolters, commander of U.S. European Command and the North Atlantic Treaty Organization Supreme Allied Commander Europe.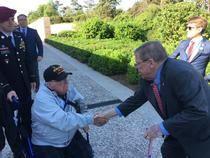 ---
JUDICIAL OBJECTION: Last month AT wrote of Cobb Sheriff Neil Warren's objection to DeKalb State Court Judge Dax Lopez being elevated to the Stone Mountain Circuit Superior Court, a position for which he was shortlisted.
Warren penned a letter to Gov. Brian Kemp outlining his concerns about Lopez' association with the Georgia Association of Latino Elected Officials "an organization that suggests a prejudice toward law-abiding citizens and law enforcement," Warren wrote.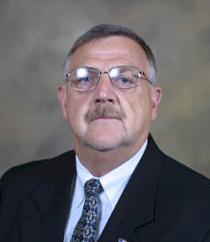 As it turns out, Kemp passed over Lopez and appointed Shondeana C. Morris to the seat.
"Shondeana Morris' impressive legal career and public service make her the right choice for the Stone Mountain Judicial Circuit Superior Court. Given her experience on the DeKalb County State Court and successful track record as a Fulton County prosecutor, I believe that Shondeana offers the ideal set of legal expertise and leadership skills for this critically important position," Kemp said of the appointment.
Warren's thoughts on the appointment?
"The governor made the right choice," Warren said.
Speaking of the Sheriff's Office, in March, the MDJ ran a story on Cobb Sheriff Chief Deputy Milton Beck, who had announced his retirement for March 29.
Seeing Beck around town still going about the business of the sheriff's department confused some. We contacted Sheriff Warren to inquire what was up.
Warren said there are several ongoing projects Beck was working on and he agreed to delay his departure and continue to assist and complete some of them.
"Some of the projects he is a part of is health care transition at the Detention Center, a reevaluation of the agency's staffing plan, implementation of new civilian uniforms as well as working with Chairman Boyce, County Manager Hosack, Director Register and other county officials on efforts to retain good employees," Warren said.
And what about Beck's successor?
"As to naming a chief deputy, I am in no big hurry so long as I can keep Chief Beck around; we are fortunate to have him … " Warren responded.
In one more sheriff-related note, Warren has announced the continuation of the controversial 287(g) program that allows department personnel to be deputized to assist in the enforcement of federal immigration laws. Warren's department can check to determine the immigration status of those in custody they suspect are in the country illegally.
---
THE ASIAN AMERICAN GOP PERSPECTIVE: This month marks the 30th anniversary of the Tiananmen Square Massacre and for this and other reasons, the Cobb GOP invited Johns Creek City Council member Jay Lin to speak at its monthly breakfast meeting.
A general contractor who moved to Johns Creek from Taiwan in 1999 and who serves as an advisory board member of the Chinese-American Entrepreneur Alliance, Lin spoke about how Chinese Americans are helping to influence and shape the GOP.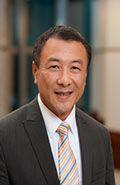 Lin said he's often asked by elected officials and candidates how to engage the Asian American community. There are quite a number of Asian Americans who are Democrats, he said.
"Right now, the community is kind of divided in two different camps. But if you dissect what they believe, if you remove social justice and immigration, these two major issues, out of Asian Democrats, you can convert 80 percent of Asian Americans, Asian Democrats into Republicans, because family values, the way they handle finance, every bit of those core values that they believe in, line up with Republican core values," Lin told the crowd gathered Saturday at the Cobb GOP headquarters.
But how to convert not only Asian American Democrats, but all Democrats to the GOP cause?
"Democrats are not our enemy. The ideas that they believe in is," Lin said, urging the crowd to think of it in terms of the Christian idea of God hating the sin, but loving the sinner.
"We must love Democrats. I always say Democrats are my friends who have been deceived. So let's be nice, let's be nice to them and be their friends because I would venture to say your conversion rate is very low if you're being very confrontational," he said.
Could any in the crowd cite a successful example of converting a Democrat through confrontation? Lin could not.
"So it's important that we have civic engagement at the level that we can still talk to each other," he said.
For to view a political opponent as an enemy is to want to destroy them, he said.
"We need to be ambassadors in order to grow the conservative base in metro Atlanta area. Being confrontational will never yield a desirable result," he said.
During the Q&A portion of the meeting, an audience member said she was attending a transit meeting in February in the Peachtree Industrial area, describing the number of left wing activists present at that meeting as pervasive.
"How do we approach our fellow sisters and brothers who are part of the liberal Asian community?" the questioner wanted to know.
Transit, Lin responded, is a unique issue because some who came from Asia know the meaning of high density.
"I know some of my friends in Johns Creek say 'That's high density.' I'm just shaking my head. You don't know what high density is," he said. "So that's a very unique issue and from that I like to say when I talk about messaging — you need to be simple. There are so many issues. I would say let's not take on every issue. It's unnecessary."
As to the question, "I really can't answer that question because even among Asians there's no agreement. But I can just tell you Asians as a whole, traffic issue doesn't bother them that much. High density even residential commercial development don't really bother them that much."
---
POLITICAL PLATTER: The Cobb Democratic Party's monthly Donuts with Democrats meeting is 10 a.m. Saturday at the Smyrna Community Center. The party reports it is gearing up for 2019 municipal elections and 2020 federal/state/county elections.
Richard Keatley, 2018 candidate for state labor commissioner, will be speaking about organized labor — the policies for which they advocate and the support they provide to candidates seeking office. Barbara Ann Luttrell, vice president of communications for Planned Parenthood Southeast and Planned Parenthood Southeast Advocates, will talk about HB 481, the "heartbeat bill," and what the future holds.
And Cobb school board member Charisse Davis will give an update on the role of the school board and school funding.
---
TOWN HALL: Commissioner Keli Gambrill will hold a town hall meeting from 6:30 to 8:30 p.m. Tuesday at St. Claire of Assisi Catholic Church in Acworth.
---
CARROT & STICK: Before Chuck Clay spoke on local connections to the invasion of Normandy on the 75th anniversary of D-Day at the Kiwanis Club of Marietta weekly luncheon Thursday, he employed a bit of self-deprecating humor.
Clay had been introduced as the former Republican Senate leader in the Georgia General Assembly.
"My title was actually maybe more mellifluous but much less important ... minority leader, not the majority leader. I learned very quickly, minority leader — while you get a flashy uniform and a title — is the only job in politics that has neither carrot nor stick."