A RABBIT SCARCITY is what launched the not-to-be-missed political event of the season.
That's according to state Sen. Lindsey Tippins, R-west Cobb, who Sheriff Neil Warren asked to take the stage along with former Sheriff Bill Hutson at the 30th annual Corn Boilin' at Jim Miller Park on Monday.
"For many years, Sheriff Hutson had a rabbit fry at the end of the season, and rabbits got about the same way as quail did in the state of Georgia — they got awfully scarce," Tippins said. "So there wasn't enough rabbit to have a rabbit fry so Sheriff Hutson said 'I think we're going to have a corn boilin'. I said I've heard a lot of things, tell me about a corn boilin?"
When corn matures, country folk would call it roasting ears. That is, the corn was ready to be roasted over a fire and eaten. Only, they didn't pronounce it "roasting" ears, Tippins explained.
"Nobody never says 'roasting ear' unless they're a Yankee. Around here it was always "rossen ears,'" he said. "Basically, that's when the corn would come in and it was still soft enough to eat, because just old field corn would get hard and tough. A lot of people kept it for stock feed, but the 'rossen ear' stage was when it was young and tender. And a lot of them would roast corn."
Three decades ago, Sheriff Hutson gathered a group of 40 or so friends at Johnny Woodward's farm at the corner of Villa Rica and Macland roads for the debut corn boilin'.
"They had this fire outside and they had an old black iron washpot to cook all the corn in. We heated that washpot with pieces of firewood, which is the way they used to do the family wash because they didn't have water heaters. It was a pretty primitive affair," Tippins recalled.
The senator said he never will forget how Hank Floyd, a developer who went to work for Hutson, gave him a look after he'd enjoyed about four or five ears of corn at the inaugural event.
"Hank looked over to me, he said 'Tippins, I ploughed a 1,200 mule that don't eat as much corn as you do," Tippins said with a laugh. "He'd get over there on the side and he was the first one to start cooking hoe cakes. He brought a little old griddle in there and he was cooking hoe cakes on a camp stove. This thing just kind of developed."
Hutson said he planned to hold a larger event the following year and charge $10 a plate.
"The joke around town used to be well, don't mess with Sheriff Hutson. Anybody who can sell a plate of boiled corn and pinto beans and cornbread for $10 a plate, they're going to be smarter than you are, so you better not mess with him. Now that was 30 years ago."
Tippins hasn't missed one since the beginning.
"We really enjoy it. But more than that, we're all blessed with having good law enforcement and safety in Cobb County," Tippins said, noting Hutson left a long legacy of service to Cobb County, one that Warren has continued.
And lest you think it's just Republicans who turn out, think again. Around Town spotted a number of prominent Democrats enjoying Monday's corn boilin', among them state Sen. Michael Rhett, D-Marietta, state Rep. Mary Frances Williams, D-Marietta, and Democrat Flynn Broady, who challenged U.S. Rep. Barry Loudermilk, R-Cassville, last year and now is running for Cobb District Attorney.
---
THE SHERIFF'S RACE: Much has been made about Sheriff Warren's odds of being reelected given how blue Cobb County has turned in recent elections. For instance, state Rep. David Wilkerson, D-Powder Springs, chairman of the Cobb Legislative Delegation, has said Warren's right-wing stance is now out of touch with the majority of Cobb voters.
But former Georgia GOP Chair Sue Everhart, who was among the hundreds at Monday's Corn Boilin', doesn't see it that way.
"Wilkerson is way out on the left, and I like the sheriff, I like what he's done. We've got crime down in Cobb County. It has stayed down in Cobb County, and as long as he keeps doing what he's doing, I'm going to vote for him," Everhart said.
Everhart believes Warren will indeed be reelected.
"And I'm going to help him," she said.
---
HANDEL & THE OMNIMBUS: Marjorie Taylor Greene has pulled no punches in pointing out the flaws of fellow Republicans vying for a chance to challenge U.S. Rep. Lucy McBath, D-Marietta, in next year's election.
One of the ways she's going after Karen Handel, who lost the seat to McBath, is by pointing out how Handel voted in favor of the so-called omnibus bill while in office. In a recent Facebook video, Greene launched into a critique of Handel's support of that bill.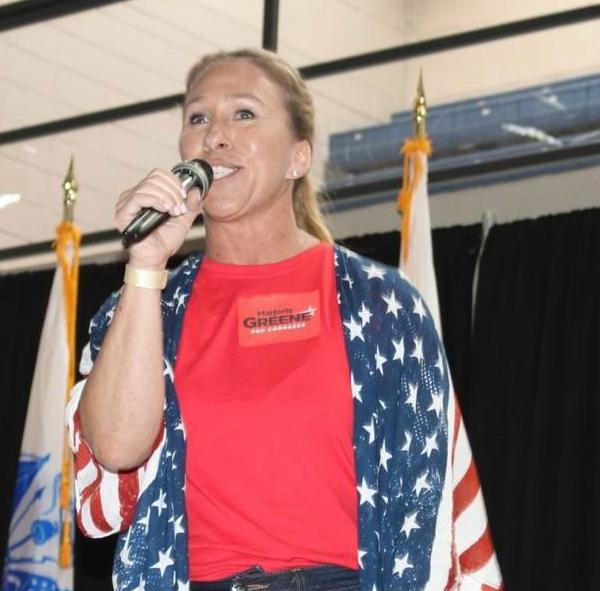 Handel was sent to Washington to represent the district's Republican, conservative values, Greene said.
"Well, let me tell you guys something, she didn't do that. She went straight into Congress and broke a lot of her promises. She voted for the omnibus bill. And the omnibus bill, if you guys remember in 2018, you guys remember how upset I was about that bill if you were following my page," Greene said. "You heard me talking about it. You heard me really railing against that heavy, heavy spending package. Well that omnibus bill was the most expensive spending bill in U.S. history. Karen Handel voted for that.
"It also funded Planned Parenthood. Karen Handel voted to fund Planned Parenthood. It also funded sanctuary cities. Karen Handel voted to fund sanctuary cities," Greene claimed.
"It also did not fund President Trump's border wall. Karen Handel, our congresswoman, didn't fund President Trump's border wall. As a matter of fact, I think she only supported him because he said he supported her. The rest of the time I don't think Karen Handel really supports President Trump. I support President Trump, but I don't think Karen Handel does, which is really unfortunate."
Greene suggests this is why Handel lost to McBath.
"I supported Karen, I voted for her, but after she voted for the omnibus bill and she didn't fund President Trump's border wall, which we really need — it's a big, big deal — she let all of us down and people were not motivated to go out and get her reelected when Lucy McBath ran against her this past November in 2018. So we lost our seat."
Around Town caught up with Handel to ask about her support of the omnibus bill, given Greene's critique.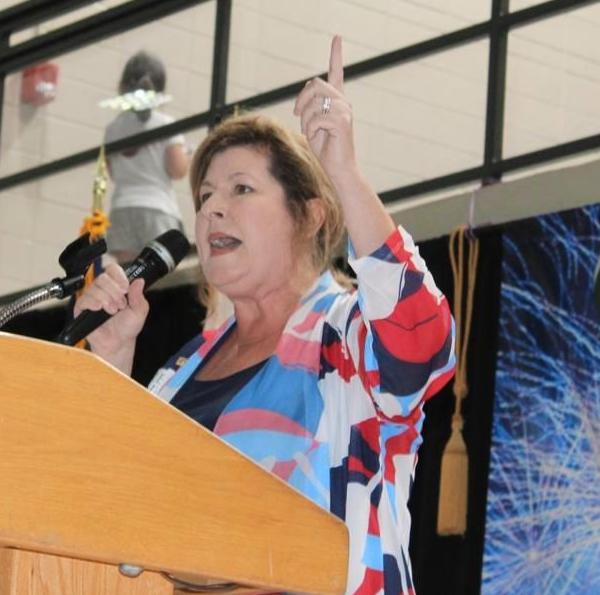 "First of all, fact check her, No. 1," Handel said. "Secondly, let's remember that Donald Trump signed the omnibus. If you pull my statement from back then it will be the same. There were a lot of things in it that I did not like. But I was not going to leave our military men and women in the lurch because it had the funding for them, and I wasn't going to leave fellow Americans in the lurch who needed desperately disaster relief funding, so that's the reason I voted for it. Experience matters and what I know and what I have experienced is that in Congress it's either yes or no. It's not other. And I simply wasn't going to not be in the place of not supporting our military men and women in the much needed rebuild that we had to do and fellow Americans who needed the disaster relief."
Handel also addressed the border wall.
"One thing on the wall, I would like to point out that the immigration bill that I helped get passed, I worked on a section of it, had $75 billion advanced for the wall and other security measures. That bill was defeated by the Freedom Caucus. So maybe, I don't know where she's going to be on that, but you know when we have one part of our party team up with the ultra left, that's bad," Handel said.