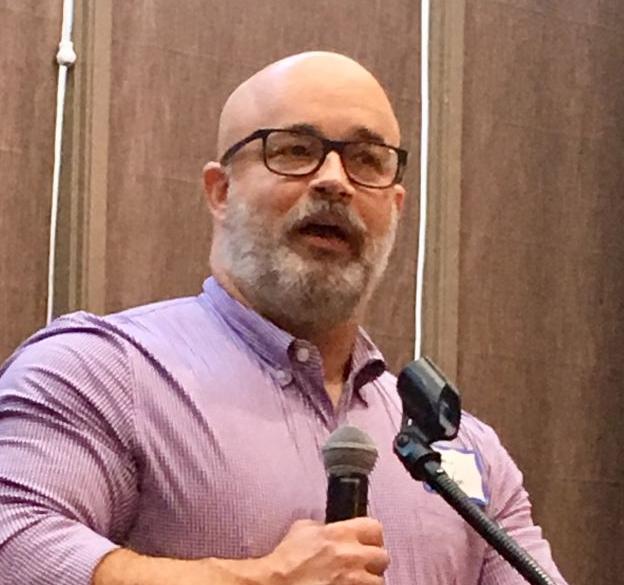 FASTEN YOUR SEAT BELTS. Next year's race for Cobb County sheriff is shaping up to be an explosive one. A former sergeant with the sheriff's office who parted ways under unhappy conditions has launched a campaign to unseat the county's longtime sheriff.
Private investigator James "Jimmy" Herndon of east Cobb gave a stump speech at the monthly "Donuts with Democrats" gathering over the weekend. In that speech, he ripped Sheriff Neil Warren, accusing him of running a dangerous jail where prisoners have died, of playing favorites with employees, of wasting money by partnering with ICE and of bullying Kennesaw State University cheerleaders for kneeling in protest during the national anthem.
"If my children, unfortunately ... have any contact with the law, I'd like for them to be able to survive it, get in and out of jail and being treated fairly, and right now the place scares me the way it's being run. It's really not being run very well at all," Herndon told the Democratic audience at the Smyrna Community Center.
During his tenure with the sheriff's office, Herndon said he was tasked with investigating things he didn't always agree with.
"It had nothing to do with carrying out the law or anything like that," he said.
He accused Warren of playing favorites by providing his secretaries and IT staff take-home cars, while the deputies on the road didn't have them.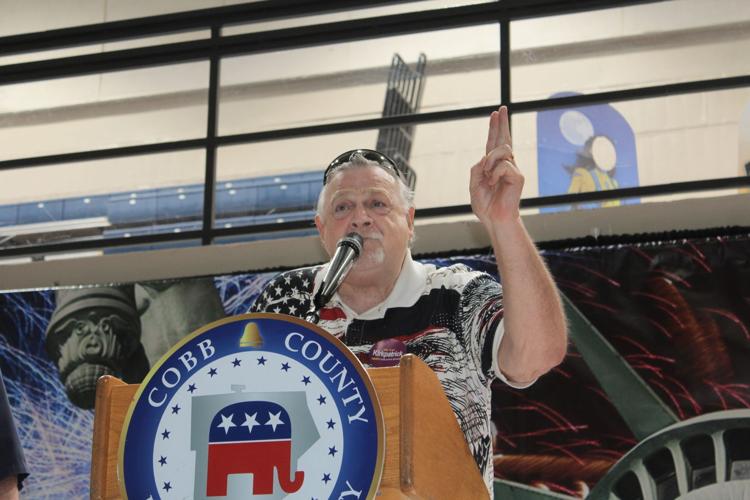 He criticized the sheriff for giving a lobbyist an $18,000 raise.
"I have no idea of what a sheriff needs a lobbyist for. Your job is to enforce the law, not make it," Herndon said.
He blasted Warren for his vocal opposition to the KSU cheerleaders who kneeled in protest during the national anthem a few years ago.
"I disagreed when the sheriff used the power of his office to suppress free speech of a bunch of KSU students that weren't bothering anybody," he said to loud applause from the Democrats.
There's probably 30,000 to 35,000 people who annually pass through the county jail with about 2,000 locked up at any given time, Herndon said. About 40 percent of the jail population is diagnosed with some sort of mental illness, he said, claiming the jail only has one psychologist on staff most of the time to process inmates.
"And they languish for days on end without medication, without treatment and it gets bad," he said, pointing out that three inmates have died in the last six months.
Another criticism Herndon launched at Warren was the federal 287(g) program he uses in partnership with U.S. Immigration and Customs Enforcement.
In arguing against that program, one may appeal to people using the moral argument about "our society tearing apart families," Herdon said, although the moral argument doesn't always work. So Herndon used a financial argument against the ICE program, saying the sheriff's office uses "about 12 employees" to operate it. Employees that "you pay their salaries for, you pay their benefits package for, you pay their cars for, you pay for their offices. Everything. None of that is reimbursed by ICE. That is a thing that is already funded through taxes to the federal government. It's their job. They should be doing it. We shouldn't be doing it in our jail. It would free up 12 people that we could put on the floor to prevent people from hanging themselves, hurting themselves and instead, we have them tied up in the office all day just simply to ask people if they're illegal or not. I just think it's a tremendous waste of resources, time and money and it needs to go away."
Herndon, 45, and his wife Kristi have four sons and attend First Presbyterian Church in Marietta. Born in Baxley and reared in Clinch County, he holds a bachelor's and master's degree in criminal justice from Valdosta State. He said he arrived in Marietta by way of a previous wife who was from here. He began working for the sheriff's office in 2002. He said he now works as a private investigator for the Marietta intelligence firm, Black Spear Intelligence.
Herndon said he parted ways with the sheriff's office under less than pleasant circumstances. According to Herndon, when he became fed up with his job there and let it be known that he was looking for employment elsewhere, he ran into retaliation.
"I just wanted to move on and go work somewhere else and do my thing and they wanted to beat me up so bad because I wanted to leave," he said after the meeting.
Through an open records request, Around Town obtained a Sept. 5, 2017, memo from then-Lt. Col. Sonya Allen to Sgt. James Herndon. In that memo, Allen writes that based on an investigation that revealed Herndon downloaded an anonymity internet browser onto county owned computer equipment, she was proposing his termination.
"There was a settlement agreement reached that cleared me of all that," Herndon said. "I'm legally bound. I can't tell you what's in it, the settlement agreement. In return, I dropped all my claims against them."
A settlement agreement obtained through an open records request does state that if he agreed to submit a letter of resignation effective Sept. 6, 2017, the termination record would be removed, would show that he resigned and would say that the finding was "not sustained."
"They felt it was in their best interest to settle," he said.
Around Town asked the sheriff if he cared to respond to any of the accusations lobbed his way. Warren didn't take the bait.
"I am proud of my record as Cobb County's elected sheriff and look forward to continuing to serve our citizens another four years," Warren said.
Qualifying for all partisan offices in 2020 is March 2-6, with the primary May 19 and the general election Nov. 3.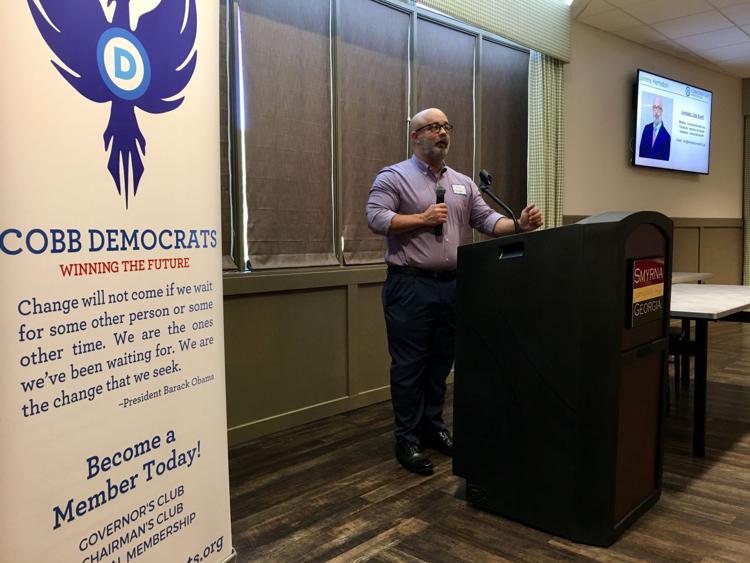 ---
PARKING PAINS: File this in the be-careful-what-you-wish-for category.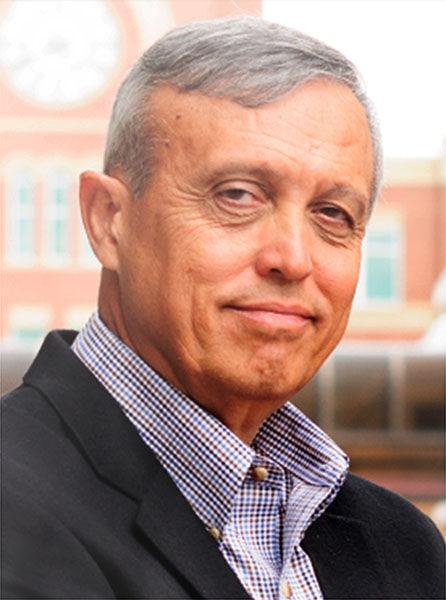 In his zeal to bring the costs of operating the county government's two parking decks in line with revenue, Chairman Mike Boyce ended free parking at night and on the weekends. When that didn't right the ship, the county turned over operations of the facilities to LAZ Parking, hoping the private sector could do what the public sector couldn't — break even.
Boyce discovered that helping the garages climb out of debt can mean a personal sacrifice.
"I found out the hard way the other day … my (parking) card is no good on the weekends," Boyce told Around Town. "I paid my five bucks."
County employees are issued a card that grants access to the parking deck for a monthly fee. But as the chairman discovered, his card only works during the workweek, not on weekends.
"I kept waving that card and it was saying, 'It's Saturday. It's Saturday.' And I looked at the sign where I park: 'Monday through Friday. 8 to 5.' They take that literally."
The good news is that since outsourcing operations to LAZ, Boyce said, the parking decks are no longer draining county coffers.
After just over three months with LAZ running the parking show, Boyce says the new deck operator is "doing great."
"We're in the black," he said. "They know what they're doing. Imagine that."
When they first came on board, LAZ was expected to increase parking revenue by nearly half a million dollars. Now we know at least $5 of that $500,000 came right out of the chairman's pocket.