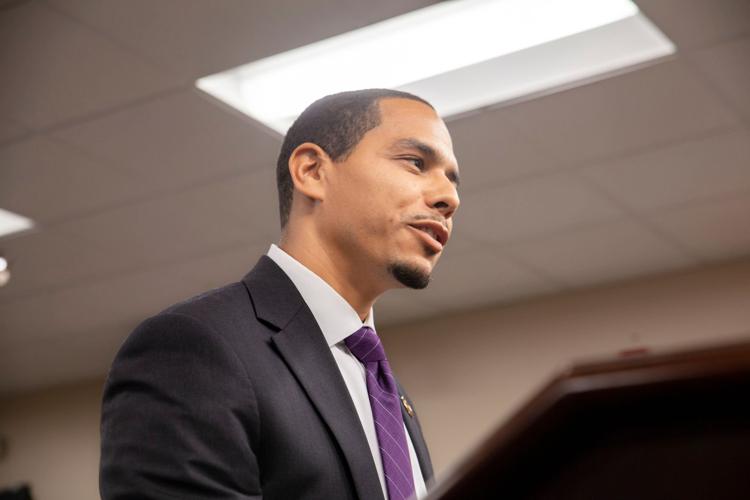 In his first year on the Cobb school board, Dr. Jaha Howard, one of two freshman Democrats, has certainly stirred the pot. (That's not to say the other, Charisse Davis, hasn't also spent ample time in the same kitchen — what with referring to some fellow board members as "four older people, and you know, four white males" to seeking reforms to the county's senior school tax exemption).
Howard seemingly sought to prove a point on Thursday.
At the board's evening meeting, Howard signed himself up to speak during the public comment part of the meeting designed for members of the public to address the board.
Howard's introduction from board attorney Clem Doyle prompted scowls from some on the board dais.
"I'm here today, because I just want to talk a little bit about vision and leadership," Howard said, grinning and scanning the faces of his fellow elected officials from a new angle. "I specifically want to highlight the parents and the student leaders in the Smyrna and Mableton area, and specifically the middle schoolers."
Howard continued saying that "something magical is happening" in Smyrna and Mableton, areas included in the post he represents.
"The energy is palpable. Expectations are high. The vision is clear, and it's excellence. It's about persistence, and it's about passion. And when I tell you that day after day after day we have challenges in our schools when it comes to the density, when it comes to overcrowding, trying to deal with so many types of people and types of families all coming and converging in this space — and we're figuring it out together. So I wanted to say to my fellow board members, thank you for doing everything that we can to make sure that we are fueling this. You know, sometimes when you see a good fire, you gotta fuel it and fan it, right?"
He went on to name the middle schools in his post and put into the public record that they have "champions" on the board.
As it happens, Thursday's meeting was also the first meeting after the board's 4-3 vote removing scheduled board comments from the end of the board's monthly sparring matches.
As reported by the MDJ's Thomas Hartwell, Howard warned fellow board members at that Sept. 19 meeting that if he was muzzled from commenting at the end of the meetings, he would find ways to say what was on this mind in other parts of the meeting.
Prior to that Sept. 19 meeting, he'd delivered handwritten notes to board members, alerting them of his plans to speak out on "major issues." Those notes were the catalyst for board Chairman David Chastain's recommendation to ax the comments.
Board member Randy Scamihorn said while it appeared Howard was making a statement on Thursday, there is no policy prohibiting board members, who are also members of the general public, from speaking during public comment.
"I guess he felt strongly enough that he wanted to make a statement," he said.
But, Scamihorn added, public comment is limited to 30 minutes per meeting. So if Howard intends to speak at the lectern, he may need to aim for meetings with few speakers.
---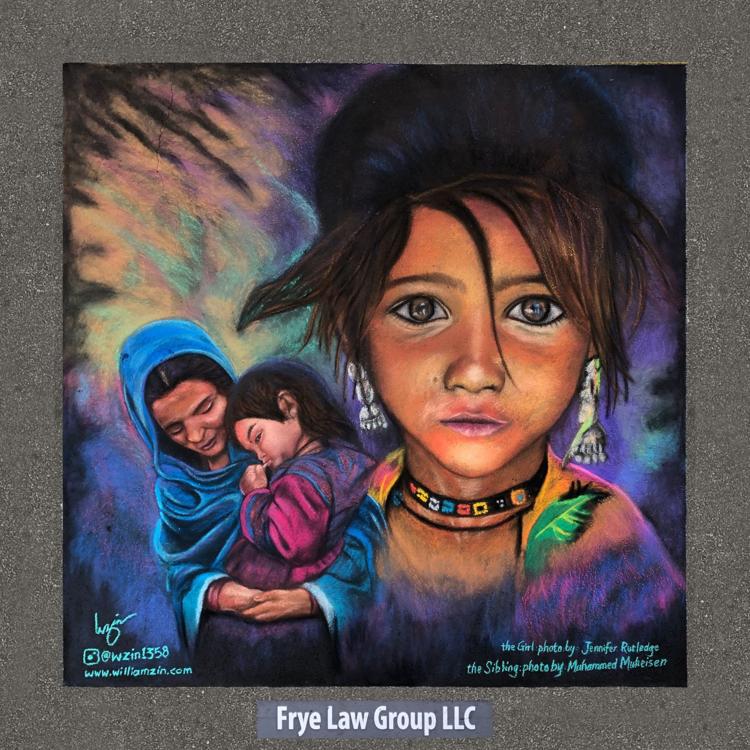 CHALKTOBERFEST: California's Willie Zinn, the winner of this year's Chalktoberfest, recently explained the inspiration behind his winning piece.
It all began with a photograph he found.
"I love doing portraits and when I was browsing for a good photo, I came across the girl and she looked stunning, especially her eyes," Zinn said via Facebook Messenger. "I told myself I had to draw this."
But he wanted to tell a story. The girl looked innocent, and lost, the artist said. Zinn went searching for another photo, and found one of sibling refugees.
"They kind of go together," he explained. "In this world, children are always the victim. Innocent and fragile for the most part."
The sibling photograph was taken by Pulitzer Prize-winning photographer Muhammed Muheisen, the founder of Everyday Refugees Foundation.
"I said, 'Be as controversial as you want, I don't mind,'" Kim Frye, of Frye Law Group, said after the winners were announced. The firm sponsored Zin's piece. "As a business owner I wasn't going to interfere with his artistic expression."
But Zin wasn't aiming for controversial.
"I wanted people to feel that from this drawing without being political, making it propaganda," he said. "I hope I was able to make the onlookers capture that or feel that."
---
EXPLODING BAMBOO: Cobb County firefighters had an unusual situation to deal with recently, when they were called to a bamboo fire at the intersection of Hurt Road and Landrum Drive.
The heat from the fire boiled moisture trapped inside the segmented chambers of the bamboo stalks, turning it into steam and causing the stalks to explode, firefighters explained Monday morning. Cobb County Fire and Emergency Services posted two photographs and a brief description from the incident on its public Facebook page Monday morning.
"Engine 7 and Engine 30 recently battled a bamboo fire," the post stated. "This was definitely an unusual fire because the bamboo stalks have segmented chambers that were exploding as the moisture inside of them boiled and turned to steam."
Photos from the fire show steam rising from blackened bamboo stalks as firefighters dampen down hotspots. In one photograph, a firefighter is seen with a hose in one hand and a bottle of household dishwashing liquid in the other.
In the comments underneath the post, one person asked what this was for, to which the department replied the detergent is used as a "wetting agent" to reduce the surface tension of the water droplets.
"This allows the smaller droplets to change their shape in order to spread and fit into smaller areas than they could normally reach," Cobb County Fire and Emergency Services posted.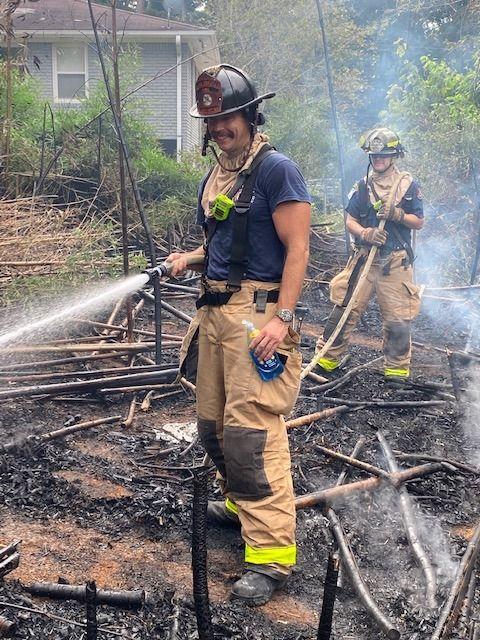 A good reason to keep the dish soap handy.