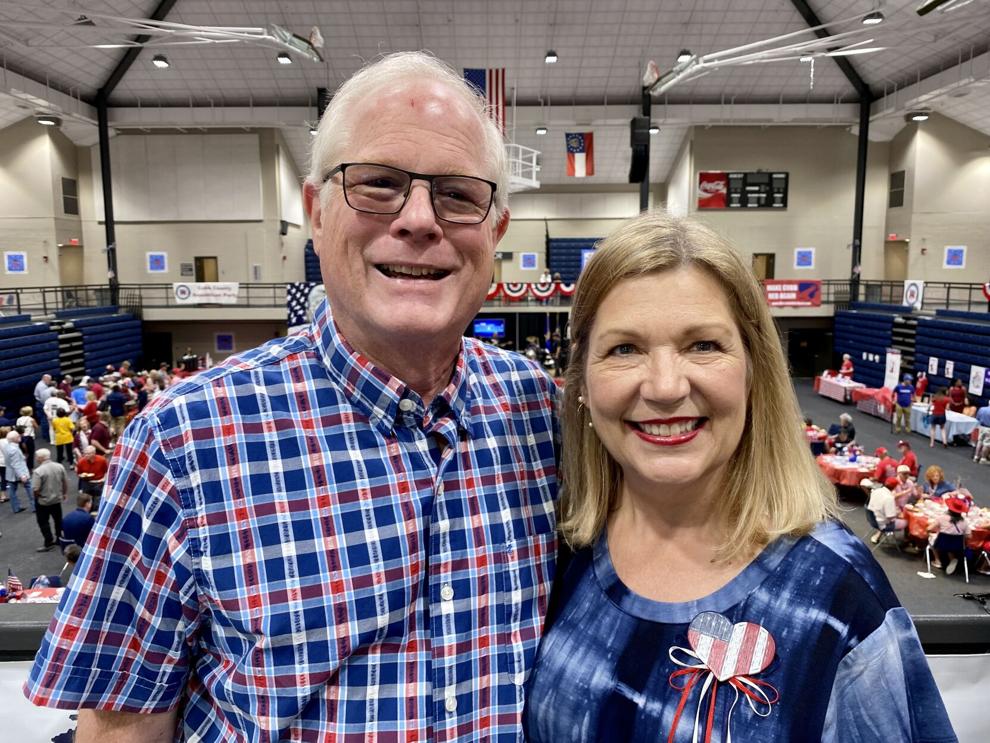 Next year, three of the seven members on the Cobb Board of Education are up for reelection: Republican David Chastain and Democrats Dr. Jaha Howard and Charisse Davis.
Cobb Democrats, who successfully flipped the county commission, sheriff's office, district attorney and clerk of the Cobb Superior Court, were frustrated that the Cobb school board remained red in the November election.
Unseating Chastain next year would give Dems control of the school board and by extension, the Cobb School District.
The race began this week when Austin Heller, a 20-year-old Kennesaw State University student, announced he was challenging Chastain after the board's evening meeting on Thursday. A small crowd of supporters cheered him on and took photos with him, among them Democrat Priscilla Smith, who lost to Devan Seabaugh in Tuesday's runoff. The political science major said he's running on a platform of creating an "equitable education system" in the county that works for all students and shows "our collective history, our collective mindsets, upbringing, everything."
"It will take a tremendous effort now to get the vote out, so I humbly ask for your help in creating this movement and this project with me for a future Cobb that we're all proud of, not just a handful," he said, speaking to the crowd.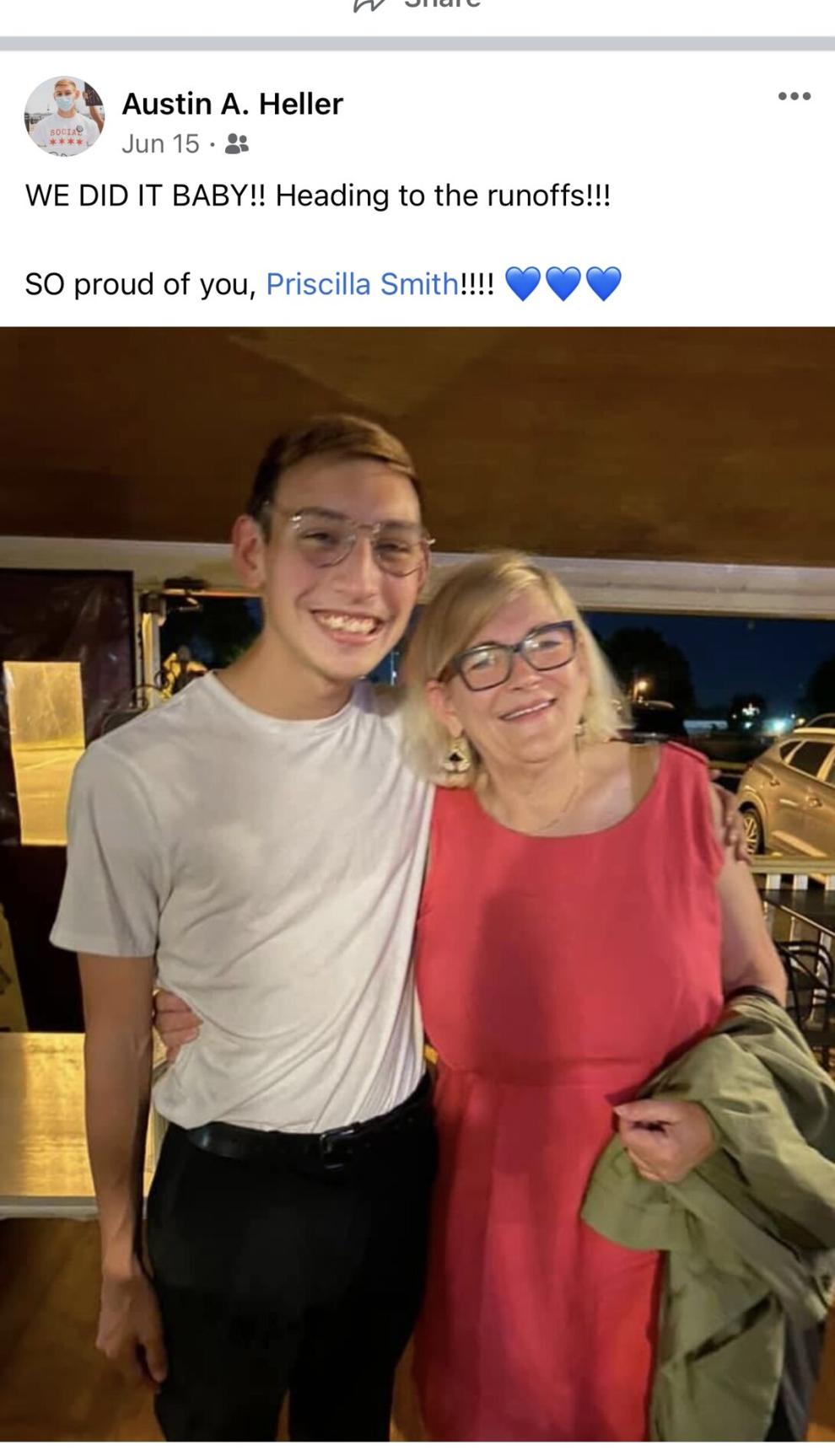 Heller called "un-American," recent decisions to ban the teaching of critical race theory in Georgia schools. The four Republicans on the school board adopted a resolution banning CRT from the school system last month.
Meanwhile at the Cobb County Republican Women's Club's luncheon Friday, Chastain was one of several candidates to speak before the keynote speaker, Congressman Barry Loudermilk, took the lectern.
Chastain told the crowd he plans to seek reelection next year.
"That last election cycle, the Democrats were going after three (seats). This next election cycle, they're all coming for me," he said. "And I'm going to need your help."
But before this remark, he told an interesting story.
The other day, Chastain received an email from the Cobb Elections Office, through which countywide candidates file their campaign reports. Said email was seeking approval from Chastain to give a person access to his online account.
"Well, I haven't really cranked up for the next election cycle, so this got my attention," Chastain said. He told the elections staffers to reject the request for account access, and the county sent him the name of the person who was trying to get into his account.
"I guess he was really trying to hack my account," Chastain told the crowd. "And I don't know what the circumstances would be ... Some people worry about the Chinese, some people worry about the Russians, and I've got to worry about young students."
Around Town rang Heller to get his side of the story. He said the whole thing was an honest mistake.
In Heller's telling, he was on the website to officially declare his candidacy and file the relevant paperwork, but got confused as a first time candidate who had never used the system before.
"I put all the information, because it asks, you know, 'What office are you looking for?'" Heller said. "And so I chose 'Post Four, elected official,' which I didn't understand was registering as if I was already that official. … So that was the mistake, I chose the wrong drop-down for whichever box — you choose elected official or candidate."
Heller called the elections office, and a staffer guided him through the registration process. Heller said he doesn't have the desire, or technical know-how, to hack anyone's account. He was miffed at Chastain's version of events.
"If I was a sitting board member, I would be using a public event to highlight my school district and my parents," Heller said. "Not deflect and create something that I know to be misinformation, to distract people."
He went on to add, "I haven't even been in this race for a full day. And it shows where Mr. Chastain's head is at, to already start comparing me to Russians."
Cobb Elections Director Janine Eveler told AT, "I wouldn't confirm that it was that kind of a hack. And from what my staff said, and their interaction with both candidates, they felt like it was unintentional."
One thing that's certain, the Cobb school board continues to be the most dramatic political arena in the county.
"As bad as things can be in Congress, I'm not running for school board," Loudermilk said later during the luncheon, prompting plenty of laughter. "Boy I tell you, there's not a lot of difference between Nancy Pelosi and an angry mom, right?"
---
WHEELS ON THE BUS: Watching the returns come in Tuesday night at Devan Seabaugh's election party, Cindy Suto recalled how the two of them road the bus together as children.
Suto, the daughter of former Marietta City Manager "Cactus Jack" Crane, said Seabaugh and several other boys entertained the passengers on their way to Hickory Hills Elementary School.
"They would sing songs. They would just make jokes and it was the best time in the whole world. It was so much fun. And they were gentlemen. They were good," Suto said. "Devan was always one of those good people. You could always count on him to be your friend. He was such a good person, a good-natured person, and it would be good to bring that back into politics. He's like a breath of fresh air."
From Hickory Hills, to Marietta Junior High and on to Marietta High School they rode. Suto, a member of the Class of 1984, was a year behind Seabaugh.
"I would have always thought that this would be something he would do because he was always a leader. Even when we road the school bus to Hickory Hills he was a leader," she said, prior to results showing his election to the Georgia House where he will take the seat held by former state Rep. Bert Reeves, R-Marietta.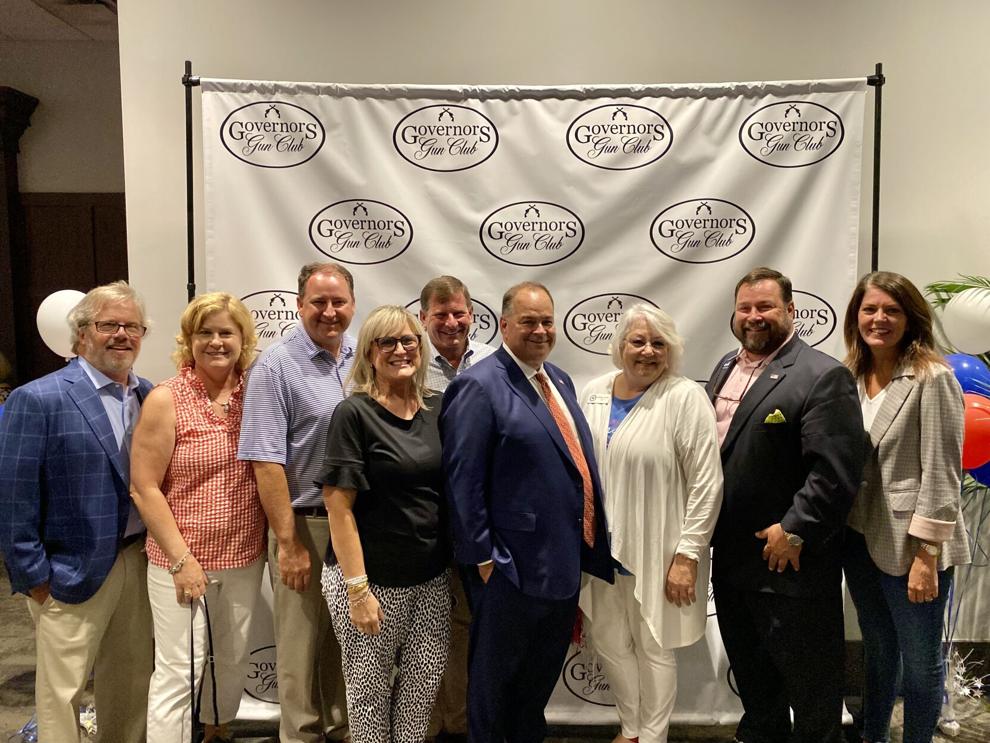 ---
SLIP OF THE TONGUE? Commissioner Jerica Richardson may have let the cat out of the bag at her Thursday town hall when she disclosed that conversations are taking place concerning a land swap to remedy the situation that occurred when the three Democrats on the county commission voted to allow a developer to build a condominium in the accident zone of Dobbins Air Reserve Base earlier this year. Readers will recall the three commissioners made this puzzling vote over objections from the Cobb Chamber of Commerce, Dobbins Air Reserve Base and their own Planning Commission.
When intrepid Journal reporter Chart Riggall attempted to learn more about this landswap from the county's communications director Ross Cavitt, the information minister offered the predictable line that he had no details to report on at this time. Chairwoman Lisa Cupid, meanwhile, couldn't be reached for comment Friday.
While they may be tight-lipped after Richardson's apparent slip up, sources tell Around Town Cupid and others have been working diligently behind the scenes on a favorable resolution to the dispute that should be announced in the coming weeks. Stay tuned...
---
NICE TO HAVE: Reviewing the list of projects on Thursday they will ask voters to consider funding in a Nov. 2 SPLOST referendum, Cobb school board members Charisse Davis, Leroy Hutchins and Dr. Jaha Howard argued that a $40 million special events center on the list was a luxury that could be better spent on existing school needs.
"The special events center just really sounds like a 'nice to have' not a 'need to have,'" Davis said prior to the board voting to strike the item from the list.
You know what else is nice to have?
A school board acting like adults by having a civil discussion before taking a fiscally responsible position in funding school needs over wants.
Everyone behaved admirably.
Superintendent Chris Ragsdale, who presented the initial project list, pointed out the list was merely a recommendation and could be easily amended, no hard feelings. Board Chairman Randy Scamihorn listened patiently as Davis, Hutchins and Howard made their case for removing the project, and in the end, a list was adopted and will be sent to the voters this November.
Let's hope this is a sign of things to come from this school board.
---