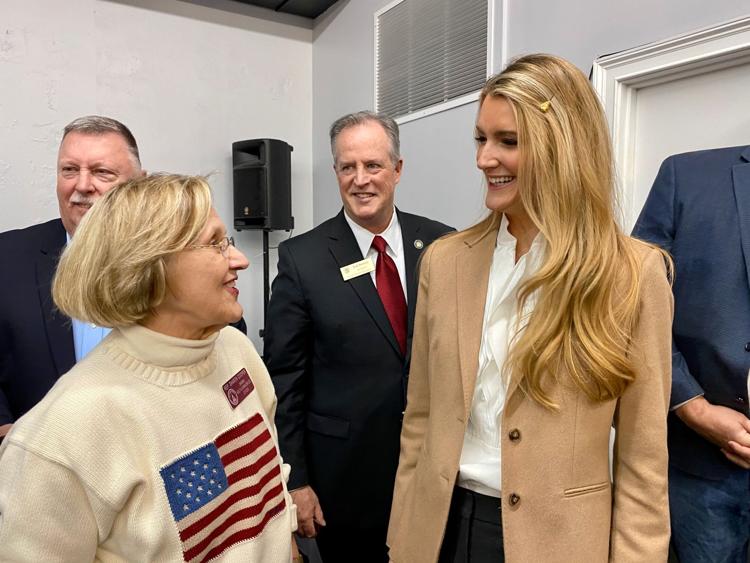 The candidates were out in force at the Cobb GOP's monthly breakfast Saturday where Georgia's new senator, Kelly Loeffler, was the keynote speaker. Among them was state Rep. Sharon Cooper, R-east Cobb, who used Teddy Roosevelt's "speak softly and carry a big stick" quote to describe Loeffler.
"Now don't be fooled by the senator-elect's soft voice and her striking good looks ... because let me tell you, she's a farm-raised girl and when you're farm-raised, you got a lot of grit there," Cooper told the crowd, noting such people have family values, hard work, faith and love of country.
Cooper also applauded President Donald Trump for his strike on Iranian Gen. Qassem Suleimani, saying Trump "spoke softly for a long time but it was about time that he struck back and I am so proud of him for killing that … criminal."
This year's election would be a great one, Cooper said.
"You know, I love the color purple, but I like it on Queen Elizabeth. She's the only one that should be wearing it. The districts and Cobb County are changing, and we are more diverse and we have to recognize that, but let me tell you if there's a hint of purple there's still a helluva lot of red and you are going to help us show that in the next election."
Harrison Lance, who is challenging state Sen. Jen Jordan, D-Sandy Springs, also praised Loeffler.
"I'm so glad that she's carrying the battleflag of the Republican Party to Washington, a party and a woman that values inclusivity, embraces diversity, endeavors to build bridges for a party that champions innovation. What more could you ask for? We are witnessing a titan in the making," Lance said.
Karen Handel, who is running to regain her old seat held by U.S. Rep. Lucy McBath, D-Marietta, said, "Lucy McBath, she's just a rubber stamp for Nancy Pelosi. She voted to impeach our president. We've got to have a representative who's going to stand strong for Donald Trump, stand strong for you."
Former Atlanta Falcons running back Joe Profit announced he was running for McBath's seat also. Readers will remember Profit from the headlines he made in trying to organize an inauguration gala for Cobb County Chairman Mike Boyce, which Boyce ultimately ended up canceling in the wake of mounting criticism about where the profits from the $20,000 sponsorships for the gala would go.
---
WHILE IT'S IMPORTANT to reelect Trump, Loeffler, U.S. Sen. David Perdue and Handel, state Sen. Brandon Beach said down ballot races mustn't be ignored.
"We have to win the Statehouse. We have something called redistricting and we have to keep the Statehouse Republican."
Beach also shared a bill he prefiled, SB 282, intended to keep Georgia's best and brightest in the Peach State. It sprang from an incident where he wrote a letter for a young woman in his district to get into the University of Georgia, a student with glowing test scores: 1400 SAT, 4.0 GPA, 32 ACT and 10 honors classes. While she got into Vanderbilt, Tulane and a full ride to Tennessee, she didn't get into Georgia. When he called UGA to ask about this, they told him Georgia sent out 5,500 admissions letters of which 41 percent were to out-of-state students.
"I said that is unacceptable," Beach said.
His bill stipulates "that 90 percent of early admissions to our four research institutions: Georgia, Georgia Tech, Augusta and Georgia State have to come from the state of Georgia. We are not going to take kids from Texas before we take our own Georgians," Beach said.
Former Cobb GOP Chair Rose Wing, who is challenging state Rep. Mary Frances Williams, D-Marietta, demonstrated the fire in her belly in her stump speech.
"I can remember I woke up on New Year's Day, I was so excited, I was so energized, I was ready to eat raw meat. But I decided to eat collard greens, black-eyed peas, cornbread, and I ate my meatloaf on the rare side," Wing said.
Wing said she was ready for the election.
"I can tell you the House rep. (Williams) sent out an email saying, 'Well, while I am representing you at the Gold Dome, my opponent's out there campaigning and fundraising.' You're right. I am. I'm out there campaigning and fundraising because we need a representative that represents the state House District 37, so I'm asking for your help," Wing said.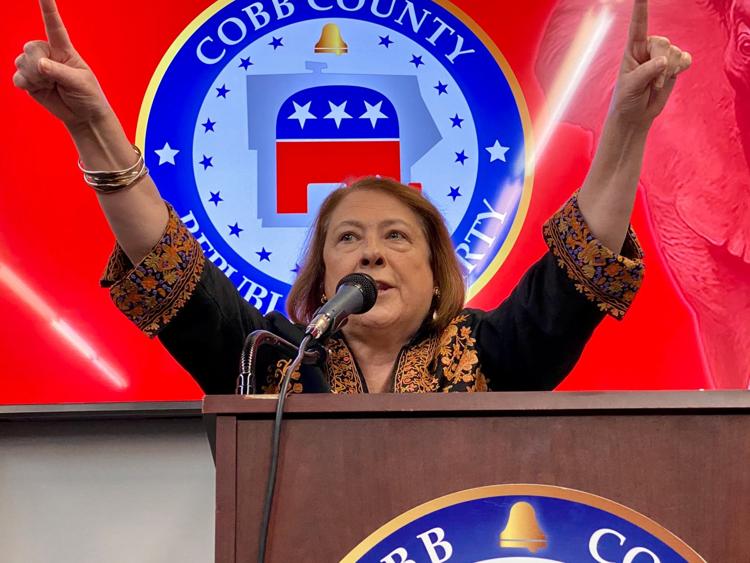 Republican Larry Savage of east Cobb said the audience had heard from those running for Statehouse and Congress who want to bring Republican, conservative values to those bodies.
"I want to bring those same conservative (values) back here to Cobb County where we have absolutely lost our grip. We don't need any more massive tax increases. We don't need any more expansion of our government unless we have an actual purpose for it," he said.
Savage believes the county government is top heavy, saying when Bill Byrne was chairman it was a part-time job and the county manager ran things. Today, the chairman is a full-time job along with the county manager, not to mention all their assistants.
"The chairman has two in-office assistants and an additional assistant who has duties that are yet to be defined after three years. We don't need this kind of bureaucracy. We need conservative values. We need conservative control with reporting that makes sense and I will give you that," Savage said.
Among the other candidates to announce was Cobb school board member Randy Scamihorn, who said he was running for reelection.
"If you like what we're doing in Cobb County Schools, No. 1 in the state in many areas, test scores are going up every year, we have state-of-the-art technology for our teachers and students, we focus on our students, students are the No. 1 customer, followed closely by the parents that foot the bill, I appreciate your vote," Scamihorn said.
---
APPOINTMENTS: Following the Cobb school board's appointment of Brad Wheeler as board chair for 2020 on Tuesday, Marietta school board Chairman Jason Waters told Around Town he expects his vice chair, Allison Gruehn, to take over as chair of that board in 2020. But, he added, that won't be official until the board votes at a work session at 6 p.m. on Jan. 14.
That meeting will also see the appointment of a vice chair and the establishment of the 2020 school board meeting schedule. As far as who will be vice chair, Waters said he isn't yet sure.
Waters, who has served as either chair or vice chair of the Marietta school board for the past five years, said he's looking forward to a break from leadership in the new year.
"I'm excited. It'll be my first time not being a board officer since my first year on the board," said Waters, who was first elected to the school board in 2015. "My first year I wasn't an officer. I was a legislative liaison. And then I've been either vice chair or chair ever since."
So what is Waters looking forward to most about being a regular-old board member this year? Take it from the horse's mouth: "Not as many extra meetings."
In his time as a board officer — twice as vice chair and thrice as chair — Waters said he's proud that the district has had "a solid financial footing," and more recently seen exciting developments including the beginning of the historic Lemon Street campus renovation, the completion of the district's college and career academy and the hiring of Superintendent Grant Rivera, a contract of which Waters said he is particularly proud.
Waters said his advice to the next chair, whoever it may be (wink, wink, Ms. Gruehn), is to communicate often and openly.
"Most of the problems in the world, or in a family or anything, it usually comes down to communication," he said. "So my biggest advice is … be a good listener, and embrace servant leadership. And I know Allison will."