Office running for: Cobb County Commission – District 4  
Previously held elected office:  N/A
Family: Courtney, Erik and Einstein
University's name and degree: Benedict College, BA Journalism, Goizueta Business School at Emory University-Business School Management Program
Where did you grow up? South Carolina
How long have you lived here? I moved to Atlanta after college and stayed here for 2 years before moving to Florida. My family and I returned to Georgia in 1992 and bought a home in Marietta. My children attended Marietta City School and while they were there, I was involved in numerous school activities and chaired the basketball booster club. Both children graduated from Marietta High with honors. After they left for college, I built a home and moved to Mableton in 2008. I have been actively involved in efforts to improve our community's quality of life including stopping a waste company from operating in our community.
1. Why are you the most qualified candidate for the position?
I am the most qualified candidate because of my diverse background and extensive experiences in the public and private sector that I will use to move South Cobb forward. I am the only candidate with government operations experience on the local, state, and federal levels, including having served as the District Director for Congressman David Scott. As a business owner, I understand budgeting, hiring, and training a diverse work force, as well as making tough decisions when the occasion arises. As a community advocate, I consistently lobby government, advise our community, and lead the discussion on quality of life issues, such as the work I did to stop an illegal waste station from bringing household waste to our community. I used my government experience and business knowledge to lead a grassroots group of citizens to stop this from operating next to our homes and the Chattahoochee River. My work to halt this nuisance ushered in its place economic development and housing on nearby Riverview Road. This validates my ability to work and efficiently with others for the betterment of South Cobb. I know that it will require three votes from the Board to attain the economic development we deserve. I am committed to working effectively with the other members to accomplish that for our community. My extensive experiences in government, business, and my community will allow me to seamlessly step into the role of Commissioner and immediately function at the highest level to make government work for the citizens of South Cobb.
2. What is the greatest long-term challenge facing the community in which you seek to represent?
We chose to live in South Cobb with the hopes and dreams of providing our families with a great community to call home. Unfortunately, there are several long-term challenges facing our community that are interconnected. They include deserts that plague our community — food, banking, housing, medical care, and transportation services. The failure to develop Magnolia Crossing is another. We cannot tolerate another year of delay in developing these 50 acres of prime real estate that will ultimately benefit our community with positive economic development and good paying jobs. It is imperative that we rewrite the false narrative that has been saddled on our community that good economic development in South Cobb is limited to a Family Dollar store being located directly across the street from a Dollar General. Crime and community policing are also issues — we must reduce lawlessness to ensure that people feel safe in their homes and businesses.
3. What is your solution to that challenge? 
I believe in the limitless potential of South Cobb and that our community, and the people that call this area home. are on the threshold of a resurgence. As the next Commissioner, I will usher in that renaissance to propel our community forward. Smart growth, sound economic development, quality affordable housing, and the elimination of deserts will be top priorities. I will support community policing and finding ways to keep our police force in Cobb once we have invested in them. I will champion the creation of incentivized public private partnership to develop Magnolia Crossing that will allow strong businesses, good paying jobs, quality affordable housing and community centers to emerge. I will work closely with the Chairman and the other Commission members to build and foster positive relationships, constructive dialogue, and enhanced understandings of the issues that plague our community and the need to work collectively to address them.
Office running for: Cobb County Commissioner, District 4
Job: Co-Owner of Sheffield Realty Group, Inc.
Previously held elected office: None
Family: Husband of 20 years
University's name and degree: John Jay College of Criminal Justice, Bachelor of Science in Criminal Justice
Where did you grow up? Brooklyn, NY
How long have you lived here? 25 years. 
1. Why are you the most qualified candidate for the position?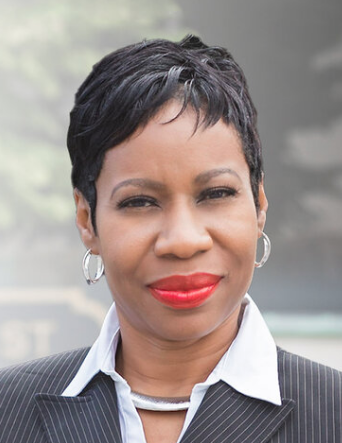 My experience serving on the Cobb County Board of Zoning Appeals postures me to be the best candidate for the position. Commissioner Lisa Cupid appointed me to the BZA in 2017 to represent District 4 on zoning variances. The voting decisions of the BZA have a direct impact on the aesthetics of our communities, and our property values. As a real estate broker, I am cognizant of how poor zoning decisions can adversely impact the viability of our community and property values. Serving on the Board of Zoning Appeals has reduced the learning curve for the position which will allow me to make prudent decisions from day one on the job.
I am an active and engaged community leader and currently serve as a HOA President. Serving in that role is a microcosm of being a commissioner, as the role of HOA President enacts policy and also enforces zoning laws and ordinances.
2. What is the greatest long-term challenge facing the community in which you seek to represent?
The greatest long-term challenge would be to improve our quality of life. District 4 is rich in diversity and the quality of life takes on a different meaning to those throughout the district. For some, it means having access to affordable housing, access to employment outside of the district, and transportation alternatives. For others, it means having access to healthier eateries, family-friendly restaurants, a variety of businesses, and sensible growth and development. But for all, improving our quality of life means having a clean, safe, and economically strong community.
3. What is your solution to that challenge?
Some solutions include: identifying buildings in the community that can be developed into affordable housing units; thinking "outside the bus" for viable transportation alternatives; and rewrite and amend our current zoning laws. An update in our county zoning ordinances will directly impact our land use and development. It will provide limitations on unwanted businesses and over-saturation of other businesses that are allowed in our communities. It will also attract desired businesses and development into the community. One of the many responsibilities of a commissioner is to ensure the long-term economic and environmental health of the community. Rewriting our zoning laws will reduce or eliminate zoning loopholes, police land use and development that will not negatively impact our quality of life, and provide greater environmental protections to the residents of the district which will all over time improve our quality of life.