MARIETTA — As he makes his way to the front of the courtroom, not a crease in his brand-new suit, the military veteran has the attention of some of Georgia's top elected officials.
Recalling the handcuffs and prison bars that signaled both his rock bottom and his salvation, the veteran, although nervous, basks in the pride from the room.
His grandmother looks on, a tear falling as she captures the moment on her cellphone, broadcasting live to Facebook this special moment.
Welcome to veterans court.
"If you're not tearing up or laughing hysterically before this is done, we need to check your heart on the way out," said Cobb County Superior Court Chief Judge Reuben Green, who presides over the Cobb veterans court, during a February graduation. "We are restoring lives."
The Cobb County Veterans Accountability and Treatment Court, in place since June 2014, is considered a pioneering model in criminal justice reform that other states, and the nation as a whole, are looking to learn from.
Just ask Gov. Brian Kemp. He was at the latest graduation ceremony for Cobb veterans court participants, where he said "the state of Georgia is the state that believes in second chances and this ceremony is a great example of that fundamental truth."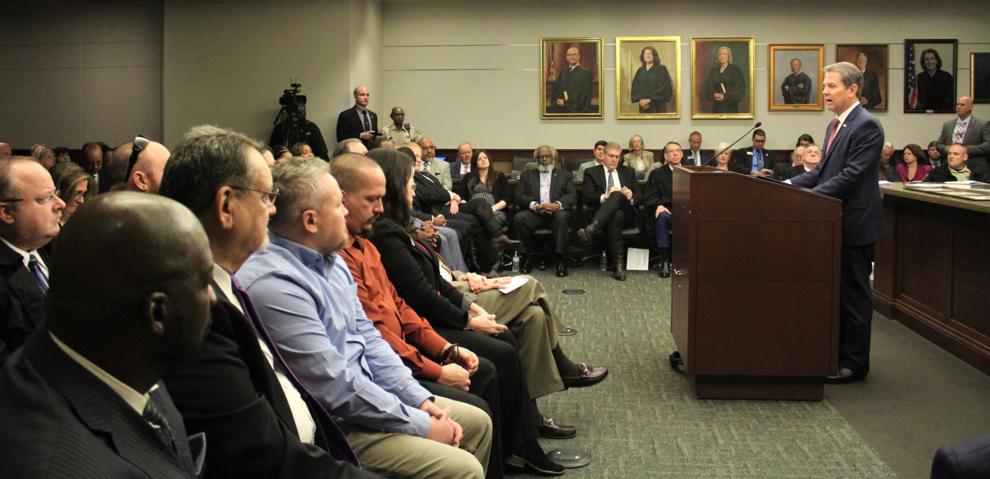 The Cobb veterans court, one of several accountability courts in the county, offers an alternative to the criminal justice system for eligible veterans with substance dependency and/or mental illness who are charged with criminal offenses. If they volunteer for the program and are accepted, veterans can avoid jail time by going through at least 18 months of treatment with assigned mentors, who are also military veterans, as well as sponsors who offer additional support. Participants must stay sober and complete all program steps, including regular drug screening and counseling, in order to graduate and, in many cases, have their charges dropped.
"This unique program offers our men and women in uniform who struggle with addiction, PTSD and a host of other issues the important opportunity to regain control and become productive members of society," Kemp said at the Feb. 14 graduation ceremony in Cobb Superior Court. "We certainly owe all our servicemen and women every ounce of support that we can give them while they serve overseas, but also when they return back home."
This is despite budget cuts recently requested by the governor, affecting accountability courts, to help offset sluggish tax revenues.
The $27.3 billion fiscal 2020 mid-year budget, including around $1.3 million less for Georgia's accountability courts, was approved Wednesday by the Georgia House of Representatives.
Air Force veteran and U.S. Congressman Barry Loudermilk, R-Cassville, said when criminal justice reform was on the agenda in Washington in recent years, he couldn't help but cast his mind home, to Georgia.
"As we were sitting there thinking, I was like 'Well we did it in Georgia a long time ago,' we kind of paved the way to be where we are today, that the nation is actually looking at Georgia as a model to how we can do criminal justice reform and I'm really excited about it," said Loudermilk, a guest speaker at the veterans court graduation.
Loudermilk said he likes to see communities in which churches are big and courtrooms small, where strength is not based on the size of government buildings.
"The strength of America has always been judged by the strength of our community ... and I think that's what resonates here today, is the community coming together," the congressman said. "To help people not only get back into society but to make their lives stronger. I'm extremely proud."
Loudermilk said as someone who has been shot at multiple times, run over, in a train wreck, and a victim of attempted assassination, he understands post-traumatic stress disorder, commonly known as PTSD.
"I started realizing how that incident, the bullets flying by your head and watching your friends go down in a pool of blood ... that movie replays every now and then," Loudermilk said. "This whole thing is about stepping up, it's about accountability, but it's also about community ... it's about love."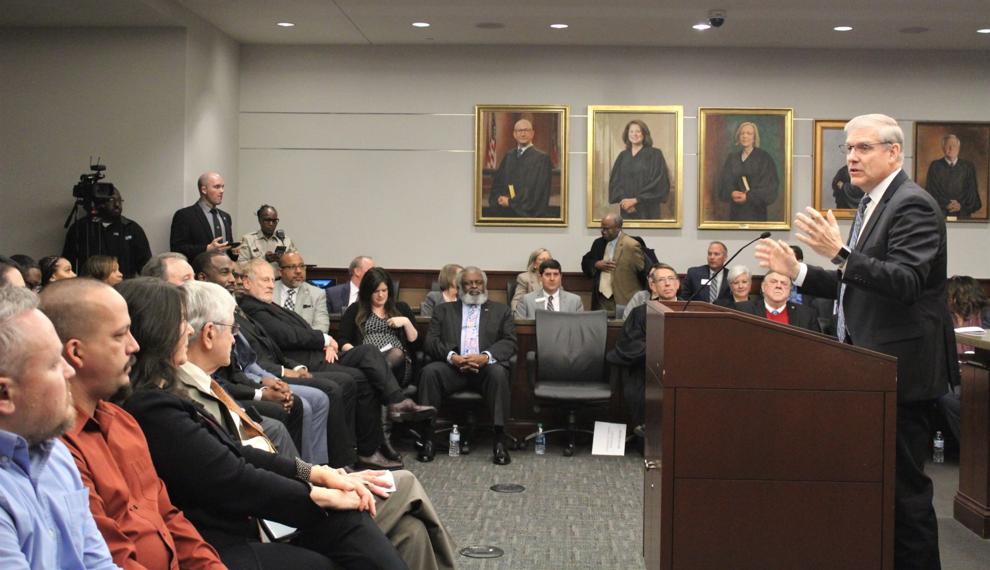 There were three Cobb veterans graduating on Valentine's Day, with a combined active service of almost 29 years. They became the 37th, 38th and 39th graduates of the program since its inception.
After discharging from the military, each had experienced PTSD and/or addiction, contributing to their arrest.
In turn, they appeared before Judge Green, a Marine Corps veteran himself, and committed themselves to making a change.
After a car crash in July 2015 left someone seriously injured, Kennesaw resident and Army veteran Kerry Coleman was facing four felony charges and possible jail time as the accused driver at fault. He applied in July 2017 to participate in the veterans court program, and at his graduation he stood in front of about 150 state and county officials, veterans, active service personnel and civilians to receive his certificate and medals.
"Mom, I made it," were Coleman's first words into the microphone, after he'd taken photographs with Kemp and Loudermilk, surrounded by the who's who of the Cobb County law enforcement and justice sectors, some of whom had locked him up.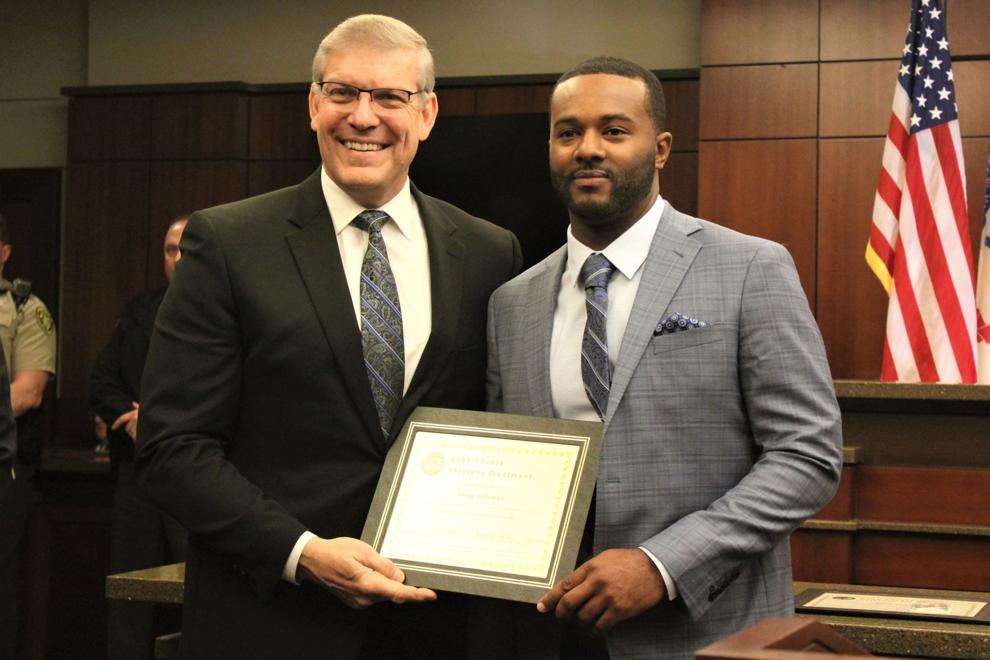 Coleman joined the Army in 2013, to be with his best friend who had joined the year prior. He was first sent to Fort Leonard Wood in the Missouri Ozarks, where he became a combat engineer, and then traveled 48 states in the Active Guard Reserve, training with different branches and teaching them about conducting missions with combat vehicles.
Coleman's military career highlights include being the youngest active soldier to conduct a mission in Poland since World War II, training with Polish and German troops and receiving a medal from a two-star general.
But it was not easy outside the military for Coleman, who said he needed help with his anger, depression and anxiety.
"I feel special, it's been a long journey," Coleman said in his graduation speech. "It's been actually 21 months today, today is my 21st month of sobriety. I feel amazing, I feel great. I feel like I accomplished something I would never do."
Coleman said he didn't really care about the veterans court program or about changing his ways until he was "sanctioned" by Judge Green and spent 24 hours behind bars.
"I got no sleep, it felt like 24 months, I did about 450 pushups that night," he said. "It was God giving me a message to reevaluate my life and start taking it more seriously, and as you see, I'm here today because I decided to change."
Softly crying while acknowledging those who helped him on his journey, Coleman said he is thankful, having come a long way.
"I feel like I didn't know who I was until now," he said. "And this program got me through it all. I kind of messed up as I grew up, got off track, hung out with the wrong crew, and lost myself. Through this program I've learned who to value more, the friends that are not friends, and those that really care about me."
Several incidents of domestic violence in the last few years saw Adkin Lomax, a Marine Corps veteran from Marietta, accepted into the Cobb veterans court program in May 2018, having been accused of simple battery in front of a child.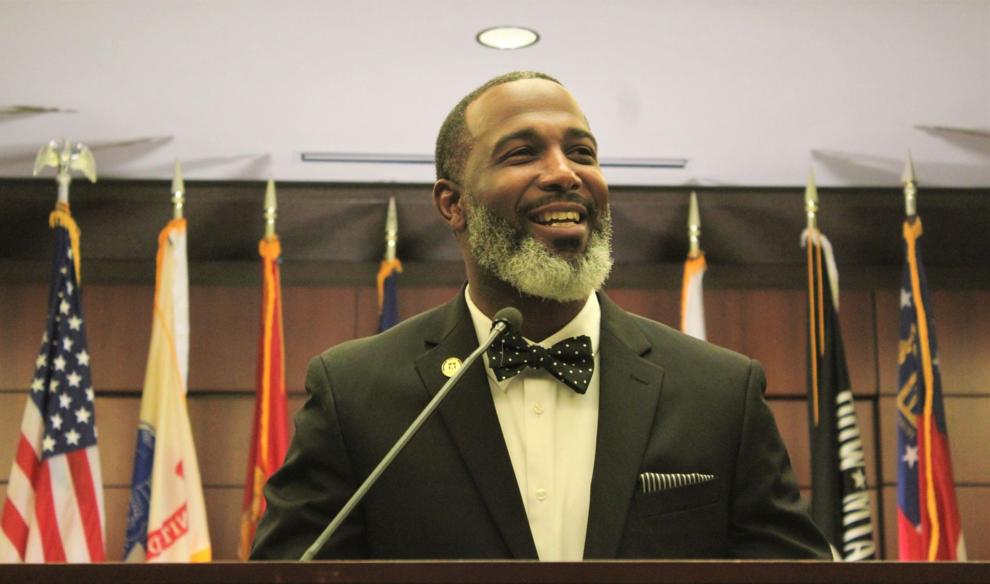 Lomax was an active Marine from 1997 to 2008, and after his training in San Diego, he served on a range of international missions including two tours in Iraq and others in Australia, Thailand and Egypt.
After discharging from the Marines in 2008 to study, Lomax served in the Arkansas Army National Guard from until 2012, when he joined the Georgia Army National Guard, retiring in November 2017 as a master sergeant.
He told those at his graduation his recovery was aided by working with horses at McKenna Farms in Dallas, Georgia, thanking the owners for their help.
"It really brought me around," he said.
Lomax used his graduation speech to challenge all military personnel to recognize the signs of PTSD and other service-related afflictions.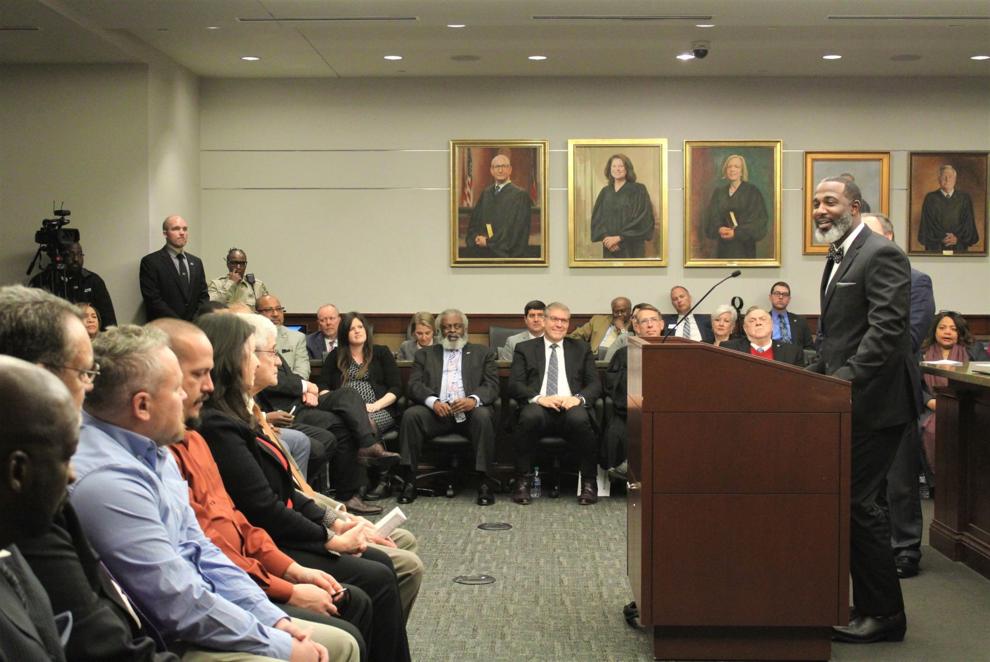 "One thing that I failed to do was to ask for help," he said. "Don't shut the door on them. ... If you have a soldier under your leadership, take care of them, because this disease is real."
Lomax called his fellow veterans in the program "truly unsung heroes" and promised to "always be here."
"It's been a long ride," he said. "When the (veterans court) staff first met me, I was incarcerated, not responsive, didn't really want to hear anything, I was still in shock and didn't really understand why I was in the situation I was in, so thank you, for your patience."
The court placed him in the homeless veterans shelter run by the U.S. Department of Veterans Affairs in Atlanta because he was going through a divorce and didn't have any family in Georgia or anywhere to live.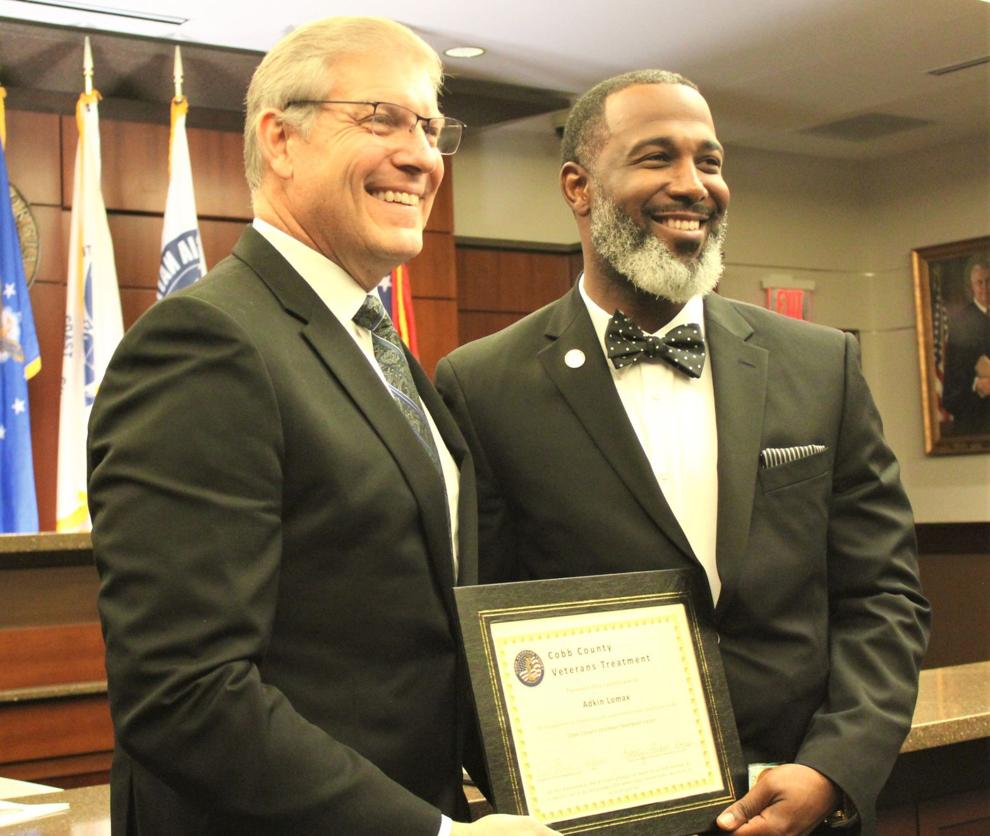 "I'm forever grateful because that's where my life transformed," Lomax said. "That's where I really was able to pick up the pieces and become more stable. I stand here today as a different person because I'm in more of a 'rest and digest' state. I used to be in 'fight or flight' because of the up-tempo performance that was instilled in me."
Now, Lomax said, he tries to be like a tennis ball.
"You can be the tennis ball or the egg," he said. "I bounce back, and I bounce back because I was in a program of veterans court, but I did have my share of moments where I was that egg and that wasn't a good feeling. It cost me a lot, it cost me a marriage, family, it cost me my career. But I believe that was destined and that was supposed to happen because I wouldn't be here today if I didn't experience those things."
A substance abuse problem led Smyrna resident and Army veteran Timothy Tiggs to jail three times on charges of drug possession, trespass and obstruction over the years. In early 2018, Tiggs was accepted into the Cobb veterans court program, having been arrested in possession of a small amount of cocaine.
Tiggs had joined the Army in 1979, following in the footsteps of many family members, and his first assignment was in Germany with a mechanized infantry. Two years later he transferred to the 101st Airborne Division at Fort Campbell in Kentucky, the only air assault division of the Army, where he spent two years as a Screaming Eagle before discharging in 1983.
As Tiggs stood to address the graduation ceremony crowd, his grandmother in the back of the courtroom inched her walker a little closer and gave him a wide smile. They acknowledged one another, and Tiggs began describing how everyone he met through the court program had helped him gain sobriety and employment — something he admitted he couldn't see for himself during his darkest days.
"I just thank God that I had the opportunity to do this," he said, adding that the program wasn't around when his first two arrests occurred. "If you messed up, it was straight to prison. I wish this program was around when I first caught my first charge, it probably would have saved me a lot of bus trips," Tiggs quipped. "I'm just glad I came out the way I am now, on top."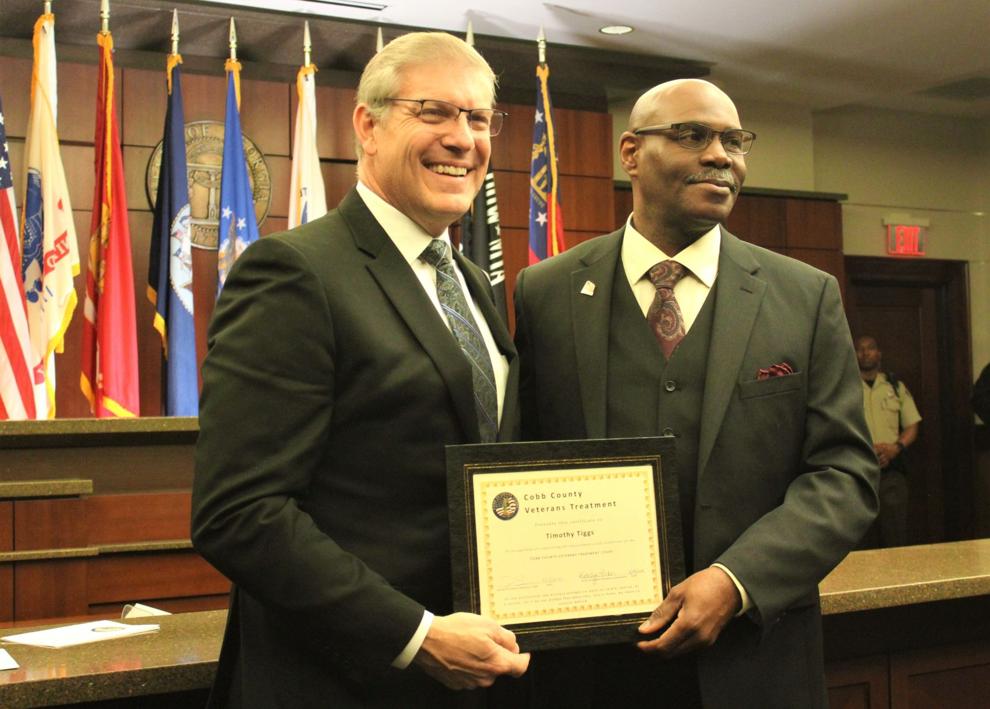 Tiggs has a deeply personal connection to a member of the court, although he didn't know it until about six months ago, when Cobb Superior Court Judge Gregory Poole sat in for Judge Green in the veterans court.
"Me and Judge Poole started first grade together," Tiggs disclosed at his graduation, turning to Poole who sat among other members of the judiciary watching the ceremony. "He was my best friend. We went through school, played football, graduated from Marietta High ... do you remember my undefeated season?" Tiggs said to Poole, who nodded, laughing.
Tiggs said he was one of maybe two or three African Americans in his first grade class, and that Poole welcomed him.
"He made me feel like I was part of the class," Tiggs said. "He was just a great guy to know and I'm glad to know him. Officially that's Judge Poole, but he's always going to be Greg to me, that's how it's going to be."
"I'm proud of you and I'll always be here," Poole told Tiggs, citing the veteran's strength of character.
Tiggs said he also wasn't sure when first starting the program whether he wanted to be involved, even though he'd volunteered.
"I had been on a long ride with drugs and alcohol and accountability wasn't part of that," he said. "I didn't want to be here when I found out all the rules and stuff, and it kind of reminded me of when I first got off that bus at Fort Benning, Georgia, at 3 o'clock in the morning ... drill sergeant screaming ... and I asked myself the same question, I asked 'Man, what in the hell you got yourself into?'"
There are currently 20 veterans undergoing treatment in the program, Judge Green said, and another five being screened to see "if they're a good fit."
"Hopefully we'll get them in soon, seeing as we're having three graduate today," he said.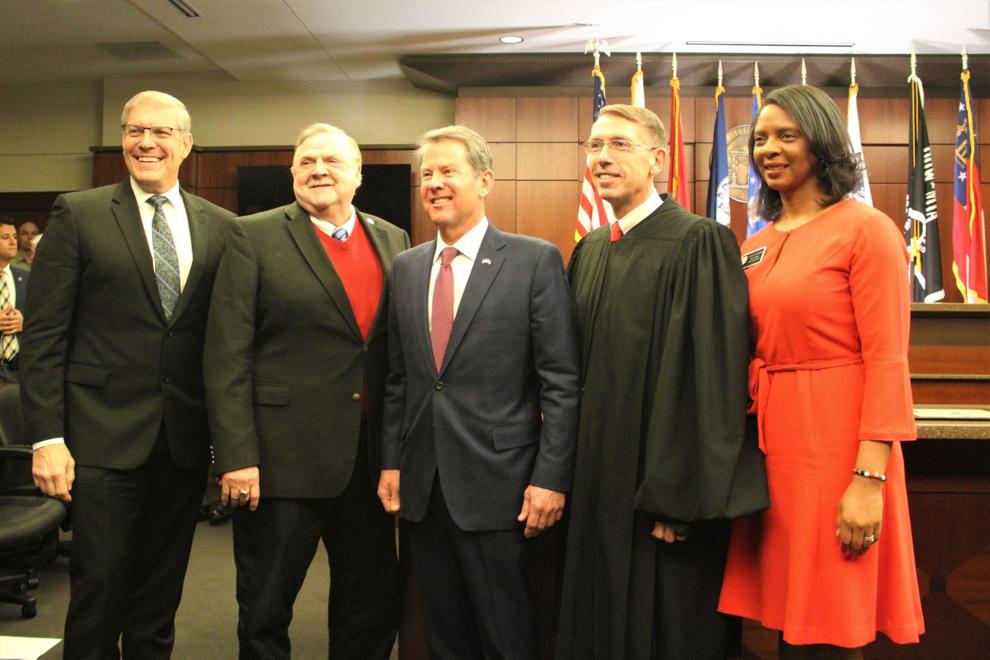 The state has approximately 775,000 veterans, of which an estimated 47,000 to 60,000 live in Cobb County, depending on which agency you ask. Locally, there are also 4,500 active duty and reservists assigned to Dobbins Air Reserve Base, according to the veterans court.
"On average, one veteran is arrested daily in Cobb County," Green said. "Many of these veterans have sacrificed greatly for our country, and are suffering from post-service issues that have not been addressed or treated."
Veterans court is one of many accountability and treatment courts in Cobb, specifically addressing mental health, drugs, parental accountability, driving under the influence, families and juveniles.
"The concept of all these courts is the same, it's treating the underlying issues that contribute to them being in the criminal justice system," Green said. "We work to address the obstacles that are preventing them from succeeding. It's one of the most inspiring things we get to do, to see these graduations."
Veterans charged with the most serious crimes like murder and rape are not eligible, the judge said, but those accused of "everything from drugs to thefts all the way up to aggravated assaults," can get a second chance. They must have an issue that needs treating, and Green said PTSD is the most common, followed by substance abuse. Often it's a combination.
There are currently 28 volunteer mentors in the program, all military veterans themselves who live locally, have clean records and must promise to be there for a participant as long as it takes them to complete the program. Those who have been involved since 2014 have each mentored three or four veterans.
The treatment team for the veterans court is rounded out by treatment professionals, veterans justice outreach specialists and personnel involved in prosecution, defense, the sheriff's office, probation, the county career training center WorkSource Cobb and the VA. Each Friday the team meets at 8 a.m., an hour before veterans court opens in public session.
Many local organizations and nonprofits support the Cobb veterans court, including the Marietta-based Horrace Orr Post 29 of the American Legion, which makes sure each participant is dressed to impress in a tailored suit for graduation — something that's not lost on the veterans, who delight in being the best dressed in the room.
To learn more about the Cobb veterans court, or donate to its nonprofit Bravo Victor Fund — so named to represent 'brave veteran' — visit cobbveteranscourt.org.