Heavy rainfall from the remnants of Tropical Storm Zeta will spur a flash flood watch in Cobb and much of north Georgia beginning Wednesday morning.
According to the National Weather Service, the tropical storm is set to cross north and central Georgia, bringing periods of heavy rain. The agency expects northwest Georgia to see between two and three inches of rainfall from Zeta, with higher amounts possible.
Cobb, as well as surrounding counties of Fulton, Douglas, Paulding, Bartow and Cherokee, are set to go under a flash flood watch from Wednesday at 8 a.m. through Thursday at 8 p.m.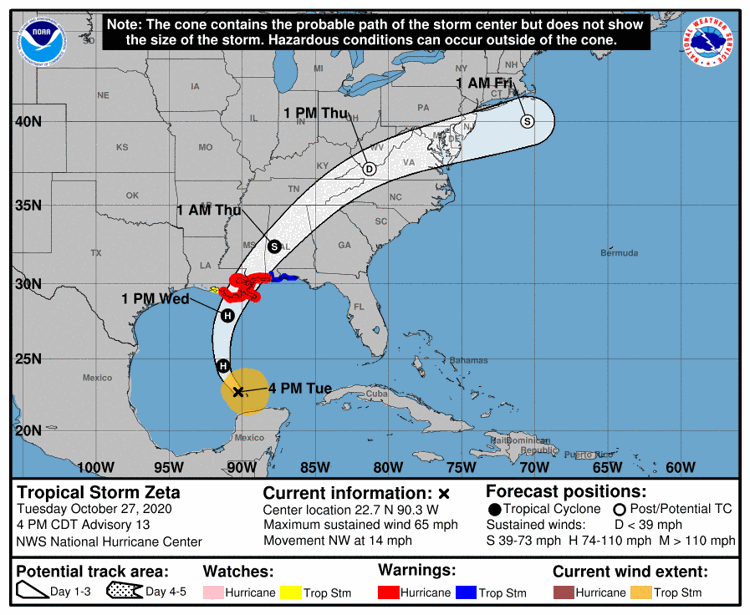 Zeta made landfall in Mexico's Yucatán Peninsula as a Category 1 hurricane Monday night, and it is tracking toward the northern Gulf Coast, according to the National Hurricane Service. Zeta is set to reach the coasts of Louisiana, Mississippi and Alabama as a tropical storm late Wednesday night, according to forecasters. It will then continue into Georgia on Thursday.
The Cobb County government began preparing for the storm on Tuesday, sending out Department of Transportation crews to clear drains and other areas that are prone to flooding. In a social media post shared on Tuesday afternoon, the county government called on residents to prepare for severe weather.
"Late Wednesday through Thursday midday will be the window for potential severe weather," the county wrote on Facebook. "Cobb DOT will have crews working around the clock during that period to respond to any call. With saturated soils, we expect issues with trees down and flooding to occur in areas that were recently flooded."