MARIETTA — Cobb's gratitude for all Tim Lee did as the head of the county government was evident at his funeral Friday where around 300 people gathered to pay their respects and celebrate his life.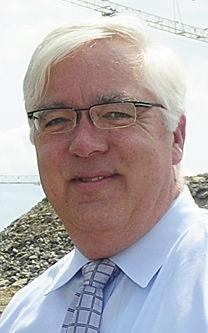 Lee, 62, died after a "long and courageous battle with cancer," as stated on the service book at his funeral in First Methodist Church of Marietta.
The chairman of Cobb's Board of Commissioners from 2010 to 2016, Lee was responsible for bringing the Atlanta Braves to Cumberland in the most significant of his many efforts to generate economic growth in the county.
Lee was elected to the commission in 2002.
"Without Tim Lee, there's no SunTrust Park and there's no Battery," Dr. Sam Matthews, former pastor at First Methodist Church of Marietta, said in his eulogy.
Although he ultimately lost office after the Braves deal, Lee was never particularly bothered with the political ramifications of his decisions, those who knew him well said Friday.
Lee prioritized what was good for the community, despite whatever consequences followed, letting the "chips fall where they may," friends and family said.
"He was one of those rare public servants that understood it's more important to do the job than to have the job," Matthews said.
While Lee's public legacy was making a home in Cobb for the Braves, his value extended far beyond that among his family and close friends.
He was a man with a "joyful, caring and grace-filled spirit," said Rev. Brian Smith, assistant minister at the First Methodist Church, while opening the funeral service.
"A great man, a great American," Matthews later added.
The Braves broadcast a tribute to Lee at their home game Thursday night, just over a week after the team and its management sat down for a special dinner in Lee's honor, remarking on his "honesty, decency and determination," Matthews said.
Close friends and family surrounded Lee as he was presented at the dinner with a signed Braves shirt, which was displayed front and center at his funeral service.
U.S. Sen. Johnny Isakson flew from Washington to Marietta especially for the private event at SunTrust Park and remarked that Lee was "obsessed with doing the right thing," Matthews said.
He touched on the price Lee and his family paid for his controversial decisions while in public office, saying Lee "flew pretty well in the hurricane."
Matthews also described SunTrust Park naysayers as "crazy," evoking laughter and applause from the funeral crowd.
"He held no grudges, none whatsoever," Matthews said of Lee. "He had to have lost a lot of sleep and missed some meals."
Matthews said Lee faced his cancer with the same courage he faced everything in life and spoke poignantly at the dinner in his honor, unaware his battle would be over six days later.
"Tim Lee was a great man, a loving husband, father, uncle and colleague," said Rev. Keith Cox, pastor at the Clarkesville First United Methodist Church, as he read out tributes on behalf of loved ones at the funeral. "A visionary whose work and achievements will impact the county's he's served for generations to come."
Lee was "a servant leader who never put his own wants or ambition ahead of his own community," Cox read aloud. "He led from the heart."
Whenever Lee was eating out, he'd pick up the bill for any military or law enforcement personnel there, to show thanks for their service, friends said.
Lee learned compassion from his father, an Illinois pastor, with whom he'd visit the homeless in downtown Chicago, Cox said, adding that Lee would play the trumpet while his father preached.
Others fondly remembered Lee's habit of meeting friends for breakfast, often fitting in more than one breakfast a day. Once or twice, he even had lunch, friends joked.
He taught family members how to fix things and often accompanied his grandchildren to the Soap Box Derby.
"He never wavered, never questioned, was just always there to help," tributes stated.
Lee is survived by his wife of 30 years, Annette, and children Angila Dixon, Paul Wilmot and Christian Lee.
As people filed out of the church into the hot Georgia sun Friday afternoon, the organ broke out into a version of "Take Me Out to the Ball Game."
"Thanks for all you did for Cobb County," one tribute fittingly summarized.