Addressing a packed auditorium of Kennesaw State University students and administrators Thursday afternoon, a retired Korean lieutenant general said President Trump should scale back the "fire and fury" rhetoric aimed at North Korea's leader.
In-Bum Chun, a retired lieutenant general of the Korean Army, said while he has the utmost respect for America and the president, Trump's fiery rhetoric is causing confusion among North Koreans and is being used as fodder on state television to get North Koreans riled up against America and the West.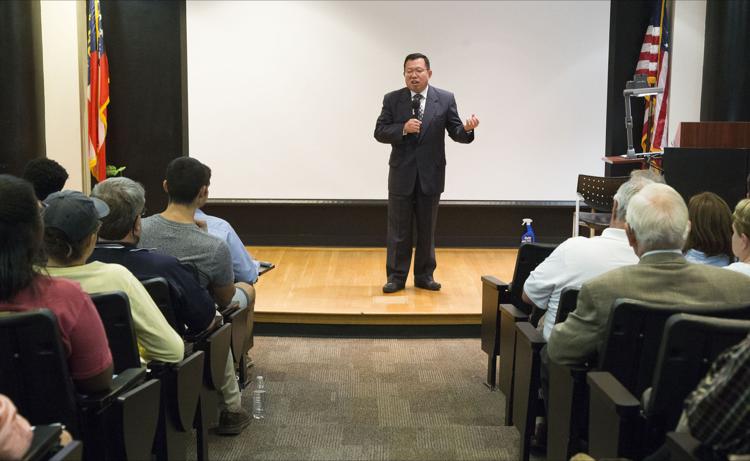 Speaking to more than 150 international delegations at the annual meeting of the United Nations General Assembly earlier this month, Trump referred to North Korean leader Kim Jong Un as "Rocket Man" and threatened to "totally destroy" the nation if need be.
Since then, Chun said, footage of the president's speech has been looped repeatedly on North Korean state television, making already volatile tensions between the two nations even worse.
"I respectfully hope that he stops because it's not working," Chun said of Trump's approach to dealing with North Korea. "His offensive language is causing confusion."
Chun, a decorated veteran with 39 years of military service, spoke more than an hour about Korea, tensions on the peninsula, and the importance of maintaining good economic and diplomatic relations with the U.S. and other world superpowers.
South Koreans, he said, enjoy a free and open society, inpart because of decades of U.S. involvement in the region.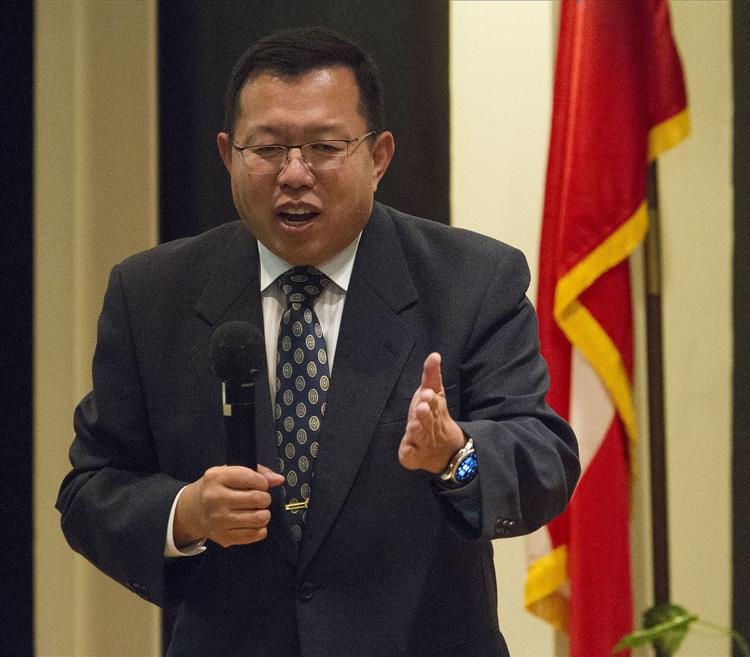 "American protection has allowed us the opportunity to develop our democracy," Chun said of his country, calling South Koreans champions of both free speech and political expression.
Mason Sell, a 21-year-old international affairs major, said relations between U.S. and North Korean leaders have devolved into "a war of chest-thumping" and asked the retired general his thoughts.
"South Korea is now stuck in the middle of two arguably unstable leaders," Sell said.
Chun said he was open to Trump's approach at first.
"When he first came up with this 'fire and fury,' I thought, 'A change in tactics — it might work,'" Chun said. "But I was wrong. Now the North Koreans are thinking, 'Americans are going to destroy us. I told you they were monsters.'"
He said if North Korea were ever to pre-emptively attack its neighbors, he didn't think they would get much support from China or Russia. But Chun said those lines could easily blur if world leaders thought North Korea was provoked.
"If there's ever duplicity in the situation, then we could have a problem," he said. "That's why having the moral high ground is very important."
Relations between North and South Korea, Chun said, are at an all-time low. But he encouraged sending aid to North Korea, suggesting that once North Koreans have access to basic necessities like food, they may begin questioning their government and pushing for change.
"It's very sad because North and South Koreans are basically the same," he said, referencing the thousands of years Korea was one nation before splitting up over communism. "Technically, I'm North Korean because my father and grandfather came from North Korea. As you can see, there's very little difference."
Chun said that as a member of the military, his focus was always on protecting the Korean people, not waging war on his neighbors to the north.
"That was my only goal and it's still my only goal: protecting the children of my country," he said.
Following the lecture, several students walked up to the stage to introduce themselves.
Sell said he found Chun's lecture fascinating.
"I've been closely following what's going on," he said, "But having a lieutenant general come and speak to us offers a new perspective on the conflict and how people feel about it. People forget how valuable an ally South Korea is to the United States, and it's nice getting to hear that."