Citing statistics claiming that one out of every four high school students are using e-cigarettes or vaping devices, Smyrna Councilman Tim Gould said that would translate to an estimated 1,100 teenage users within the city's limits.
Three out of four teen smokers continue to smoke into adulthood, Gould added Thursday night as he introduced his initial proposal for the city to implement a "Tobacco 21" policy, which would raise the age to buy tobacco products within the city to 21.
"This is an issue that's here, it's affecting our kids today, and it'll have a trajectory of effect the rest of their lives. It's a serious problem and something we can impact," Gould told fellow council members.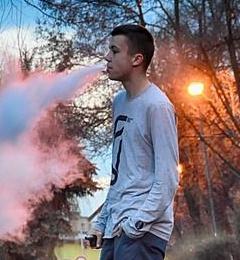 Gould said discussions among council members, staff and the city attorney will be needed before a proposed Tobacco 21 ordinance is crafted, but he said he would like to see the measure drafted and considered sooner rather than later, and with its passage, Smyrna would likely become the first city in the state to adopt Tobacco 21.
As of July 30, 18 states and at least 480 localities have raised the tobacco age to 21, with some localities within states that subsequently enacted state laws, according to the Campaign for Tobacco-Free Kids, which says the laws cover more than half the United States population. No cities in Georgia are listed by the organization as having raised their age to 21.
"It goes a long way," former councilwoman and now state Rep. Teri Anulewicz, D-Smyrna, said of passage of such a measure.
"When a fairly solid midsize city that's in metro Atlanta, and has tended to kind of lead the way when things happen in metro Atlanta, whether it's open container … in all kinds of things, Smyrna has been sort of the bellwether, and I think that makes an impression at this point in the General Assembly," Anulewicz added. "The hands-free (cellphone law) is the perfect parallel."
VAPING IN SCHOOLS PROBLEMATIC, ORDINANCE PROPONENTS SAY
Proponents of such a measure in Smyrna who came before the council to bolster Gould's argument hailed from Northside Hospital, the Georgia Tobacco Free Youth Project and the American Heart Association. They spoke not only about the addictive nature of nicotine within e-cigs and vaping devices and their effects on an adolescent's brain, but also on the other substances that could be within the pods or devices students may use.
"You're able to mix other chemicals in with these devices besides the liquid nicotine that's in there and the other chemicals associated with it — things like opioids, especially fentanyl being a big issue, marijuana, all types of stuff, and that's what is happening," said Kenny Haney, a community health advocate with Northside Hospital Cancer Institute. "A lot of these kids are using these and not realizing what is all in there because it's a friend's that they've left somewhere for them."
Haney said a Cobb high school principal had relayed reports that a typical search of school bathrooms between classes usually turns up one of the devices hidden in a toilet paper roll.
"We even had a child in May in Powder Springs that went into cardiac arrest after vaping in the bathroom," Haney said, adding that most young users are starting between the ages of 12 and 15, getting the products and devices from older friends or siblings.
They have been popular due to the ability for many devices to charge via a computer's USB port and being small enough for some students to choose to use them in class.
Cobb's student code of conduct prohibits any student possession or use of tobacco or tobacco product substitutes, including vaping devices or vaping cartridges on school property and at school-sponsored events. The same prohibitions also apply to employees, non-employees and visitors on school district property, according to its policies.
Despite the district rules, and similar rules in other systems and schools, Haney said some students even attempt to use the vaping devices while in class as they are easily concealed in hands.
"It's so easy to fit into your hand, do it, blow it into your sleeve, and nobody knows otherwise, and that's what is happening in a lot of these school systems, especially when you talk about one in four (high school students)," he said.
As for enforcing an age restriction within the city, Gould said one approach "could be that the retailer would be fined in some way, but the approach is not to penalize the underage buyer," though specific rules and possible fine amounts have yet to be determined.
"How we operationally enforce it still has to get worked out with the Department of Revenue," Gould said.