A federal judge has sentenced the manager of a Smyrna chemical plant to house arrest, as well as a $2,000 fine for instructing his employees to wash a toxic chemical into a tributary of the Chattahoochee River in 2016.
Carlos Conde, 37, is to serve a year on probation, four months of which will be under house arrest, according to Chief U.S. District Judge Thomas Thrash, Jr.'s ruling.
U.S. attorney Byung Pak, of the Northern District of Georgia, said Conde, who was manager of the Apollo Industries chemical processing plant near the intersection of the East-West Connector and South Cobb Drive, violated the Clean Water Act in flagrant disregard for the laws meant to protect the environment.
According to Pak, on the evening of Aug. 12, 2016, a batching tank at the Apollo Industries chemical mixing facility began leaking a carburetor cleaner containing naphalene, a toxic and hazardous chemical. The following morning, two workers discovered the spill and called Conde, the plant manager, who arrived at the spill location and instructed the employees to wash the chemical away with hoses, Pak said.
Pak said the chemical was washed into a tributary of Nickajack Creek and the Chattahoochee River.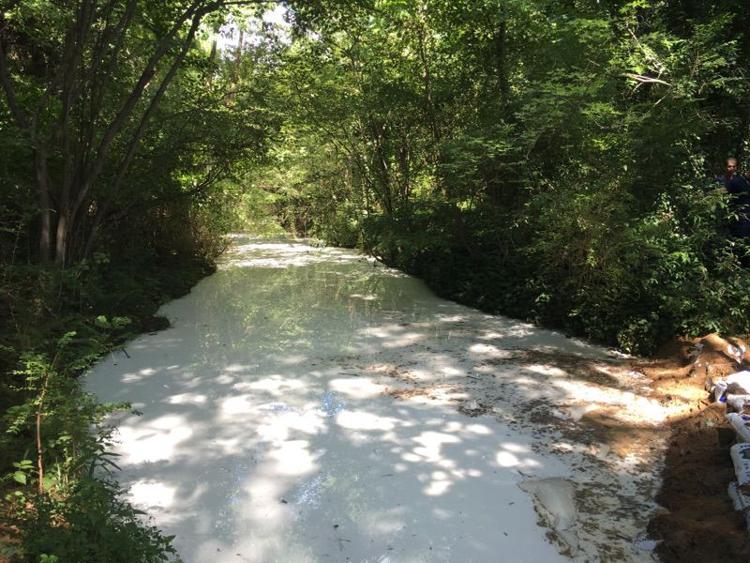 "The carburetor cleaner turned the water milky white and opaque and killed the wildlife in the creek, including fish and frogs," he said.
Conde twice denied his involvement in the incident in interviews with a special agent of the U.S. Environmental Protection Agency, which investigated the case, Pak said.
"We must ensure that citizens can continue to enjoy the beautiful natural resources we have here in Georgia like the Chattahoochee," he said. "Protecting those resources, and the environment, is part of our mission. We take this responsibility seriously, and we will prosecute those who have no respect for the laws that preserve them for all to use and enjoy."
Andy Castro, special agent in charge of the EPA's criminal investigation division, said Conde's sentencing demonstrates the EPA's criminal investigators are committed to protecting natural resources and the communities that rely on them.
Conde was convicted on the Clean Water Act violations on Jan. 24 after he pleaded guilty, according to Pak.
The MDJ reported in 2016 that 2,300 gallons of the chemical flowed through a local creek following an overnight gasket failure on a mixing tank in the Smyrna plant.
Residents of the nearby Kenwood neighborhood raised concerns when a stream running through their subdivision turned white.
Residents also said the water had a pungent, gasoline-like odor. Cobb firefighters estimated the chemical traveled downstream about three-quarters of a mile before EPA employees slowed the flow by building a makeshift dam out of sandbags and dirt in an effort to prevent further contamination.