AUSTELL — Look anywhere around metro Atlanta and you'll find little communities based around mixed-use developments; those village-feel complexes boasting apartments, town homes, shops, eateries, banks, grocery stores and sometimes even small parks and walking trails.
Often connected to public transportation hubs, these are the metro's mode du jour construction projects, marketed as offering 'live, work, play' opportunities for residents.
And that's exactly what some longtime south Cobb citizens are eager to see built on 12.4 acres of what they say is prime real estate just begging to be developed.
Instead, the Magnolia Crossing site in Austell that was once home to a decades-old, asbestos-riddled apartment complex has sat empty for almost four years.
Some blame the South Cobb Redevelopment Authority, which bought the property in October 2015 for $3.7 million with the aim of demolishing the apartment complex on site and selling the section to developers for something more in line with what the community needs.
A bank, a supermarket and service stores are on the top of many residents' lists, to accommodate what the existing community can afford. They don't want gentrification.
Magnolia Crossing tenants were controversially given cash payments to move out by the end of 2015 and the land was cleared within a year, but little else has progressed despite the redevelopment authority spending around $7 million on the property to date, prompting complaints about redevelopment authority board members operating in secrecy and ultimately sitting on their hands with regards to the project.
Authority Chairman Doug Stoner says it's just taking longer than people would like. The authority must find the right contractor to realize its goal of setting a higher, more sustainable standard of new development for the area, he said, and that's not easy.
But while Stoner emphasizes the authority can wait because it only has one chance to do it right, critics won't stop calling for board members to pick up the pace.
Through a framework of trees, Atlanta's highrises are almost always visible from the entrance to the Magnolia Crossing property on what was Six Flags Drive and is now Riverside Parkway, in the very bottom of Cobb County.
Across Interstate 20 is the Six Flags Over Georgia amusement park and not far beyond that is the Chattahoochee River and Cobb's border with Fulton County.
"This property has the most beautiful view of the Atlanta skyline, it has easy access to Interstates 20, 285, 75 and 85 and is 10 minutes from downtown Atlanta," Denny Wilson, a 63-year-old south Cobb resident of over 30 years, said of the site.
She is one of several people living in the area who recently complained about the lack of progress with the property to the Cobb Board of Commissioners at their last regular public meeting, blaming the redevelopment authority for doing nothing.
Wilson told commissioners Stoner has a vision for the area "that does not involve us," and asked the commissioners to transfer authority over the south Cobb community to the countywide development authority, the Development Authority of Cobb County.
"I think we'll receive better growth and development under their leadership," she said, as others seated in the meeting held supportive signs boldly demanding "DEVELOP MAGNOLIA X-ING NOW!"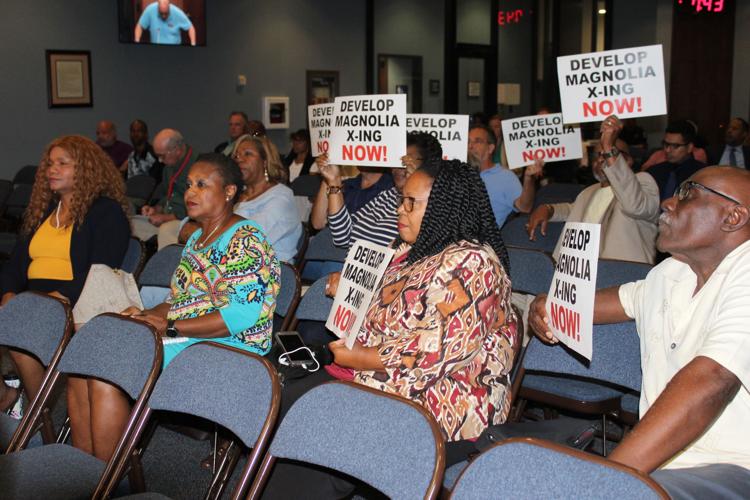 Dr. Ben Williams, a Mableton resident and president of the Cobb chapter of the Southern Christian Leadership Conference, was there among them.
He told commissioners the South Cobb Redevelopment Authority lacks the transparency of the commissioners' own board.
"We need you to do something, say something, to get some action from your authority that would at least get them to try and replicate the way in which you interact with the citizens here in Cobb," Williams said.
Shelia Edwards, another Mableton resident, was also at the meeting among those dubious of the authority and its work, or lack thereof, to enhance the community.
Edwards is campaigning next year for the county's District 4 commissioner seat, currently held by Lisa Cupid, representing the south Cobb area.
She said there's no need for Magnolia Crossing to sit vacant, chained off from the community it's supposed to enhance, and that the authority is at fault.
"Its main goal is supposed to be to represent and develop our community, however there are suggestions that representation and development are either not occurring or are being compromised," Edwards told Cobb commissioners. "If there's a lack of oversight, accountability and transparency or conflicts of interest occurring, this can not be ignored by any of us."
BackgroundThe South Cobb Redevelopment Authority was formed through the Legislature in 2011 to replace the then defunct South Cobb Development Authority, established in 1982.
The redevelopment authority is charged with the "revitalization and redevelopment" of south Cobb and is composed of seven members, four of whom are appointed by the Cobb County Board of Commissioners and three of whom are appointed by the Cobb County delegation to the Georgia General Assembly.
In 2014 Cobb commissioners created the Six Flags Special Services Tax District, enabling the redevelopment authority to draw down $10 million in bonds for improvement projects inside the district, which comprises 2,800 acres and stretches from the southern tip of the county to just north of I-20.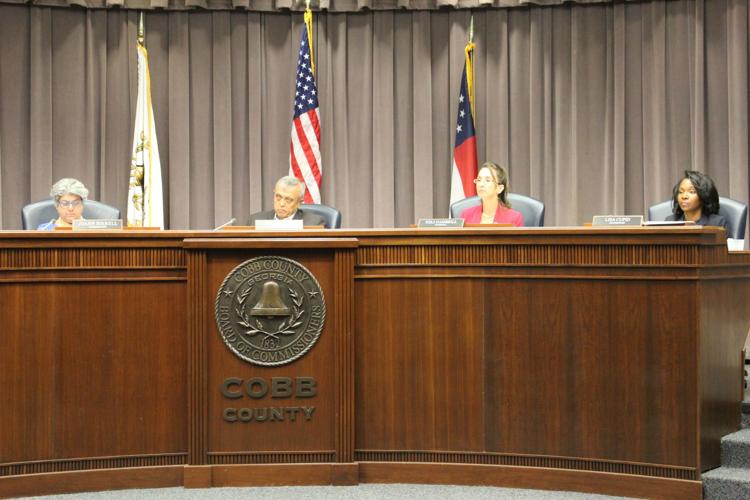 The 20-year bonds, approved by Cobb commissioners in 2015, paid for the Magnolia Crossing property and its readying for construction, as well as, more recently, a 39-acre section right next door owned by a single family for generations. The authority bought that property for around $2.5 million in September 2018.
To pay off the redevelopment bonds, the county charges an extra tax, set at 3.5 mills, to the owners of occupied property within the special tax district, excluding homeowners.
Each year, the extra taxes amount to around $700,000.
ProgressNow the authority has around 50 acres off Riverside Parkway, it plans to fund a new market study of real estate in the area to determine the current value of the two sections and how best they can be developed according to community needs.
Nov. 11 is the deadline for study proposals to be submitted to the authority, Stoner said, adding that whoever ends up contracted to do the study will have to involve the opinions of residents as to what they want to see in their neighborhood.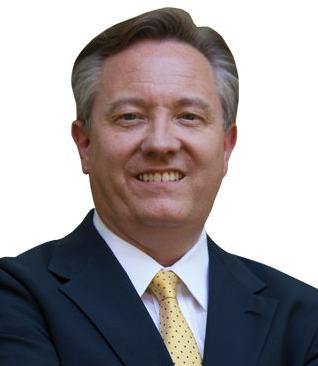 "I understand the concerns, I understand the frustration of folks, and that's part of the reason we're doing this market study, to make sure we're doing our due diligence and doing a good job," Stoner said.
While critics including Wilson and Edwards believe studies done within the decade are still relevant for the purpose the authority needs, Stoner describes new research as "due diligence."
"We all definitely want the property to be developed and want to move as fast as possible, but we want redevelopment to occur in a manner that sets a new sustainable standard for that area of Cobb County," he said.
Any proposed developments will have to align with the authority's overall goals to achieve or improve community education and involvement, economic development, housing, redevelopment and transportation.
A simple replacement apartment complex is not enough to satisfy the authority's vision for the two sections, Stoner said, considering the area is within a "food desert" where there's demand for low-income housing as well as more expensive accommodation and a wider range of retail services not currently provided.
"We've had people talk to our brokers but they just wanted to build more apartments and that's not the goal, we weren't just going to turn around and sell it for apartments although the interest we've had up until this point has been predominantly along those lines."
Stoner said it's not always easy to entice mixed-use development on a relatively small section like the 12.4-acre Magnolia Crossing property, but the authority is determined to persevere in this goal and ensure its "one chance" at redevelopment isn't wasted.
"It's not about how much money we can make in the short term, it's about what kind of development we want in the long term in this corridor," he said. "Geographically, it's location, location, location. That's not a challenge."
As for transparency, Stoner said the authority conducts its business as it should, in monthly public meetings, and any purchases are first vetted by the county's finance team.
"We've actually done a lot in four years if you think about it, in the context of developments in other parts of Cobb that have taken a decade or longer," he said. "We've moved fairly quickly to acquire 50 acres."
As the current county commissioner responsible for south Cobb, Cupid is well aware of all sides of the argument in respect of Magnolia Crossing and the area's handling by the authority in general.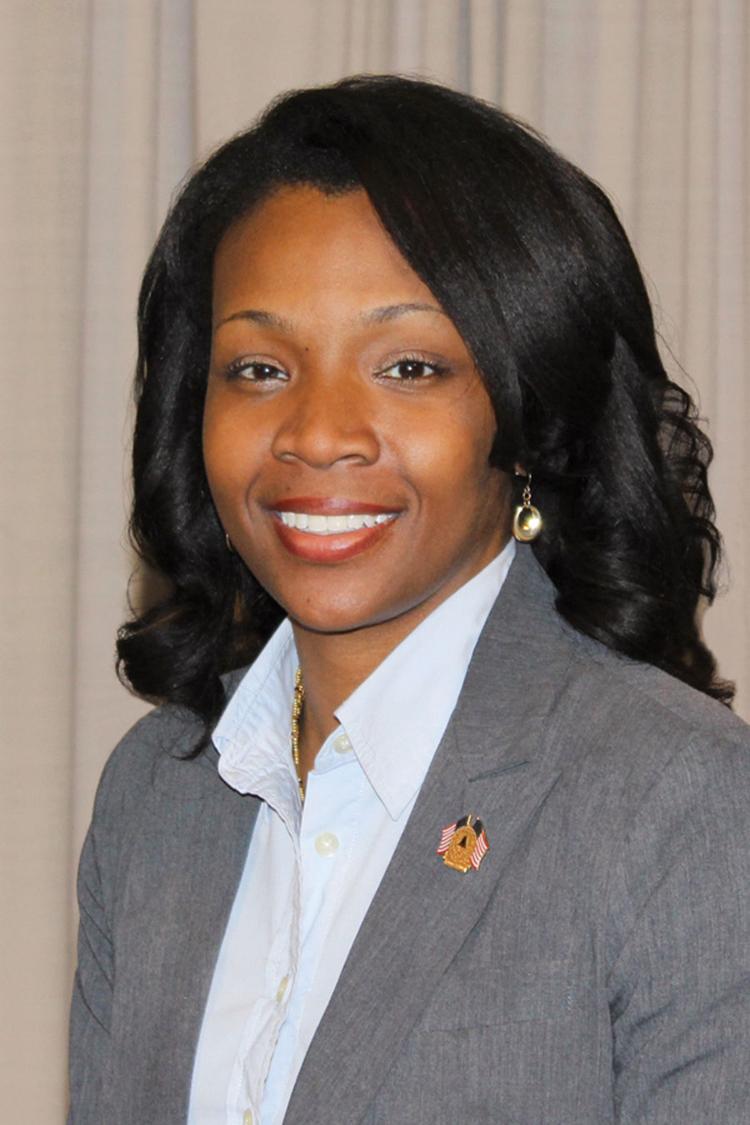 She's heard from disgruntled constituents, talked with authority board members and even had conversations with potential developers.
Despite this, Cupid said she feels limited in what she can do.
"The initial sale of Magnolia Crossing was not without controversy and I expressed my concern to the development authority and the Board of Commissioners about how that was handled," she said. "They're the land owner and in essence we're being asked to tell the owner to move forward against their better judgement."
Cupid said she understands residents' frustration in seeing the site empty, but also knows how long it can take for such properties to be developed in accordance with high standards set by development authorities, citing the Belmont development in Smyrna at the intersection of Windy Hill and Atlanta roads that took 15 years to complete.
"These types of developments, especially in more challenging areas, don't happen overnight," she said. "I'm seeing an interest in this area and I'm hoping that we will not be far behind. I'm prayerful we will not have to wait 15 years."
The Magnolia Crossing property is zoned for a "village community center" and any developments there must be considered by Cobb commissioners against zoning restrictions and requirements, Cupid said.
She said it's also possible the county will amend its policy on tax allocation districts to allow these to cover whole areas, rather than specific sites, to spur development, and this could be something that happens for south Cobb.
"We try to make the conditions to encourage development," Cupid said. "I look at all the development I see occurring in Mableton and residential zoning on Mableton Parkway and I'm encouraged about people looking on this side of town for new development opportunities."