Sen. Johnny Isakson, R-Georgia, held his first in-person town hall meeting of the year Monday night at Kennesaw State University.
The event was characterized by some differences of opinion.
The differences began early, when KSU President Sam Olens introduced Isakson with a list of his accomplishments as a politician dating back to the 1970s.
When Olens reached Isakson's title of chairman of the Senate ethics committee, some members of the crowd of over 600 groaned, some laughed, others booed.
"We are here to have a civil discussion," Olens said. "May we?"
"No," shouted one member of the audience.
Much of the evening followed that blueprint, with audience members vocally venting their frustrations at Isakson.
Not so at the outset, however. Isakson's first remarks were a stern rebuke of the racist violence in Charlottesville, Virginia, over the weekend and received a standing ovation for doing so. The senator singled out the Ku Klux Klan, neo-Nazis and other racist groups as having no place in American discourse.
"We can have differences over a lot of things, but there's never going to be a difference over human dignity, the right to life and the right to live in the freest, greatest country on Earth without fear of intimidation because of your race, your religion, your sex, your national origin or any other factor," Isakson said.
After this moment of unity, the differences made themselves manifest immediately.
One of the hottest topics of the night was health care. An advocate for people with developmental disabilities from Temple asked Isakson why he voted for the failed Senate health care plan that would have stripped insurance from millions of Americans, according to the Congressional Budget Office.
Isakson said he did not like the bills, but voted for them with the belief that the plan would be improved in a conference committee.
"I couldn't get to where I wanted to go unless I followed the road that led me there," Isakson said. "If I was going to downtown Atlanta and didn't get on 75, I probably couldn't get there. But getting on 75 and fighting traffic would eventually get me where I wanted to go. And where you are is where I wanted to go."
The crowd was not swayed by this argument, and made their skepticism known with boos.
Members of the audience continued to raise health care questions throughout the night, including a man whose 3-year-old son was born with a heart defect and a woman who survived cancer and was married to a man with diabetes. Many of the questioners said they wanted Congressional leaders not to repeal the Affordable Care Act and to expand Medicaid in Georgia.
Isakson did not commit to either of those actions, but said he will work to ensure Americans have access to health care.
"You have great points," he said. "You have the voice of reason ... I appreciate your question and your thoughtfulness."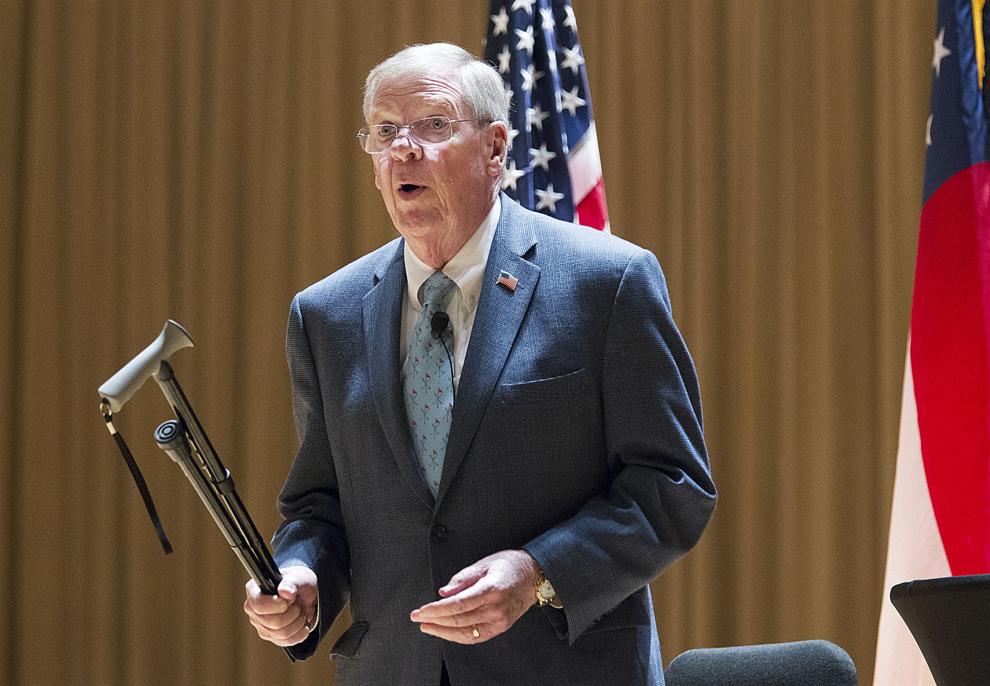 Isakson told members of the audience he recently became disabled, referring to his diagnosis of Parkinson's, and showed his cane.
This was met with some groans, and one member of the audience shouted "What's your insurance policy?"
"I know how lucky I've been all my life, how fortunate to live in America," he said, adding that he does not intend for the government to cut services for people with disabilities.
Isakson said he wants to replace the individual mandate with "something better," and gave the example of how requiring drivers to have auto insurance to get their license increased the number of people with auto insurance in Georgia.
Climate change was another major topic during the night.
Brad Cook from Atlanta asked Isakson whether he believes that climate change is man made.
Isakson said he is a "full believer" that human-produced carbon contributes to global warming, but seemed to downplay the phenomenon.
"If you watch the weather every night, you know the climate is changing every night," Isakson said.
This was one of the senator's least popular sentiments of the night, and many members of the audience reminded him that weather describes the short-term actions of the atmosphere whereas climate takes a longer view.
"Weather and climate are not the same thing," said one woman.
"Go back to school," suggested one man.
"Scratch the weather, I won't talk about weather any more," Isakson said, adding that he believes reducing carbon emissions will benefit people's health and that he was a supporter of the Montreal Protocol, an international treaty designed to protect the ozone layer.
Isakson also said industry should play a role in reducing carbon emissions, earning scattered applause.
Isakson won another round of applause when he said he will be working on legislation to extend VA benefits to caregivers of troops who served before Sept. 11, 2001, and on extending benefits to members of the Navy who became ill after serving on ships carrying napalm during the Vietnam War.
When asked about an immigration bill co-sponsored by his junior colleague, Sen. David Perdue, R-Georgia, to place new limits on legal immigration by favoring those with technical or English skills rather than those with family connections, Isakson said he supported legal immigration, adding that his forefathers came to this country without speaking any English.
"We are very fortunate that America opens its shores to the tired, the poor, yearning to be free," he said.
Isakson said he wants the country to enforce its immigration laws and ensure that people coming in are doing so legally. He also said he wants to tie immigration rates with the unemployment rate.
Isakson said he supports both net neutrality, which would prevent internet service providers from giving priority to one web service over another, and a Constitutional amendment to require Congress to produce a balanced budget.
One of the most heated moments came when a woman who said she was head of a group that seeks to protect young black men from police shootings asked if Isakson supports efforts to train police officers in de-escalating potentially dangerous situations.
Isakson said in his answer that one of the biggest problems in society is absentee parents. Many members of the crowd seemed to interpret the senator's response as taking responsibility away from officers who shoot unarmed black men and booed with gusto.
"Black lives matter," shouted several audience members.
"All lives matter," Isakson responded, eliciting even louder boos as well as scattered applause.
"I'm pretty sure that's what the racists in Virginia said, too," said one audience member.
Isakson later clarified that he was praising the questioner for taking an active role in protecting children. He told a gathering of reporters after the conference that he believes all lives matter regardless of race.
Some members of the audience made it known that they felt Isakson was dodging questions at several points during the night. One such occasion came when an openly gay KSU student asked Isakson whether he would support civil rights protections that would prevent employers from firing someone for being gay, lesbian, bisexual or transgender.
"Yes or no," shouted members of the audience.
"You have a right to be treated fairly and equitably as does every other American regardless of their orientation," Isakson said. "I'll always stand up for that right ... As long as it applies to all the civil rights of all the people regardless of their orientation, then I support it completely. But if it gets to singling out one over another, then I don't."
Isakson moved on to the next question.
Isakson was called a Nazi-lover by one member of the audience after he said he will not pressure the president to fire controversial figures like White House chief strategist Steve Bannon and senior policy adviser Stephen Miller, whom the questioner characterized as "confessed Nazis."
"No, but ..." Isakson began before being washed away in a sea of boos.
"Hold on a minute," Isakson said.
"Hold this," shouted a member of the audience making an obscene gesture.
Isakson reiterated his condemnation of anti-Semitism and bigotry.
"The president has to stand firm in the decisions he makes," Isakson said. "I'm voting for Americans, I'm voting for peace and security. I'm voting against any Nazis, any Ku Klux Klan or anybody else."
"He's a dictator," shouted an audience member, referring to President Donald Trump. "You will be held accountable."
Isakson was at ease throughout the night, despite its confrontational awareness. After the meeting ended, he told reporters that he had fun.
"I've done many town hall meetings in my career," Isakson said. "I can't even count how many. This is at the top of the list in terms of interest, curiosity and participation. There were some really important points made by some folks."
Isakson singled out the points made about disabilities, global warming and black youths facing violence as good points.
"I knew there would be those questions, and everybody knew what the answers would be, but everybody got to make their points," he said.