SMYRNA — On Hurt Road in unincorporated Smyrna, a few miles from the city's center, is GB's Stables, a family-owned and operated commercial equestrian boarding and riding facility that has a rich history.
Formerly a Creek Indian chief's land, a cotton plantation, vegetable fields and an animal farm, the stables accommodate almost 50 horses owned by people living throughout metro Atlanta.
Spanning 106 acres, it is now the only family property in Cobb County of 100 acres or more that is owned by a single person or entity, according to county records.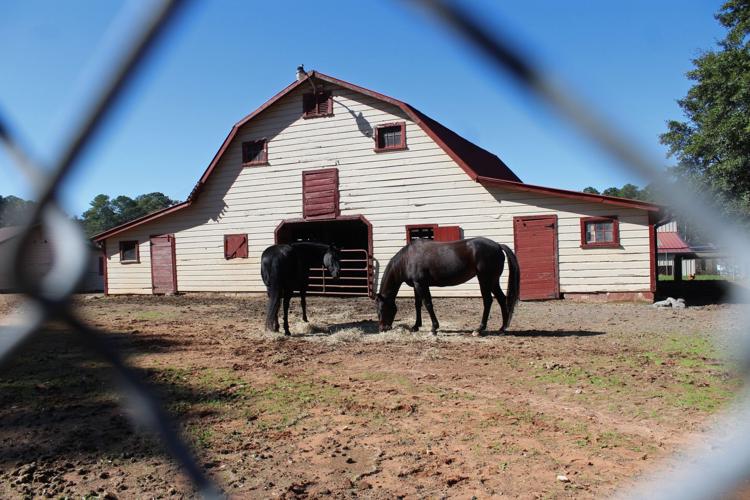 On the warm November afternoon the MDJ visited, a father pulled into the stables driveway to ask if his young daughter could take a few moments to look at the horses — the type of request Williams family members say they're happy to grant on an almost daily basis as the owners.
"People have lived close by for years and not even realized this is here," Terry Williams said.
While the little girl and her father admired two horses lazily munching on hay in front of the main barn, colorful fall leaves were reflected in the 25-acre Mill Creek Lake behind, bordered by thick native woods containing about six miles of riding trails hidden from view.
On the other side of the stables, past a small swarm of chickens pecking at grain in the dirt, a longtime client groomed her 31-year-old paint quarter horse Daryl, the oldest of GB's Stables' four-legged tenants.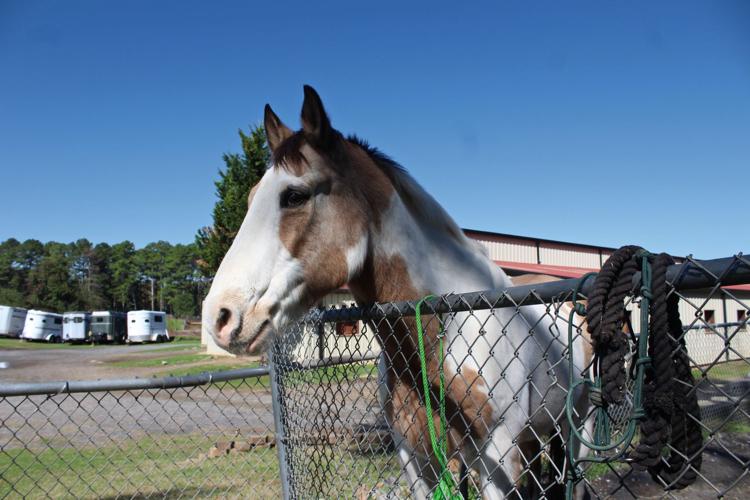 For the last 45 years or so, the Williams family has dedicated its land on Hurt Road to keeping horses, reflecting a shared passion that has brought three generations of husband and wife together.
The late G.B. Williams (1917-2002) bought the bulk of the property, 73 acres, on March 12, 1949, with his wife, Vonceil Williams. The two wed within two months of meeting, after he wooed her by riding past her home on his horses, knowing her fondness for them.
Several decades later, their son, Terry Williams, courted his wife, Karen Williams, by inviting her to help him with the horses on the family farm, knowing she too had a soft spot for the animals.
And their son, Chad Williams, also met his wife, Jenna Williams, through the stables, when her Smyrna-based family started boarding their horses there.
But the land that now boasts a dressage arena and endless bales of hay hasn't always been for equine use.
As far as the Williams family can tell, through years of research, the first recorded history of their land's ownership dates back to 1832 when it was owned by Chief Nickajack, a Creek Indian, as part of his 160 acres that included two log cabins.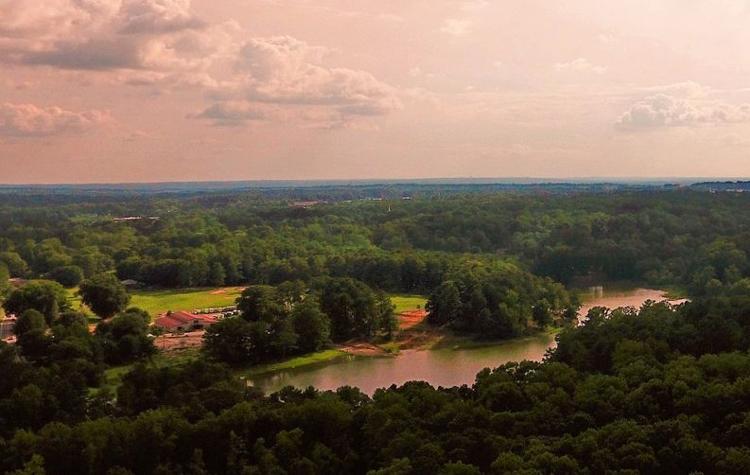 Many arrowheads and American Civil War bullets have been unearthed on site by Williams family members over the years.
Marietta Square resident David Ardis, the first known white owner of the land, is thought to have purchased it as part of a 1,100-acre tract in the 1850s that he turned into a cotton plantation. Ardis is said to have sold it in 1863 for $12,750 inflated Confederate dollars during the height of the Civil War, at negligible profit, in a bid to escape the chaos.
In 1876, just under 500 acres of the land was bought by cotton broker Col. George Hurt, already comprising a cotton mill, gin house and mill pond. Hurt, after whom Hurt Road is named after, used the land to produce corn, wheat, grapes, peas, beans and apples.
Over the years, pieces of the property were sold and subdivided, including 121 acres that was purchased by the Floyd family, and that's also when the Williams family's involvement with the land begins.
Born in Cherokee County in 1917, G.B. Williams was the youngest of eight children born to sharecropper parents, whose roots can be traced back to 1805 in Georgia and to 1619 in historic Jamestown, Virginia, where the first permanent English settlers in America made their home.
G.B. Williams moved yearly with his family as they sharecropped on various cotton farms until they arrived in Cobb County in 1922.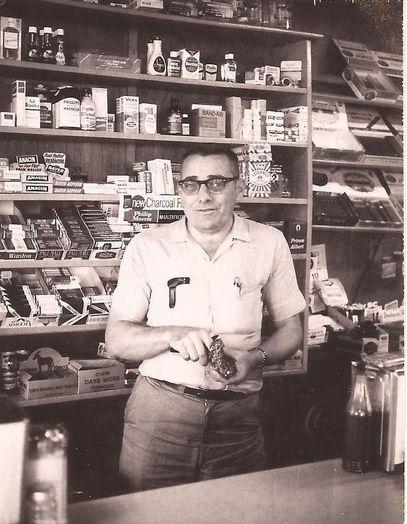 At around 16 years of age, G.B. Williams secured work on the Floyd family's vegetable farm on Hurt Road, plowing the soil with a mule for around $1 a day.
Keen to avoid becoming a poor sharecropper like his father, who never owned land for himself, G.B. Williams left the farm and started his own small restaurant during the Great Depression in downtown Smyrna. The joint was called GB's Place, where visitors could buy hamburgers, hot dogs and bottles of Coca-Cola for 5 cents apiece.
One day in 1948, G.B. Williams' former boss, Tommy Floyd, visited him at the restaurant to say he was moving to Mableton and looking to sell the Smyrna farm he'd inherited.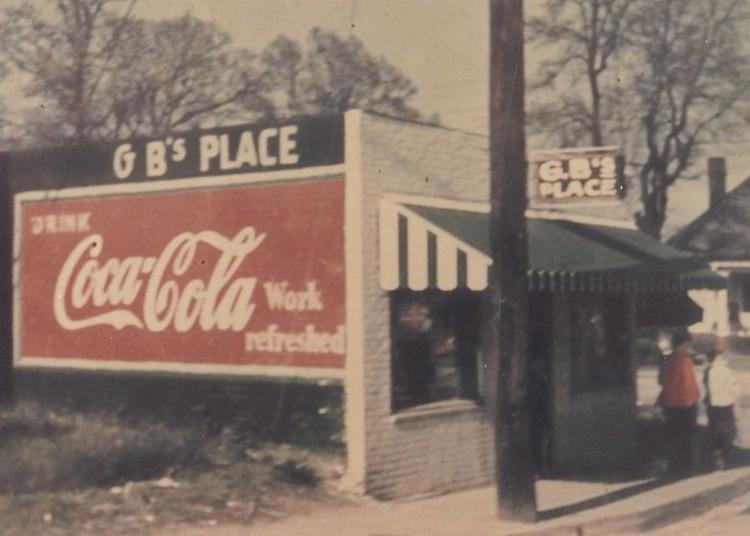 Floyd offered to sell 73 acres to G.B. Williams for $6,000, but even at around $80 an acre, the price was too high. G.B. Williams offered what he could afford — $5,000.
The land failed to garner interest for a year, until Floyd gave up trying to find a better offer and sold to it G.B. Williams for $5,000, or around $68.50 an acre, in March 1949.

"Everybody had land," Terry Williams said, in explanation of what seems nowadays to be a remarkably low price. "This property was on a dirt road, it was considered way out of the city."
Today, the going rate for comparable land in Smyrna is around $100,000 an acre, Chad Williams told the MDJ.
G.B. and Vonceil Williams raised their family on their newly acquired 73 acres, initially farming about 60 Angus beef cattle on what had been corn fields.
When they bought it from the Floyds, most of the land was open fields, across which one could see the school bus coming from a half mile away, kicking up dust on the dirt roads.
The Williamses built a new barn and homestead, using some of the old timber from original buildings on site, and also started expanding their section by buying an adjacent 19 acres in the early 1950s.
They raised about 900 hogs in a pasture that is now woodland on the north side of the lake, and had a few dairy cows for personal use.
The lake itself, about 30 feet deep in the middle, was constructed in 1955 by the Williamses when they dammed the creek running through the property.
This provided a small side income for the family that still exists today, with locals paying to swim and fish, given a lack of comparable alternatives in close reach.
Eventually, G.B. and Vonceil Williams added around 6,000 chickens to their farm, producing up to 18,000 eggs a day.
At one point, they also owned an additional 70 adjoining acres, securing the entire swath between Hurt and Hicks roads.
All the while, G.B. Williams kept his Smyrna restaurant, a success thanks to Cobb's growing population coupled with a lack of competition, as shops and eateries were slow to keep pace with growing demand from new residents.
By the mid-1970s, he was ready to retire from the restaurant business and also winding down the hog and chicken operations on the farm.
A request from a woman who asked if she could keep her horses on the property sparked the Williamses' stables business, when she ended up renting the family's old chicken house for $50 a month.
Word soon spread, prompting the Williams family to convert and build more horse stables to accommodate the growing demand, resulting in what exists today.
"As the area grew, there was less land, so people were coming to dad wanting to board their horses here," Terry Williams said.
Over the years, acres have been purchased and sold on the plot. The most significant recent change was around nine years ago, when the Williamses purchased 18.5 adjacent acres from a neighboring family that'd owned and occupied the land since 1935.
Today, 70 years since the property became the Williams family's, the 106-acre farm block is the largest of the family's four sections on Hurt Road, accommodating three households of relatives on a total of 111 acres.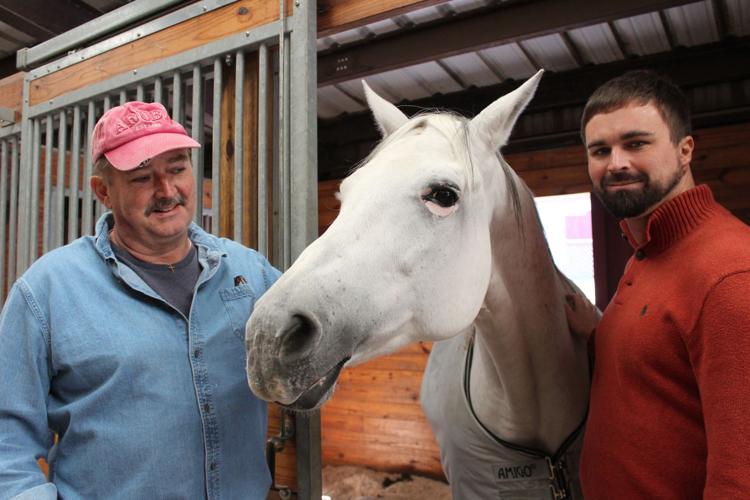 The Williamses have regular jobs away from the property, as they always have. But they also have the ability to saddle up and ride the working day away as soon as they get home — a relatively unique privilege in metro Atlanta.
"I've never lived anywhere else, and I just enjoy the openness of the property. I don't feel crowded in," Terry Williams said. "I don't think I could manage living in the city, I enjoy being able to look out the window to the property and how beautiful it is."
Terry Williams worked most of his career at Georgia Tech, before retiring after about 40 years. His son is a financial analyst.
The stables generate some income from the property, but it's not profit that drives the operation, or the family's ongoing stewardship of more than 100 acres in the middle of a county with over 757,000 residents and growing.
It's a labor of love, and one that Williams family members hope will be continued by their descendants.
"I was born here and I'll die here," Terry Williams said. "After I'm gone there's not much I can do about (the land), but there are so many people who come here and enjoy it, and I enjoy that."
Jenna Williams, wife of Chad Williams, gives horse riding lessons on the family land, and Danny Williams, brother of Terry Williams, operates the lake fishing and swimming business.
People also pay to ride their horses on the Williamses' six miles of woodland trails, and the family is getting increasing business from filmmakers paying to use the property.
About 10 of the Williamses' 111 acres are developed, around 15 acres are in pasture, and about half of the property is regenerated woods.
The family has a conservation agreement with the county that limits both development and taxes on the property, to the benefit of both parties.
Chad Williams hopes to raise his own family on the land that he grew up on, and for the property to remain intact.
"Granddad told us never to rely solely on the land, and we don't, but it does support quite a few households here, directly and indirectly," he said. "We're the largest stables in the area so there's flow-on business for veterinarians, blacksmiths, feed stores and the staff who come in and clean the stables."
For Terry Williams, "it's how much it means to so many people and the number of people who get to enjoy it every day.
"There's probably on any given day 50 to 100 people out here, and it's just a nice way to kind of get away without having to go too far," he said.