ARIETTA — Fans of Swedish meatballs and build-it-yourself furniture, rejoice.
Swedish home furniture retailer Ikea is coming to Marietta's Franklin Gateway with its famous showroom full of hard-to-pronounce furniture.
The retailer will go into a 28-acre property on Franklin Gateway purchased by the city in 2015 for $17.7 million and currently under contract for $9.25 million. The property was formerly the site of the Marquis Place apartment complex. The city bought and razed the dilapidated complex using funding from a $68 million redevelopment bond approved by voters in 2013.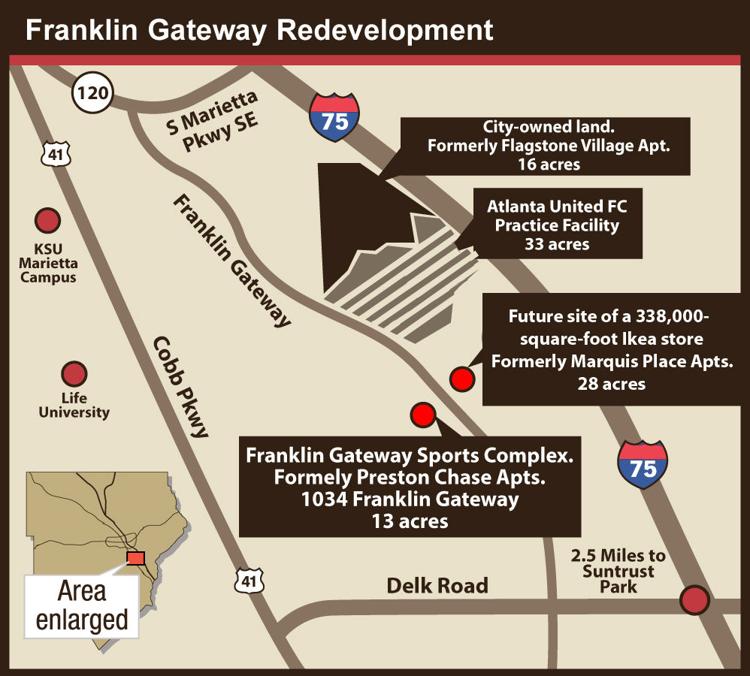 The 338,000 square-foot shopping center will be the largest single retailer in Cobb County history, according to City Manager Bill Bruton. Bruton said it will be the second largest single retailer in the state, coming in just behind the only other Ikea in Georgia at Atlantic Station. That location, which opened in 2005, is 366,000 square feet. There are currently 47 locations in the United States.
The Marietta Ikea will contain a showroom for shoppers to peruse, a cafeteria featuring Swedish and American dishes and a spot for children to play while parents browse the selection.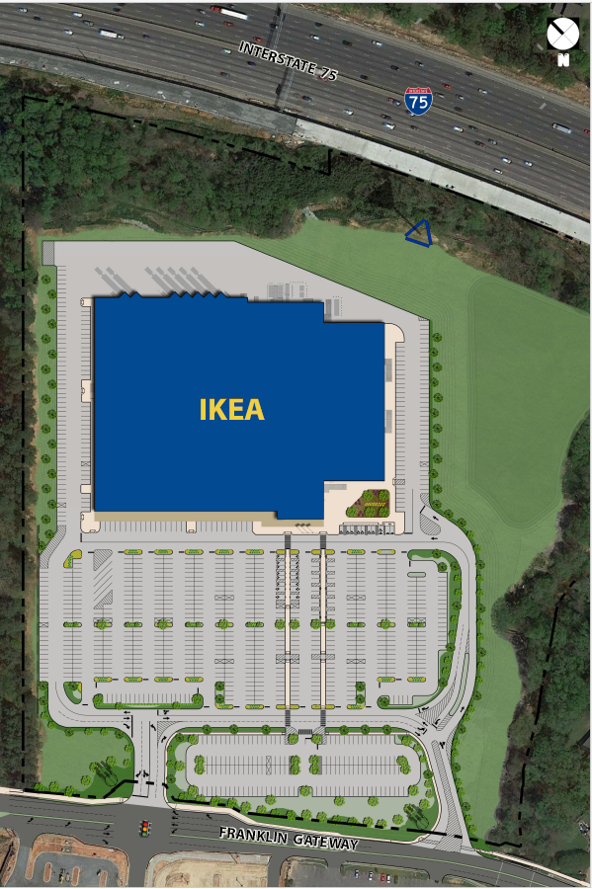 Ikea has also committed to purchasing the 6 acres in front of the property which currently houses a shopping center, which will become part of the store's parking lot.
The announcement marks the latest in Marietta's efforts to revitalize Franklin Gateway, which also saw the opening of soccer team Atlanta United's training facilities earlier this year.
Bruton said Franklin has come a long way in the past 10 years.
"At that point, before the bond and before a lot of the activity we've had on Gateway, I wouldn't have thought they would have opened up one anywhere near the one they have in Atlanta, but the improvements that have been made on Franklin Gateway and all the new jobs that have been created ... it's exceeded everyone's expectations," he said. "I think we all hoped we would get to this point, but I don't think there were many people who would have thought we'd get here so quickly."
Bruton said he hopes the new development will bring new jobs and increased sales tax revenue to Franklin Gateway and the city.
"It says great things about Marietta and Cobb County that all these outside entities have so much faith in what's going on in Marietta that they want to make such huge investments in our community," he said.
Ikea real estate manager Jim Anastos said choosing to open a store in Marietta was the result of a lot of planning and number crunching.
"I did a lot of analysis, a lot of homework," he said. "I was actually the general manager of the store in Atlantic Station for eight years, so I know the market very well, but I did quite a lot of analysis on our demographics, our customer base, and we evaluated several sites in the Atlanta metro, and we're sure this will be a home run."
Anastos said there is no firm date for the company to begin construction or to hold its grand opening. The next step is to get the proper permits and finalize the sale, during which time the corporate office will plan a construction schedule.
He said the typical Ikea employs between 250 and 300 people whose salaries are based on local markets. Hiring announcements will come as plans progress.
Anastos said Ikea stores, which offer exclusive products, draw in customers from far and wide, bringing sales tax revenue into their cities.
"If you go Saturday to the store in Atlantic Station, you're going to see license plates from four different states," he said. "People do make a weekend trip out of it."