The topic of endangered species brings to mind exotic wildlife in the tropical rainforest or at the polar ice shelves, but when human development moves into wild spaces, it can put the squeeze on species even here in Cobb County.
The Georgia Department of Natural Resources has identified six animals and four plants that are native to Cobb County and are protected either nationally or on the state level.
Other than a single bird species that makes stops in Cobb County on its way south for the winter and back home to the Midwest when the weather warms, all of the threatened animal species in Cobb are aquatic.
"In general, the main threat to aquatic species in Cobb County and the Atlanta metro area is urbanization," said Dr. Brett Albanese, manager of the Georgia DNR's nongame preservation program and a senior wildlife biologist. "Even modest levels of urbanization, 5 to 10 percent of watershed area, can change the types and abundances of species that can live in a stream."
When there is rain, runoff from paved areas such as sidewalks, roads and rooftops can lead to destructive flooding and can also carry toxins such as heavy metals, oil, pet waste and lawn chemicals into streams, Albanese said. These non-porous surfaces also lead to less water available during droughts because water runs off quickly and is not absorbed into groundwater.
Cobb's threatened species may not be as majestic as endangered whales or as snuggly as the great panda, but scientists say each species has a role to play in the ecosystem, providing food for or maintaining the population of other critters.
Two species of fish are listed as threatened by the DNR, the Cherokee darter and the bluestripe shiner.
Cherokee darters are about two inches long and yellowish with olive green and black spots. They are only found in the Etowah River watershed, and one of their homes is Cobb's Allatoona Creek, where they eat little invertebrates out of the mud. They make their homes in small-to-medium streams and require gravel or cobble sediments to breed.
From mid-March to late June, females look for a good gravelly spot to lay their eggs, pecking at the surface of rocks to clean it so the eggs can attach. Males swim a short distance off and fight off any rivals.
Bluestripe shiners are about three and a half inches with olive, silver and blue coloring. They eat bugs both aquatic and terrestrial. They have a wider range than Darters and can be found in Chattahoochee and Flint Rivers.
Albanese said they are considered protected throughout their entire habitat, but are more threatened in the Chattahoochee than in the Flint.
Bluestripe shiners' problems, primarily caused by human development, are exacerbated by the way they spawn, laying their eggs inside crevices in rocks and logs.
"Males display in front of cracks in rocks and logs," Albanese said. "Females lay eggs in crevices. If the water is too turbid, females may not see the males. Or they may mate with a non-native species, like a red shiner. In addition, sedimentation can fill in crevices and destroy spawning habitat."
To help keep Cobb's fish population happy, Albanese said property owners should keep a wide strip of natural vegetation around streams, even small or ephemeral ones. That will slow down or eliminate contaminants entering the water. He also suggested reducing or stopping the use of fertilizers or other lawn chemicals.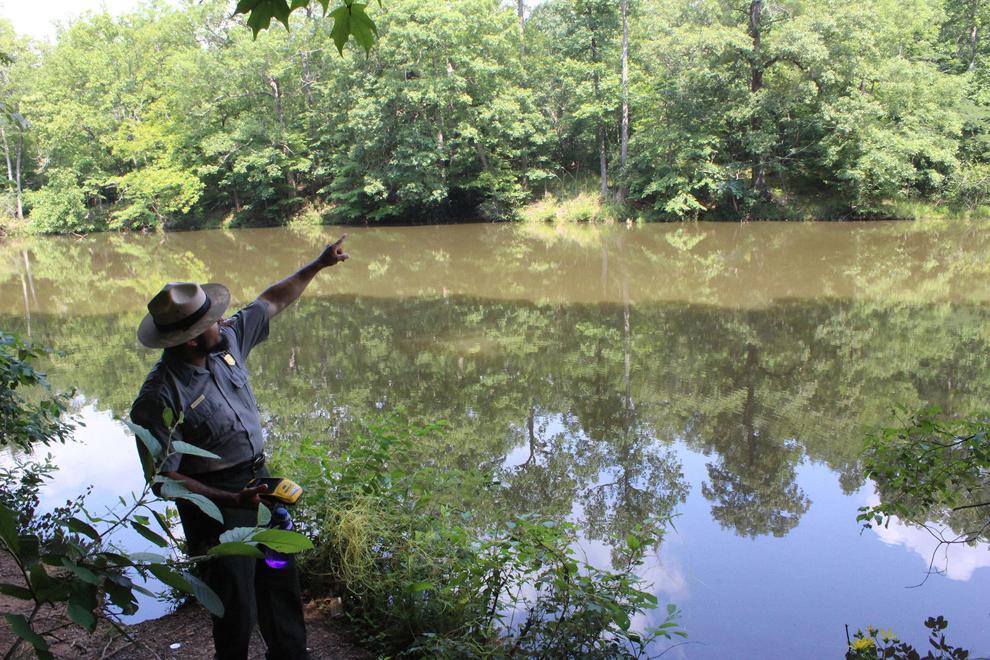 Henslow's sparrow is a tiny, brown-with-stripes bird that eats insects and seeds. It was named by famous ornithologist John James Audubon after his friend John Henslow, a British clergyman, naturalist and academic.
The birds make their nests in grassy fields and are temporary inhabitants of the county on their way south for the winter, according to DNR ornithologist Todd Schneider.
"Henslow's sparrows only occur in Cobb County as migrants on their way to and from breeding areas in the Midwest and Northeast and wintering areas in the Southeast Coastal Plain, i.e, south Georgia, Florida and possibly south Alabama," Schneider said.
Most of this sparrow's daily routine takes place on the ground. When a male finds a female that he likes, he gets her attention by singing what the Audubon Society field guide calls "one of the least impressive of all bird songs" and waving bits of grass around with his beak. If there is a love connection, they will build a nest concealed in a clump of grass; the interior is often lined with finer grass or animal fur.
Moms and dads work together to feed their young, but childhood is short. Most Henslow's sparrows leave the nest after just nine or ten days.
Scientists keep tabs on their population by dragging a weighted rope through grassy fields and putting tracking bands on the ones that are flushed out.
Despite their love for being on the ground, their tiny size and their pitiful singing, these little birds make an impressive trip each year, from their breeding grounds in the Midwest to their summer homes near the ocean.
We can blame our neighbors to the north and south for the Henslow's sparrow's inclusion on this list. The Midwest prairies it once called home have been largely wiped out, and down south, development and bog draining have disturbed the bird's winter resting places.
The Henslow's sparrow can live alongside humans in unexpected ways. They have been making their homes underneath powerline corridors that include a large amount of undergrowth. They can survive in hayfields and pastures. But despite this, their population has dropped by 8.1 percent per year from 1966 to 2007.
"The best thing the average citizen can do to help this species is to support bird conservation efforts directed at grassland and pine savanna species and support legislation that helps with habitat conservation and acquisition," Schneider said.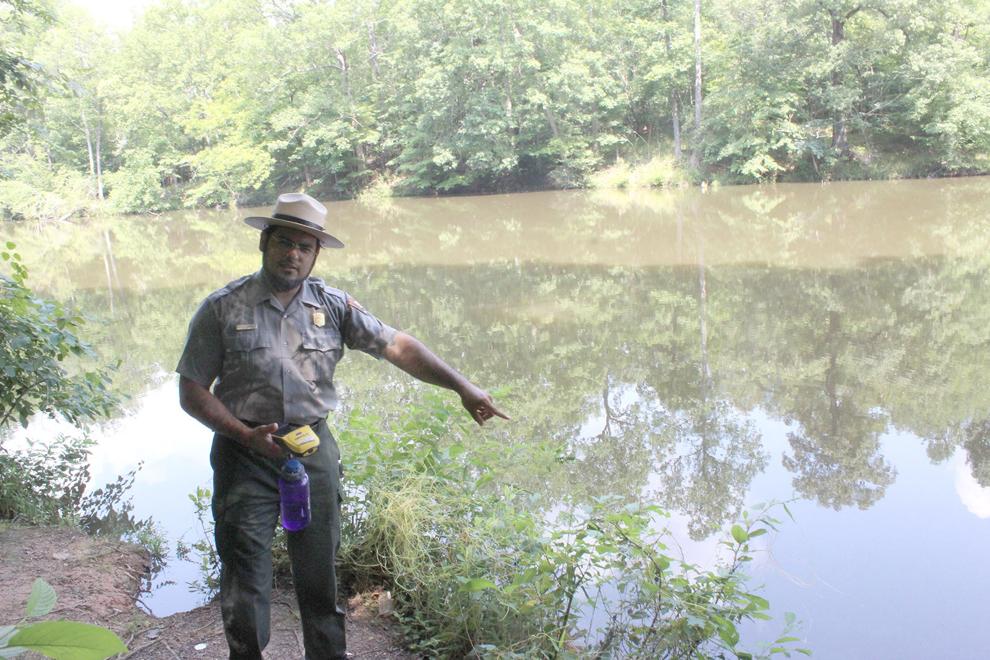 The delicate spike and Gulf moccasinshell, two rare freshwater mussels, are most likely extinct from Cobb County; their last recorded sightings here were in the 1970s.
Jason Wisniewski, aquatic zoologist with the Georgia DNR said that is bad news for the Chattahoochee and those who use it.
"Freshwater mussels are predominantly filter feeders, filtering water containing algae, bacteria and other particles," Wisniewski said. "These filtering services are critical to maintaining the health of rivers not only for wildlife, but also for humans consuming water from the municipal sources in which these rivers and streams flow."
The Chattahoochee, where these mussels lived, supplies drinking water for 70 percent of metro Atlanta, according to the U.S. Geological Survey.
Wisniewski said these species can both still be found in other areas, but they are not doing very well there either.
"The Gulf moccasinshell is known to occur in less than about 10 locations throughout its historical range in Alabama, Florida and Georgia," he said. "In all but a few cases, the populations are so small that recent collections of the species are typically represented by one to two animals at a site."
The delicate spike is doing a little better, he said, but is still considered endangered in Georgia.
Once again, development is the main culprit behind these species' demise in Cobb, specifically the Buford Dam on the Chattahoochee, Wisniewski said.
"The cold water releases from the dam has turned the Chattahoochee, which was a warm water fishery, into a cold water fishery capable of supporting wild trout where they historically did not occur," he said.
That is a problem because, when these mussels are very young, they attach to certain types of fish with little hooks and get dropped off in new spots where an adult mussel couldn't reach. If those types of fish are not around, the mussel cannot finish its life cycle.
Wisniewski said there may also be reason to believe that the cold water makes the mussels physiologically incapable of reproducing.
The Buford Dam is also creating a headache for Cobb's threatened crayfish, the Chattahoochee crayfish. This creepy crawly lives exclusively in the Chattahoochee river system, where it pitches in by eating sunken decaying matter, helping keep the water clean.
Wisniewski said much of the crayfish's habitat overlaps with the metro area, and it has seen much of its home area paved over or replaced by underground culverts.
Wisniewski seconded Albanese's suggestion to keep a wide vegetative buffer around any stream. He also suggested keeping an eye on the water bill, as excessive water use coupled with the droughts we have been having lately put the squeeze on Cobb's underwater creatures.
The monkeyface orchid may have the funniest name of Cobb's threatened species, but its story is less humorous.
"Unfortunately, the only known occurrence of the plant in Cobb County was destroyed in the 1990s by construction of a pond on private property," said DNR botanist Tom Patrick. "Most populations in Georgia are extremely small and need management in order to survive."
These white-flowered orchids like boggy areas, which are threatened by development, deer grazing and too many shrubs.
Patrick said there are nine known monkeyface orchid sites in Georgia, which are protected and maintained. New monkeyface orchids grown at the Atlanta Botanical Society are sometimes introduced to these wild populations to help boost their numbers.
Sun-loving draba, also known as Whitlow grass, is a tiny winter annual, germinating from late fall to early spring and forming a rosette of tiny leaves. They do well on exposed granite outcroppings where other plants can't live.
In Cobb, they grow on rock exposures at Kennesaw Mountain, but elsewhere they are threatened by quarrying of the granite they grow on, invasive plants and being trampled or crushed with off-road vehicles.
Patrick said volunteers come out and check on how the little plants are doing, but that can be more difficult than it might sound. They are nearly invisible if you do not know what you are looking for, and they only bloom for about four to six weeks in early spring.
The bay star-vine is a vine that climbs trees and produces small, red and green flowers. Patrick said human activity and loss of forest habitat have led to this species' threatened status.
"Bay star-vine needs a mature forest to become large enough to spread all over the ground, twining up shrubs and trees, then climbing several trees where it can produce flowers and fruit," he said. "Although there are dozens of records for bay star-vine, few populations are large enough to produce seedlings and, if along hiking trails, are subject to weed whacking and often prevented from climbing trees."
Dwarf sumac, also known as Michaux's sumac or false poison sumac, looks like a small leafy shrub with red branches. It is considered endangered both federally and in Georgia.
While some plants produce both male and female flowers, the dwarf sumac is not one of them. Each plant is generally either male or female.
According to the DNR, there are two remaining naturally-existing dwarf sumac sites in Georgia — one has only male plants, the other, only females. The population has been isolated by development.
The boy and girl sumac colonies are 80 miles apart and do not reproduce.
To help these populations, the DNR, the National Park Service and others have been growing new plants in the hopes of reintroducing them to their potential partners in the wild.
One such project is underway nearby, on property near the Chattahoochee in Cobb.
Chattahoochee River National Recreation Area Park Ranger Joseph Jarquin led the MDJ to a clearing where several of the plants were growing, protected by a deer wire fence. Orange flags marked M or F denoted the sex of each plant.
Jarquin said a big part of his job is removing non-native plants, which can threaten vulnerable native species. Often, these come from peoples' yards or gardens.
"A big thing concerned folks can do is ask questions and support local nurseries," Jarquin said. "Check with your local nature centers for information; they often have native plant sales, also. When in doubt, just stay away from English ivy, privet and autumn olive, my top three unwanted invasive plants."
Patrick said gardeners can help these vulnerable plants by becoming a botanical guardian through the State Botanical Garden of Georgia in Athens, joining the Georgia Botanical Society, the Georgia Native Plant Society or a botanical garden and volunteering to support projects that help rare plants.
He said buying or renewing a Georgia DNR license plate — the one with the eagle or the one with the hummingbird — sends money to Georgia's Nongame Wildlife Conservation Fund, which helps protect rare plants and animals and their habitats.