MARIETTA — A smart traffic signal network that Marietta was the first jurisdiction in the country to fully integrate is paying off big time, city staff say.
It has been 18 months since the network, which automates traffic signal changes based on real-time vehicle and pedestrian data, was implemented, linking software in all the fire and emergency response vehicles as well as each intersection in the city's 23 square miles.
In that time, there have been 20,000 fire and emergency calls in Marietta, City Manager Bill Bruton said, and on average, each response by personnel to those calls has been shortened by one minute as a result of the smart signal network.
That's a conservative estimate based on a 10-second time saving at each intersection, Bruton said, but one that is remarkable by any standards.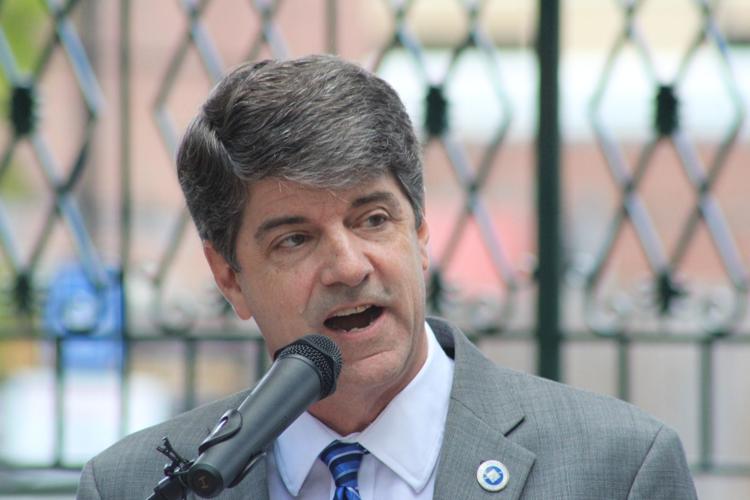 "If everybody in the country had what we have now in Marietta, more than 300,000 lives would be saved every year," he said, citing a 2009 Columbia University study on shortened emergency response times. "When patients are in medical distress, a minute can make all the difference. This is truly a life-saving achievement for our city."
With the system, traffic lights automatically switch to allow fire and emergency vehicles an unhindered journey through intersections, meaning those vehicles never have to stop at a red light or attempt to push through right-of-way traffic.
"This creates a much safer traffic situation for firefighters and the public," Bruton said.
Marietta was given a state award for technology innovation Friday as a result of its success with the connected transportation network.
In place of Gov. Brian Kemp, Georgia Chief Information Officer Calvin Rhodes presented the Technology Innovation Showcase award to Marietta Mayor Steve Tumlin at Marietta Square in front of about 50 people.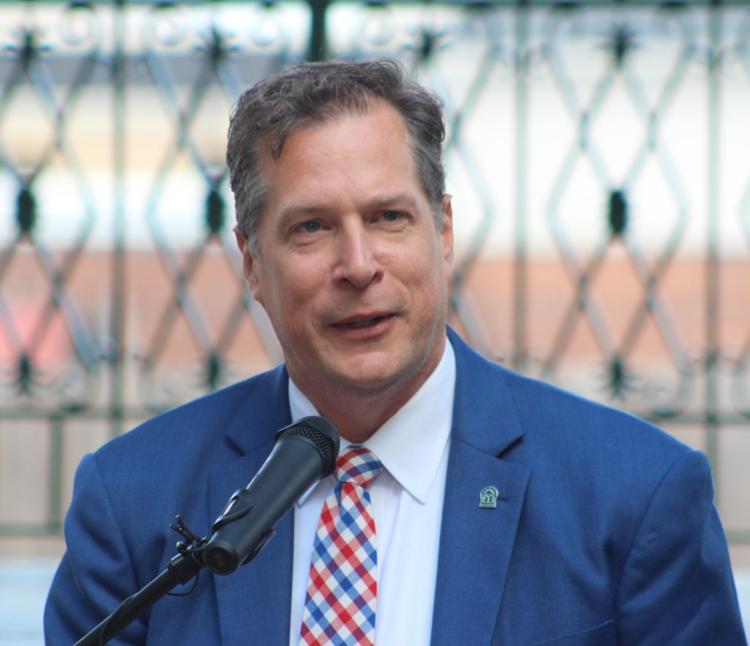 "Being first to accomplish something in the nation is certainly something to be proud of," Rhodes said. "Congratulations to the city."
Marietta also has a hands-free mobile phone application for its smart traffic signal network, allowing users on foot, bicycle or in cars to get real-time information as they journey through the city.
The free app, which is also a U.S. first, tells users when they're about to hit a red light, or how long they have to wait at an intersection before a green light, and if they're approaching a school zone with lower speed limits.
It also alerts users to approaching emergency vehicles so they can get out of the way safely, and indicates whether pedestrians are about to cross the road.
The system as a whole means there is less chance of crashes at intersections caused by emergency vehicles struggling to get through traffic, Bruton said. It also makes all users more aware of the traffic conditions around them, which could lead to a range of other benefits.
Marietta is now working with CobbLinc to expand its smart signal network to include public transport.
That's also something Cobb's government is looking at for the county as a whole, in conjunction with the Atlanta-Region Transit Link Authority.
"This is just the beginning of even better to come," Tumlin said. "We're proud for the city of Marietta to be part of this."
Bruton said without the technology, Marietta would be faced with the cost of building new fire stations and adding emergency vehicles and personnel to its annual budgets to combat the worsening traffic congestion in Cobb.
A new fire station costs around $4 million to build, while each fire truck would set the city back around half a million, Bruton said, making the much cheaper smart traffic signal network a no-brainer.