MARIETTA — He's delivered far more than mail and packages to Marietta residents, but on Thursday, residents delivered well wishes to Floyd Martin on the day he closed out his 35 years of work with the United States Postal Service.
Congratulatory balloons and signs displayed on many of the mailboxes along Cleburne, Maple, Ridge and Stewart avenues, Cascade Drive and other roads on his route wished "Mr. Floyd" a happy retirement. Other residents used sidewalk chalk to paint their praises on the walkway, driveway and even the roadway.
And after Martin finished his route for the day, he was greeted by residents of many of the nearly 500 households on his route at a neighborhood retirement party held at Taylor Park at the cul-de-sac of Awtrey and Camp streets.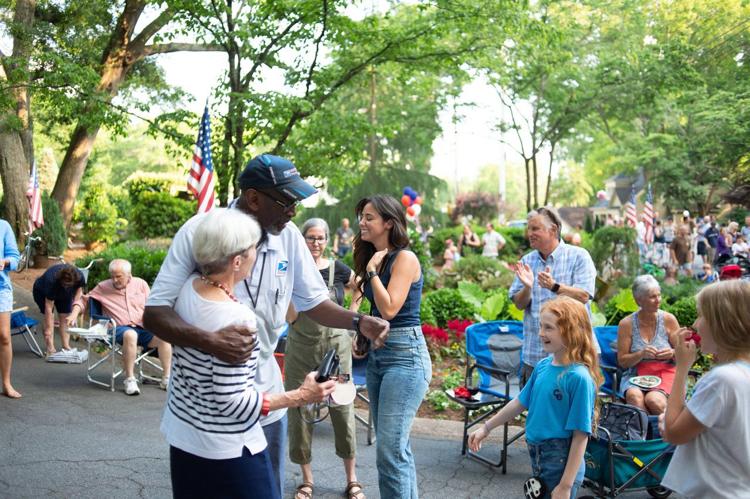 "He always has dog treats for the dogs, he leaves dog treats in the mailboxes, he gives kids suckers. He is just really an incredible guy, and he is such an asset to our neighborhood and we wanted to celebrate him a little on the occasion of his retirement," said Sarah Bullington, who helped set up the party.
Martin, a 1975 Marietta High graduate who now resides in Atlanta, said those who reside on his route are among the reasons he has stayed with the job day in and day out.
"It's more than a customer-mailman relationship — it's customer-friend. We've gone through things together," Martin says. "We've known each other that long, I've watched their kids grow up — go to school, get married, gifts for Thanksgiving, gifts for Easter, gifts for everything that came up, there was something in the box."
What does Martin plan to do now after retirement?
"Enjoying life. Not being on a schedule, not being rushed, just enjoying the next phase of my life. I'm fine with just staying at home, watching TV. I'm pretty low key," Martin says, saying some of his favorite shows include "The Amazing Race," "Survivor" and "The Golden Girls" reruns.
But the now-former mail carrier could soon be carried off to Hawaii with more than 1,000 donors contributing over $22,000 to two GoFundMe accounts aimed at sending him on the trip. Donations are still coming in. Poole said contributions to Martin via Venmo and cards hand-delivered to him totaled another $5,000-plus.
'THAT'S JUST WHAT HE DOES'
The 61-year-old Martin is retiring after more than 20 years on the same Marietta route, with customers recalling countless times he went above and beyond his mere call of duty.
Emily Hogarth of Maple Avenue retold how she had once ordered a box of vintage Christmas ornaments online, but to her dismay, tracking information on the package showed it lost and unable to be found.
"My heart sank — they were just ornaments, but I was so excited to get them. I posted on social media and Floyd saw my post," Hogarth said. "He jumped in his car after hours to head to the post office sorting facility to try to find my package. Only Floyd would be able to locate the lost package, navigate the stopped train on the railroad tracks and the traffic on the loop due to the rain and wait until I got home to literally hand-deliver my package. That's just what he does. He takes care of the people on his route like they are friends. Things like this only happen in Marietta."
Martin had been one of the first people to meet Cleburne Avenue resident's Trish Nichoas' two children after they were born — they are now 19 and 17.
"He brought packages to my door when I had my babies so I would not have to walk up the hill, and since we are Facebook friends, if I ever forget, as I often do, to ask him to hold our mail, he messages me if he sees we are away to see if he can hold our mail," Nicolas said. "He was so sweet to write a card and give a gift to our son upon his high school graduation."
Furry ones on Martin's route were also well taken care of, resident Allison Callahan said.
"I am pretty sure he spends half of his earnings on dog treats. My dog, who is a complete non-barker, barks when she hears any mail truck, because she thinks it is Floyd coming to give her treats," Callahan said, but added that the pooch was not the only family member enamored with Martin.
"For the longest time, our eldest daughter thought that Floyd bought her things, because he would always personally deliver boxes if we were home," Callahan added. "One Easter she was wearing a pair of new pink shoes my sister mailed to us as a present, and someone at church said, 'Oh, I love your shoes, where did you get them?' Her response was quick: 'Mr. Floyd got them for me!'"
ENTERING AND LEAVING A 'PHYSICAL JOB'
Martin says his entry into the postal service "happened by accident" while he was employed as a bank teller.
"I needed work — I took a test (with the postal service) in 1981. It took four years for them to contact me — by that time, I was working and had moved out," Martin said. "My mom said I have someone here from the post office. I said, 'Well, what do they want? I'm working now; I have a job.' She said, 'Well, maybe you should go in and talk to them.' Well, I went in for an interview and they told me how much money I could make, which was double what I was making at the bank after four years, and I'm like, 'When do you want me to start?"
It hasn't always been an easy job, he says, adding that his load now seemingly includes more packages than in previous years due to the prevalence of Amazon and other online retailers.
But it has always been a "very physical" job, he says, involving a lot of trips in and out of his mail truck due to many homes having their mailboxes on the house itself.
There was neither snow nor rain nor gloom of night to slow Martin's final route Thursday — just warm temperatures ahead of a heat wave expected to cook the Southeastern United States over Memorial Day weekend. Thursday's afternoon temperatures in Marietta reached the high 80s, according to National Weather Service weather observation data.
"My intention was to beat the heat — I decided last summer that I would not go through another summer in that truck. It's 10 degrees hotter in the truck. I can't do it. So I said that I would not work another summer, and that was my plan, although it's hot like summer now," Martin said Thursday morning as he sipped on a cup of iced water while sitting on the front porch of Becky Poole's Cascade Drive home late Thursday morning.
Poole's poster on her family's mailbox was the first Martin saw on social media that day.
"I love my customers. I could've bidded on an easier route years ago (due to seniority), but it wouldn't be my people," he said. "We had established such good relationships, I would not leave them. They were like family."
His customers had also been there after his mother passed away in 2016 at the age of 93.
"Becky and her sister and brother-in-law went, and that just meant the world to me. I just saw them and I just broke down. They were like family. I saw them and I just was so filled with love from them just being there and supporting me, it touched me. It's something I'll never forget."
His family still consists of his brother and two sisters, and at home, his dog and two cats. Martin said his only regret was that his mother was not around to see the reception from his extended family.
"She would be really proud," he said. "I wanted to quit, and she just said, 'Hang in there, baby,' and I held onto those words, and I lasted 35 years."