On April 15, Rod McLean, 49, became vice president of Lockheed Martin Aeronautics and general manager of the company's Marietta facility.
A 25-year Lockheed Martin employee, McLean, who previously served as Lockheed's vice president and general manager for its Integrated Fighter Group organization, succeeds the retiring George Shultz.
His responsibilities as leader of the Air Mobility and Maritime Missions organization will see him responsible for the C-130, LM-100J, C-5 and P-3 programs. In addition to leading the Marietta facility, McLean will oversee sub-assembly sites in Clarksburg, West Virginia, and Meridian, Mississippi.
"The future is bright for Marietta," McLean said, pointing to the site's role in manufacturing current aircraft, modifying legacy aircraft and potential to produce some of the company's future technologies.
McLean sat down Wednesday for a wide-ranging interview at the Marietta Daily Journal.
Below are excerpts from that interview. His responses have been edited for both brevity and clarity.
Q: Tell us about yourself — how did you get to this point, and what's your history with Lockheed?
A:I'm very excited to be a part of the Marietta community. I went to school here at Georgia Tech after finishing undergrad at North Carolina (Agricultural and Technical) State University on an undergrad degree in engineering. I had a chance to come to grad school here at Georgia Tech, and I've now made the full circle. After finishing grad school. I worked in Moorestown, New Jersey. I've always had an interest in aerospace and defense, and it was a dream to come work with Lockheed Martin, and having a chance to work initially in Moorestown, New Jersey, with the Aegis weapon system, the Navy's premier ship-based weapon system for the cruisers and destroyers. Learned a lot about the company, and more importantly, learned a lot about the culture. And that's the main reason why I've been here for 25 years with the company. I have enjoyed being challenged, have enjoyed the variety of experiences I've had, and the most important part, really, the people. The people make the company, and as I've worked across many different sites, really have enjoyed the relationships I've established with my peers, and I've learned from them and I've grown from them, which is a lot of the reasons why I'm here today. ...
I've always had an interest in aerospace. I think if I had to do it all over again, I probably would be a pilot, but probably can't reverse the clock at my age, but nevertheless, I'm excited to have the opportunity to work for Aeronautics out of Fort Worth, Texas, initially, and I spent almost 11 years at Fort Worth, initially working the F-16 program as a program director, and continued to perform. And fortunately, I worked in an environment where my value was recognized and continued to take on broader responsibilities.
One thing that I was certainly pleased with and excited about when I started working was meeting the employees.
One individual approached me as I walked down the hallway, said, "Mr. McLean, just want to welcome you to Marietta, and I just want you to know that my father re-opened this place in 1951, and I've had a chance to work on just about every airplane that we've used here, and just the joy of working on these aircraft, and more importantly, the leadership's support of what I do has been remarkable, which is why I've been here almost 55 years." It's so amazing to meet people like that. He's just one of several that I've met that have really been excited about the work that we do, knowing that we serve such key mission in supporting our war fighter, not just for the U.S., but really across the globe.
Another thing that excited me about this business unit, the C-130J, which is our latest version of the C-130 Hercules, is certainly a dominant aircraft in the tactical mobility market. And as I've had a chance to speak to the customers and engage with them to understand what is the customer's perspective of the product, overwhelmingly they have said "We are significantly pleased with the C-130J," and, "The only thing that can replace a Hercules is another Hercules."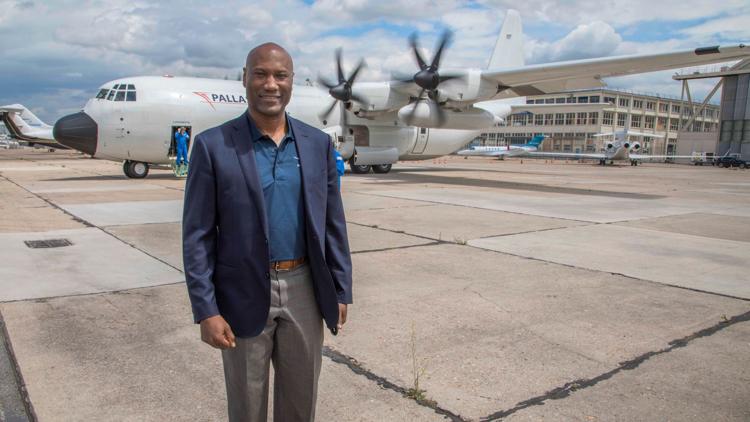 Q: Am I correct to say it's the oldest, longest-produced military aircraft of all time?
A: Yeah, the longest-produced military aircraft. Almost 65 years. And although their frame may look the same, we've continued to provide avionics updates and modernization opportunities for the Hercules and even today, the C-130J, significant improvement in reliability, maintaining building availability and also a range of performance because of the improvements in the engine technology and the avionics and the modern technology we brought into the aircraft.
The C-130 is the heart of Marietta. It has been the heart. We're going to continue to produce the airplane for years to come. We are in the process now of finalizing a multi-year-three contract, which will continue to modernize the U.S. Air Force and U.S. Coast Guard aircraft, as well as the special operation forces. So we still see opportunities well into the future for new production programs and also sustaining those airplanes. We've delivered over 2,000-plus airplanes to date, and our sustainment role, we look to continue to partner with not only our domestic customer, but also our international partners to ensure that they can sustain, operate, maintain the aircraft for as long as they desire.
That's still one of the challenges, too — we have some that are over 50 years old and they're still flying, and so they're still part of the fleet. We're starting to see some users recapitalize and buy new, and there's some that continued to modernize the airplanes that they have.
In addition, we still are supporting the C-5 aircraft, which is a strategic airlift airplane. Feedback is once again very positive as well, as we had a program to re-engine the airplane and also provide an avionics upgrade, and the feedback once again from the customers that were ecstatic about the improvements, because now when we go out to operate the airplane, it's available, it can support the mission requirements, and with the improved engines, they have more range available now than what they had before.
Lockheed Martin has been very fortunate to win several new development programs out of our Advanced Development Program (ADP) organization. Historically, that really has been the engine of many of our exciting technologies and exciting aircraft that have come out of Lockheed Martin. The F-22, for example, was built out of our ADP organization prototypes, and then when we needed to go to large-scale production, we brought that work to Marietta. And there've been several new programs that Lockheed Martin Aeronautics, we've won, that are in that C-development stage out of skunkworks, ADP, to the point that we've now brought even ADP engineers to Marietta, because we recognize that we need to source talent from not just California, but also Fort Worth and also Georgia and all the regional schools that we have here.
So we're certainly reaching out to the community, bringing in new talent to support many of the new programs that we have won that are in the early stages of development, and at some point we'll prototype those airplanes, demonstrate they can achieve their mission requirements and then produce those in large scale. We're in the process now of doing that planning to determine how they'll fit in the Marietta facility, and still, it is a competition within Aeronautics as to where their work will go. So we're taking the steps now to try to be as efficient as possible, reduce our footprint to represent ourselves as a very affordable, affordable location and the site of choice to produce these airplanes. At some point in the future, we'll make those down-selects and say where will we produce that next airplane or that next vehicle. Because it's a combination of certainly manned, and unmanned, that we are in the early phases of development.
Q: That's very interesting. Unmanned? We're not there yet though, right?
A: Well, Lockheed Martin is in the unmanned vehicle business, so we do have unmanned vehicles. They're not at Marietta, but Lockheed Martin Aeronautics. But the point is we will need to build these aircraft at scale, right? And we want to position Marietta as a site of choice to produce those airplanes and those vehicles, or components of those vehicles at the appropriate time. So it's still not clearly definitive when that date is, but some things could happen as early as next year, depending upon how the development goes.
Q: In terms of size, where does the Marietta plant rank, let's say employee-wise?
A: We are the second largest site in Aeronautics. The first is in Fort Worth. We have about 4,700 employees here in Marietta. Aeronautics in Fort Worth has approximately 15,000, just to compare it. And that's primarily because of the F-35 program. We have grown the employee base there pretty significantly over the last two, three years with the ramp-up in production. But it goes to show how employment can increase with new work.
Q: Your bio said in addition to the Marietta plant, you're responsible for several other out-of-state sites?
A: Yes, Meridian, Mississippi is another feeder plant to the Marietta site, they build C-130s there. And Clarksburg, West Virginia, they provide once again, components that we then ship to Marietta to assemble with the C-130 primarily.
Q: Lockheed and Dobbins Air Reserve Base have always had a very strong partnership, but obviously there's always ongoing discussions about closing bases, and Dobbins has been in those talks — never actually happened, but have been in that. How important is Dobbins to Lockheed, and if Dobbins were to close, would that threaten the Marietta plant?
A: Well, we certainly have appreciated the long-term relationship, like you said before, with Dobbins Air Reserve Base, and we do have a strong partnership, certainly, in sharing some of the resources there — in particular, the runway, and there are some responsibilities that they have in maintaining and supporting and manning the control tower, as an example. There are some joint uses of facilities that would be a challenge for Lockheed Martin as a whole to absorb the cost potentially to maintain and support that. So it's very important, critically important, that Dobbins remains at the present here just to continue that relationship and partnership going forward.
Q: Speaking of the runway, so they're talking about opening the runway to more business development, commercial, et cetera. How does that affect Lockheed? How does Lockheed feel about that?
A: Once again, we are in support of having a joint use runway. It's early in discussions. We would need to understand what types of opportunities would the runway be used for, so we are still concerned about the usage of it because it would potentially bring more air traffic to the area, but something we have to monitor. In general, we are in support of it because we know that it's for the benefit of the community and could bring additional work in the area.
(Lockheed Martin and Dobbins), we have a shared purpose in what we use the campus at large for. If, by some chance, there was a BRAC (Base Realignment and Closure Act action), we don't know how that other space would be utilized — would it be non-military, could it be a commercial entity that would then have restrictions on flight operations? So those are the things that we're very concerned about because we will continue to develop and build and fly airplanes out of the runway, so anything that would move into that campus that would restrict those operations would be a challenge, because we have monthly commitments to deliver aircraft and when the airplane is ready to fly, we need to make sure it's ready to fly. There is no window that lets us say, "Well, not today, maybe next week, because there are other things happening and you have restricted use of their own way for whatever reasons." Those will be the types of concerns that we would have Dobbins were to be BRAC'd and other non-military usage would occur in that facility.
Q: Is there any talk of a BRAC in the future?
A: Not that I'm aware of. I think they (Dobbins) have a strong relationship, and I really can't comment on that … we haven't had those detailed conversations yet.
Q: I know we haven't really seen any fruits of the runway option opening at Dobbins, but could we possibly see that opening up to a Lockheed partner operating there or a customer, or do you think that's going to be more of a competitor if that's opened up to somebody else other than Lockheed?
A: Once again, it's hard to say. it depends on who occupies the space, because it could be very well a key partner. As you know, we have signed an agreement with Airbus to pursue strategic tanking. That's one of another key initiatives that we have embarked upon to once again grow the business opportunities with Lockheed Martin.
Q: Why is Marietta an important facility for Lockheed?
A: Marietta truly is a national asset. We have unique facilities on Air Force Plant Six that don't exist anywhere in the world. (For instance), we still fly F-22s back here on a regular basis to do some additional work. … That's the only facility in the world right now that's operational for the F-22.
The L-10 facility where we did the C-5 re-engining program — the only place currently that's available in the world that you can park two C-5s, and really four, because there's space around the back for C-5s and C-5-size aircraft, uh, and do maintenance operations there, as well as if you want to do other new build as well. So once again, some very unique facilities that even within Lockheed Martin we don't have elsewhere, which is why Marietta is an attractive place to bring new work. …
Marietta is critical to Lockheed Martin Aeronautics success and sustain our presence in the air mobility market. … Marietta is ideally suited to produce in quantity, larger quantity, some of the new development programs that are in early stages of development, but we still have work to do to ensure that we are affordable and positioned well to bring the business here.
Q: A lot of people in the community who really value Lockheed will take heart in hearing that.
A: The future is bright for Marietta. I'm excited about the opportunities that exist. We have to, first of all, perform on our current programs, because we are fortunate to have long-term contracts that will support both our domestic and international customers. You know, the C-130 today is operated by almost 70 customers today across the globe. And even right now we are pursuing, you know, new production opportunities for customers in southeast Asia and the Middle East, so there's still demand for new production programs. And at the same time, like I said, we are positioning ourselves to bring on new work, new programs in addition to entering the strategic air refueling market, partnering with Airbus to serve a current need both near-term and long-term need, in aerial refueling.
Q: When you leave this position and move onto your next, what is it you'd like people to say about your legacy and what you accomplished here?
A: I would say that 'Rod cared a lot about the people and created an environment where employees could thrive, where they were energized and therefore created new opportunities for Marietta that had allowed it to grow and prosper beyond anyone's expectation.'
Q: You and other officials cut the ribbon a couple of months ago now on the Georgia Tech Research Institute expansion. How does that sort of factor into Lockheed?
A: We're pleased to certainly have the opportunity to partner with GTRI, first of all, to transition what used to be the F-22 facility. Uh, 'And that's part of the, as I said earlier, 'How do we position Marietta to be a success in the future?' There were some facilities that we were no longer using, and we were anxious to find the right partner, the right company, to transition some of those assets to and very pleased that GTRI was also expressing a need and interest to expand their facility and footprint. And so we've had a long relationship with Georgia Tech, not only just hiring their engineers,but still we're partnered on opportunities to support common interests in the defense space as well.
Q: Tell us a little about your personal life that's not on your bio. Have you settled in? What do you do in your free time, if you have any?
A: We found a home in Sandy Springs, and found a convenient path going against traffic. … Even just last night, I had a chance to hop on my bike, I enjoy biking. I do triathlons, and I do enjoy that. It's just becoming harder to train.
What's interesting, I've done a few marathons. My sister is a big marathoner, so her goal is to do a marathon in every state. So when she turned 50, I guess almost seven years ago, she said, "Hey, Rod, I'm doing the Disney marathon for the first time. Why don't you run with me?" So this was like in February, and she told me the marathon was gonna be in January, so 11 months to train. So I said, "Yes," and I signed up, and about three months, I received a promotion to be the (Integrated Fighter Group vice president and general manager), and my time just disappeared. So I still did the marathon, but it was very painful.
I'm turning 50 next year, so I signed up for the Disney marathon again, because now it's a 50-year event for the family. I signed up early in the year, and then I got this promotion. (Laughs) So maybe I should sign up for more marathons, right?
Q: As someone who is at the very top of his field, your mom and dad did something right. So what is some advice either your dad or your mom gave you that helped you to become who you are today?
A: It's all about work ethic and discipline. And having that early in life allowed me to overcome many challenges. Certainly being an engineer and being in this workforce, in this industry, you have a lot of challenges, but being able to be able to interact with others, to accept what you don't know and be open to seek advice and seek guidance and input, learn from that and then apply it, has been some of the hallmarks of what got me here. But also recognizing that anyone at this level certainly need support from other leaders, so I would say establishing relationships early in my career and being a consistent, proven performer.