Gas prices continue to soar in Georgia and Cobb, with residents adjusting their travel plans and spending budgets to account for the price increase and expensive commutes.
At $4.48 per gallon, Georgia's state average is 21 cents higher than a week ago, about 54 cents higher than a month ago and $1.57 higher than a year ago, according to data from AAA. Gas prices are subject to change overnight.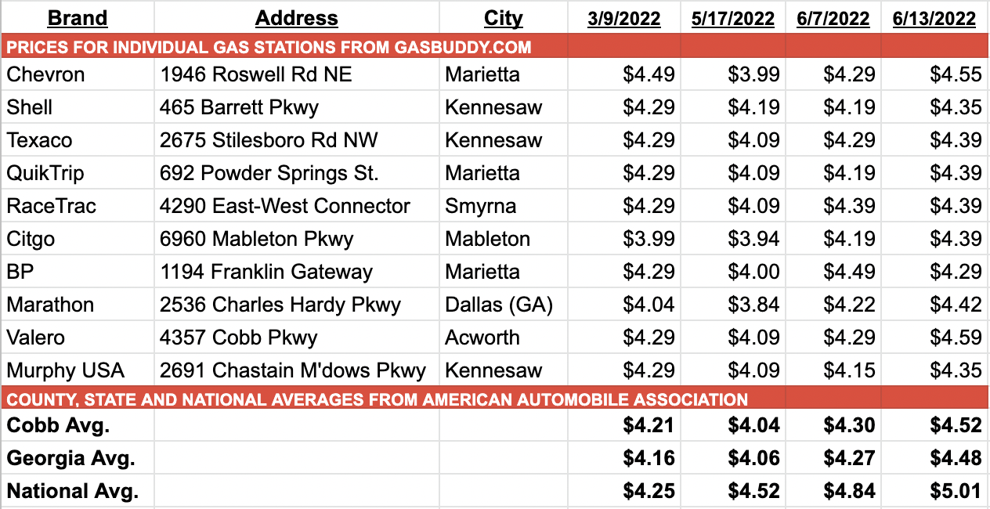 Drivers are adjusting to the new reality at the pump. Life University student Darius Law said his family had to cancel a trip to Florida because the gas prices were too high.
Law said he also noticed his drive from Life University to his home in Charlotte, North Carolina, has gotten more expensive, especially since his car requires premium gas.
"It's like $200 round trip just for gas," he said.
Long commutes can add up quickly for those who don't have the option of working from home. Beverly Reyes commutes from Norcross to Marietta for work, and she estimates that she spends about $300 per month on gas.
"There's little things that I have to sacrifice," she said. "Now, like budgeting, like going out to eat, I can't really do those things."
James Hill of Villa Rica spends more than an hour commuting to work each weekday.
"I have to drive to work, so, unfortunately, it is what it is," Hill said. "I generally spend about $400 a month for gas, so that's almost like $100 a week."
As of Monday, it costs drivers $67.20 to fill a 15-gallon tank of regular gasoline, which is nearly $24 more than it did a year ago, according to AAA data.
Despite the rapidly increasing prices in Georgia, the national average is even higher at $5.01 — 53 cents above the state average. This disparity is thanks in part to Gov. Brian Kemp's ongoing gas tax suspension that began on March 18 and was recently extended through July 14.
Still, Cobb residents said they have decreased their spending in other areas to account for the higher gas prices.
"I probably try to stay in more and try not to drive as much as I did before," Selena Candelaria of Marietta said. "I'm probably just spending less money on other stuff like clothes and materialistic stuff."
Jay Drammeh, who lives in Atlanta and commutes to Marietta, has stopped driving one of her coworkers home as much and dedicates more of her paycheck toward gas.
"I get paid every two weeks," she said. "I would delegate a bigger chunk than what I did usually to gas."
According to AAA, as far as Georgia metro markets, gas is most expensive in Atlanta, where it is $4.52, and least expensive in Catoosa-Dade-Walker, where it is $4.35.
As of Monday, the national average reached an all-time high since AAA began collecting data in 2000, the association said. As demand for gasoline increases during the busy summer season and global gasoline supply remains limited, the cost of gas continues to surge, AAA said.
"Based on the demand we're seeing, it seems high prices have not really deterred drivers," said Andrew Gross, a AAA spokesperson. "If prices stay at or above $5, we may see people start to change their daily driving habits or lifestyle, but it hasn't happened yet."
Over the last week, gasoline demand rose from 8.98 million barrels a day to 9.2 million barrels a day, according to data from AAA.
"It may be a good idea for Georgians to start setting aside some money now for upcoming road travel," AAA spokesperson Montrae Waiters said.