Do-si-do to the 68th National Square Dance Convention this Thursday through Saturday, June 27-29. The event is open to the public from 10 a.m.  to 10 p.m. each day. GO!
"The National Square Dance Convention is the world's greatest square dance event held each year, somewhere in the USA. This is the first time in 68 years it has come to Georgia. We will have approx 4,000 dancers from the USA and 13 other countries and provinces come together to dance," said Publicity Chair Connie Keener.
The National Square Dance Convention is more that just a dance. "Exhibition groups from all over USA are coming in to perform," she said. "There are education classes on going, a fashion show extravaganza on Saturday afternoon and many of types of dancing all day in many areas to watch. Live bands will be performing in the evening and squares, rounds, contra, line and clogging dancers will be showing off their moves all day, every day." 
The event brings dancers from all over the world together to dance.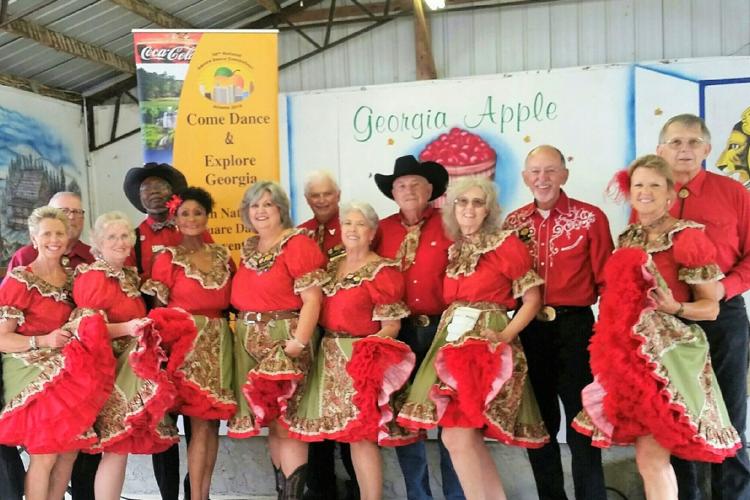 "The square dance motto is, 'Square dancing is friendship set to music.' It's a great party with lots of friends to meet. See people from all walks and cultures come together to dance," Keener added.
Gov. Brian Kemp proclaimed June as square dance month in Georgia.
"We will be square dancing on the walk bridge that runs from the Cobb Galleria Centre to SunTrust Park at 5 p.m. on Friday afternoon. If you are a dancer, you can register to attend all of the functions for $75 at the registration window on the seconnd floor of the nearby Renaissance Waverly Hotel. You can contact us at squaredancing7@gmail.com and we'll help you find lessons to learn to square dance," Keener said.
Visitors are welcomed to stroll through the convention activities. Visit the registration window in the Renaissance Waverly Hotel on the second floor, up escalator, to get the guest ribbon. No experience is needed to participate and admission is free but you must get a guest ribbon.