Cobb County rocks! Painted rocks, that is.
People have been painting rocks mostly anonymously and writing inspirational quotes on them, then hiding them in public places for people to find and brighten their days. I have seen a few around the Marietta Square but it appears the movement is on the move.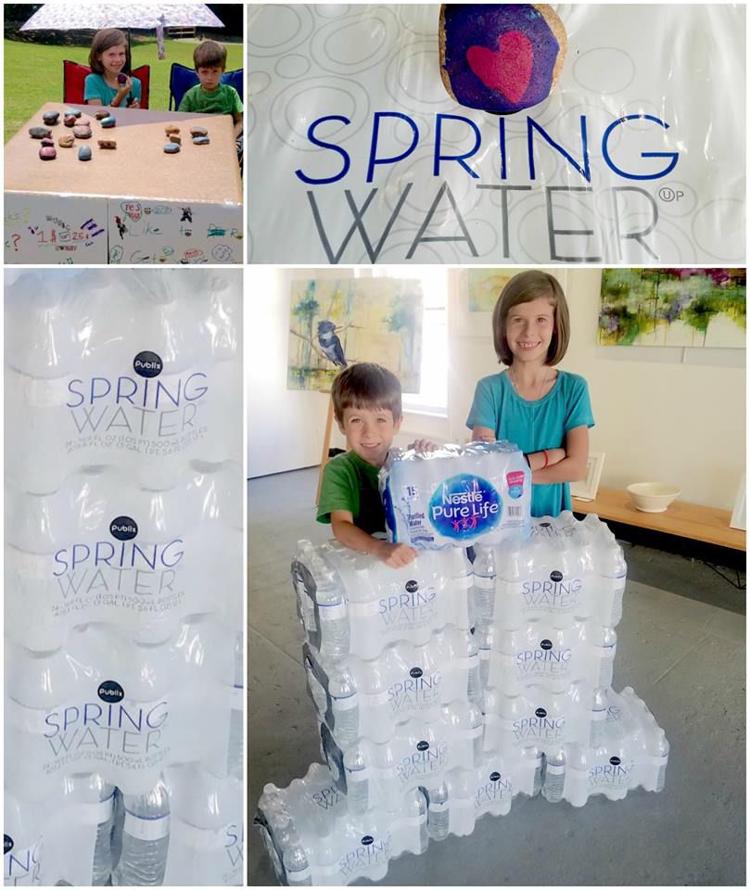 Over the Labor Day weekend, Amber Markay Byrd, owner of Markay Gallery on the Marietta Square, held a bottled water drive to help the victims of Hurricane Harvey. Their largest donation came from the smallest of donors, in Marietta children Emelia and Ethan (their mother asked that we not print their last names).
"They found some of the Marietta Rocks (painted rocks that are hidden around the Square like Easter Eggs)," Byrd explained to me, of the rocks I had previously seen on the Square. "The kids thought about how they could help raise money to buy water for Hurricane Harvey victims and decided to paint their own art rocks and sell them like a lemonade stand in their neighborhood. They raised money and purchased nine big cases of water (216 bottles of water) and delivered them to the Markay Gallery donation location on the Marietta Square."
"Thank you for giving back and for the very special art rock you made just for the gallery. You two have BIG hearts," Byrd added on Facebook.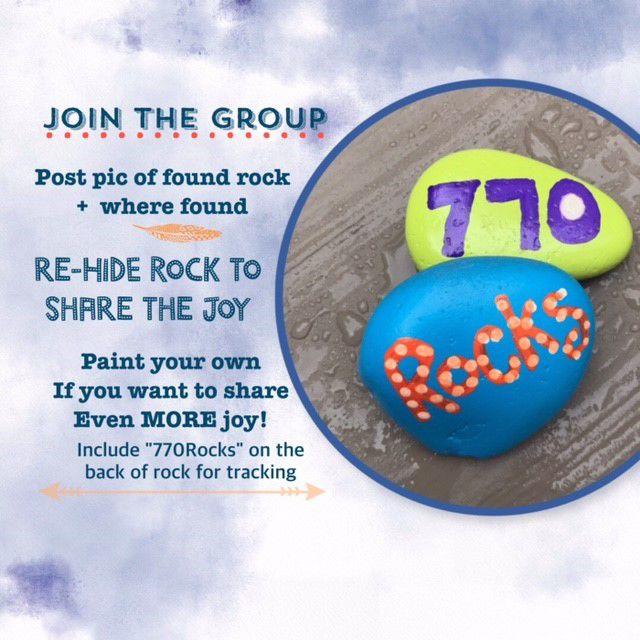 On the other side of town, in east Cobb, the painted rocks have become a community project called 770ROCKS. Kristi Siegel, one of the organizers of 770ROCKS, said the project has really taken off in the Northampton Subdivision located on Shallowford and Sandy Plains.
"A group of us began painting rocks with inspiration from the woman who started The Kindness Rocks Project a few years ago," Siegel explained. "The idea is simple: Paint a rock and include inspirational words on it such as 'hope', 'be happy', etc. '770ROCKS FACEBOOK' is written on back of the rock for tracking where the rock travels and who finds it. Hide the rock around the community for someone to find and be motivated, the finder either keeps or re-hides the rock and many go on to paint rocks to hide of their own. The kindness continues to spread!"
Siegel said groups of 770ROCKS members have gone into local schools to teach children how little, simple, painted rocks can bring joy to someone's day and how kindness spreads.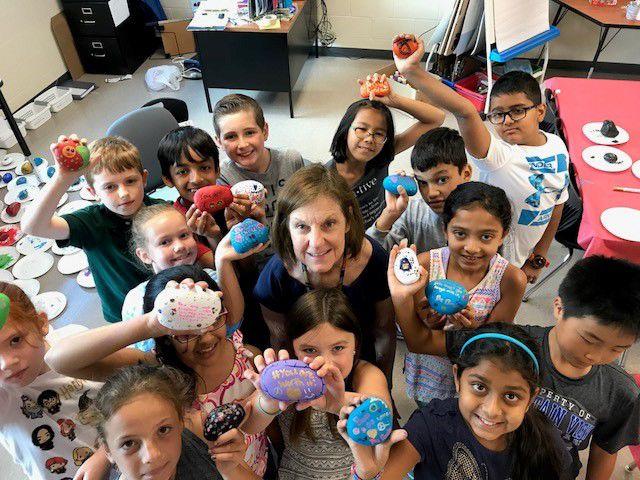 "We've also come together as a community to paint rocks to send in a big box to Charlottsville, Va. for a local school there to hide amongst their community to spread hope and love from Marietta, Ga. 770ROCKS has a goal to grow our group as big as possible here in this community of East Cobb so that our happy painted rocks make as many people smile as possible! This world needs more kindness and we intend to pass it along to as many as we can."
Atlanta Air Charter, Inc. and Mountain Motorsports have teamed up to collect and deliver much needed supplies to Hurricane Harvey victims in Houston, Texas.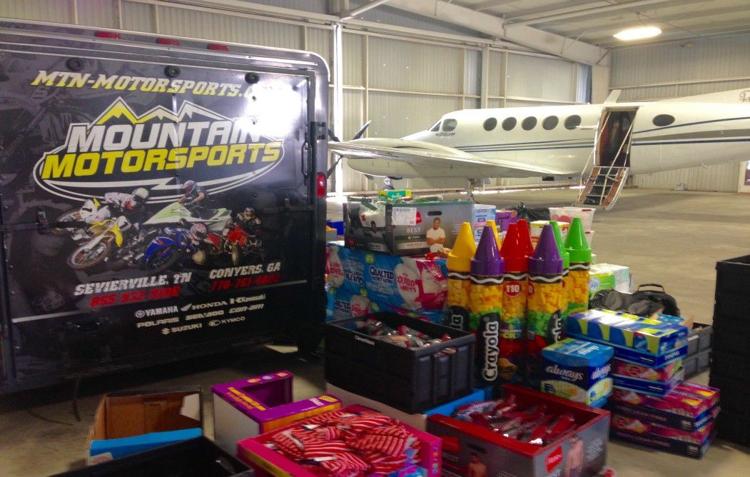 On Saturday, Sept. 2, a fully-loaded King Air 200 departed Cobb County International Airport at 1 p.m., destined for Houston's Hobby Airport. Dustin Farthing, President of Mountain Motorsports of Marietta, contacted Atlanta Air Charter with his vision to help families affected by flooding caused by the hurricane. The team at Atlanta Air Charter immediately responded and was happy to assist. Their mission was to transport numerous pallets of fresh water, blankets, clothing, toys and baby supplies to those families in dire need.
No matter what race or walk of life, people helping people in Texas have been an inspiration to many Americans, and Dustin decided to be at the forefront of the effort to make a true, valuable contribution. Atlanta Air Charter, Inc. had offered up one of their King Airs free of charge to assist Dustin and several company employees helped to load all the cargo onto the airplane in Cobb County. Atlanta Air Charter's managing partner, Chip Kaczynski, cleared the path with the authorities in Houston so the team would be permitted to land and offload their cargo at the MillionAir Terminal at Hobby Airport. Retired USAFR Colonel Don Fletcher piloted the flight, alongside Connor Schalk.
The Mountain Motor Sports/Atlanta Air Charter team was on standby over the Labor Day Weekend in Houston to help local volunteers in facilitating the distribution of bottled water, food, and supplies.
Chip Kaczynski, Managing Partner, Atlanta Air Charter, Inc.
We stopped by Argyle Elementary School to read to the K-2nd graders and talked to them about what we do to keep them and their families safe! The two deputies are Deputy Tracey Melton and Deputy Michael McFall. The book they were reading is "Officer Buckle and Gloria."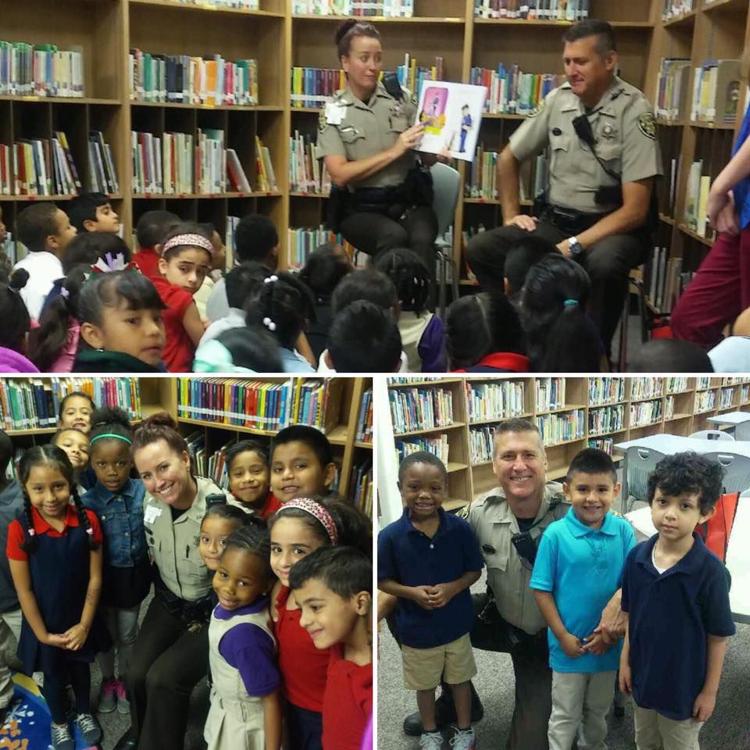 Cobb County Sheriff Neil Warren