In times like these, the good in people shines.
Since March 2020, the MDJ has been reporting on acts of kindness, goodwill and generosity during the coronavirus pandemic.
If you know of an instance of benevolence — on any scale — and are willing to share with MDJ readers, tell us your story.
Friday, Jan. 21
Thank you to all who participated in the Betty White Challenge on Jan. 17. A total of $3,000 was donated, which will provide much needed food, supplies, and care for the animals in the Cobb Animal Services shelter.
Actress, animal lover, and animal advocate, Betty White, would have turned 100-years old on Jan. 17. Her death on New Year's Eve has sparked a challenge to donate to animal shelters on her birthday.
Even though the date has passed, it is not too late to make a donation or to volunteer. Help is always needed and appreciated.
Cobb Animal Services is also running a Big Love Adoption Special. Participants can get their forever friend, that weighs 40 pounds or more, for only $20. That is more than 82% off the regular price for the next few weeks. The special ends Feb. 14.
Life University recently donated 50 school desks to benefit Family Connection and Communities in Schools of Glascock County with assistance from the Communities in Schools of Georgia and The Home Depot.
Life U Executive Director of Development Angela Getter coordinated with CISGA Board Member Arlethia Perry-Johnson and State Director, President and CEO of CISGA Carol Lewis to rehome these vital resources. Life U became a financial supporter of CISGA in 2021, so this donation is yet another extension of that commitment.
CISGA serves as a statewide drop-out prevention organization working in schools and beyond. CISGA accepted the donation of 50 desks and reached out to a local partner that would most benefit from them. Thus the desks found their home at FCCIS-GC Inc., headed by Executive Director Wanda Davis.
-From District 3 Cobb County Commissioner Joann K. Birrell's newsletter
---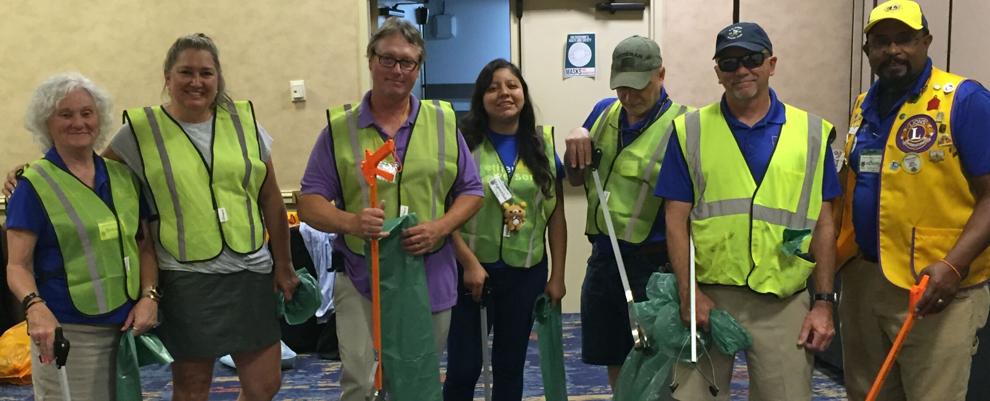 The South Cobb Lions Club honored the MLK Jr. Day Of Service by braving the cold weather and cleaning up 33 bags of litter from Hillcrest Drive, Whispering Pines Road and their adopted Lions Club Drive. We had lots of fun and the cold was not a big problem because the work kept us warm. Those areas look much better now and it was a great way to celebrate the MLK Jr. Holiday.
If you are interested in the adopt-a-mile program, please reach out to Dawn at keepcobbbeautiful@cobbcounty.org. She will take you through the simple process and supply you with everything that you need.
---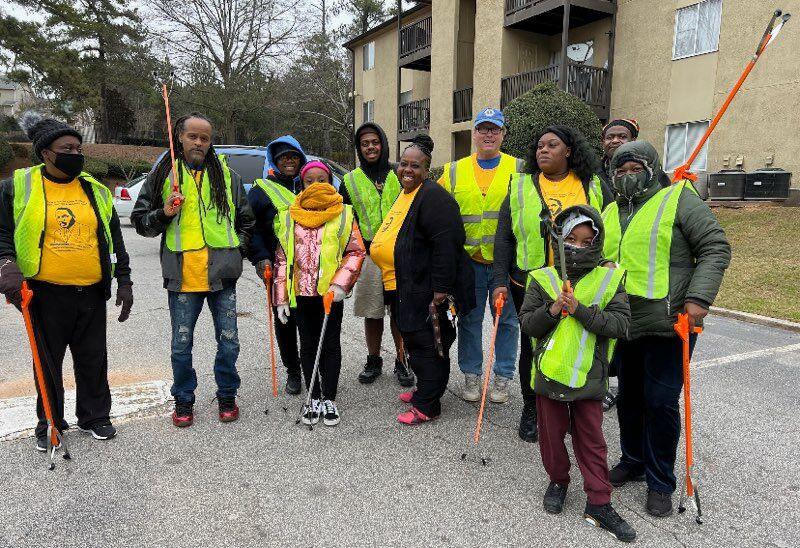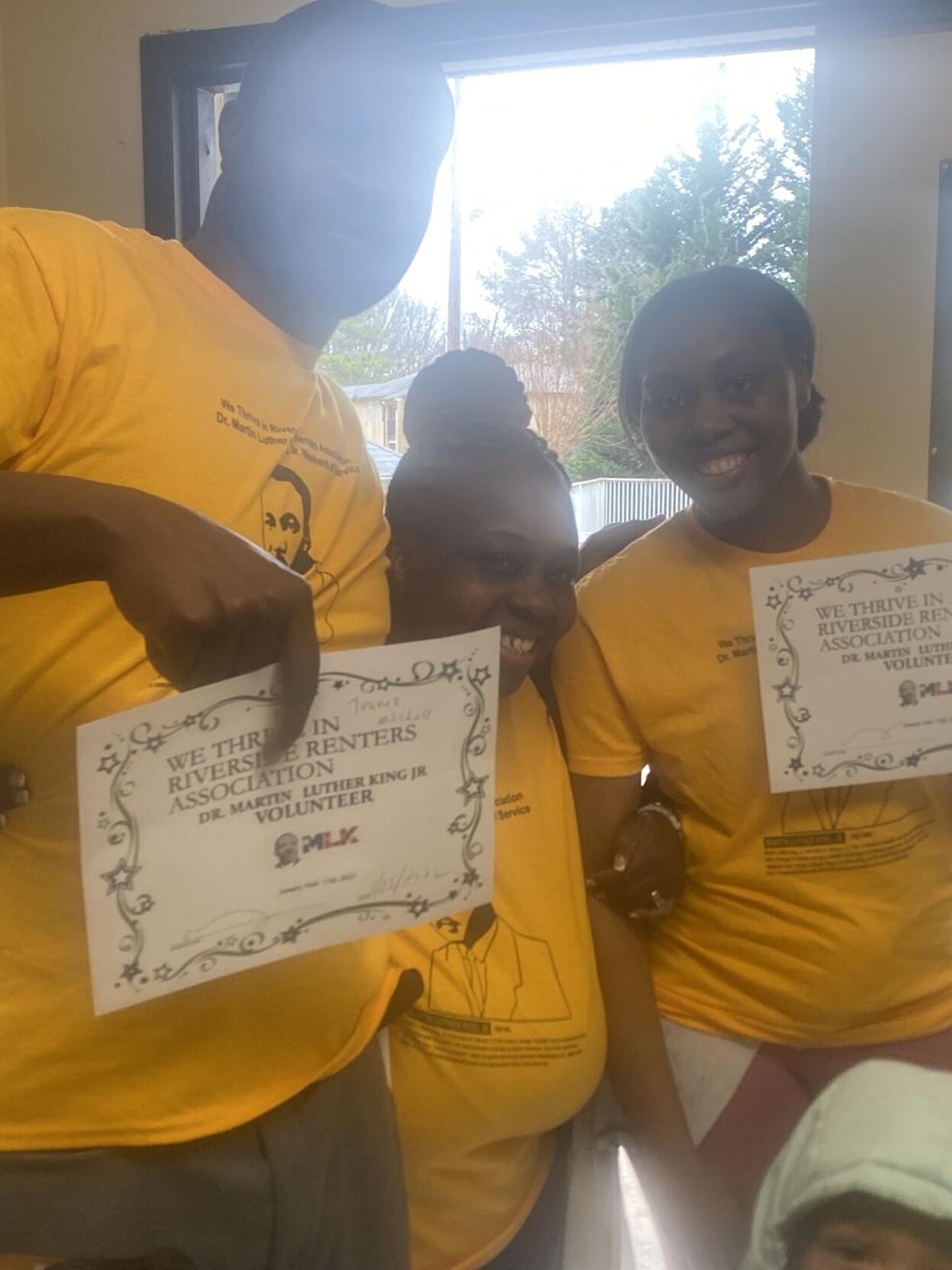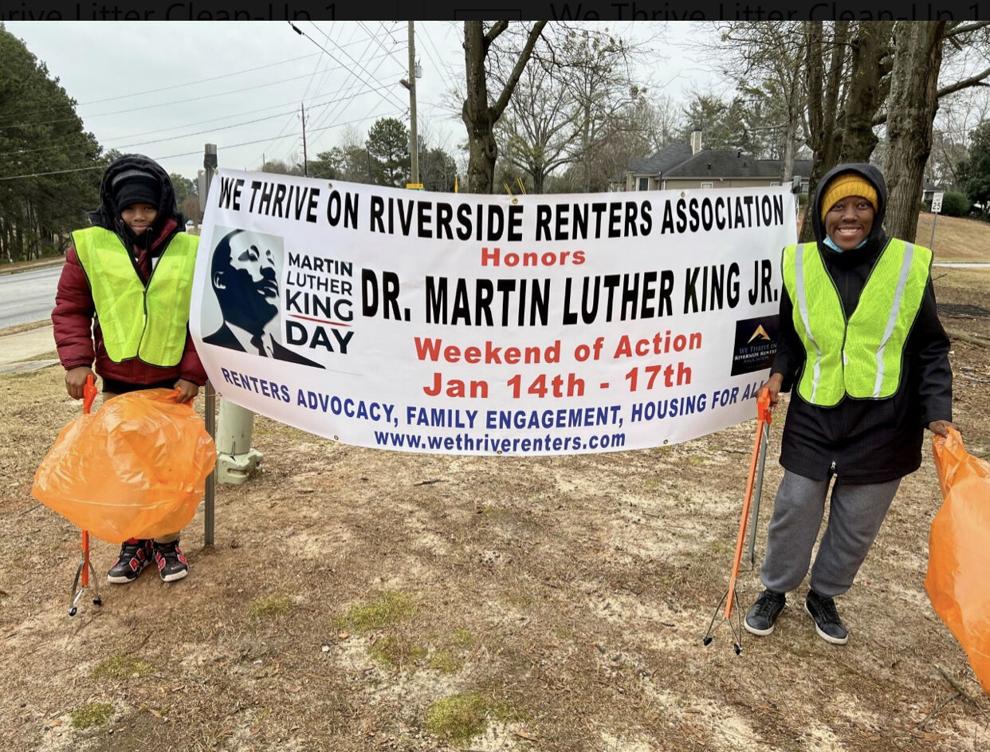 We Thrive on Riverside Renters Association observed Dr. Martin Luther King Jr. holiday with a weekend of action events. Jan. 14, volunteers kicked off renters advocacy with a movie night at the Thrive Resource Center at Kingsley Village Apartments in Austell. Jan. 15, was a packed day of action volunteers were able to participate in thriving and healthy workshop, life after high school planning workshop, a community clean up and a family game night. Over 220 volunteer hours were earned by the volunteers. Jan. 17 was a day of reflection as volunteers supported the Cobb NAACP Dr. MLK program. We Thrive on Riverside Renters Association hosted a resource connection zoom night that evening as we shared resources. Thank you to volunteers and community partners for participation with We Thrive on Riverside Renters Association's Dr. Martin Luther King Jr. weekend of action
---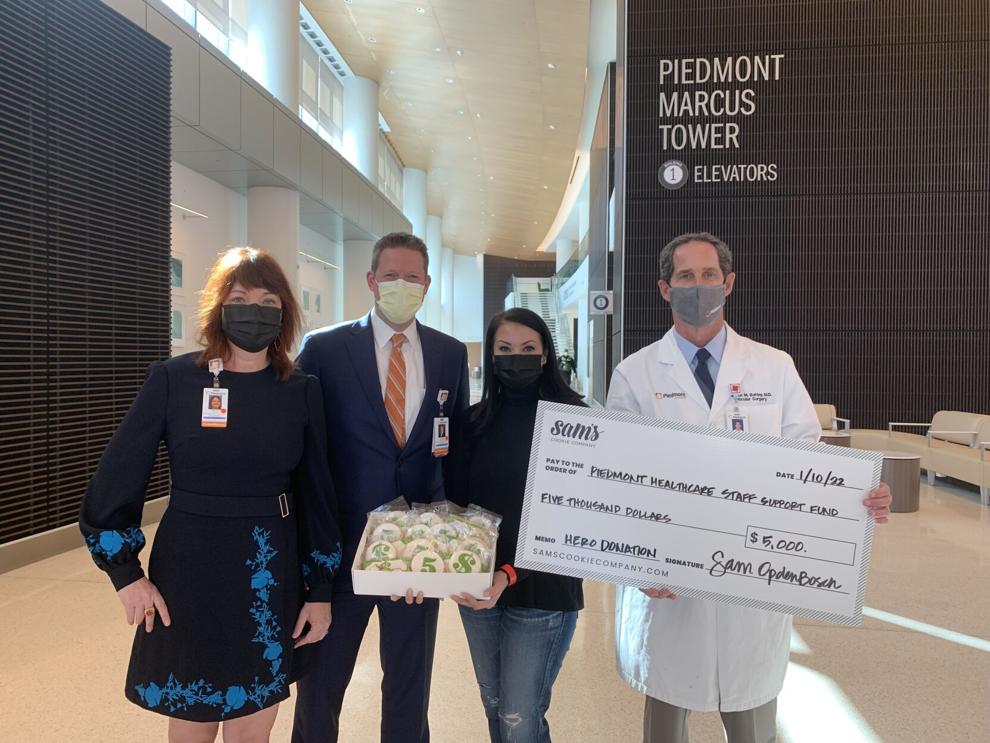 Marietta resident Sam Opdenbosch, owner of Sam's Cookie Company, thought she had just missed her chance to compete in an episode of the "Christmas Cookie Challenge" on the Food Network, when she was named an alternate. But one morning in April 2021, she got the call: a baker was sick and she needed to drive from Georgia to Tennessee for filming with Ree Drummond and Eddie Jackson the next day, starting at 7 a.m.
The furniture salesperson by day and cookie entrepreneur by night got in her car.
Opdenbosch ended up winning the competition – with its $10,000 prize. The successful cookies were a lemon llama and polar bear, followed by a 3-D snowman sugar cookie with chocolate espresso blackberry cookie arms and snowflakes. The episode featuring Opdenbosch, "Reindeer Auditions," aired on Dec. 23.
Opdenbosch said she felt so lucky to participate and win that she decided to donate the prize money. She selected as beneficiaries a staff support fund at Piedmont Atlanta Hospital as well as Angels Among Us Pet Rescue and Furkids Animal Rescue & Shelters.
"I felt like it was just serendipity that I was able to be on the show. And then just considering what's been going on with COVID, I just felt like it was the right thing to do," Opdenbosch said. "The healthcare industry is being taxed beyond what anybody ever anticipated and so the opportunity to give
back is just so overwhelming."
The Piedmont staff support fund pays for initiatives that help raise employee morale, like staff celebrations, daycare expenses and mental and emotional support services.
"Being able to donate the winnings to incredible organizations like these has made this one of the most memorable moments of my life," Opdenbosch said.
Opdenbosch founded Sam's Cookie Company in 2018, after years of requests for her cookies from furniture clients. She takes limited orders for cookies and, for clients who have their own 3-D printer, requests for digital files to create custom cookie cutters. She also offers a subscription to her cookie-related tutorials.
---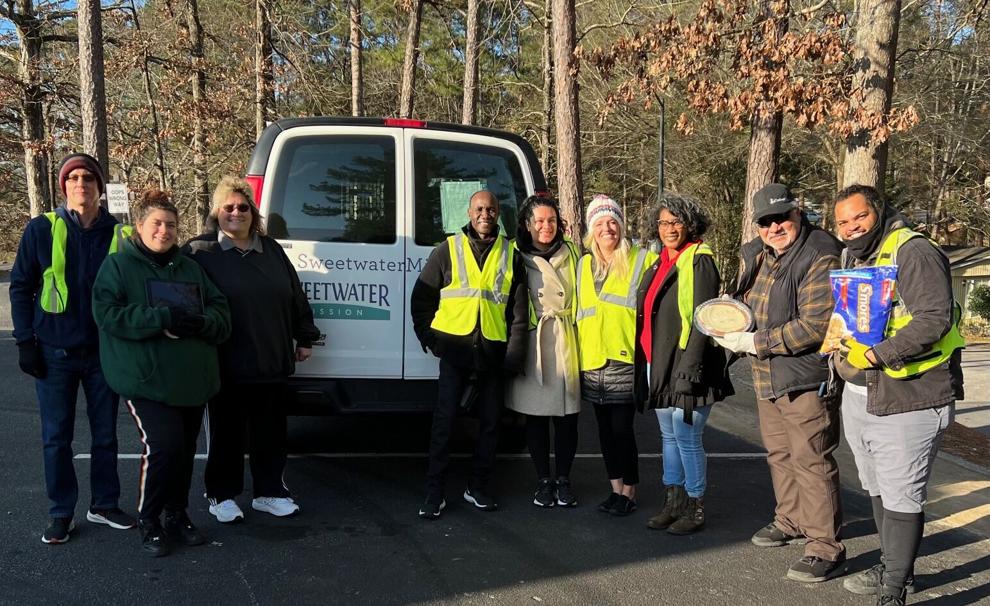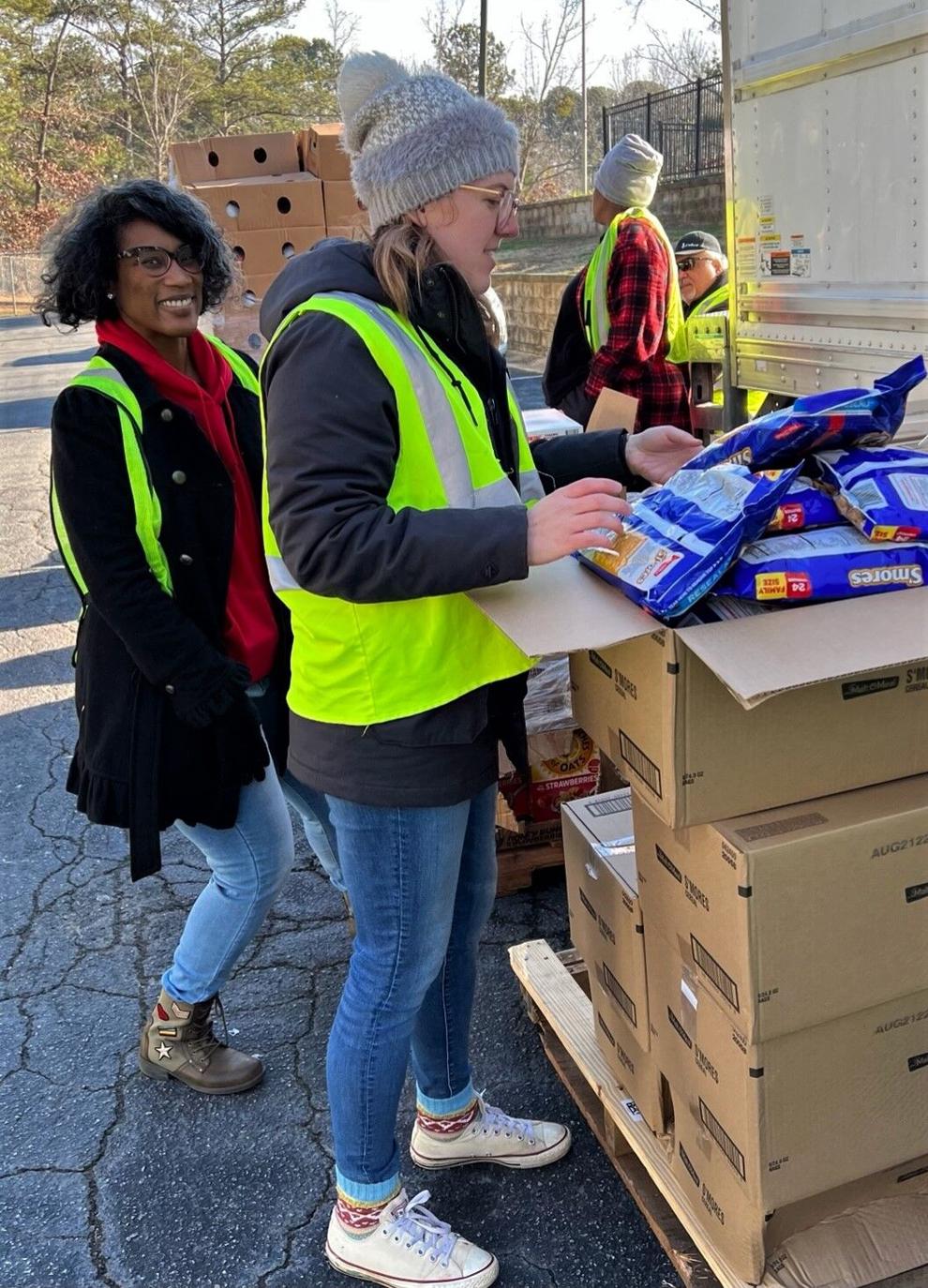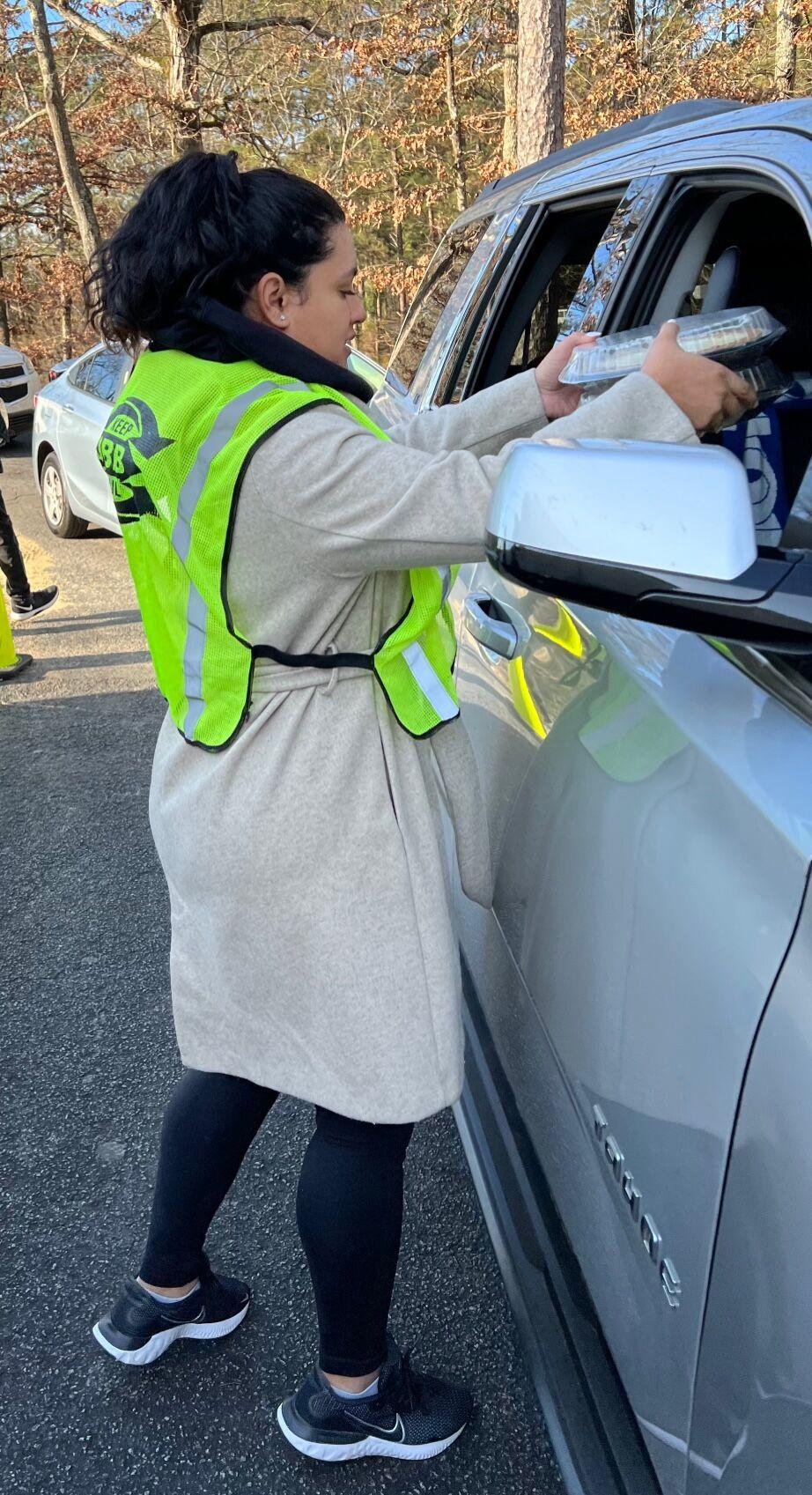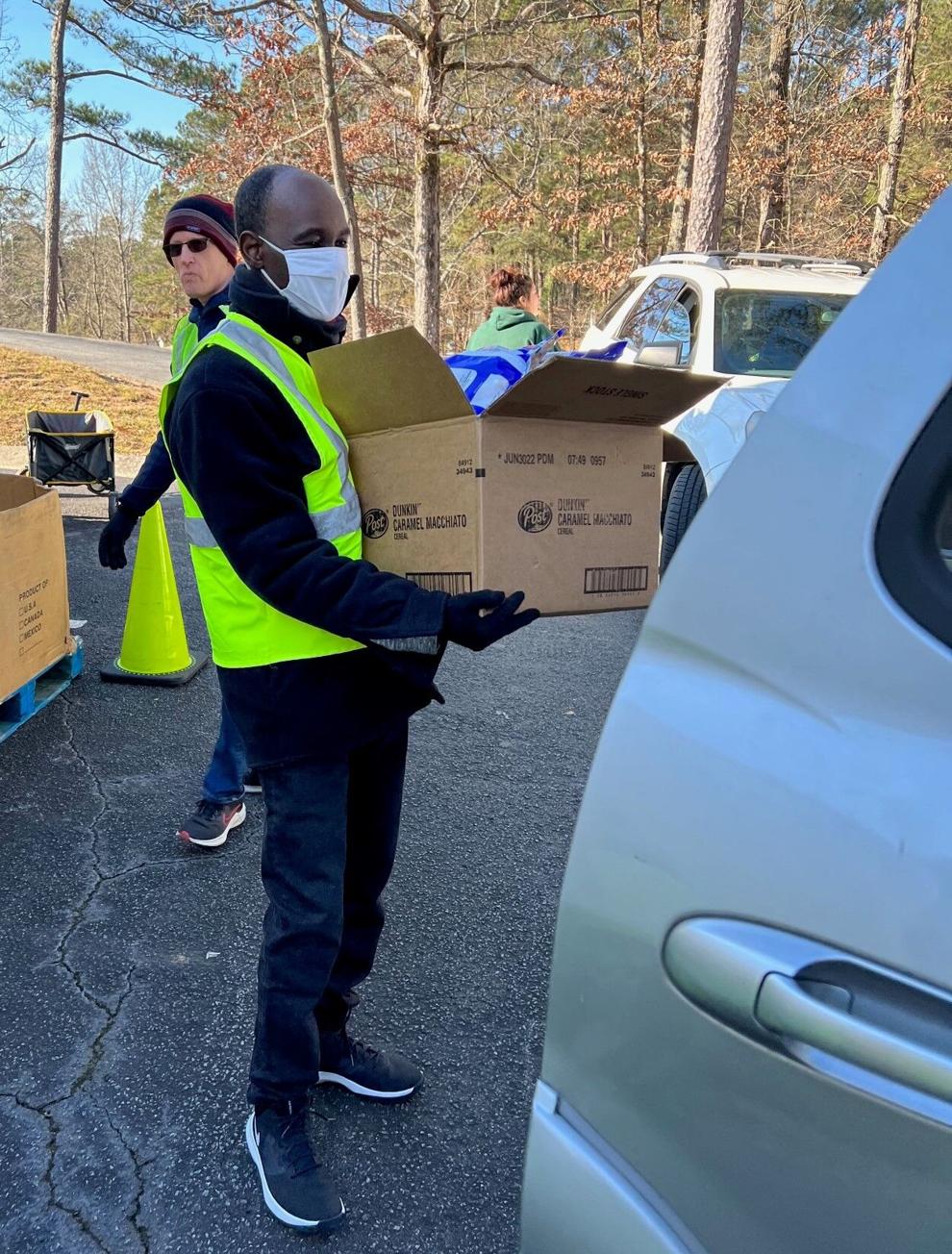 Sweetwater Mission hosted the Jan. 14 Meals On A Mission event at The Waverly Mobile Home Park. With the help of the Cobb County School Social workers and counselors, Cumberland Christian Church and the Lions Club, we were able to provide dry/canned groceries, Post Cereal, frozen turkeys and Kenny's Key Lime Pies to 167 families in need. We had a lot of fun as we served our neighbors.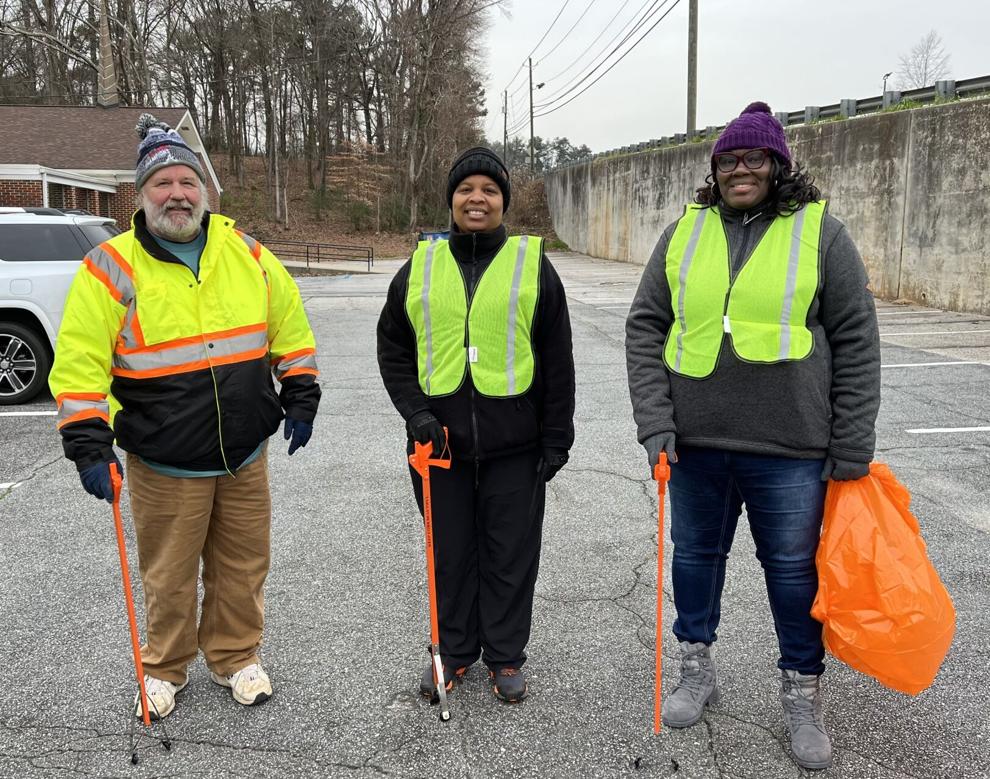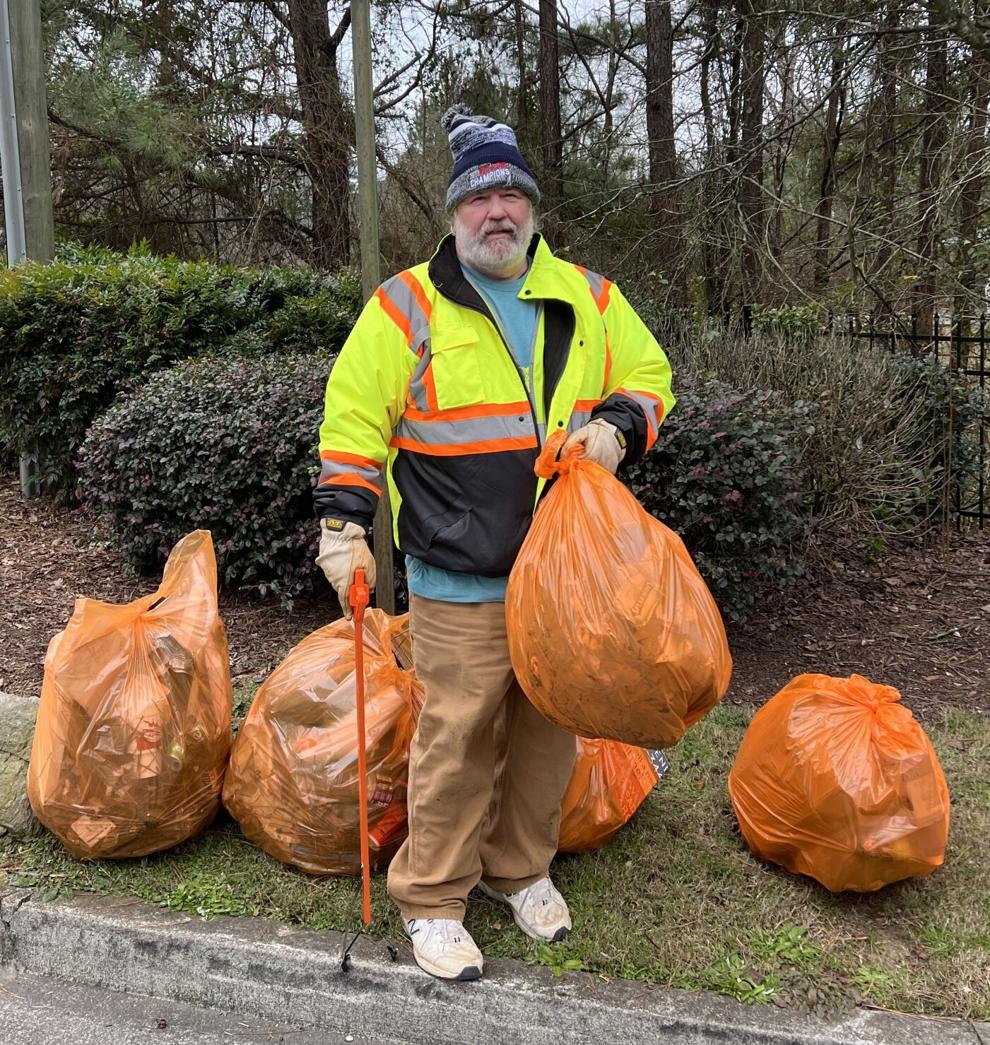 The South Cobb Lions Club assisted the Friends Of Mableton on their Jan. 15 litter clean-up of their adopted Queen Mill Road. Together, we were able to remove 23 bags of litter and then did a quick clean-up of Ivey Road removing five bags of litter. We had fun and got some good exercise as we improved the appearance of our community. If you are interested in the adopt-a-mile program, contact Dawn at keepcobbbeautiful@cobbcounty.org and she will set you up with everything that you need.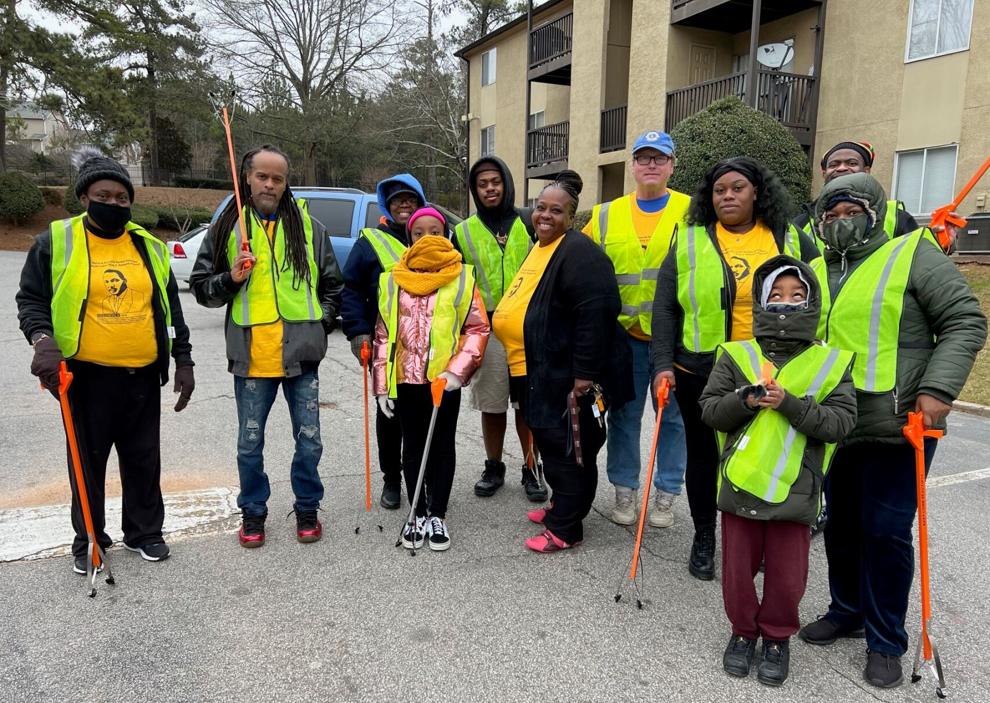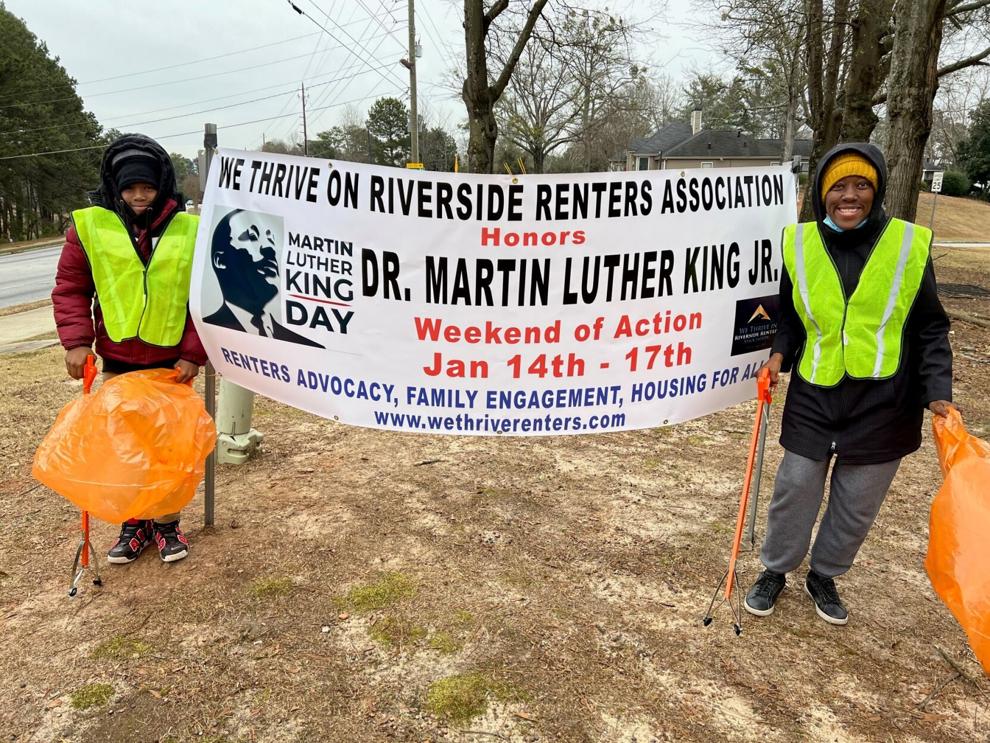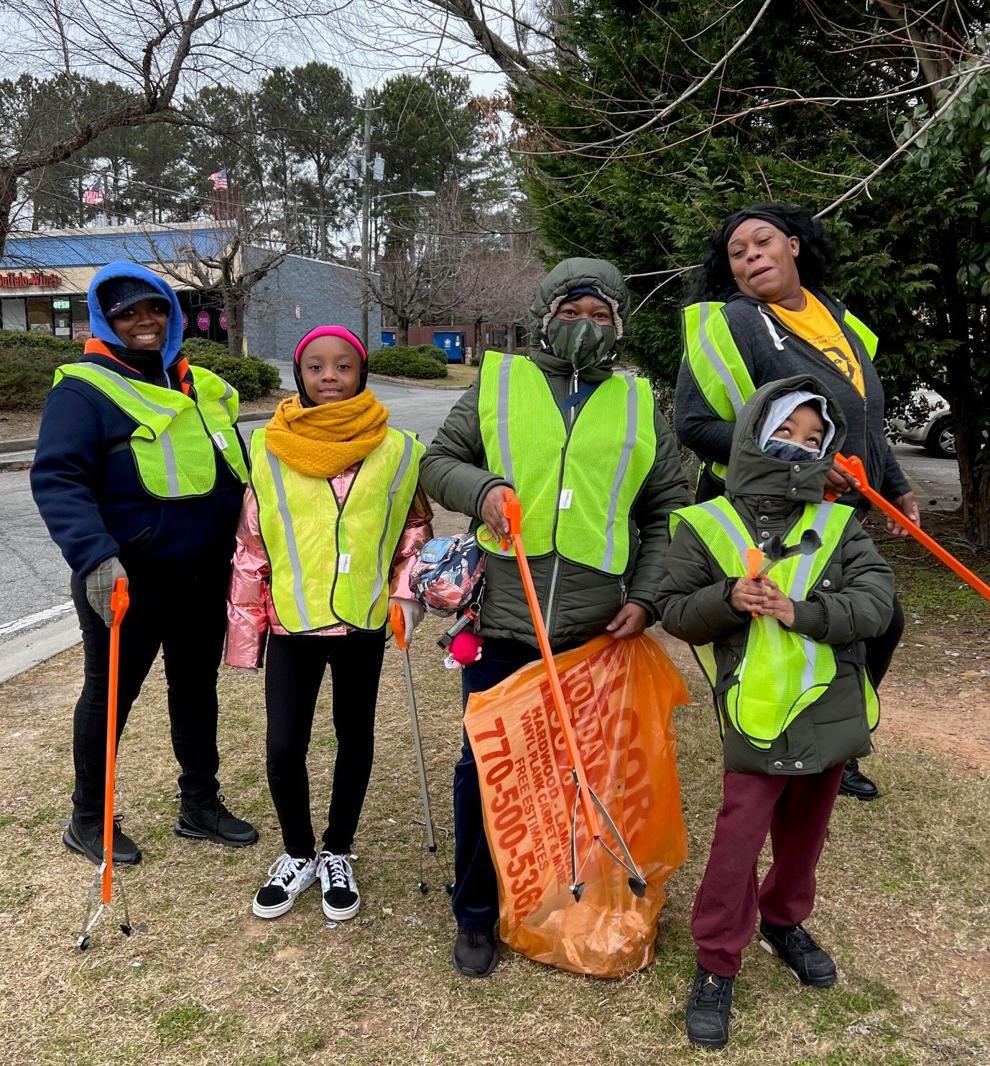 Thank you to Monica DeLancy for inviting the South Cobb Lions Club to assist with their We Thrive In Riverside MLK Jr. Weekend Of Action Litter Clean-Up whereby we removed 20 bags of litter from the lower part of Riverside Pkwy. We also reported potholes and other road problems to Cobb DOT via the SeeClickFix App. We had lots of fun and the area looks much better now.
---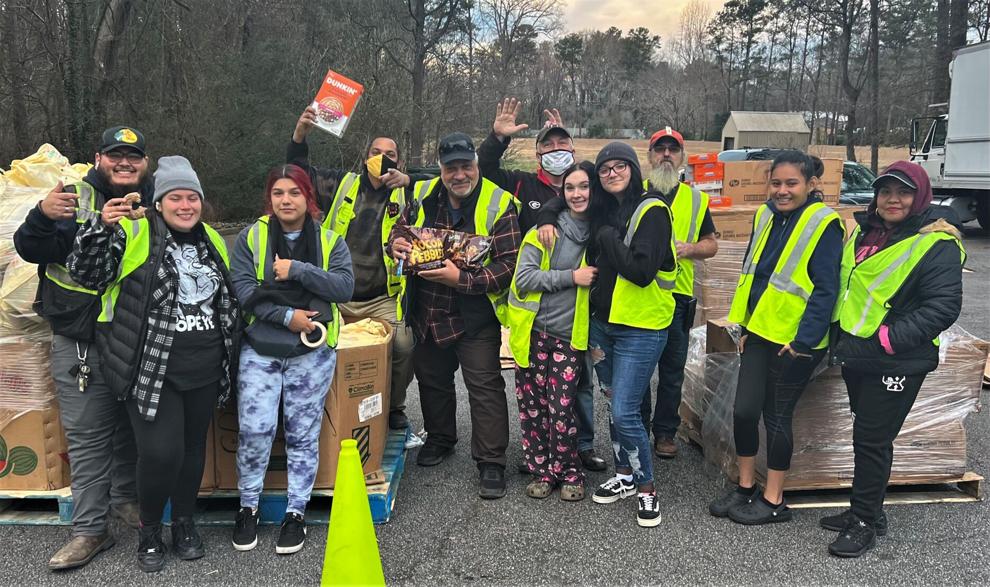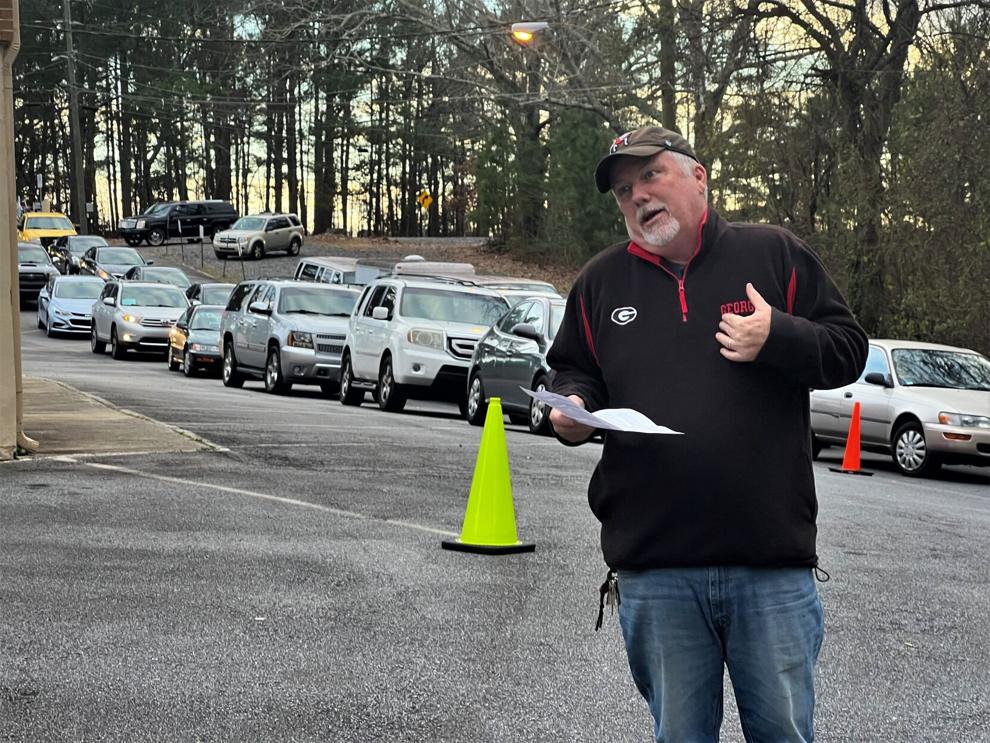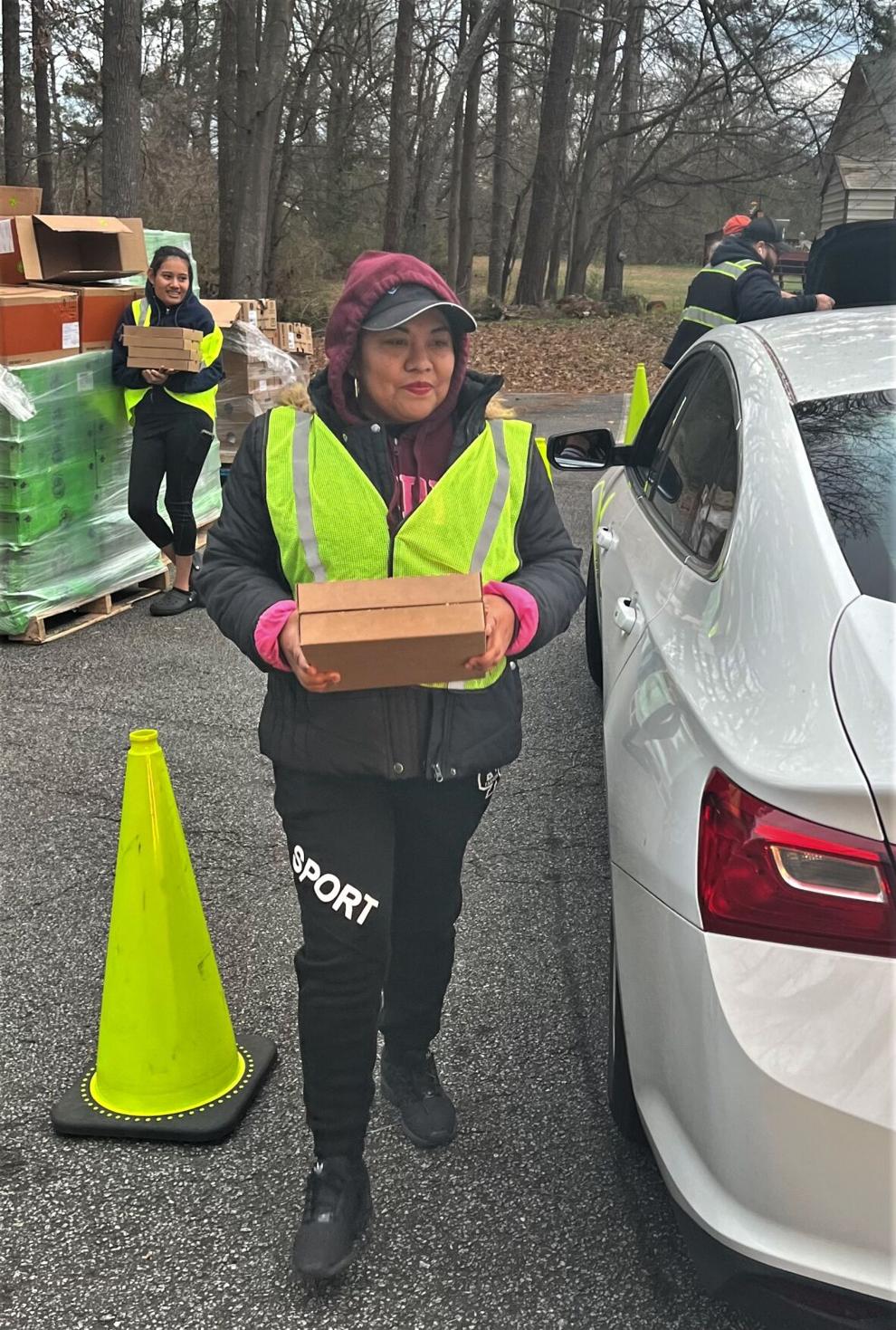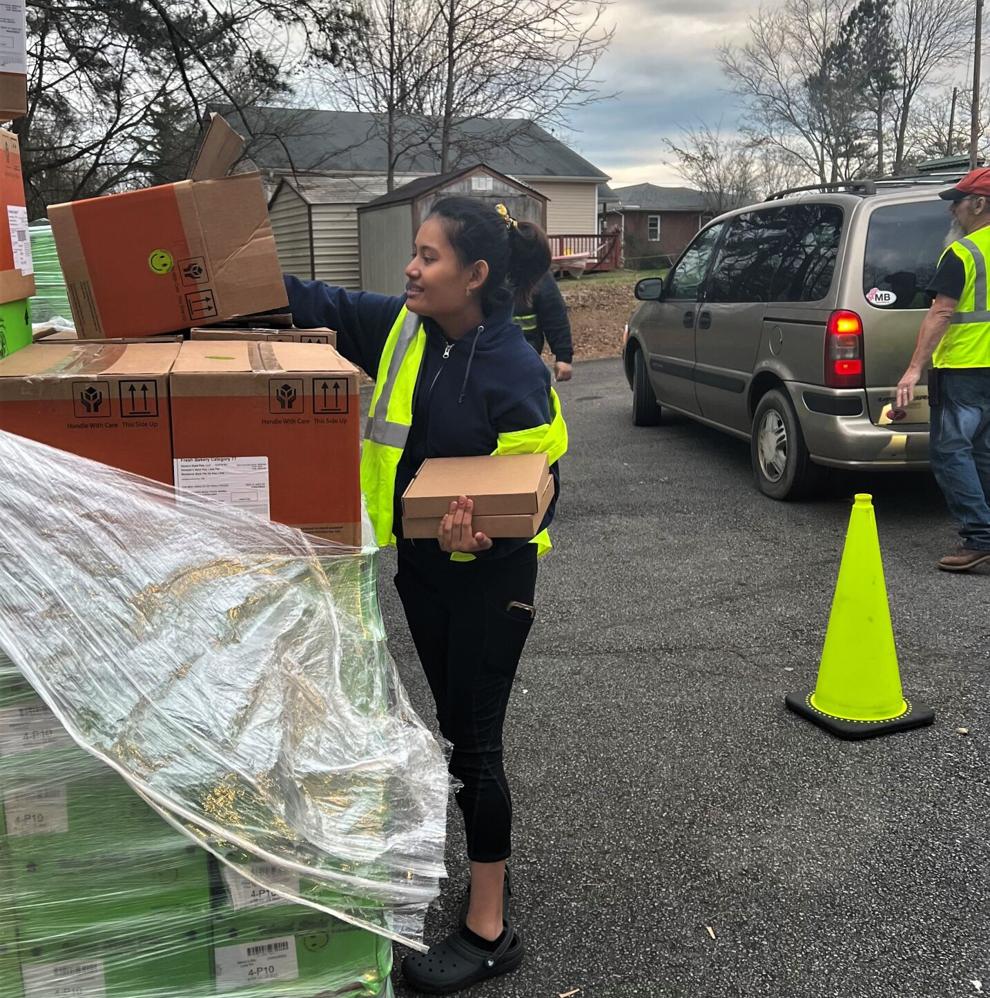 Volunteers including Pebblebrook High School students and the Lions Club had a great time at the First Christian Church of Mableton providing 123 families with dry/canned groceries, Post Cereal, frozen turkeys and Kenny's Key Lime Pies that were supplied by Sweetwater Mission. Executive Minister Barry Smith challenged the volunteers to use the example that Jesus exhibited to be humble and dignify the people that we serve. While the volunteers try to be as friendly as possible, there is always room for improvement.
---
Acworth United Methodist Church has operated a food pantry every Tuesday for many years. Before COVID it was a small group of closely knit mostly senior volunteers serving about 30 families per week. Everything drastically changed very suddenly at the onset of COVID. Within a matter of a few weeks the needs of the community went from the 30 families a week to over 300 per week and at its peak over 400.
Obviously to meet those needs the operation needed to change on the fly. The pantry needed more food, more space and many more volunteers in a hurry. Amazingly it happened. With the partnership of the Atlanta Community Food Bank for food the church was able to convert the operation into a drive through pantry, move everything to a different larger building of the church, purchase freezers, refrigerators, carts, pallet jack and recruited many volunteers. With lots of hard work everything worked out. In 2020, the pantry served 654,836 pounds of food, 34,990 people, 8,739 homes. Pre-COVID January was 7,613 pounds of food and in December it was 94,978 pounds. What seemed impossible at the time happened. Mid 2021, the church was proud to announce the distribution of over one million pounds of food since the onset of COVID.
Fortunately, the need has lessened to an extent. Currently the church is serving 180 families a week. It operates every Tuesday from noon to 4 p.m. or until the food runs out.
---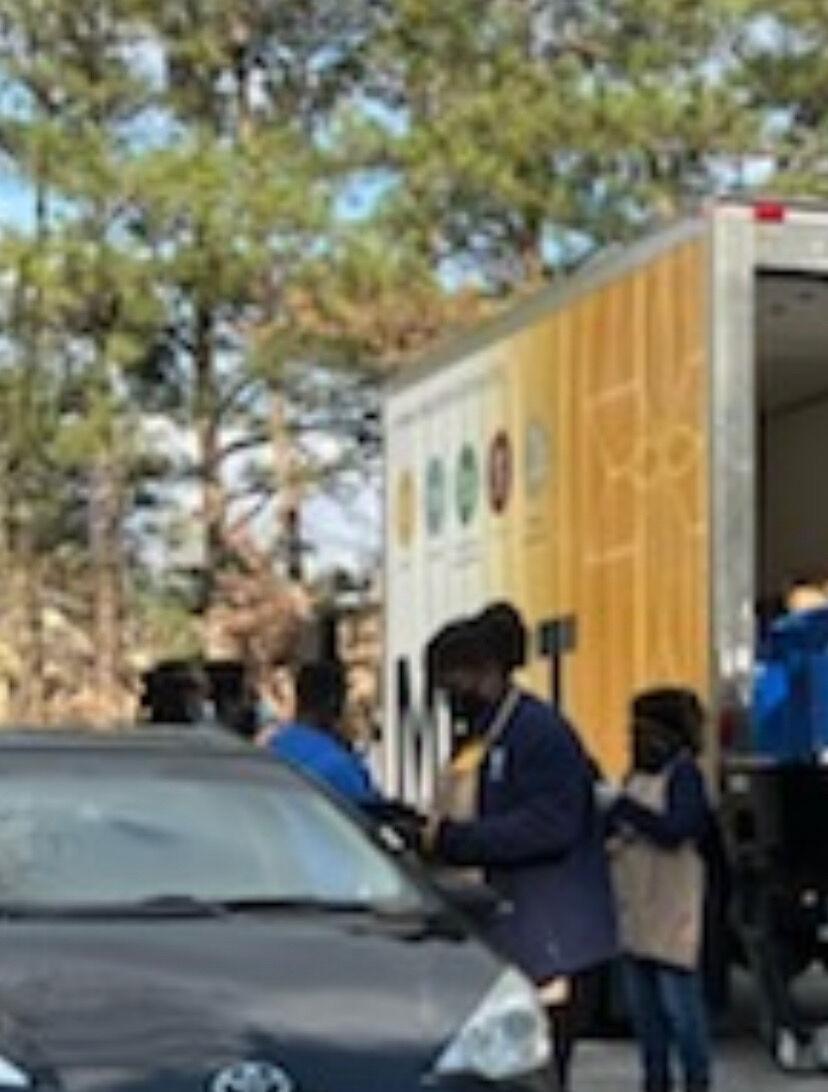 Thank you to MUST Ministries mobile food pantry for hosting their mobile site at Kingsley Village Apartments in the Riverside/Austell community. On Jan. 5, families were able to receive fresh fruit and vegetables and a food box with rice, beans and pasta. The mobile site was in partnership with We Thrive in Riverside Renters Association.
---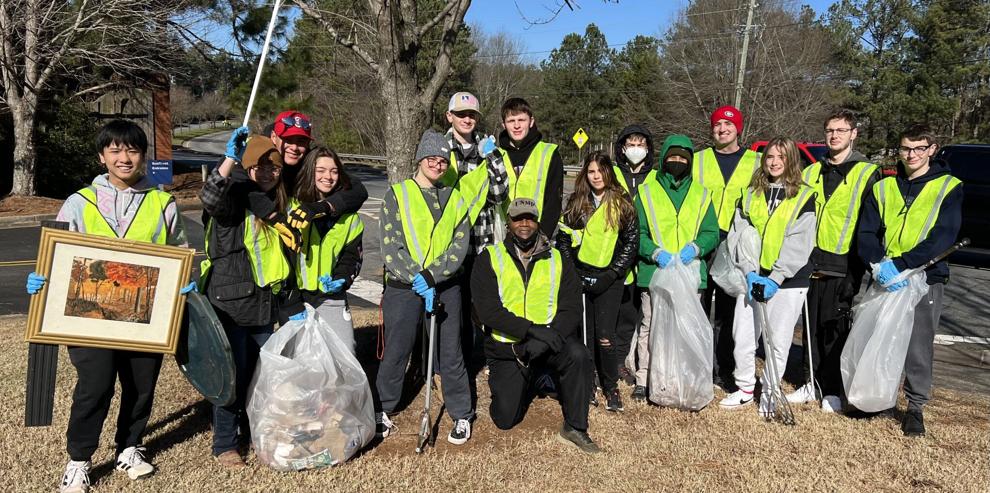 The Lassiter High School ROTC braved the cold on the morning of Jan. 8 to clean-up litter from their adopted Shallowford Road in Marietta. They had fun as they improved our community.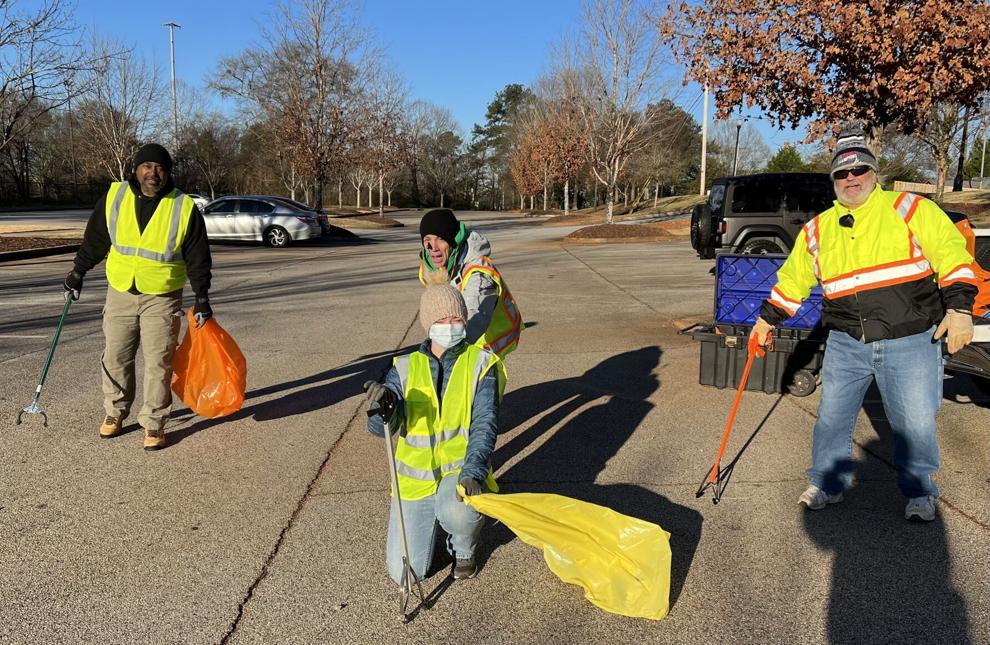 The South Cobb Lions Club joined with Friends Of Mableton volunteers to remove 21 bags of litter from the Padgett Landmon Adopt-A-Mile on Clay Road. Even with the frigid weather, we had fun during our first litter clean-up of 2022.
If you or your organization is interested in the Adopt-A-Mile program, please contact Dawn at keepcobbbeautiful@cobbcounty.org. She can fill you in on all of the details and supply you with all of the tools that you will need to keep your mile looking good.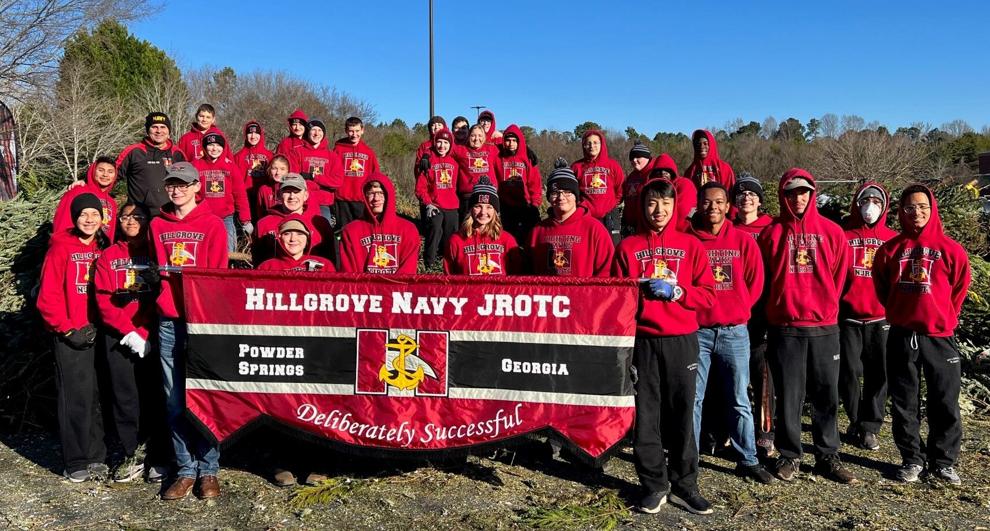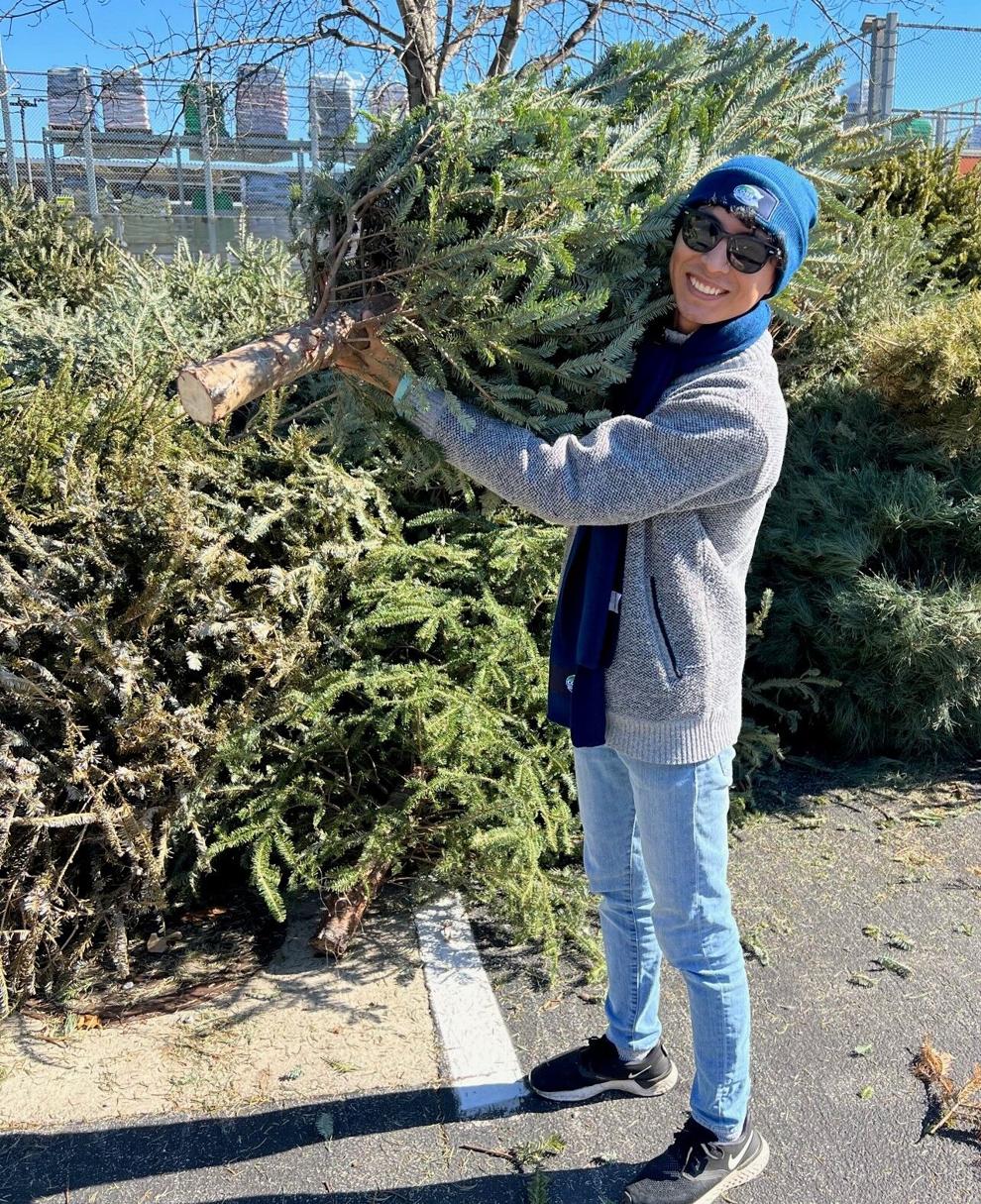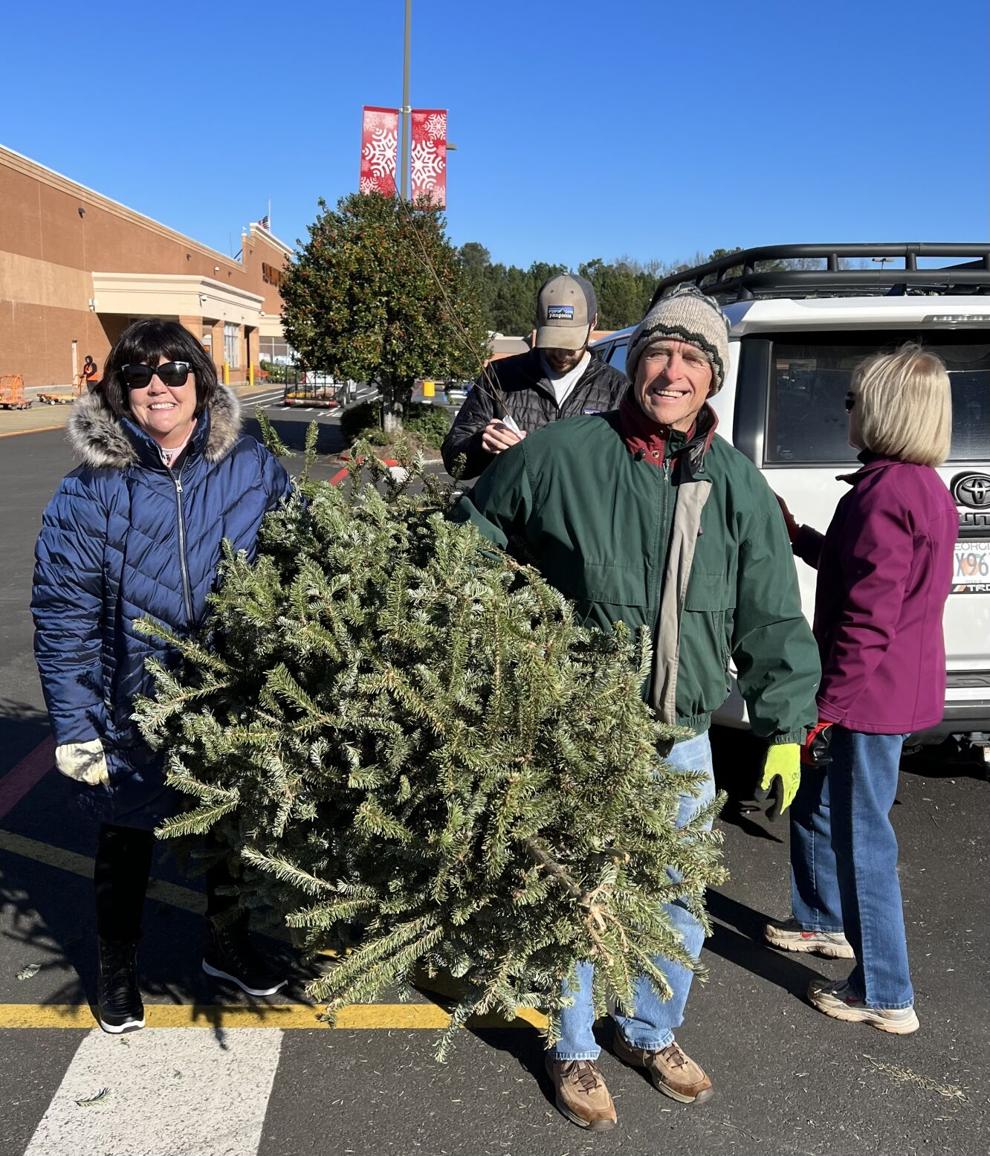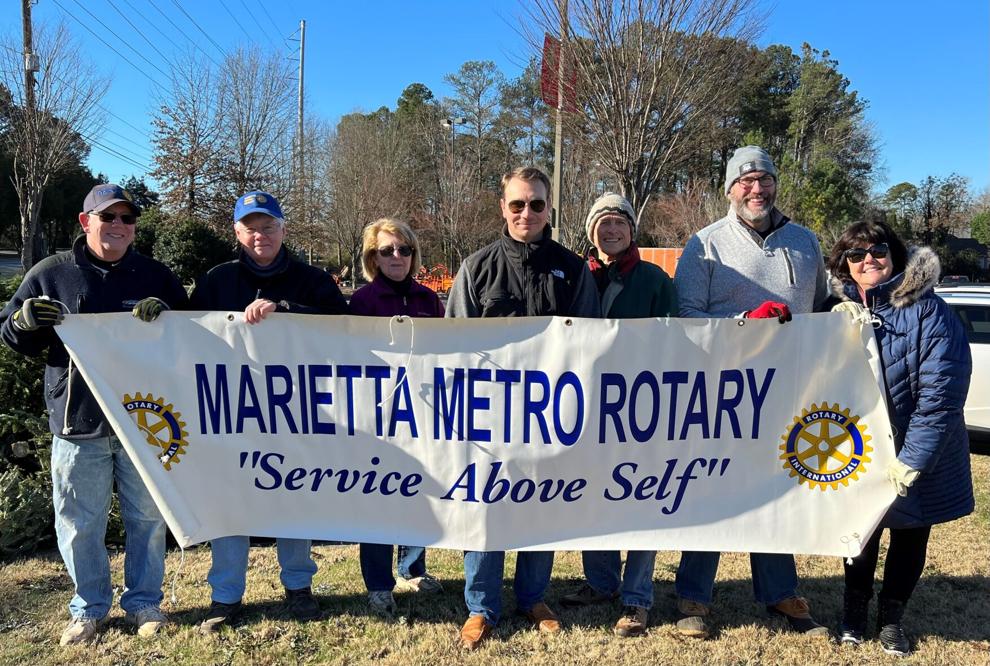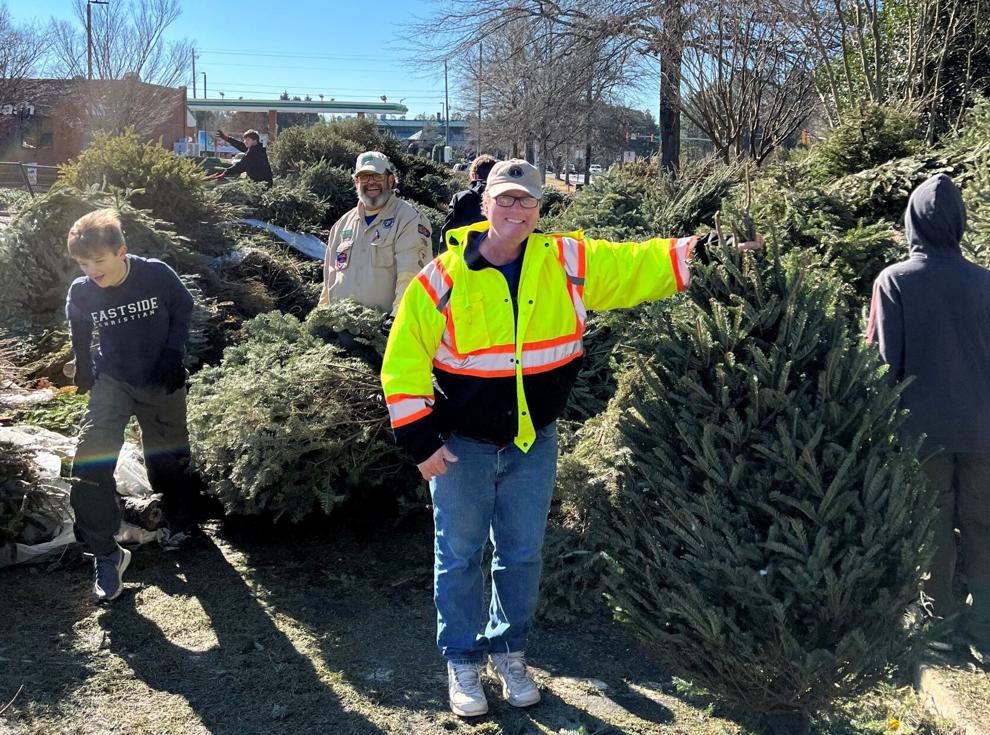 Keep Cobb Beautiful sponsored the Jan. 8 Bring One For The Chipper event whereby designated Home Depot and Cobb County Parks accepted Christmas Trees. These trees will be chipped up into fine mulch which will be used for gardening and agriculture. Volunteers such as the Hillgrove High School Navy JROTC, Boy Scout Troop No. 795, Lassiter High School Key Club, Lions Club and Metro Marietta Rotary Club gave their time to unload trees and assist in getting them ready for recycling. Keep Cobb Beautiful provided Dogwood Tree saplings as a way to say "thank you" to our neighbors who delivered their Christmas Trees.  The goal was to recycle over 5,000 Christmas trees.
---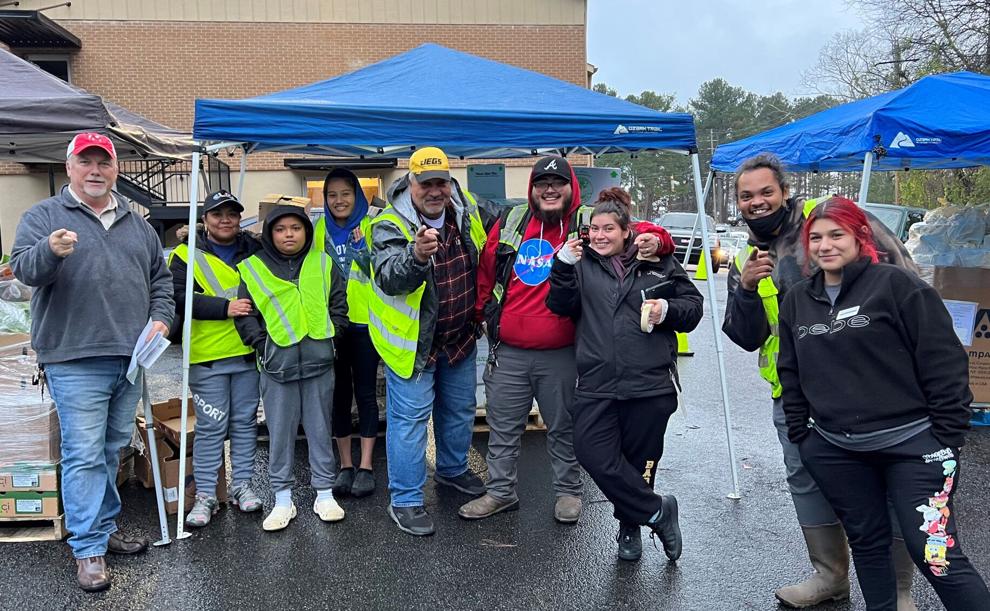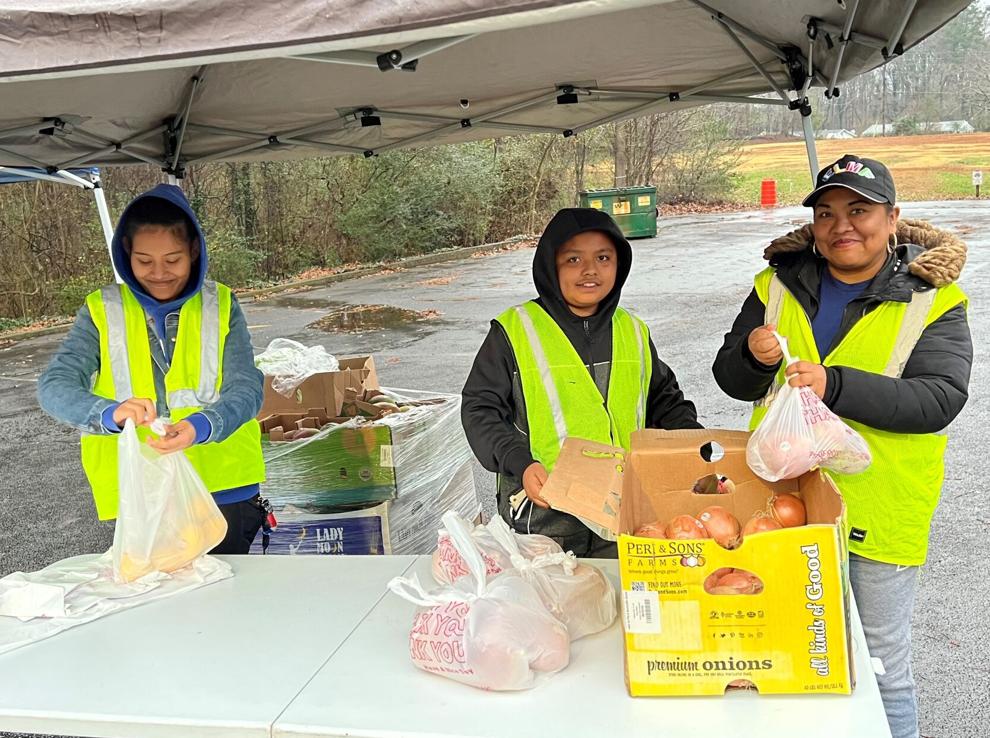 Fortunately for the volunteers, the rain and cold held off long enough for us to serve 152 families with dry/canned groceries, frozen meat, fresh produce, Post Cereal and Kenny's Pies on Jan. 6. Hosted by the First Christian Church of Mableton and supplied by Sweetwater Mission, volunteers were happy to see each other and our neighbors after the holiday break. We took to heart Executive Minister Barry Smith's words of encouragement with a passage from Isaiah 43:18 - "Remember not the former things, nor consider the things of old." Referring to a bright and exciting new year.
---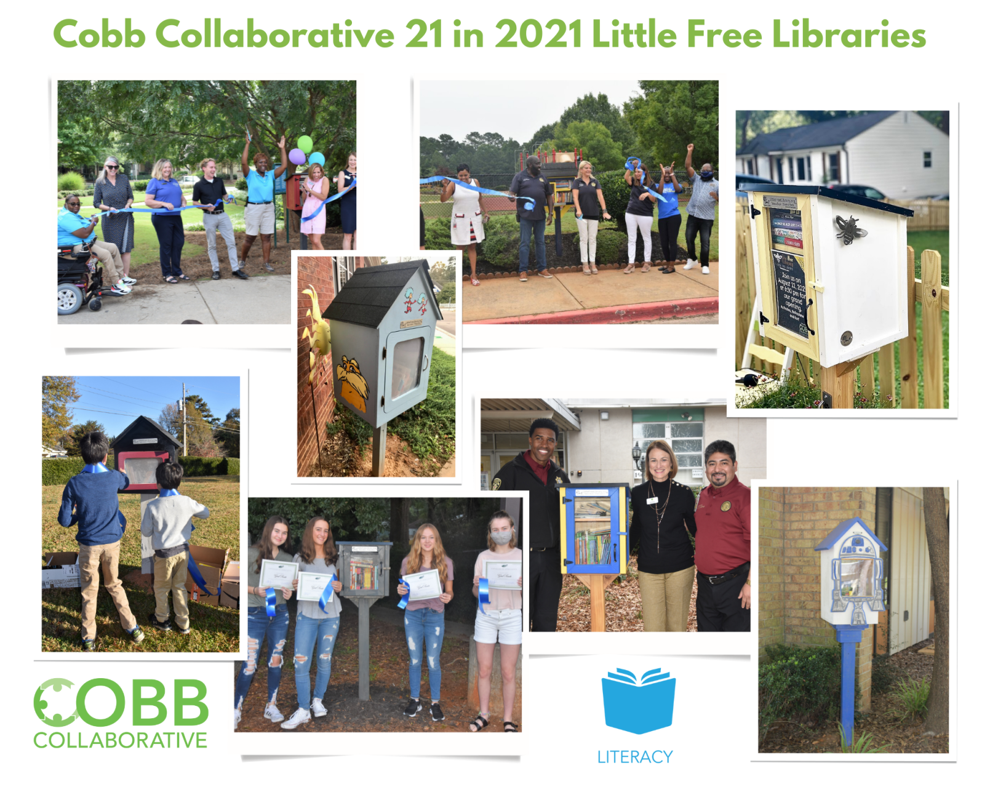 As the local point of contact for the Get Georgia Reading Campaign, the Cobb Collaborative works to improve 3rd grade reading levels in Cobb County. Data reveals that children who read proficiently by the end of third grade are four times more likely to graduate from high school—paving the way to higher education, better employment opportunities and improved health outcomes. Driven by the motivation of increasing access to books to improve reading
achievement, the Collaborative set a goal of installing 21 Little Free Libraries across Cobb County in 2021. In December, this goal was achieved with the installation of Little Free Libraries at McCall Primary School, Argyle Elementary School, and Cumberland Community Church.
The "21 in 2021" LFL initiative was a quintessential collaborative effort, with support from partners including Cobb County School District, Marietta City Schools, United Way of Greater Atlanta Northwest Region, American Opportunity Foundation, Scout troops, businesses, civic associations and Greystone Power Operation Roundup. Additionally, countless supporters donated new and gently used books to help fill and maintain the Little Free Libraries.
Little Free Library is a nonprofit organization dedicated to putting books in the hands of children and adults in communities around the world. These book-sharing boxes remove barriers to book access by being available seven days a week, 24 hours a day with free accessibility. They operate under the "Take One, Leave One" theory which encourages readers to not only take a book, but to leave one for others when there is an ability to do so.
---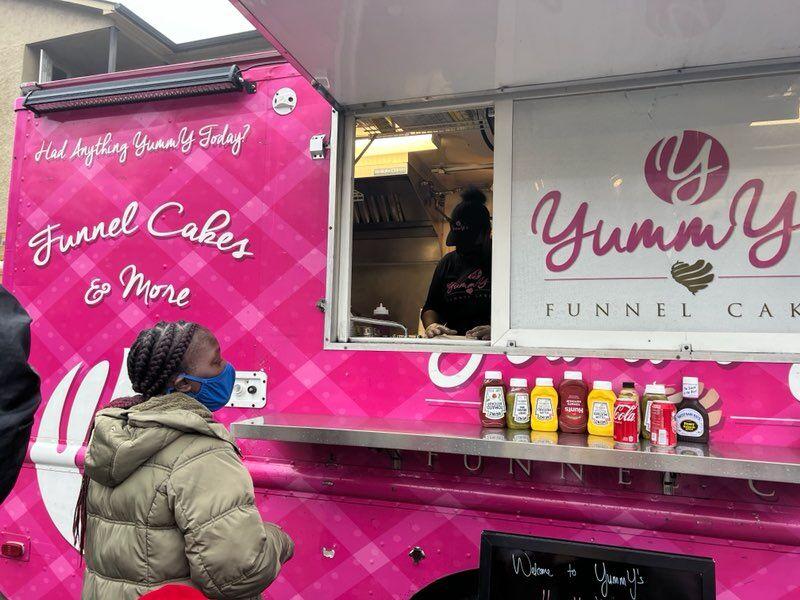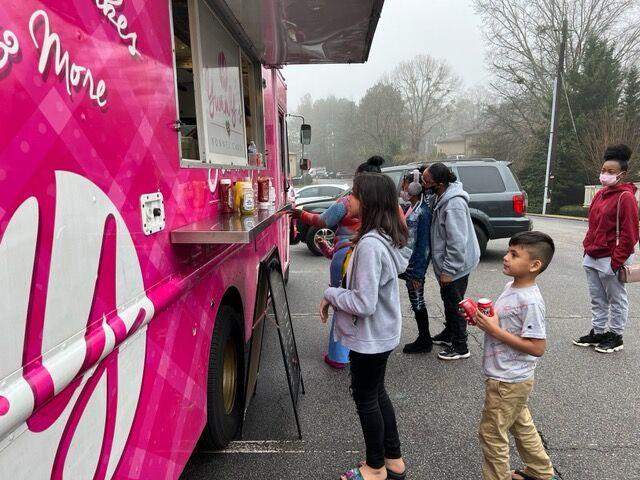 We Thrive in Riverside Renters Association hosted a New Year's Eve lunch for residents that reside at Hunters Grove, Parkview and Kingsley Village Apartments in the Riverside community of Austell. Yummy's Funnel Cakes food truck catered the lunch, which included hot dog combo with chips, drink and their signature funnel cake.
Looking forward to another successful year.
---
The Books For Africa, a nonprofit with a warehouse at 1491 Cobb Industrial Drive, Building B in Marietta, will ship over 100,000 books to schools and libraries in Somalia and Somaliland this week.
The books have been donated by people in Georgia, Minnesota and across the country to help the students in Africa. The books will be trucked to the port of Savannah and shipped to the port of Berbera, Somalia in five 40-foot containers. The shipment is being supported in partnership with the U.S. Department of Defense's Funded Transportation program. The program provides logistical support to nonprofits in conjunction with the State Department.
The book drive was organized by the Tima-Ade Foundation.
The organizations receiving the books include the Gabiley National Library, a brand-new library where 55,000 books from BFA will help fill up the shelves. Other recipients include the Center for African Peace and Research in Bosaso; the East Africa University in Puntland and the Marodi Relief Organization in Hargeisa, Somaliland.
---
The Partnership, located at 1100 Circle 75 Parkway SE, Suite 930 in the Cumberland area, announced they provided nearly $30,000 in financial support for community programming and initiatives across the Southeast.
Heavily engaged in volunteerism and philanthropy, The Partnership focused support during 2021 on higher education, elementary school programming, non-profits, and youth development organizations. Selected organizations initiatives provided scholarship support, life-skill trainings, educational, and behavioral services, with a majority servicing underserved communities of women and at-risk youth affected by homelessness, unemployment, and challenged hardships.
Organizations supported by The Partnership included the University of West Georgia, Sanders Elementary School in Austell, Down 7 Up 8 Inc., and the Georgia Middle School Athletic Association.
---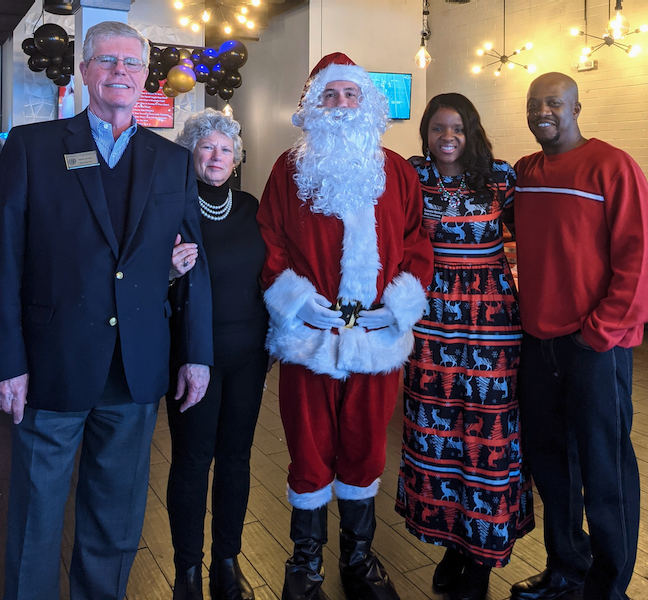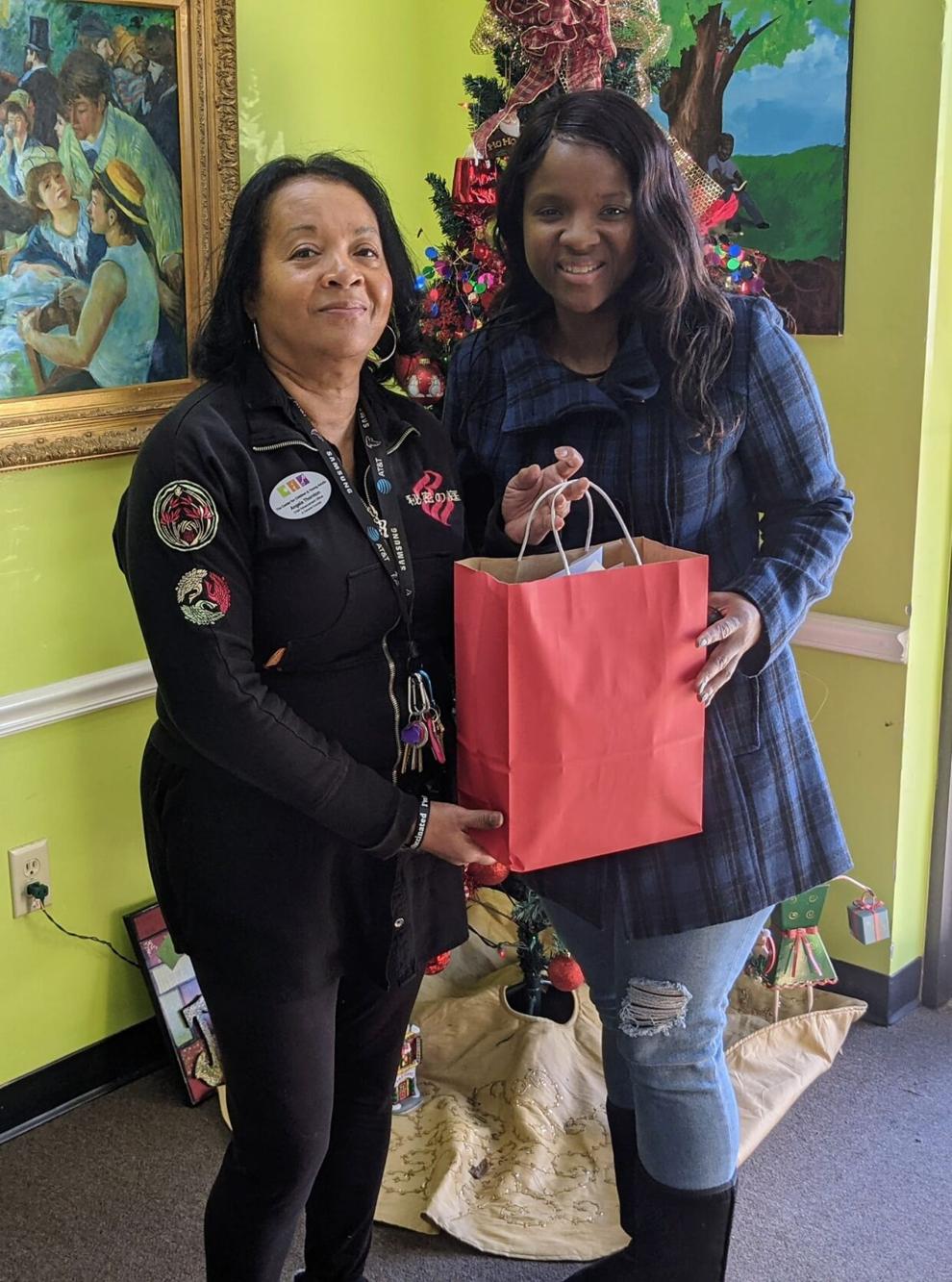 On Dec. 19, Superior Court Judicial candidate Taneesha Marshall co-sponsored a successful local children's event with Cobb County Judge Robert E Flournoy III and others. The event, "Christmas for Cobb's Kids," hosted over 50 families who received gift cards, participated in activities and crafts, and enjoyed snacks with Santa.
As the event left a surplus of Christmas cheer, Marshall and Judge Flournoy donated the remaining gift cards to the Center for Children & Young Adults in Marietta, which caters to at-risk homeless youth, and to LiveSafe Resources, an organization which helps families impacted by domestic violence.
A former staff attorney for Judge Flournoy with 20 years of state and federal legal experience, Marshall is a steadfast community advocate who dedicates her free-time to giving back to the county she and her family call home. She is running for Judge Flournoy's soon-to-be-vacant seat and will appear on the ballot in 2022.
---
Credit Union of Georgia employees volunteered to ring the bell for The Salvation Army at Kroger in Kennesaw for an entire week.
Their efforts and Doing the Most Good spirit paid off as they raised over $2,800. Along with this total, the credit union contributed an additional $2,500 bringing the grand total of funds raised to help individuals and families in the community to over $5,300.
---