KENNESAW — Led by Scrappy the Owl, a couple hundred Kennesaw State University students marched across campus Monday, carrying signs and voicing support for the five cheerleaders who took a knee during the national anthem ahead of the school's Sept. 30 football game.
Among those who marched in solidarity was Kennesaw resident Patricia Holt, a 2009 KSU graduate whose husband, Antoine, was killed by a bomb in Iraq in 2004 while serving in the Air Force.
Holt said she doesn't understand why critics insist protesters are disrespecting the flag and the troops by taking a knee during the anthem.
"Everyone has a right to freedom of speech," she said. "This is one of the things my husband fought for."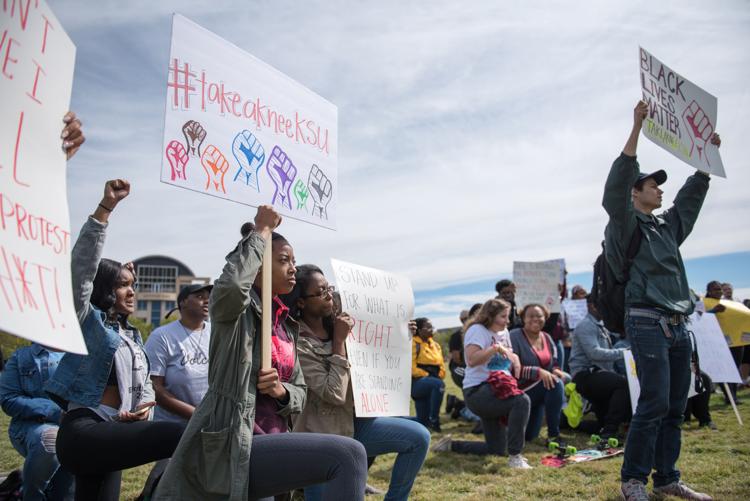 Carrying a sign that read "The First Amendment protects the right to speech, assembly, petition," Holt said she was there representing those "killed by people in a position of authority."
Also among Monday's marchers was Shlondra Young, one of the five KSU cheerleaders who dropped to one knee in the end zone of Fifth Third Bank Stadium last month before the game against North Greenville, bringing the national protest against social injustice and racial inequality to Cobb County.
The junior, who's cheered since her freshman year, said she and four teammates planned to take a knee but never told their coach or the rest of their team for fear they would be stopped.
"We were scared, but we're confident now that we made the right decision," Young said. "We wanted to highlight inequality, social injustice and police brutality."
The reaction to their decision was swift, and the cheerleading squad was kept in the tunnel during the anthem at Kennesaw's home game the following week.
A university spokeswoman said the school's athletic department decided to restructure its pre-game schedule, not as a result of the protest.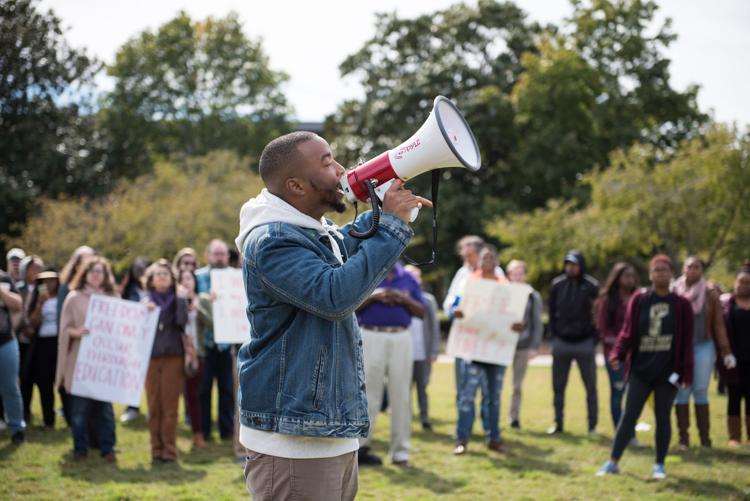 "The decision was made to change the pregame scripting by Athletics," university spokeswoman Tiffany Capuano said last week. "It is part of a number of changes that have been made by a new Athletics administration as we continue to refine and enhance the gameday atmosphere for our fans."
That's the official explanation, however Cobb Sheriff Neil Warren told the MDJ that following the Sept. 30 game where he and his wife witnessed the cheerleaders kneeling, he addressed the matter with KSU President Sam Olens, believing the cheerleaders were showing "a lack of respect for our flag, our national anthem and the men and women that serve our nation. … During a recent conversation Sam assured me that this will not happen again. I hope he is right because I stand with America, I stand to show respect to our military and all those that serve in public safety," Warren told the MDJ on Oct. 6.
The next day at KSU's game against Texas Southern, the cheerleaders were not on the field during the anthem.
Young said her squad knew nothing about the changes until a practice held two days after their decision to take a knee.
Holt said she believes KSU's athletes and cheerleaders have every right to protest, and that their decision to do so is protected under the First Amendment.
"They knew they were going to get backlash, but they were courageous," Holt said. "They pay their money to be here. They're American citizens, and they're intelligent, future alumnae. I think they have every right to exercise their First Amendment."
But state Rep. Earl Ehrhart, R- Powder Springs, who chairs the House subcommittee in charge of funding Georgia's public universities, said "Scrappy the Owl" has no business being involved in on-campus protests.
"As a student, sure," Ehrhart said. "But with respect to utilizing the school's mascot, that's inappropriate."
Unless any group can now solicit Scrappy's services for their protests, Ehrhart said the taxpayer-funded owl mascot should not have been used.
As for cheerleaders and football players, the state representative said he doesn't think the school's football stadium is an appropriate venue for demonstration.
"That's a football field. Play football, cheer. Bring people together," he said. "It doesn't matter what you say it means. It's divisive."
Daniel Simpson, an 18-year-old freshman, said he didn't like the way the administration handled the cheerleaders by keeping them off the field.
"They're really the bravest ones on campus right now," he said of the cheerleaders. "They should be able to express their rights. There's nothing wrong with what they did at all."
He said he respects the five students for using their platform to draw attention to the issue, and that police officers who shoot unarmed suspects should be held accountable for their actions.
"I don't think all officers are bad, but I feel like the ones that are need to be called out," he said.
Okenna Okpareke, a 22-year-old senior, said he doesn't think anyone's right to free speech should be taken away — whether it's an NFL player kneeling on the sideline of a professional game or a group of students expressing their opinions ahead of a Saturday kick off.
He said he was proud of his school's cheerleaders for taking a stance.
"It was very courageous. They're using their platform to tell the nation that there are problems," he said. "As long as this has been a nation, there have been issues with inequality—not just when it comes to race, but discrimination based on gender and even religion."
Young said she was overwhelmed by the support of her fellow students, including Scrappy, the school's mascot whose future is now unclear.
"We never knew that doing this would make so big of an impact, but seeing all these people out here makes what we did worth it," she said.
It's unclear what if anything will happen to the student wearing the Scrappy the Owl costume. KSU spokesperson Tammy DeMel did not respond to requests for comment by press time.