MARIETTA — The North Georgia State Fair's "Taste of the Fair — a Drive-thru Fair Food experience" started Friday with a smaller attendance than a typical fair, but offered big, nostalgic flavors in the form of fried dough, cotton candy, snow cones, and other carnival favorites.
The modified version of the fair at Jim Miller Park has only food stands where people can walk up to order and sit in the park, or a "drive-thru" experience where guests fill out their order on a sheet and have it delivered to their cars.
The fair has 15 food vendors, with sugary staples like funnel cake, elephant ears and fried Oreo cookies, heartier foods like corn dogs and cheese steaks and more. Missing this year are local nonprofits and other organizations that traditionally have also served up fair fare.
The drive-thru menu is more limited, but those customers can still order many fair favorites, plus more unusual items like cheesecake on a stick and pickle pizza.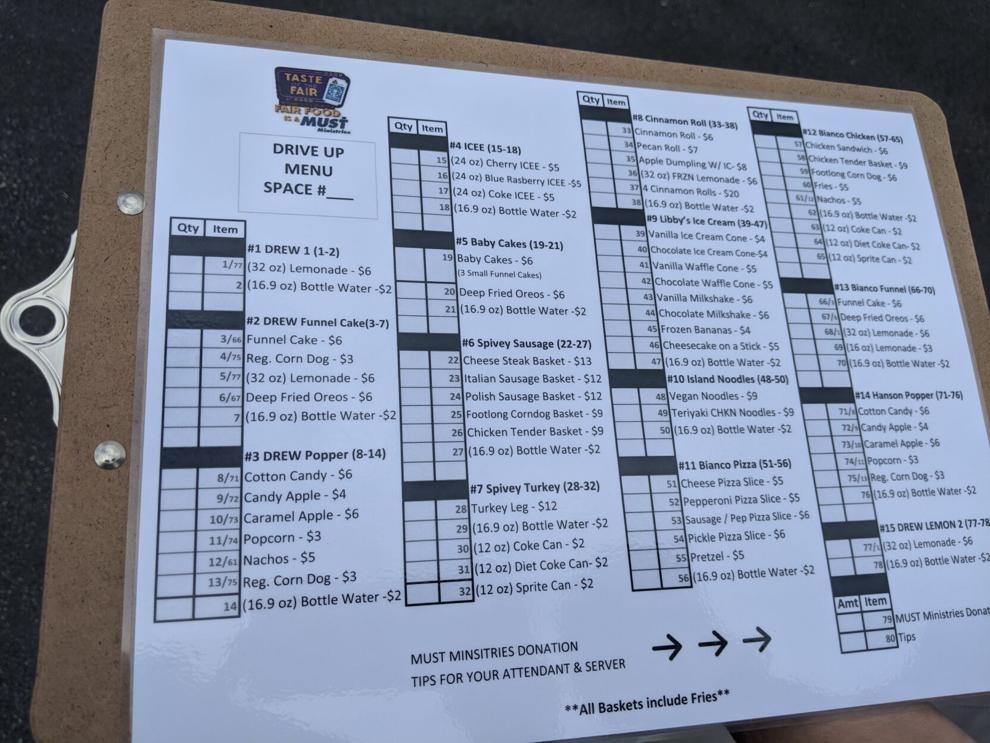 Mark Reddy, a Marietta resident, said he came to the fair to get food not easily available anywhere else.
"The fair food is delicious," he said after getting a corn dog and a candied apple. "You can't get it every day, only once a year. It's a little bit different, but it's awesome."
Tod Miller, the fair manager, said they held the event in part to support MUST Ministries; in a typical year, the fair is MUST's biggest source of canned foods through a special that exchanges cans for free admission. This year, those who bring seven cans of non-perishable foods will get a free ticket to the 2021 fair.
Miller estimated about 40 people work for the fair itself, and there are an additional 75-100 staff at the food vendors, who make most of their money traveling at fairs like the Marietta one. This was many workers' first fair this year, having been largely out of work since the pandemic.
Even though it had to be different this year due to the pandemic, event organizers hope to offer something people will enjoy for the next two weeks.
"I think it's going to be big," Miller said.
The "Taste of the Fair" event runs Sept. 25-27 and Oct. 2-4. On Fridays, the fair will be open from 4-8 p.m. On Saturdays and Sundays, it will be open from 12-8 p.m.
Admission and parking are free. Vendors will accept cash and cards.
The fair is partnering with MUST Ministries to collect canned goods at the weekend events. Guests can trade in a donation of seven non-perishable canned goods for one ticket to the 2021 North Georgia State Fair.