CUMBERLAND — Hailed as a triumph of federal, state, and local cooperation, elected officials and business magnates gathered Thursday to break ground on the long-awaited Akers Mill express lane ramp.
When completed, the reversible roadway will for the first time connect the I-75 Northwest Corridor express lanes with Cobb's most powerful commercial district at Akers Mill Road.
The $44 million project is a joint funding effort between the Cumberland CID, Cobb County, the State Roadway and Toll Authority (SRTA), the Atlanta Regional Commission and the federal government. All those partners were represented Thursday by a laundry list of notables.
Gov. Brian Kemp said the access point will improve transit times and safety in a corridor already drastically improved by the existing express lanes, completed in 2018. In their first year, Kemp said, those lanes reduced travel times along I-75, between the perimeter and I-575, by half.
"It also was very forward thinking of Russell (McMurry, Georgia Transportation commissioner) and his team to prepare for this day years ago when they built the original corridor," Kemp said from a podium erected on the Akers Mill Road bridge, trying to make himself heard over the roar of the traffic below.
"I want to thank you guys for being a forward-looking agency, and not just thinking about today, but what could be in the days ahead," he added.
The CID's Kim Menefee said the project will make Cumberland "that much more livable, more attractive, and more connected." Thursday's groundbreaking was the second major transportation kickoff for the CID in the last month, after the unveiling of Cumberland Sweep — a network of paths, bike lanes, and shuttle routes they hope will promote mobility within the district.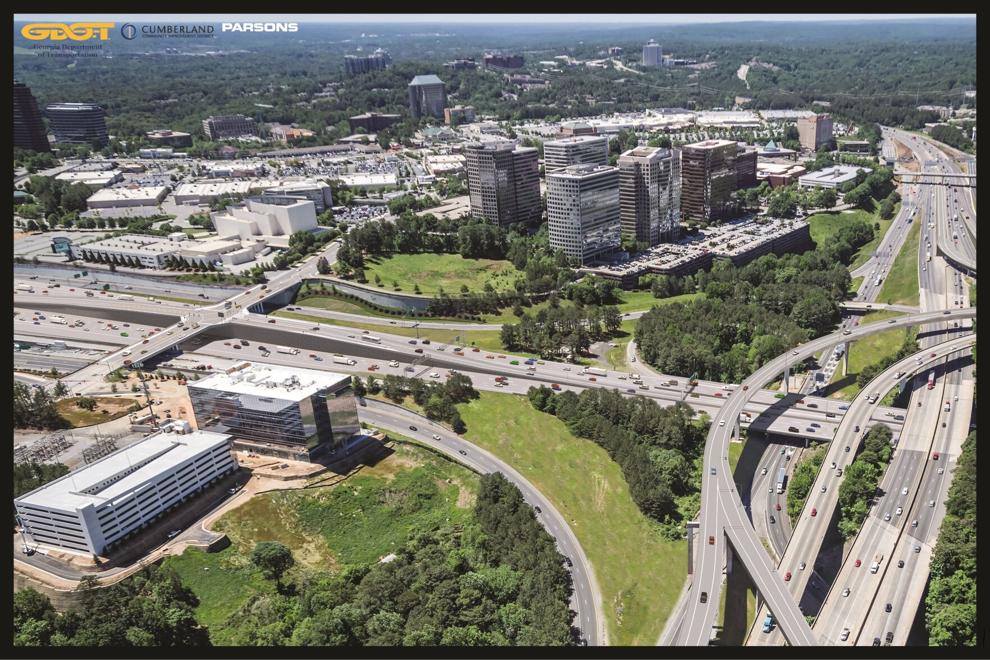 "Like any good investment, this bipartisan funding will pay long-term dividends for our communities and for our country," added U.S. Rep. Lucy McBath, D-Marietta, who helped secure $5 million for the project in 2019.
The CID put up another $6.3 million, with the Atlanta Regional Commission and the SRTA contributing $10 million and $3.5 million each. But far and away, the largest contributor will be Cobb's taxpayers, who will put some $15 million into the venture through special purpose local option sales tax (SPLOST) revenues.
"A not-to-be-forgotten partner is our Cobb citizens," Chairwoman Lisa Cupid said. "Our citizens' continuing support of our county's SPLOST program opens up so much opportunity."
Added Commissioner Jerica Richardson, who represents the area, "There's a real opportunity to increase access and economic opportunity … and strengthen the economic viability of the area."
Construction firm C.W. Matthews has begun surveying work on the site and will begin construction almost immediately, per the CID. The ramp is expected to be open to the public in mid to late-2023.
"How awesome is this?" exclaimed Cobb Chamber of Commerce Chairman John Loud as he took a break from the handshakes and chatter after the ceremony. "As somebody who lives in this area, and then works in this area a lot, I think it's going to be transformational."