Take a trip back to the golden age of classic pop, rock and Motown. On Aug. 16 through Aug. 25, "Jukebox Giants: Motown & More" will take the stage at the Earl and Rachel Smith Strand Theatre on Marietta Square.
"'Jukebox Giants: Motown & More' is a song-and-dance musical revue featuring the musical giants of the Motown era and beyond," said Shane DeLancey, director of the show. "'Jukebox Giants' transports music lovers back to the golden age of classic pop and Motown music and uses spirited dancing, talented singers and vibrant sets and costumes to bring the top hits from the 50's, 60's and 70's to life," 
Patrons of all ages will enjoy the show. "Beyond the live band, new set and whizbang lighting, this is an all-ages bash that anyone from one to 100 is going to love," said Andy Gaines, general manager of the Strand. "What music is more generation-defining than the sounds of Motown and the era of the jukebox? These songs are the soundtrack to so many of our lives. I'm so excited to bring this show back on stage and transport our patrons to a time of diners, drive-ins and fun for all ages." 
The show will evoke fond memories. "('Jukebox Giants') is an opportunity to leave behind all of the stress and craziness in the world today and to revisit a time when every listen to our favorite song was special," DeLancey added. "Music wasn't at our fingertips the way it is today. To hear the latest hits, you would walk to the local diner, make change from a dollar and choose from the selection of songs available on the jukebox. And we were happy to be able to do it. The music in Jukebox Giants brings us back to those memories of simpler times in our lives." 
Jukebox Giants has become an annual tradition for the Strand, and is one of the theater's most popular shows. "This is the best opportunity to bring your family and friends together to experience the golden sounds of Motown and sing along to all your favorite classics. It features a new set, more intimate feel, singers who can belt and dancers who will make you sweat just watching," Gaines said.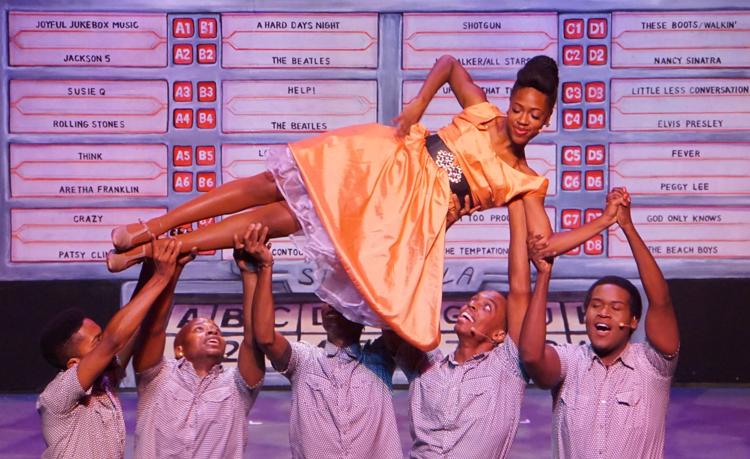 Supporting the Strand supports community. "It's not only great entertainment, it's a chance to support the last historic theatre in Cobb County. Since the Strand is a nonprofit, every ticket sale goes right back into the theater — that can mean the care of this historic building, arts education scholarships for students and bringing bigger and better programming to Marietta," Gaines added.
There are more great shows to enjoy at the Strand in 2019. "Hometown favorite 'Smoke on the Mountain' is playing one weekend only in September, and Ed Asner is here in November for his one man show, 'A Man and His Prostate.' And, of course, any fan of the song and dance of 'Jukebox Giants' should get their tickets now for our holiday music revue, 'A Christmas Tradition' because tickets are already going fast," Gaines said.
The Earl and Rachel Smith Strand Theatre is at 117 N Park Square, Marietta 30060. For more information on the show and the historic theater, as well as to purchase tickets, visit earlsmithstrand.org or call 770-293-0800.