A forecast of heavy rains and strong winds from Hurricane Zeta is targeting Cobb County, forcing schools to close Thursday.
Students in both Marietta City Schools and the Cobb County School District will learn remotely Thursday due to the storm, school officials said. Additionally, all Chattahoochee Technical College campuses delayed opening on Thursday until 10 a.m.
As of Wednesday afternoon, Zeta strengthened into a Category 2 hurricane with 105 mph winds.
On Wednesday morning, the National Weather Service put Cobb and surrounding counties on a tropical storm warning through Thursday. Cobb is also under a flash flood watch through Thursday evening. According to National Weather Service forecasts, Zeta was expected to pass through north Georgia around midnight on Wednesday night into the early hours of Thursday morning.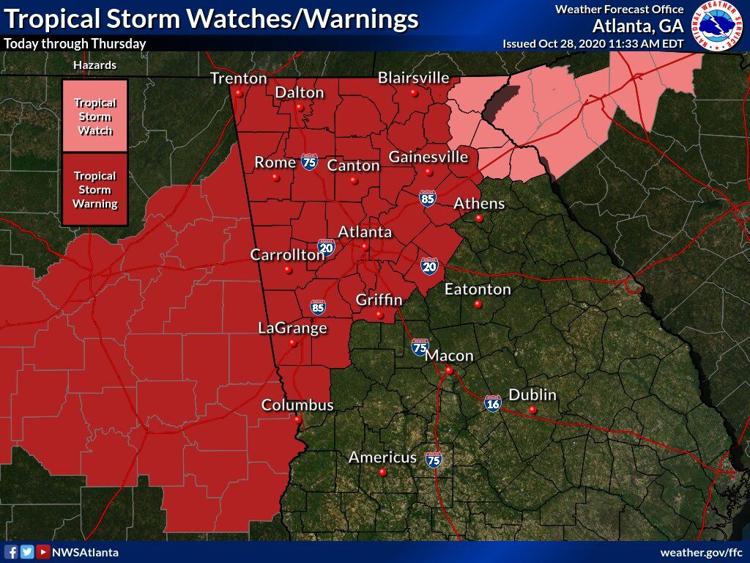 "Primary hazards will be high wind gusts and flash flooding, with a non-zero tornado threat," the National Weather Service tweeted. "Given that soils are saturated and leaves are still on many trees, we will likely see some tree damage. Larger branches or any falling trees may cause power outages and damage to property. Please take any precautions you can including moving vehicles and charging electronics."
The National Weather Service called on residents to not drive through flooded roadways.
Public safety officers from Cobb County and the city of Marietta began preparing for the storm as early as Tuesday afternoon.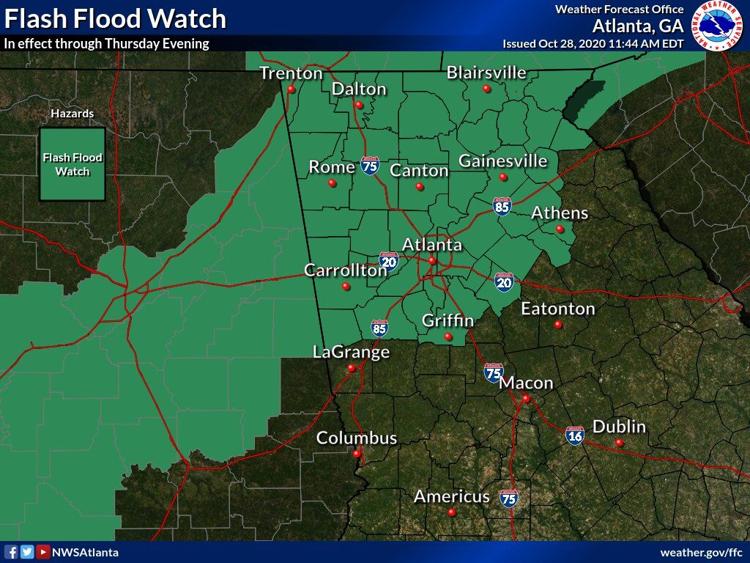 The Cobb County Department of Transportation began preparing for the storm on Tuesday, clearing drains and other areas that are prone to flooding. In a social media post published on Wednesday afternoon, county spokesperson Ross Cavitt said the county is expecting downed trees, rapid winds, heavy rains and possible flooding.
"Cobb County is now under a tropical storm warning, which is a bit unusual for an area so far inland from the Gulf of Mexico, but the concern is Hurricane Zeta," Cavitt said. "Not the biggest hurricane we've ever seen, but once it comes ashore down on the gulf coast, will pretty much come directly over this area and move at a very fast clip."
Cobb Department of Transportation employee Dallas Cain said 16 employees were scheduled to work overnight on Wednesday into Thursday to address downed trees and road closures.
On Wednesday afternoon, the city of Marietta said in a social media post that its fire department is monitoring the storm and receiving briefings from the National Weather Service.
"Marietta Power crews are on standby prepared to bring back power if necessary and our Public Works dept has cleaned out storm drains to try and prevent flooding," the city said on Facebook.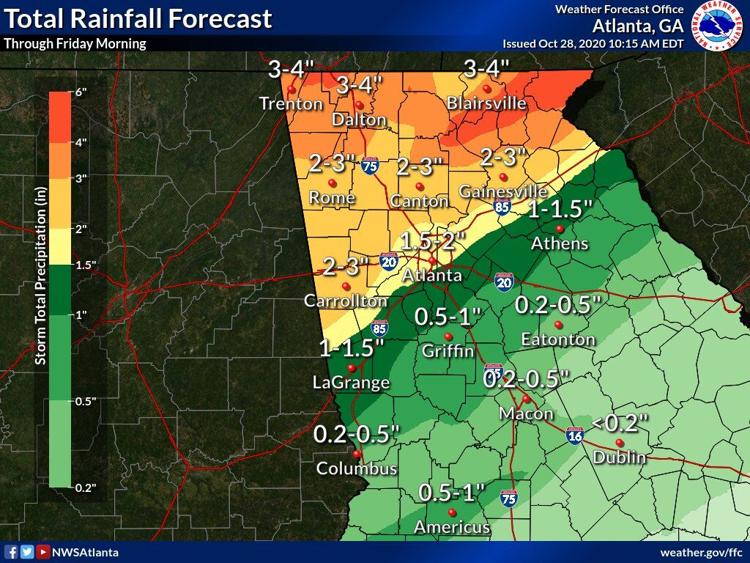 Zeta is forecast to bring wind gusts of 45-60 mph to Cobb on Thursday, according to the National Weather Service. It could also bring up to three inches of rain to the county.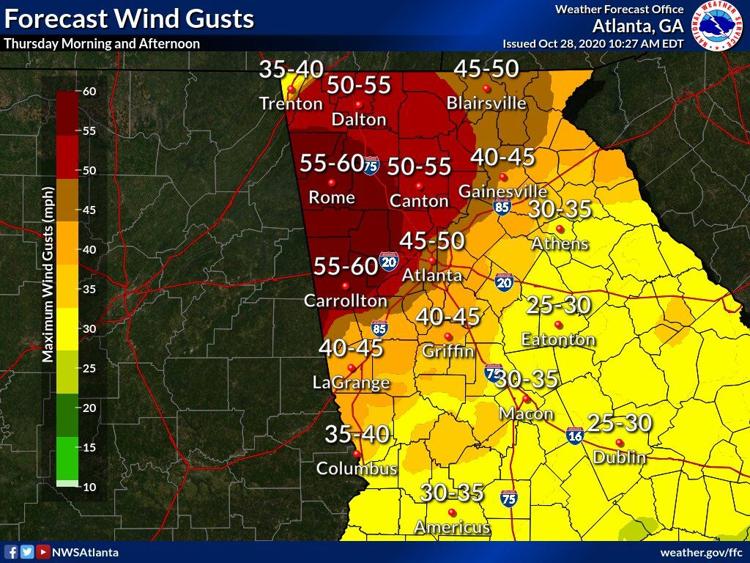 The system first made landfall in Mexico's Yucatán Peninsula as a Category 1 hurricane Monday night, then weakened to a tropical storm. After regaining strength in the Gulf of Mexico, it was reclassified as a hurricane before reaching the United States. The hurricane made landfall in Louisiana on Wednesday, and forecasters expect it to weaken as it crosses Mississippi, Alabama and north Georgia on Thursday.
Cobb Schools
In an update posted to its website on Wednesday afternoon, the Cobb County School District announced that all of its more than 100,000 students will learn remotely on Thursday.
"Due to severe weather conditions caused by Hurricane Zeta, all face-to-face classes will meet remotely on Thursday, October 29th," the district said on its website. "This decision was made in keeping with our commitment to student and staff safety, with particular concern for our youngest bus riders."
The district called on all students to report to class from home through the Cobb Teaching and Learning System, the district's online learning platform. School and central office staff will work remotely.
"Elementary after-school program is cancelled and extracurricular activities will continue as scheduled," the district said on its website. "If you have any school-specific questions, please contact your local school."
Cobb elementary students returned to the classroom for the option of face-to-face learning earlier this month, and middle school students returned to face-to-face classes last week.
Marietta Schools
In an email to district families on Wednesday afternoon, Marietta Superintendent Grant Rivera said the district will cancel in-person learning on Thursday and close all district buildings. Staff will not report in person.
"Following our call with the National Weather Service and in collaboration with other metro school districts, we have decided to cancel all in-person learning tomorrow and to keep all MCS buildings closed (our staff will not report in person)," Rivera wrote in his email to families.
Rivera said students will participate in virtual classes from home, weather permitting.
"Weather and power/internet permitting, our students will have the opportunity for virtual learning tomorrow," Rivera wrote Wednesday. "I acknowledge the potential weather creates a high degree of uncertainty regarding the ability for students and staff to access the internet and power tomorrow."
Marietta elementary students returned to the classroom for the option of face-to-face learning last month, and middle school students returned to face-to-face classes this week.
"I will also acknowledge just as quickly: our students have lost too much instructional time this year," Rivera said. "Our expectation and hope for (Thursday) is that both staff and students will make a reasonable effort to engage with their teacher and, when appropriate, access Schoology. If weather conditions or lack of internet/power make this not possible for either our students or our staff, we will continue to show the same grace, flexibility, and compassion that have defined the last seven months in MCS."