MARIETTA — With the results of the 2020 elections came a shift of political control in Cobb County. The commission, sheriff, district attorney and other offices went from Republican to Democrat. The Cobb school board bucked the trend. Now, with 2022 elections looming, attention turns to reapportionment and how redrawing district lines could change the makeup of that board and future decisions in the school system.
What and when is reapportionment?
Reapportionment, or the redrawing of lines for political representation at the federal, state and local levels, happens every 10 years, after collection of Census data. The redrawing of lines is generally a closely watched affair, as political observers say the reigning political majority typically draws district lines to its own benefit.
At the local level, governing bodies like the Cobb County Commission and Cobb school board will get first crack at drawing a map with new district or post boundaries. Their map can then be sent to the Cobb County Legislative Delegation for modification and/or approval. The delegation can choose to use local bodies' maps as a framework and adjust or draw their own. From there, the map is assigned to appropriate committees in the state House and Senate. 
In the end, the full General Assembly and Gov. Brian Kemp have final say on newly drawn maps.
This time around, the transmittal of Census data has been delayed for months by the pandemic. Deadlines for the end of the 2020 Census count were pushed back, and so too have been the release of Census numbers.
State Rep. David Wilkerson, D-Powder Springs, said he expects new maps for representation in the Georgia House and Senate and for Congressional seats to be discussed at a special session in late fall. But for local offices, like Cobb County Commission and school board, discussions are more likely to come after the first of the New Year, during the 2022 legislative session, he said.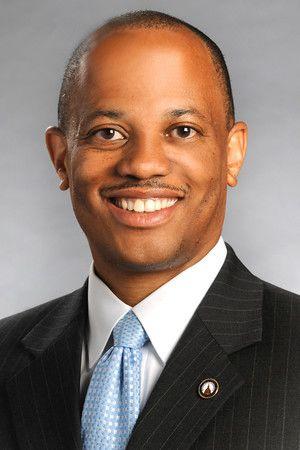 Cobb delegation chair and state Rep. Erick Allen, D-Smyrna, concurred. 
Wilkerson said he'd been told Census data used in reapportionment could be available as soon as next month, at which point preliminary discussions can begin. While that specific timeline isn't guaranteed, he said, school board and commission maps should be approved before the elections in November 2022. 
Republicans who spoke with the MDJ, however, were less willing to speculate. Devan Seabaugh, whose recent election as former state Rep. Bert Reeves' replacement was certified on Monday, said it would be "premature" to speculate on what reapportionment could look like, or even when it could take place, without having received the Census population data.
State Sen. Lindsey Tippins, R-west Cobb, said the same. Tippins, a former Cobb school board chair, did offer that, in order to reach consensus on something like redistricting, both parties have to be after the same outcome.
"I think people always say they want consensus and what's best for everybody, but sometimes their actions don't exactly play that out," he said.
Wilkerson told the MDJ he expected local government district lines "should be balanced."
"You should see maps that we can agree on," he said. 
"My goal is that we draw fair maps," added Allen. "I'm hoping to stay away from all of the fray."
The Marietta school board, as well as other city-level governments draw their own lines based on Census data but are not required to received approval from the General Assembly.
Could school board pivot?
With the Cobb school board's four-Republican, three-Democrat split and its recent history of division along political lines, reapportionment is expected to be an especially hot topic. Three of the seven posts are up for election in 2022 — Republican David Chastain of northern Post 4 and Democrats Dr. Jaha Howard of southeastern Post 2 and Charisse Davis, of eastern Post 6.
It's important to note that reapportionment does not affect school attendance zones, but for school board, it carries the same political baggage as it does for any other government.
Lines redrawn by the Republican-held school board with final approval given by the General Assembly could secure a Republican majority, or even build on that majority, for at least two more years. But a flip of Chastain's Post 4 seat would give the majority voting power to Democrats.
In the past, says Kerwin Swint, a political scientist and director of Kennesaw State University's school of government and international affairs, the Republican-majority Cobb delegation has largely worked with the Republican-controlled Cobb school board to come up with a map that both parties were largely happy with.
"But ... now we have a Democratic majority in the Cobb delegation, so it's going to be different this time, or that's a wrinkle," Swint said. "I'm sure there will be some fireworks because of that partisan difference in Cobb County versus statewide."
Still, he said, it comes down to votes in the end. If the Cobb delegation presents a map that the General Assembly's Republican majority doesn't like, it's likely to get voted down, Swint said.
But in increasingly purple Cobb, drawing school board boundaries that equally divide the population and are Republican friendly could be harder than it's been in the past, Swint added.
"You're not always able to draw the kind of map that you're able to have just because it affects all the other adjacent districts and communities. It might be increasingly difficult to make everything fit in," he said. "As an area changes, as the state changes, as a county changes, it becomes more difficult to draw districts ... that would elect your party's candidate."
In the case that Democrats are able to hang on to Howard and Davis' seats, as well as flip Chastain's, Swint said, "I would expect to see changes coming."
Assuming they voted together, a hypothetical four-Democrat majority would have the power to alter policy or even hire a new superintendent, he said. The Cobb school board is not all-powerful, Swint pointed out. They'd still be bound by state law and curriculum. 
"But if you have a majority, there are certain things you can absolutely do, budget-wise, personnel-wise, policy-wise," he said. 
So far, only one potential candidate has has announced to run in next year's school board elections. Austin Heller, a 20-year-old KSU student and Democrat, says he plans to challenge Chastain.
Given Chastain's history in Cobb, prior service and presumed larger coffers, Swint said, the 2022 election will be an uphill battle for Heller. But, he added, the likelihood that the Republican-leaning Post 4 will reelect Chastain shouldn't be taken for granted. 
"The county has been trending Democrat for years now, and they've finally broken through and got a number of offices. So I would say a seat like David's (Chastain) is ripe for potential," Swint said.
But, he added, what happens in that election will depend on what the newly drawn post looks like, what other Democratic challengers jump in the race, fundraising amounts and one other major factor: turnout. That final factor will likely decide the outcome of many races to come in 2022, local, state and federal, he said.
"After this Devan Seabaugh win, Republicans are sort of licking their chops for 2022. And they say they're going to have a huge turnout nationally and in Georgia," Swint said, adding that, if that's the case, it will also be hard to flip the lone Republican school board seat on the ballot. "But if you have more of a turnout like this past November, where Democrats had really strong turnout, then, yeah, their chances are at least even."
Among the many 2022 elections, there are races for Georgia attorney general, governor and for federal seats including one held by Democratic Sen. Raphael Warnock.
'This is an opportunity'
Cobb school board members during last week's board meeting began discussions on their own role in how board posts would be drawn. The new board post maps will be drawn with the help of demographers, according to Nina Gupta, the board's interim attorney. After that, creation and transmittal of new board post maps would be worked through as any other piece of board business, Gupta said.
In response to Howard's question of how he expected to proceed with creation of new school board post maps, board Chair Randy Scamihorn said he wouldn't know until Census data was available.
Howard, however, challenged that. The district hires demographers to keep it updated on a more frequent basis for making decisions on capital projects and the like, so, he asked, why not begin drafting maps now, with their help? 
"It's no secret that we've had our challenges as a board, and this is an opportunity, I think, for us to show that we can work very well together with such an important issue as the lines being drawn for each elected official on this dais," Howard said, adding that the board should air on the side of "overcommunication" with the public in the endeavor. "We have an opportunity here, so I look forward to your leadership on that."
For his part, Scamihorn said his goal for the board would be to make approving the school board's map as easy as possible for the state legislature.
"The easier we can make it for the Statehouse, the easier it's going to get through," he said. "That's kind of the general concept that I have in my mind of, 'Can we make this so that we can move it forward, whether we agree on every little line or not?' That's my goal in a general sense."