The Cobb School District announced Tuesday that four of its schools would go virtual for the rest of the week while the county's public health director advised all parents to school their children from home if possible.
Cobb County School District spokeswoman Nan Kiel said in a statement to the MDJ that Nickajack Elementary School, Barber Middle School, Lindley Middle School and Hillgrove High School are learning remotely for the rest of the week.
Lindley Sixth Grade Academy is not affected by the closures.
"As part of our ongoing commitment to student and staff safety and based on student, staff, and school needs, the District is making school-by-school closing decisions on an individual basis. Nickajack Elementary, Barber Middle School, Lindley 7/8, and Hillgrove High School will learn remotely for the rest of this week," Kiel said.
While her statement referenced the coronavirus pandemic, district officials did not explicitly state the closures were related to the virus or answer questions about why the schools closed.
Dr. Janet Memark, director of Cobb-Douglas Public Health, told the Cobb County Board of Commissioners on Tuesday she's urging residents to stay home whenever possible, including avoiding sending children to school if they can.
"We have a very serious situation that's going on throughout our county and community. We really need to try our best to do what we know works, continuing to wear our masks, washing our hands and keeping our distance, but really I'm asking folks to not go out unless it's absolutely necessary," she said in a video call at the commissioners' meeting Tuesday. "We need to remember what we did when we first started this pandemic … if you can stay at home, if you can work from home, do things that prevent you from having to leave the house and go gather with people unnecessarily, this is the recommendation. Even for school, if you are able to have your children go virtual …. it is recommended. I know a lot of folks can't, and our schools have been really amazing about keeping the doors open to allow children to be in school."
Kiel said the district will announce any future closings "as soon as decisions are made."
"Cobb Schools continues to partner with the Cobb & Douglas Public Health Department to make decisions concerning our district's response to the pandemic," she said. "Whether face-to-face or in fully remote classrooms, Cobb teachers will continue to teach, and students will continue to learn, from everywhere."
She stressed that only these schools are affected, and the entire district is not going virtual, after a school board member made a social media post that said otherwise.
School board member Jaha Howard announced — incorrectly — at about 11:15 a.m. Tuesday on his Facebook page that the entire district would be remote.
"Our district is transitioning to full virtual through the remainder of this week," Howard's post read.
By 11:30 a.m., his original post was gone, with a post about only the four schools going virtual.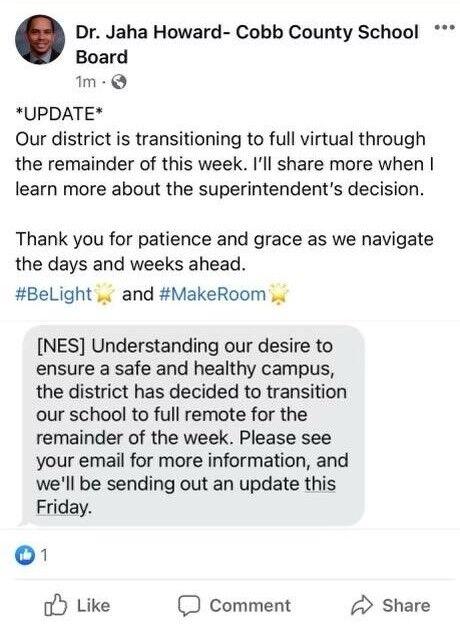 Friday, CCSD had reported 351 new confirmed cases among students and staff last week. As of Jan. 8, the district has had a total of 1,921 cases since the pandemic began. The schools that are going remote were not among schools listed with 10 or more active cases. The district reports active and cumulative COVID-19 numbers once a week at https://bit.ly/2K74MNd.
The school closures come amid pressure on the district from staff and families to move the whole district to remote learning. One petition, which gathered over 6,000 signatures by Tuesday afternoon, urges Superintendent Chris Ragsdale and the school board to make the district 100% virtual until infection rates decline to "much safer levels," intensive care bed availability increases and teachers and personal contact staff receive vaccinations. To see the petition, visit https://tinyurl.com/y7y5mwhg.