MARIETTA — Some residents of a Marietta apartment complex off Wylie Road say they do not feel safe at home following the shooting death of a 17-year-old Marietta High School student in the early morning hours of July 4.
Jalante Brown, a sophomore at Marietta High, was shot multiple times shortly after 1 a.m. on the Fourth of July and was dead when officers arrived, according to Officer Sydney Melton, a spokeswoman for the Cobb County Police Department.
Melton said no suspect information was available and provided no further details. The investigation remains open and active, she said Tuesday.
Following Brown's death, neighbors at Element 41 apartment complex say security measures there, including security gates and privacy fences surrounding the property, are failing their purpose.
Maria Hernandez lives at Element 41, which is advertised as a gated community, with her three children. Hernandez spoke with the MDJ at her apartment Tuesday afternoon, while contractors repaired the bullet holes from the shooting in the third-floor room in the building beside hers.
Her daughter, Joselin Sanchez, a 12-year-old student at Marietta Middle School, translated her comments.
Hernandez said she and her family are afraid that another incident like the one which claimed Brown's life could happen again if measures to increase the apartment complex's safety are not taken soon.
She said, besides the perpetually open security gates and holes in nearby fences allowing anyone to come and go as they please, she fears for the safety of her children when groups of people gather late at night in the parking lot outside her building.
"There's people at night always walking around here," she said. "We're worried something might happen."
Her son, Daniel Sanchez, a rising Marietta High School freshman, added that often when he and his sister come home in the evenings, their father comes outside to meet them and bring them inside.
Other residents say the July Fourth shooting has rattled their confidence in living in what they believe has historically been a safe neighborhood.
Anthony O'Cain lives two floors below where Brown was killed but said he was out of town over the holiday. O'Cain said in his eight years living at the apartment complex, he'd never heard of an incident like this one.
"Heck yeah it worries me, especially that close," he said. "I don't know nobody, I just know faces. But like I said, I've been here since 2011, and that's news to me. That's really disturbing."
Kevin Corley, who works at Pike Nurseries and has lived in a neighboring building in the complex for just two weeks, said even though he thinks the incident was a fluke, he'll be checking over his shoulder a little more often.
"We moved into this complex instead of a couple of the other ones, because we hadn't really heard of that happening over here. ... It's quiet," Corley said. "I think it's just a freak thing. ... But I'll be a little bit more cautious, I guess."
Representatives from Element 41 did not respond to requests for comment by press time on Tuesday.
Both positive and negative reviews of the complex on apartments.com also suggest the facility's gates, which should only open with residents' access cards, are rarely closed.
"Gates have NEVER been closed," reads a 2-star review from a week ago. "When I took my tour I asked the leasing agent if they were always open and she lied saying they would be fixed in a few days after the rain stops. Stop advertising a 'gated community' if it's never put to use. Charged me for a keycard to enter the complex and I never even have to use it."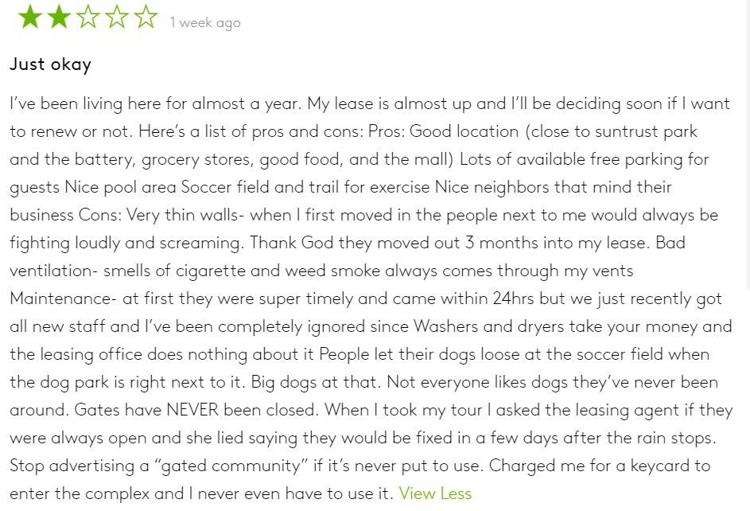 A 5-star review from last year identifies the open gates as the complex's only fault.
"Our literal only complaint is that the gates never work so I don't see the point in calling it gated," the review states.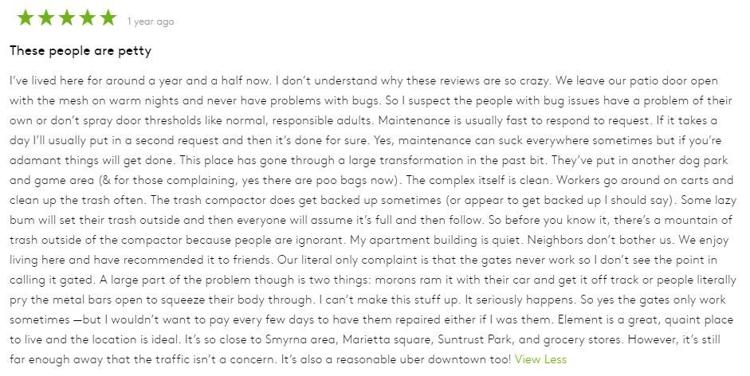 Social media accounts appearing to belong to family members are grieving the loss of a son, nephew, brother and cousin.
Desmond Brown, who on Facebook appears to be Jalante Brown's uncle, called the teen "a talented rapper," and "a beast on the basketball court."
"He was only 17 years old when he heard a knock at the door while up playing video games with his brother Keante Morgan around 1 a.m. on the 4th of July and a coward shot him as he stood in the door!" the Facebook post reads in part. "Being shown some love is all he ever asked for."
The Marietta High School community is also grieving the loss of a fellow Blue Devil.
Tre'Juan Byrd, a recent graduate of Marietta High School, said he frequently talked to Brown in the hallways at the school. He remembered Brown as an energetic and positive, someone who loved to see others happy.
"I would talk to him and mentor him, things of that nature," Byrd said. "He was a loud personality. You couldn't ignore him. His presence demanded to be seen."
Byrd added that it's difficult to accept that someone so young could have been killed in an act of gun violence.
"At the end of the day, he was really a kid. For anybody to die that kind of death, when it comes to gun violence, that's a difficult thing to deal with, because their life was cut short way sooner than it should have been," he said. "He didn't even get to graduate. ... I definitely send my condolences out to his friends and family."
Superintendent Grant Rivera has also offered his condolences to Brown's friends and family.
Requests for comment through social media to a dozen of Brown's apparent friends and family members have gone unanswered.