Mount Paran Christian School recently brought Disney's "The Lion King Jr." to the stage. It takes a village to make it to opening night — especially when that village is set in Africa, requiring costumes for a cast of 55 students that represent everything from desert grass, flowers, lions, hyenas, warthogs and a meerkat.
Senior Tatum Hartley imparted the wisdom of Rafiki, junior James Kelly commanded the stage as Mufasa, junior Kayla Green as Timon, and senior Natalee Castro's portrayal of Pumbaa was done to great comedic effect. The three Hyenas played by sophomores, Jada Crowell and Jay Jeon, and junior Anton Oswald, added a sense of danger, while senior Josh Jimenez made an impressive turn as the villain, Scar.
MPCS junior Gilliane Conklin dazzled the audience with her makeup and portrayal of Zazu. Rounding out the cast with riveting performances were Olivia Brumbelow's Sarabi, Caroline Sigman's Nala, Elizabeth Smith's Sarafina — all seniors — and freshman Will Duncan's Simba.
Several younger actors stood out as well. Fifth-graders Mary Gatcha and Cadence Stewart shared the role of the younger Nala while fourth grader Andrew Fitzpatrick and fifth grader Gabriel Hester took turns playing the younger Simba.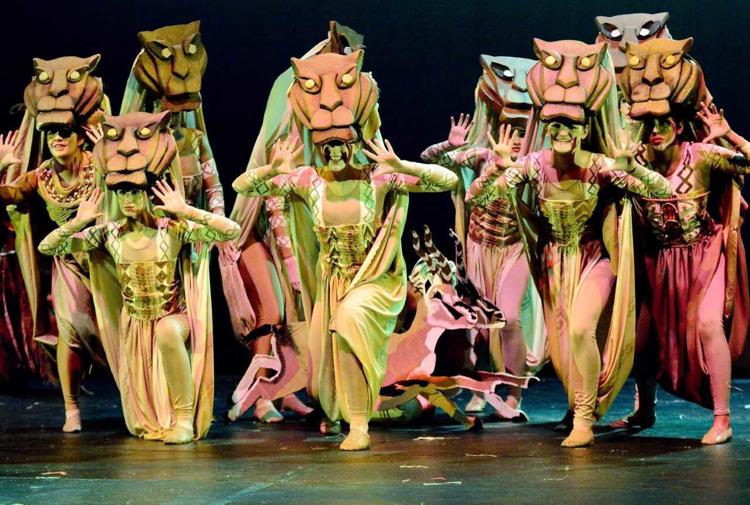 The students were involved in all of the various aspects of putting on a professional production, and learned practical skills in the process. Director Jenn Fitzpatrick said that one of the important things students learn is problem-solving. She said that 20 minutes before the show opened, an actress came and said that her costume had just broken. She was told to figure out how she was going to make it work, and she did just that.
The students at MPCS learned set design, costuming, lighting and other aspects of theater production. Senior Fiona Rainwater said that she has used the skills she has learned in her Technical Theater and Costuming class in every day life. She had a shirt that anyone else would think was beyond repair, but because of what she learned in costuming, she was able to make it look like new. She also commented that being a part of the production has given her more confidence, having acquired a skillset she did not have before.