Cobb County has again seen a record one-day increase in confirmed cases of the coronavirus, with 247 new cases as of Tuesday, per the state Department of Public Health.
Tuesday's jump in new positive COVID-19 results come after a surge last week, which had 685 new cases in a seven-day period. That's 277 more cases than the previous seven-day high of 408 cases set in mid-April.
Cobb's reported cumulative number of confirmed cases is 4,877.
A total of 243 people in Cobb have died of the virus, three more than were reported Monday.
There have been 863 reported hospitalizations in the county, per the state's website. That's 10 new hospitalizations since Monday.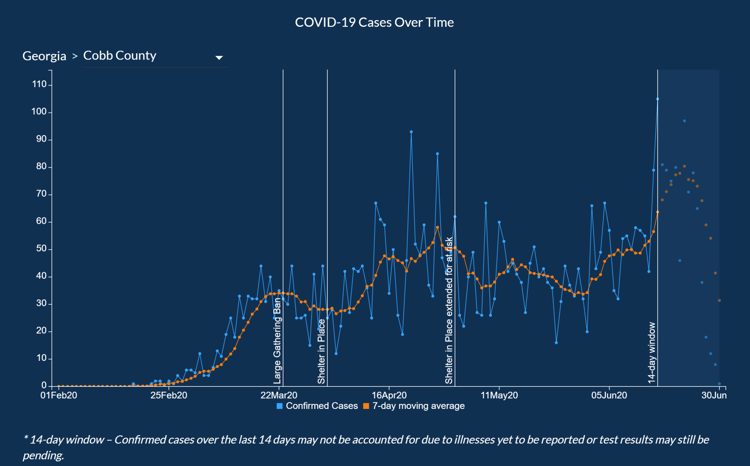 Dr. Janet Memark, director of Cobb and Douglas Public Health, said last week in a Cobb County government video that the district is seeing higher percentages of individuals testing positive for the virus, indicating that the recent rise in cases is not solely caused by increased testing.
The local public health director has also said hospitalizations are increasing overall in Cobb, including in adults in their 20s and 30s.
Memark told the MDJ on Monday anyone going out in public should wear a mask.
Of COVID-19 tests completed at Jim Miller Park, 5.74% had positive results, according to Cobb-Douglas Public Health's latest report on its website.
Memark said her agency is testing at the public health site at a high volume, and increased volume by 50% last week.
According to Memark, Cobb-Douglas Public Health has hired 54 contact tracers, who are responding to 75 individual outbreaks in the district.
Cobb remains fourth among Georgia's 159 counties in terms of the number of cumulative confirmed cases (4,630), trailing Gwinnett (8,082), Fulton (6,965) and DeKalb (5,841).
A large number of non-Georgia residents have also tested positive in the state: 4,011.
Statewide, the number of positive cases was 81,291. The state reported 2,805 people in Georgia had died, making the state's fatality rate from the virus about 3.5%.
The Centers for Disease Control and Prevention reported on its website Tuesday that 2,581,229 people had tested positive for COVID-19 in the United States, and 126,739 had died. The national death rate based on these figures is about 4.96%. The CDC says 40 states or other jurisdictions have reported more than 10,000 cases of COVID-19.
For a Cobb and Douglas Public Health report that includes data on how the coronavirus is affecting different ZIP codes, visit bit.ly/2Nj3xs9.